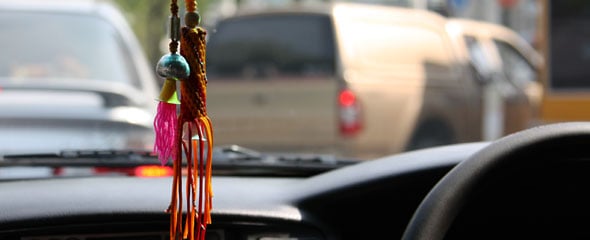 Bangkok Taxi Drivers…
Just so's you don't have to wade to the bottom of this post to see… I have a fondness for (most) Bangkok taxi drivers.
I mean, just recently I was driven around for 300bhts worth and had a thrill of a time.
Here's what happened…
Two girlfriends plus myself went out to a private club in BKK for an early dinner with drinks. When ready to go, I asked the front desk to call us a cab.
The taxi arrived, the driver was given the address by the staff, and off we went to the wrong Soi Ari (yes, there are two).
We wanted to go to the Ari with quiet, tree lined streets. Instead, we were taken in the direction of megga traffic jams and cue waiting.
Now, when I ask a Bangkok taxi driver to take the highway and he says "no", from past experience I take the response to mean that there is some sort of problem blocking the way and I keep quiet.
So, on that night when I pipped up "HIGHWAY" from the back of the cab and the taxi driver pipped back "NO!, then "NO" it was.
Soon bored with the tedium of stop/start traffic, I busied myself with gabbing and not looking to see where we were going (a bad move in any Bangkok taxi).
When the taxi stopped, I glanced around then asked where we were.
"Soi Ari" says the taxi driver.
"Where's Pholyothin?" asks I.
"Ah", says he, "HIGHWAY!"
"Yeah", says us, "HIGHWAY!"
Hanging a slick u-turn, off we went again.
Being thirsty (and more) from all the travelling, us gals requested toilets and beer. In that order.
"NO PROBLEM!", says he.
First stop, a gas station with squat toilets but no beer (beer is not supposed to be sold where cars tank up).
Next stop, a Seven (Seven Eleven) and beers all around. The driver included.
Disclaimer: Giving the taxi driver a beer was intended as a "thank you and drink it later" type gift. Finish.
But, oh no, that was not to be. Why? Because my fun loving Canadian friend dug into her repertoire of Thai to come up with "ฅายช่างมันสนุกไว้ก่อน".
Our English equivalent is close to "you only live once", but in Thai it is "do something worthwhile before you die" or "die, no problem". Take your pick.
And as this utterance was made to a Thai taxi driver, "die, no problem" it was and POP! went the top of his beer. Oh dear.
In all fairness, he only sipped small amounts and ended up with warm beer an hour later.
Yes, the clever boy. It took us 1.5 hours to go what should have taken at tops 40 min.
Mai bpen rai and a good time was had by all. Especially us.
Do something worthwhile, before you die…
When I posted this phrase on a popular Thai forum, another member responded with a song translated into Thai to go with. Nice.
อันชีวิตคนเราช่างสั้นนัก
ต้องรู้จักทำประโยชน์ก่อนจะสาย
ทิ้งไว้เป็นอนุสรณ์หลังความตาย
มีความหมายคงอยู่ ตลอดไป
Move out man! Life is fleeting by.
Do something worthwhile, before you die.
Leave behind a work sublime,
that will outlive you and time.
Actual Thai phrases to use with Taxi drivers…
Slinging "die, no problem" in the direction of your taxi driver is all well and good, but why not use these Thai phrases from Langhub instead?
Langhub
Taxi Phrases (download pdf, text, mp3, video)