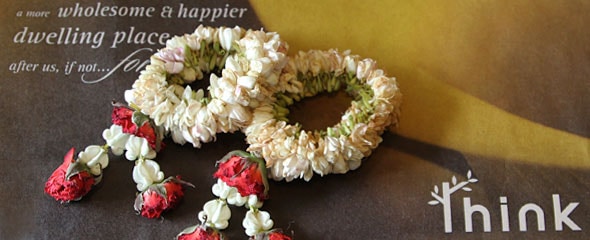 Thinking about Thailand…
I debated about writing this post because I don't want WLT to be taken over by Thai politics. Also, my leanings are more towards history, with a preference towards reading about politicians long dead. So political events in Thailand, especially as they happen, are in a mist of confusion because I don't have a deep knowledge of the many arguments going around.
I will continue to make my way through the many books and resources suggested in Newley's TopicThailand.com. But it's a slow process so I'm sure to be plugging away when the next round hits Thailand. And it will. Guaranteed.
To explain just how not up I am on Thai politics, if allowed to vote in Thai elections I'd vote for Abhisit. Why? Because he's cute. See? (Yes, I am blushing).
The idea for this post came from Tony's video: Bangkok Burns. I started to leave a comment, then realized that I had too much to say. Also, I wanted to write down my personal feelings from when I started taking photos of the Red Shirts parades, to the present (please note that I said 'feelings' and not 'political views'). But I wasn't quite sure if I should write about them at all. Until now.
This week a comment came via email saying that WLT presented just the one side: The Red Shirts. That is incorrect; I support all of Thailand. But after a bit of a think, I now understand where he's coming from. My site is awash with red, but so was Bangkok. There is no denying.
Looking back through recent Bangkok events is painful…
On May 19th, when I flipped through to the different tv channels watching the Thai army go into the Red Shirt fort at Ratchaprasong, I did what I rarely do. I cried. Hard. I'm not a person who cries hard very often. But when it does happen, it always involves death: My granddaughter, grandmother, father-in-law, former husband, a marriage, the 9/11 attack on the WTC.
Without coming off overly dramatic, I'm not sure what to call this death. Do you?
On the 19th, upset and pissed off at pretty much everyone involved (as well as suffering from a rare loss for words), I ditched my idea for a 'Heartfelt wishes to Thailand' post. I preferred to go with Bon's sweet From Thailand to the World creation instead. Thank you Bon.
Let me explain… During the Red Shirt parades around Bangkok I found it easy to believe that the supporters intended for their protest to be a peaceful one (btw – I quit at the symbolic blood spilling as I don't do blood).
Banners stating สันติ วิธี (the peaceful way) were found everywhere on Red Shirt banners, trucks, vans, t-shirts and hats even. Both in English and in Thai. And the Thais I talked to insisted the same – that theirs was to be a peaceful protest.
At the parades, well-to-do Bangkokians stopped me in the streets to explain why they and their friends, all Yellow Shirt supporters, had decided to show support for the Red Shirt cause. Now, as an expat, I don't have a dog in this political fight. But some of the reasons they stated – the need for improved education, financial support from the government, and respect – made sense to me too.
But when Terry Fredrickson started translating what the Red Shirt leaders were saying on stage at Ratchaprasong, well, there you have it.
In that very same email I was asked if expats knew what the Red Shirts leaders were saying. I imagine a great deal of expats were unaware, but were Thais? And (shamefully), even though I was reading along with Terry, I kept their peaceful promise at the fore. I wrongly assumed that the leaders were similar to football coaches. You know what I mean, where they excite their teams with pep talks dripping with: kill, kill, kill, die, die, die. But football players are not expected to kill anything. Much.
And now I'm wondering what those very same Bangkokians were thinking when they heard the Red Shirt leaders incite their followers to kill Thai soldiers and burn down Bangkok. And if they still feel the same as they professed to me. I know I don't. I still want what is best for all Thais, but I feel betrayed.
Do any of Red Shirts feel the same? Betrayed? And for the same reasons as I do?
The Red Shirts camps at Ratchaprasong are gone and the rains have mostly washed the smoke from the burning tires away. But not quite. I drove to Paragon on Thursday and my lungs started coughing up gunk the following day. It's especially bad when I laugh. Yeah.
The staff at Paragon welcomed everyone back with what seemed to be brighter Thai smiles. At the entrance to Paragon's Gourmet Market we received the Thai ไหว้ /wâi/ and were handed aromatic garlands (พวงมาลัย /puang maa-lai/). All through my shopping, canned announcements warned against leaving carts unattended, asking shoppers to please report suspicious behaviour.
So is this the new signs of the times in Bangkok?
There are many unanswered questions even now (and some I cannot ask). Important questions like: Who were the mysterious snipers, were Red Shirt guards (or anyone in power) stopping the supporters from leaving Ratchaprasong, will Thais ever start talking to Thais, will all sides admit where they went wrong, will Thaksin ever be brought back, and finally… what direction will Thailand choose to go in now? Because there is always a choice.
I'm wondering if these important questions will get answered if the insistence on online censorship continues. Personally, I shake at the mention.
Well, whatever happens next in Thailand certainly won't be boring (even without the protests, it never is). But it might just be too much excitement for me. I've since lost my passion for taking photos of what I see around me in Thailand. And this, from a gal with a new 7D. Sad (I know, I know… and I plan to work on my newly negative attitude).
And that's my last word on Thai politics. Edgewise.
If you'd like to help Thailand in even the smallest way, please consider donating to Thai education via the SET Foundation. If you don't know about the foundation, there are two posts about SET on WLT: Inciting Acts of Kindness: The SET Foundation and The SET Foundation: A Season for Giving Back.
And if you've stopped by WLT to see the most amazing collection of free resources for learning the Thai language instead of reading about Thai politics, then you've come to the right place: Learn Thai for FREE.
Note: The comments are open in this post, but I will be watching carefully for several reasons: Mudslinging and political rants bore me, and I do not want WLT to get closed down by the Thai government. So play nice everyone.