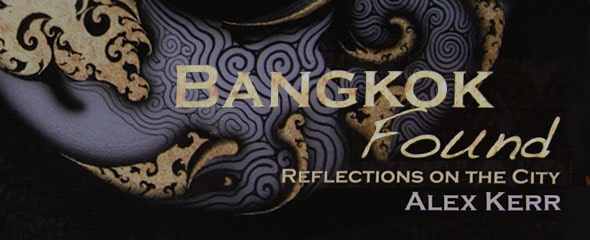 Reflections on Bangkok Found…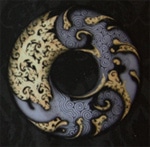 I'm not a city gal. I enjoy gardening, country walks, and being able to see the moon and stars at night.
And since falling in love with Bangkok in 2004, I've had a troublesome time explaining why to those who spread out north, south, and elsewhere in Thailand.
Their lives are full of the wide open spaces and fresh air of the countryside. Mine is full of people, traffic, and air cleaners.
So when the conversation comes up, I usually wave in the direction of the excitement of the city, the vibrancy, and the variety of people. But my explanations are notably vague as I have not been able to pinpoint exactly why this city holds me tight, and not others.
I have a few exceptional books on the quirks of Thailand, but none that really define the soul of Bangkok for me. Philip Cornwel-Smith's Very Thai filled in elephantine holes. Bangkok Inside Out did too. But neither spoke directly to my heart. Not in the same way Alex Kerr's Bangkok Found has.
Alex and I were both raised for a slot of our childhood in Japan. Years later, Asia tugged me to the island of Borneo, and then here to Thailand. Alex went back to Japan before finally settling in Bangkok too.
All through Bangkok Found, Alex compares Thailand to Japan as well as China and other Asian countries. By defining what Bangkok/Thailand is not, he clarifies (as much as anyone can) what Bangkok/Thailand is.
As usual, when people start talking about Thailand, you run into more and more complications, and it ends up in a muddle. Bangkok is like a thep phanom, a smiling angel with hands clasped in prayer above – and twirling leaves and vines below.

(and) Everything is negotiable…
When I went searching for the origins of the goddess at Bangkok's Fertility Shrine, I signed off with: "So there you have it. Jâo Mâe Táp-tim is the Chinese goddess Mazu. Maybe".
In Thailand, one sets out into unknown territory without a map.
It is this lack of a map that beguiles me. It is knowing that even when I've found an answer to a query, yet not quite, that sometimes frustrates me.
To some degree, history everywhere in the world is a created artifact. But in Bangkok, you feel this more acutely than elsewhere.

The Thais hide better, embellish better. The whole thrust of royal Siamese culture since Ayutthaya was the building of fantasy worlds, ethereal realms that are not of this earth. A lot of thought and choreography go into creating illusion… gorgeous pageantry.
Thailand is a Bowerbird, collecting bits of ribbon, twigs, iridescent insect wings, blue bottle caps, all sorts of shiny and pretty things, and weaving them together as decoration for its nest.
The myths and counter-myths of Thailand and its people are a quagmire, for sure. But give me the nest of a Bowerbird over the sterile tidiness of the West any day.
Note: Alex Kerr can be located via Alex Kerr.com. The artwork (above and used on the cover) is a creation of the fabulous Thai painter Thongchai Srisukprasert (ธงชัย ศรีสุขประเสริฐ).