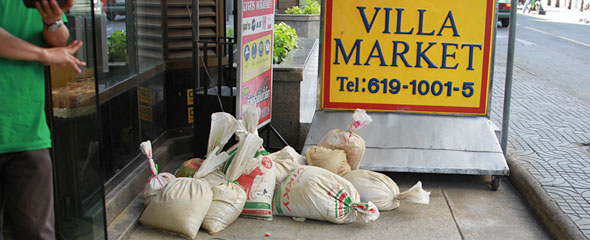 Bangkok Flood Info…
Rikker from Thai 101 started a Google Doc, Bangkok Flood Info, to share important emergency numbers and advice. If you have information to add, the doc is editable, so please do.
For those who've already left Bangkok, my post is too late. But for some it should still be relevant.
Why didn't I write this post earlier? Well, because I was going through my typical WLF Thai crisis range of frustration, anger, disappointment, despondency, and whatevers. I've sure you've heard it all before – especially if you've been following the hash tag #ThaiFloodEng (English) or #ThaiFlood (Thai) on twitter – so no point in me ranting here.
The Thai flood crisis maps…

Rikker's doc starts out with emergency phone numbers (now glued firmly to my fridge) followed by a list of flood maps. As a visual/graphic person the maps I've found interesting (or horrifying – you choose) are:
Worst case scenario (Thai)
Land Elevation Map (English / Thai)
On Wednesday I started taking screenshots of the advancing floods shown on Thaiflood Bangkok. And as soon as I figure out a decent way to share the results via slideshow, I will.
Below is my first screenshot of the flood map: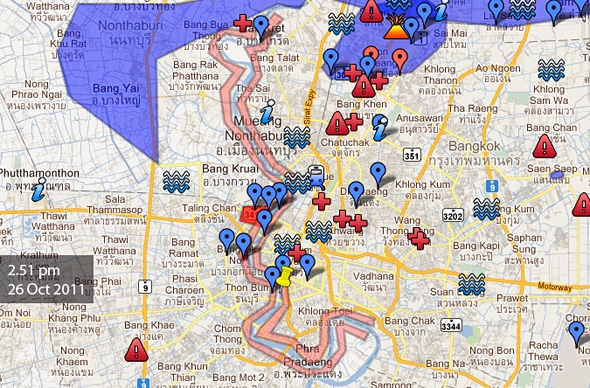 It looks really really busy but just you wait.
Preparing for the Bangkok flood…
For weeks I've been gearing up for this flood, putting a fair bit of thought and energy into preparation. The main reason? I don't want to be the one needing to be rescued! Skimming through Rikker's doc, I found the suggestions to be very good. Obviously, you can read the doc for yourself so my aim is to share what I've been up to, on a personal level. Some good, some not so much.
During the first weeks of the Bangkok flood watch I lived on comfort food: Sausages, jalapeños, and the odd glass [cough] [cough] bottle of white wine. Looking back it was pretty stupid. Hospitals in Bangkok will have enough to do without my silly ass in there too.
Btw: As I was editing this post, I came across Not the Nation's latest: Late Panic-Shopper Reluctantly Stocks Up On Foie Gras, Sparking Water. It's the reason I changed my banner from a sad flood photo, to Villa Market instead (inside joke). Laughter isn't the best medicine but man oh man does it help. Just ask any Thai.
What to do about water in the Bangkok flood…

The lack of bottled water in Bangkok is causing a bit of worry. Especially for those who are on the move. As I'm sticking out the flood in Bangkok, I started collecting water a fair while ago.
In my condo, for doing dishes I have one faucet that comes straight from the mains and a smaller faucet that goes through a filter. I use the filtered water for soups, coffee, tea, and just recently, my growing water stash.
This might be overkill but before I store the water, I boil the filtered water in a kettle. And just like for coffee or tea, I let it come to a rolling boil. When the worries about tainted water started on twitter, I switched to a double boil. The boiled water then goes into available containers ranging from regular water bottles to the larger Sprinkle size.
When the subject of standing water was brought up on twitter, Zoe Daniels (ABC Correspondent) agreed to ask those in the know. She then came back to report that stored water is perfectly fine for [edit] six months (thanks Zoe). Right now I'm staying even with the fresh (less than a week old) water but when/if the time comes I'll reboil aging water and start adding bleach, iodine, or Betadine.
Some expat stores (Villa Market and Paragon's Gourmet Market) carry Clorox bleach and Haitder (a Thai brand of bleach). The Thai stores mostly have Haitder and other Thai brands. In Thailand, asking for Haitder is the same as asking for Clorox when you really just want any 'ole bleach.
Iodine and Betadine can usually be found at drugstores but as we are weeks into this crisis it might take some additional looking around. I got lucky with iodine on my first stop, the Boots pharmacy in Ari. After several misses I finally located Betadine at a small pharmacy tucked next to a closed ice cream shop.
When I start putting chemicals into my water I'll add Berocca to improve the flavour. A plus, Berocca has vitamin C, a range of B vitamins, and minerals. I normally start using Berocca two weeks before a long-haul so it's another product I keep stocked up. If you are interested in locating Berocca in Bangkok, check Boots.
Stocking up on food and other supplies…

There's a lot of grumbling on twitter about hoarders but Rikker's doc points out that you'll need at least two weeks of nonperishable items. And if you normally eat out, then you have some serious shopping to do.
The suggestion is to have two weeks of nonperishable, easy to fix items. In Bangkok, flood preparations have been going on for weeks so I've had to make a concerted effort to keep restocking. Crazy, but I still managed to get caught out with kitty litter (not a pleasant thought).
To prepare for the floods I stocked up on tuna, dried beans, canned beans, mayonnaise, mustard, smoked mussels, cereal, soya milk, chocolate, peanut butter, and honey.
For non (people) food items, I also came home with extra cat food, kitty litter, toilet paper, and paper towels.
I also loaded the freezer with chicken and ground beef (the cheaper meat options). I passed on pot pies (pity). When the freezer stash goes down, I top it up too.
Before I forget, in the comments of the previous post MarcusBurtBKK left some great tips: Tin opener, plastic cable ties, wet wipes, paper towels, and plenty of plastic bags.
Note: Except for 4 cans of clam chowder, my food purchases mostly include what I normally eat. Even though they are easy foods to prepare and store, I passed on rice and noodles because I don't consume an abundance of either, and many in Bangkok do.
Stocking up on medication…

During a crisis, medication is obviously of ultimate importance. In Thailand we can get a ton of drugs over the counter so after 6+ years I now have a drawer full of creams, pills and… mystery drugs (drugs I've long since forgotten their 'what for').
At the drug store I topped up on bog-standard painkillers, anti-inflammatories, muscle relaxers, Alka Seltzer, and a liquid (Thai brand) to coat the stomach. Again, these items are mostly what I use on a monthly/yearly basis, so they won't go to waste.
I asked the pharmacist for advice and he suggested antibiotic cream for cuts. Good idea. Another must-have is Aloe Vera gel because there is nothing faster acting for burns than Aloe. Ok. Maybe morphine. But I wouldn't know.
When the electricity goes out…

If the electricity goes out, for visibility I have a stash of candles, flashlights, and extra batteries. Also, Bangkok sometimes loses power so all through my condo are battery operated wall lights that come on when the power goes off. They don't put out a great deal of light but they do show the way.
A big worry is losing contact with the rest of the world. Moving Xmas forward, I picked up an iPad 2 and then hooked it up with an Internet account. That way I'll be double connected no matter what. If my iPhone wasn't so ancient I could have piggybacked the iPad off my iPhone, but as Xmas can only stretch so far, there you go.
To keep the iPad, iPhone, and my computers operational a solar recharger was located at MBK. I still haven't waded through the instructions so please don't ask.
Cooking without electricity was covered in Bangkok is STILL Bracing for the Thai Floods. Barely. To review: I sourced a charcoal cooker, charcoal (both Thai and western), boxes of matches, lighter fluid, pots that'll take high heat, and a kettle. And you betcha, I already have a fire extinguisher.
No electricity means no water, so washing dishes would need to be pared back to almost zilch (YEAH). To solve that problem there's a small pile of paper plates, plastic forks and knives. And those items will in NO WAY go to waste!
As mentioned above, I already have my drinking water supply covered. But to prepare for possible a loss of electricity I've filled my bathtub with water. The bath water is not for bathing or drinking, but to flush toilets. No electricity means no flushing and the stench of the unflushed is… ughhh.
A reminder from Marcus: That water pump which fills your toilet after you flush? It runs on electricity. Not pleasant I know but a necessity all the same.
So absolutely, save your grocery bags. If the electricity goes off you won't want smelly poo sticking around. Yuk. I know. I was told to use Tiger Balm to mask the smell of the standing waters. It was a good suggestion so I put bottles of balm in the bathrooms as well.
Worse case flooding scenario…

I'm a serious hermit / introvert. That's right. So the flooding situation in Bangkok would need to be pretty dire for me to leave my quiet cave. I don't like being around anyone for long so, yeah, for me to evacuate there'd have to be flood water up to my balcony, bandits in my soi, or a severe injury/death in the family.
But if I DID evacuate I'd fill my backpack with: small flashlight and batteries, laptop, iPhone and iPad, solar recharger, camera with all the fixings, small bottles of water, bottle of gin, stash of drugs, food (cat and human), my passport, money, a map, a change of clothes and my Kitty Cat PJ's. I'd put my cats in their cases and the cases in plastic boxes and away we'd all float.
Donating to the cause…

If you live in Thailand, then there's a very good chance you already know people who need your help. Desperately. If not, then check Rikker's Bangkok Flood Info doc for a list. Another great Thai cause (and one that doesn't suck money into an expensive overhead) is the SET Foundation.
What's happening with the flood…
I already showed you the Wednesday flood map (above). Below is a screenshot taken right before this post went live: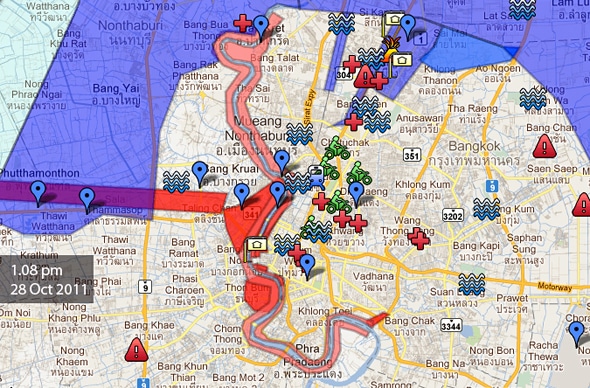 Keeping up with the flood via twitter…
If you are on twitter, follow the previously mentioned hash tags #ThaiFloodEng (English) or #ThaiFlood (Thai).
Sometimes twitter gets out of control. Shrug. That's twitter is. So if you'd like to read just the quality Thai flood news then follow RichardBarrow, Zoe Daniel (ABC Correspondent), Newley Purnell (American Journalist), Rikker Dockum (Thai 101), Kaewmala (Thai Talk), Terry Fredrickson (Bangkok Post), L. Suwanrumpha, Saksith Saiyasombut and and… I'm out of time.
There are many good twitter people to follow so feel free to add them below. Or email me. Either will work. Additional suggestions for crisis tips are also welcome.
The weekend of October the 29th is predicted to be critical so please wish us luck. Ok?