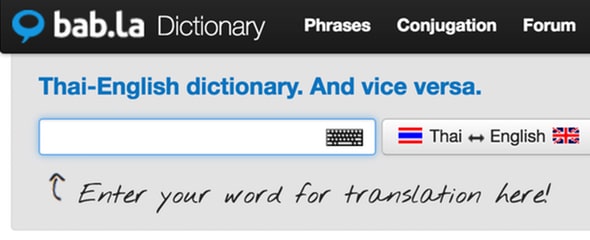 Congrats to Bab.la! They've now added Thai-English to their massive collection of crowdsourced online dictionaries, making the Thai language number 42.
Just check it out!: Bab.la's new online Thai-English Dictionary
About bab.la: bab.la is a language project by Andreas Schroeter and Patrick Uecker.

The idea has been on Andreas' mind for quite some time. During his high school and university years he lived in Canada, France, Sweden and the USA. He noticed that just knowing the exact translation often doesn't really help. You really need to "live" the language to come up with the right word.

Andreas has been collecting dictionaries from different languages for a long time. Putting the things together was just a natural step: Starting a portal where language lovers can meet and exchange their ideas and learn languages from each other.

Who is a better teacher than a native speaker who likes to share his knowledge?
Side note: To support the foreign language community, Bab.la hosts the amazing Top 100 Language Lovers Competition each year. It's a huge effort (kudos to their team).
Whether your goal is to get your head around some basic Thai survival phrases for your travels around the country, or if you plan to stay in the longer term and need a more in-depth understanding, the bab.la Thai-English dictionary will come in handy.
Did you know that you can contribute to bab.la's dictionaries? By joining the bab.la community, you can suggest new words and verify words contributed by others.
Again, congrats to bab.la! I've been patiently waiting for this to happen 🙂
Twitter: @babla
Website: en.bab.la
Facebook: babla.languages
Dictionary: Thai-English Dictionary