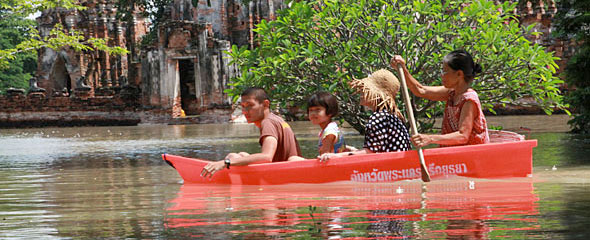 Ayutthaya underwater…
Late last week I drove to Ayutthaya to see how the area was bearing up under the onslaught of flooding. I especially wanted to visit Wat Kasattrathiraj, the Wat reported as being underwater.
I went on Thursday, when the roads were still passable but waterways were starting to encroach onto highways, closing down bridges. By Friday, people were finding it impossible to get into the area. Today is Monday: Ayutthaya left in chaos (no longer online – it's a Bangkok Post article).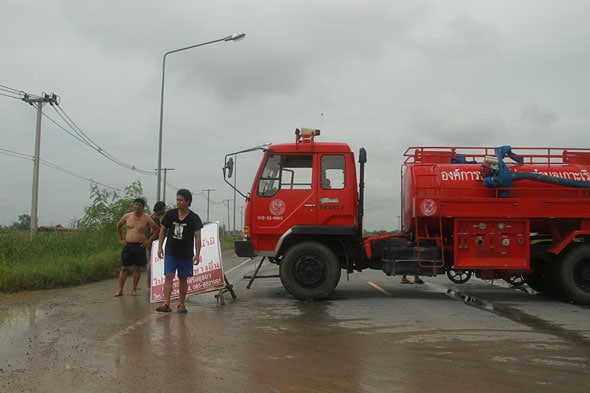 It took us several tries to get across the river to the old city of Ayutthaya. We drove over many roads that were clear but the closer to the river we got, the wetter it became.
Warning signs were everywhere. In some officially closed off areas you could still get in by telling the police that you only wanted to see what was happening.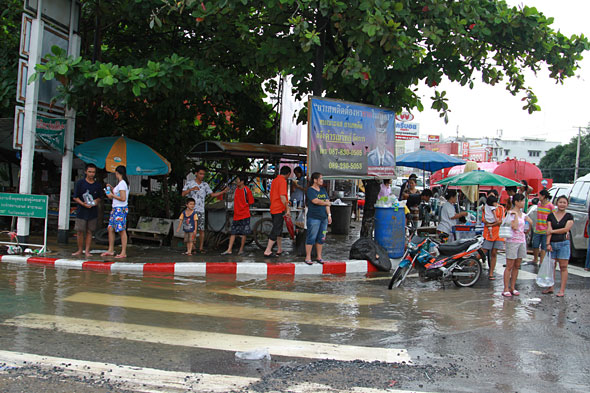 After what seemed like hours of driving, we finally come across flooding at a small community alongside the highway (I didn't catch the name). They'd created a dirt embankment around the lowest areas, leaving houses and shops inside and out.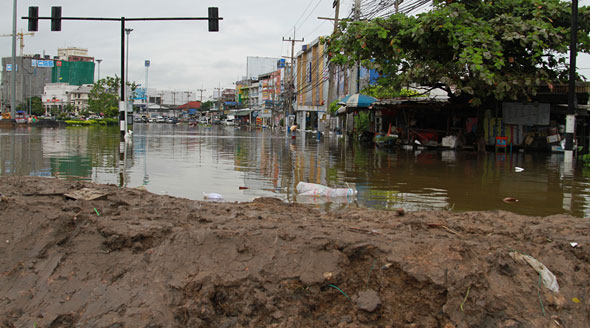 I read that the Thai government was handing out sandbags but there were none in evidence here.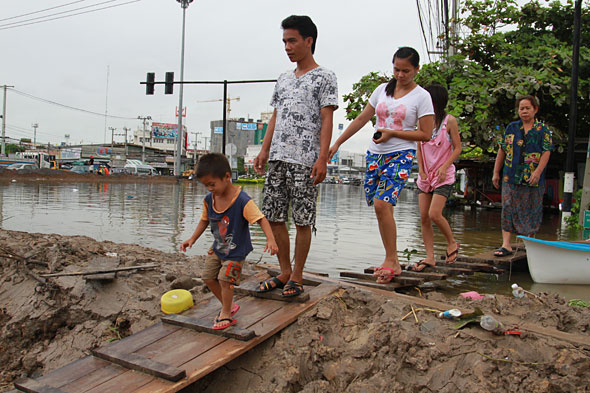 A steady stream of locals were getting on with their lives, coming and going across the makeshift walkway.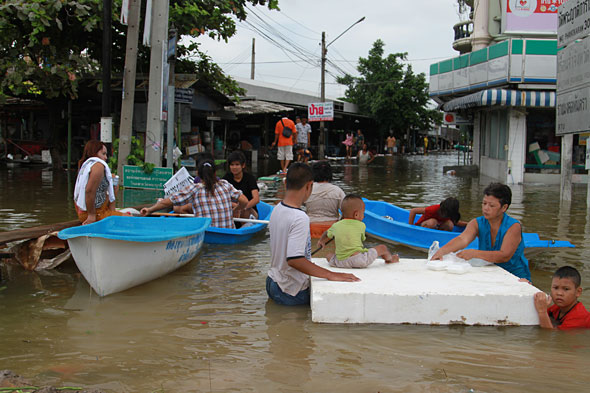 Typical of practical Thailand, anything that would float was put to good use.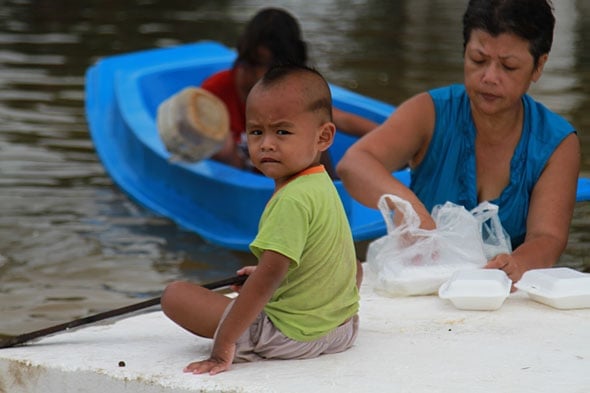 This little guy was having a great time on his Styrofoam island (but he didn't appreciate my camera butting in).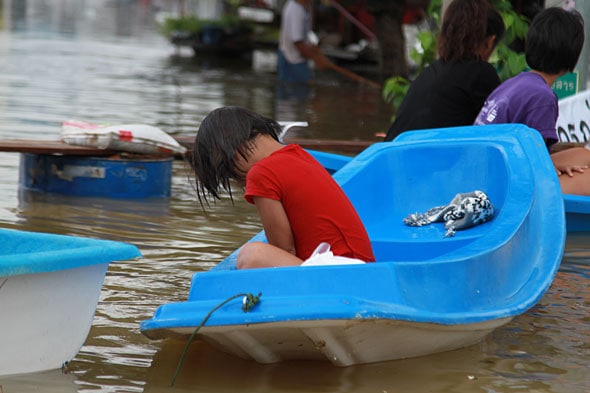 Many brand spanking new boats were around. All blue. The trade in small boats must have been brisk.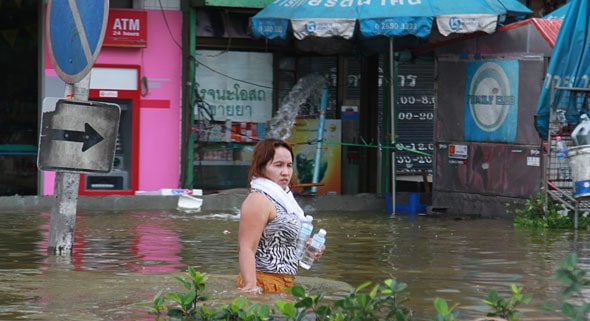 Some bypassed available transportation, preferring to take their chances with snakes and… other critters lurking under the water. When this photo was taken the 25 crocodiles hadn't escaped yet. A good thing.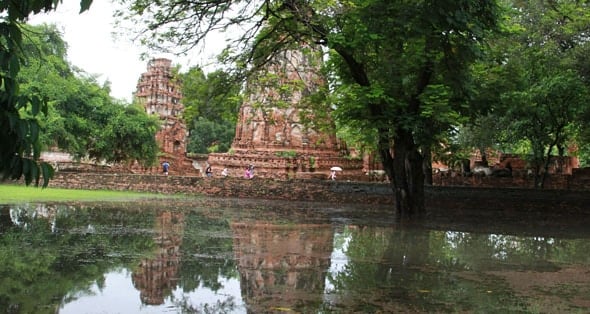 Finally, the old city of Ayutthaya! The first ancient monument we drove by (after the elephant rides) was only partially flooded (and I'm not 100% sure if the standing water is normal in regular times too). You can just make out the tourists in that photo.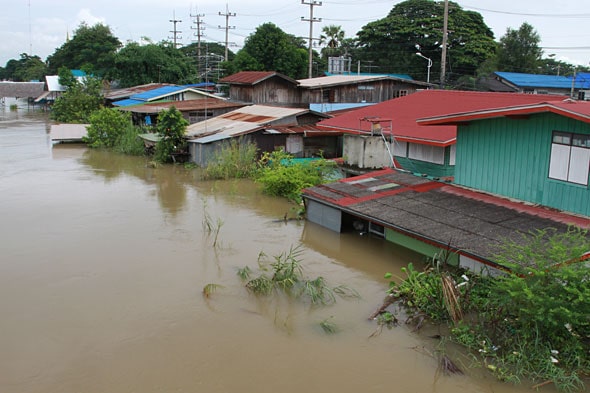 Continuing on, we came across a second flooded community.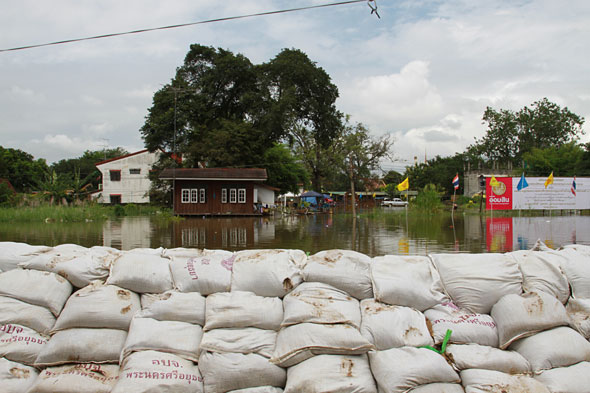 The areas close to the encroaching water were dirtbagged (not sandbagged). Again, with houses and shops on both sides.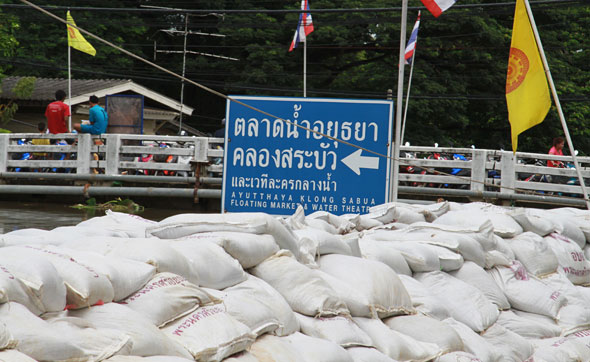 This is indeed an aptly named community.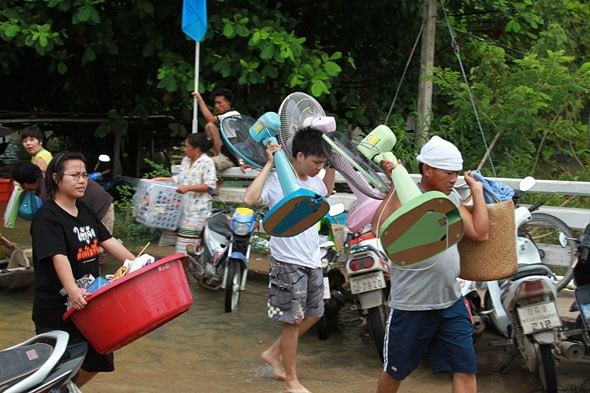 While there I watched locals carrying out fans, dogs, anything of value. I asked Khun Pissout why, when a storm was announced the night before, they didn't move their belongings when they had the chance? When the area was dryer? He explained that it's not the Thai way. That Thais will wait until something happens and only then yell, "HELP! HELP!"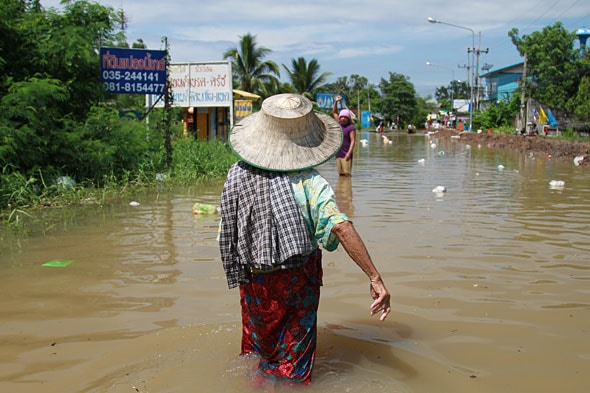 Almost ready to give up, we finally made it to a Wat underwater. Along the road to the Wat was a clay bank holding some of the flooding back. But, as most everyone was either boating or wading through the water covered road, into the wet we went.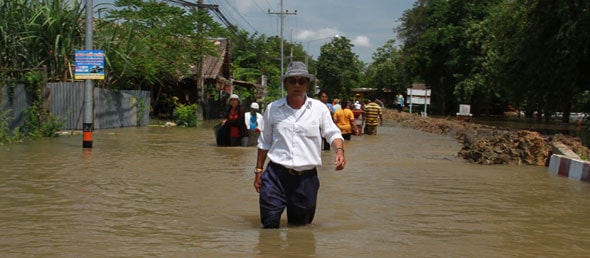 I was sporting jeans and sandals and Khun Pissout was nicely kitted out in dress pants and black dress shoes. The closer to the Wat we got, the deeper it became. And before our adventure was over we were both drenched to our butts and beyond.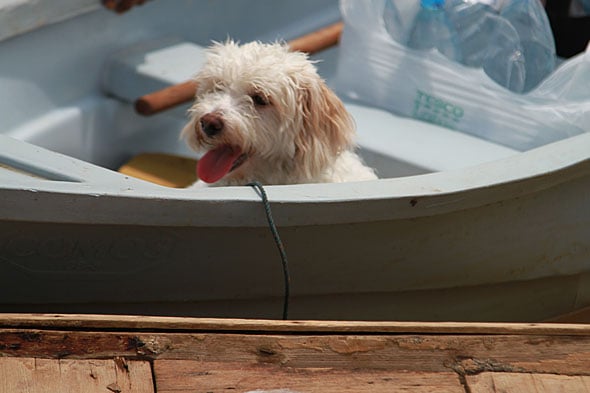 Many things I saw surprised me that day. For instance, dogs were being carried or ferried around by their owners. The Thais were soaking wet, but their pets were dry!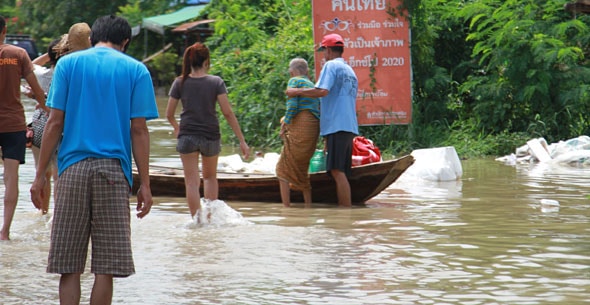 What didn't surprise me were the many instances of Thais helping Thais.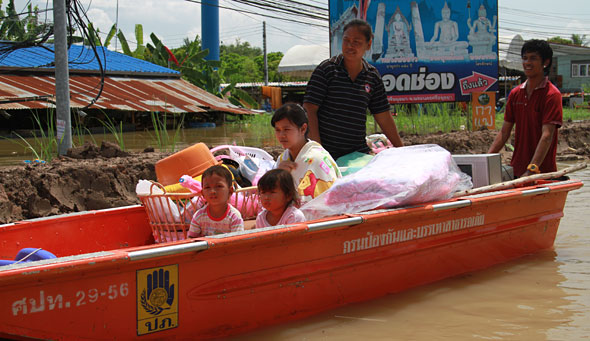 Wading towards the Wat we passed boatload after boatload of families with their possessions.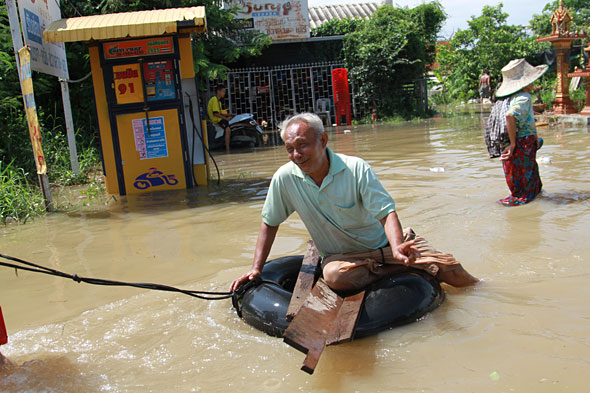 Ok, this is clearly not a boat but it worked for him.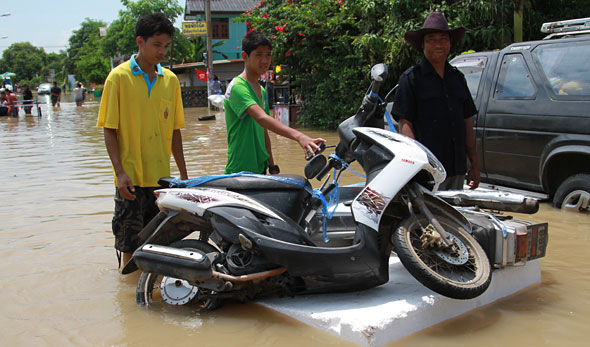 And again, Styrofoam to the rescue!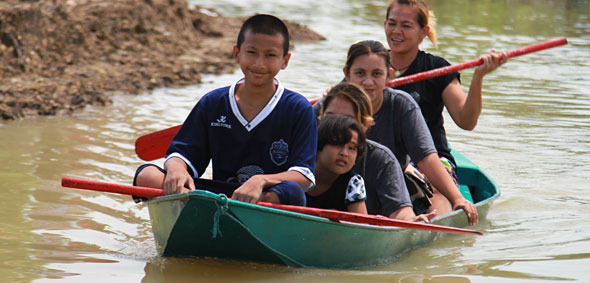 Some of the boats just had people. No stuff. But loads of smiles.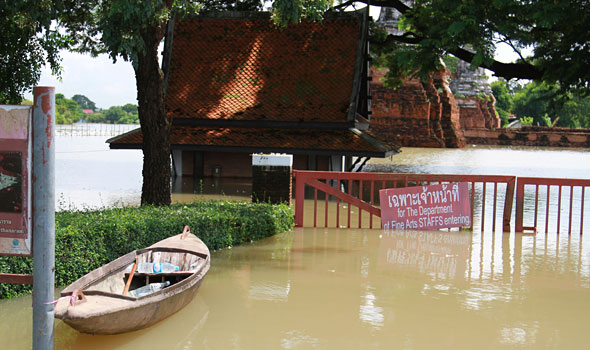 After 20 minutes of wading sloooooooooowly through the water, we made it.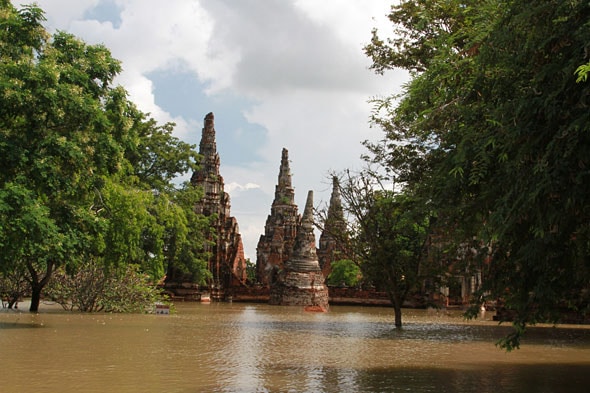 And here you have it. The Wat under water. I tried to convince Khun Pissout to hire a boat to tour the grounds but he resisted. First he said that it was dangerous. And that we weren't allowed to go in. That farangs could go in, but not Thais.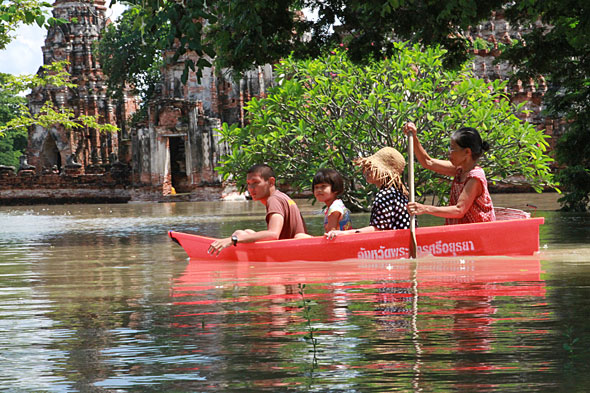 Then, when one boatload of Thai people paddled by, followed by more, I asked again. No reply. Ten minutes later, after I agreed that only I would be in the boat, not him, we looked for one to hire but they were all the flimsy kind. No thanks. While I am a proficient swimmer, if the boat went over I'd be fine but my 7D would drown.

Here's yet another curiosity. They are removing the clay from the wall holding the majority of the river back. After they filled containers with the clay they took it across the street to shore up the walls around their home.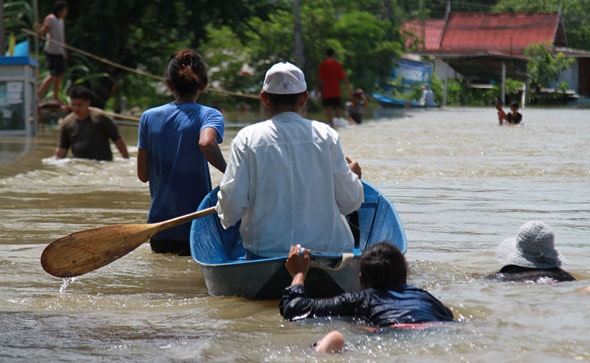 In parts it was deep, others not so much.
This traditional Thai house on stilts is high and dry, just as it should be!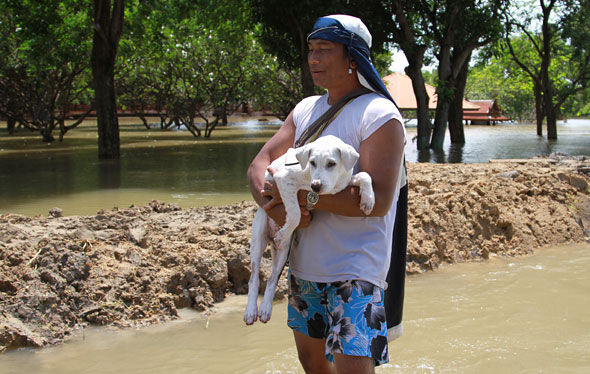 Yet another dry dog, only this one is being taken for a walk around the wet Wat. When asked why he didn't leave his dog at home, he replied that the dog wouldn't be happy there on its own.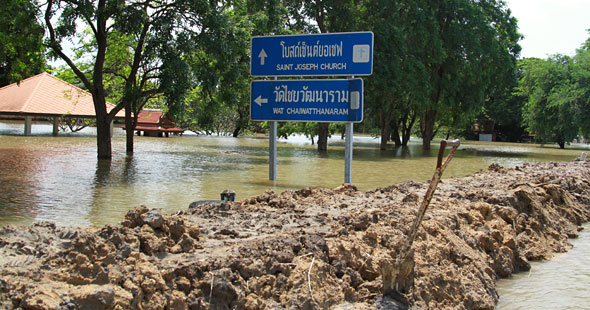 Ah. It's Wat Chiawatthanaram (วัดไชยว้ฒนาราม)… no matter.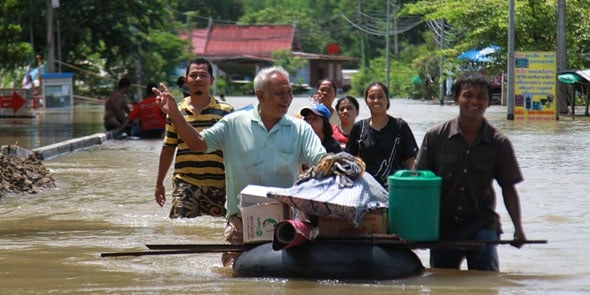 There were loads of smiles in my direction. I only found out later that Khun Pissout, often in front of me, was announcing to one and all that I was with the press. Gotta love him. And what an opportunist!
An official team of photographers were seen in the area (they had a proper boat), scouting around. I know because I briefly talked to the western photographer. He was staying dry by walking on the clay wall, while I was in the water, wet wet wet. Trying to convince him to have a real experience, I teased him. Just a little. And I'm still wondering if he did…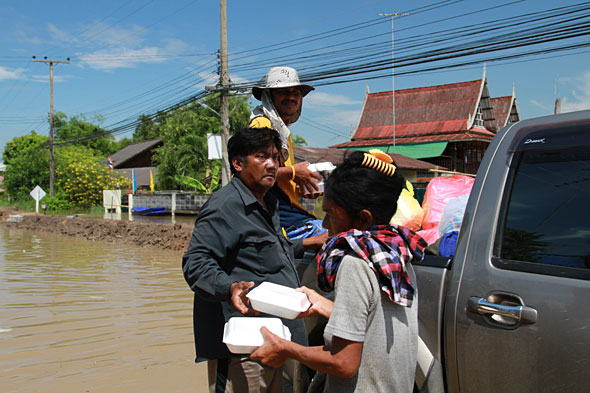 In the early afternoon the headman of the village brought in food for those sticking around.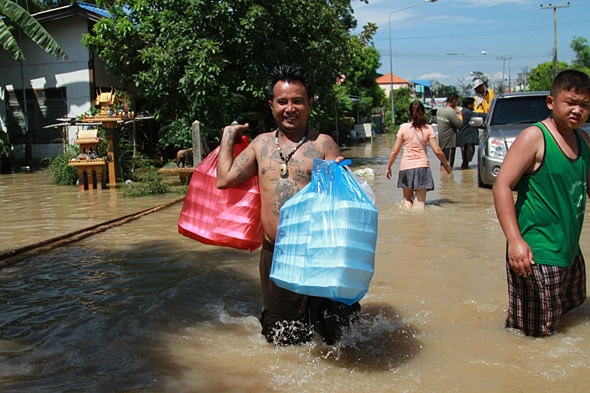 I was hungry too, so it was time to go!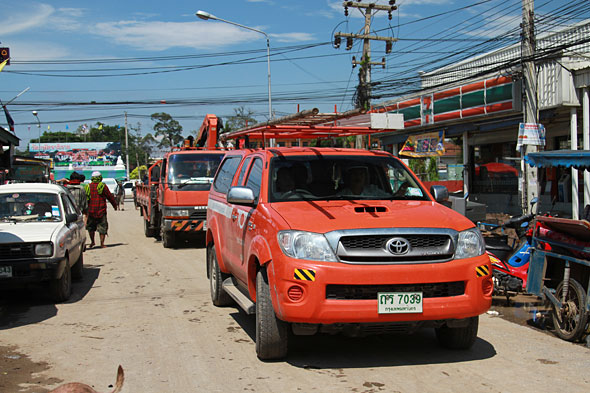 Again on dry land, I was faced with the final curiosity. The electric company arrived in the late afternoon to cut the power. As I mentioned, the storm was predicted for the night before. Plus, the community was under water for more than half a day by the time the electric company showed up. People going in and out getting their belongings all day? And for several weeks the newspapers had been reporting deaths from electrocution due to the flooding? Anyway…
Bangkok now bracing for floods…
So, what happens now? Well, the powers that be are predicting that Bangkok will flood (more) when the newly released flood waters from the north reach the city. So if you want to keep up with what's happening, here's a site that's Mapping the Thailand Flood Disaster.
To prepare, the Thai government has already been mighty busy protecting Bangkok.
First, there was City Hall asking the Water Goddess for mercy (no longer online – it's a Bangkok Post article).
And in case the Water Goddess doesn't help, the government decided on a Chao Phraya armada to rush river water out to sea.
On twitter I found photos of Bangkokians raiding grocery stores for supplies, leaving many empty shelves. Not wanting to starve I took off for Villa Market but found business as usual. No lines, full shelves, no problem.
Come hell or high water, after overstocking at Villa I'm ready for whatever comes. I now have plenty of Whiskey, water, and wine. Also, in case of a power outage I have candles. And in case of another flood photo opportunity, Khun Pissout is standing by.