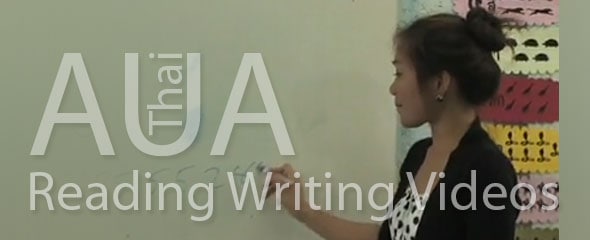 AUA's FREE Thai reading and writing videos…
Here's a bit of fabulous news for Thai students. You already know about AUA's Thai class videos being available for free download. Right? Well, David Long just uploaded AUA's Reading and Writing videos. For free!
David Long: Following the idea of Sal Khan of Khan Academy. They cover the content of our first 2 R&W courses.
AUA: These videos are available for free and include the main content of each class hour. They can be used for review, or as a self-study program. They should be used together with the books below, and if you are not able to attend our classes, you can study on your own and meet on-line with one of our teachers.
The books mentioned are AUA's Reading and Writing-Text and Reading and Writing-Workbook and can be ordered through AUA or amazon.com/co.uk. The books might be getting long in the tooth but the materials are totally solid. Some Thai teachers and students swear that these two books are the best for learning how to read and write Thai. How's that?
The videos can be downloaded in either FLV or MP4. To test them out, I uploaded the first four Mp4 files to my iPad via iTunes and dusted off both books.
The first video starts on page 1 in the workbook and the textbook so I skipped past the lessons on transcription (bane of my life) and went straight to the lessons shown in the video.
The real value of the reading and writing videos is that you get to hear the Thai alphabet and vocabulary spoken as it's being written on the board. Because with Thai being a tonal language, reading from books just isn't good enough. You need to get the sounds into your head.
What I absolutely love about these videos is that unlike the books, there is NO transliteration. You get the audio explanation in Thai and the Thai in actual script. That's it. But if you can't understand Thai you are still covered because the books have the explanations in English.
A personal note: My writing in English is atrocious so you can just imagine what my Thai looks like! Following AUA's Thai writing workbook, my Thai teacher demanded that I write in perfectly formed TINY Thai. That just wasn't going to happen. My fingers cramped up and I grew frustrated. So what I'm saying is that while the writing books are wonderful, don't sweat the small stuff. If tiny Thai grade school script isn't your style then don't quit – buy a ruled notebook to use instead. And if you want to see samples of a free-form style of writing Thai, purchase Reading Thai is Fun mentioned in my post The Easy Way for Beginners to Read and Write Thai. Btw, I'll be rewriting that post to include the wonderful AUA materials…
Seriously, if you are going the self-study route by learning to read and write Thai on your own, or if you are attending AUA's reading and writing course, then AUA's Reading and Writing Thai videos will be a boon for you.
Edit: I checked with David and the rest of the videos should be online before the Xmas holidays. So ho ho ho everyone 🙂