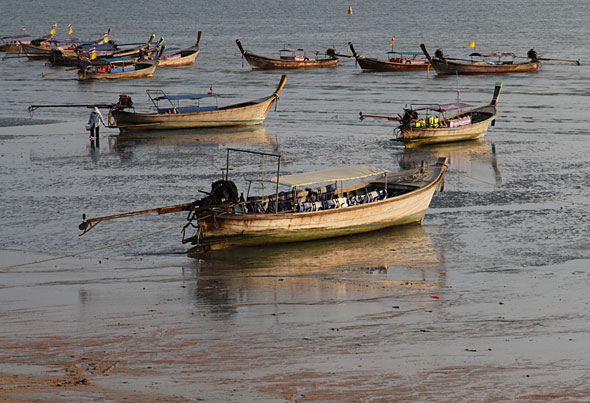 Rockhounds have fun on Buddhist holidays too…
Friday the 18th to Sunday the 20th was a religious holiday in Thailand – มาฆบูชา /maa-ká-boo-chaa/. It's where Buddhists go in for merit-making in a big way.
Makha Bucha: The full moon day of the third lunar month. The Lord Buddha's sermon to the first large gathering of monks. Celebrated on 18 February 2011.
I'm not Buddhist but I happily took off for the three days with a fellow rockhound. Ok. Ok. Ok. He's the real rockhound as my days of studying the past through microscopes are long gone. But checking out rocks is interesting regardless because seeing what the earth's structure is up to still grabs me, and to boot, my camera gets a massive workout.
After each day of poking around outcrops, and before heading back to the hotel, we drove to Ao Nang beach to watch the sunset. And what a spectacular view for a camera. Any camera. Wow.
Ao Nang's Long-tail boats…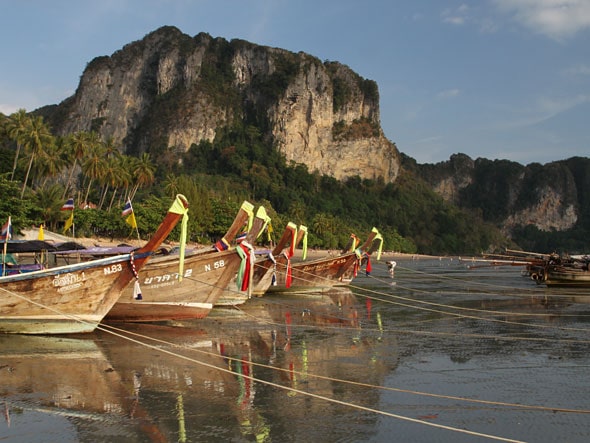 The only thing I know about Ao Nang's Long-tail boats – besides the fact that they didn't show my camera a bad side – is what I located by googling. And while I found them stunning, whoever wrote this wiki post holds an opposing view.
Wikitravel: Long-tails arrive on the beach near the junction of the two roads; these Long-tails, though, account for a problem: the level of noise-pollution, provided by an endless chain of undampened boat-motors, is substantial. As long as there is no schedule (or mufflers provided for the motors) and each tourist goes individually and numbers of visitors are ever increasing, this problem will continue to worsen and spoil the beauty of this beach.
I do get annoyed by Long-tails when staying at the Felix River Kwai Resort so I'm not totally opposed to his opinion. But… just not at Ao Nang beach. Long-tails on the river are all noise. Long-tails on the Andaman sea feel like they've been a part of the scenery forever. But they haven't. That's what this site is saying anyway.
kkkgroup (no longer online): The concept was developed in Thailand as a simple low cost means of motorizing boats used in rivers, canals and seas where people and cargo must be transported through shallow waterways. It is also commonly used for coastal transportation, small scale fishing and tourism. It is ubiquitous sight in Thai river and sea Long Tail Boat was created by local people living in the middle part of Thailand around 1937 (BC) 2480.
Along with the ten gigs of photos I took a handful of movies. Apologies in advance, but there's a spot on my lens that I could not locate. After first seeing the spot I took off filters and cleaned everything. Twice. But nadda. My camera will have to be cleaned professionally and the movies suffered for now. My sad movie skills are to be suffered as well I'm afraid.
I arrived around 4.30 and these two photos were taken a bit before 5 in the evening. So if you do want to take Long-tail boat photos in the evening sun, somewhere around there seems the perfect time.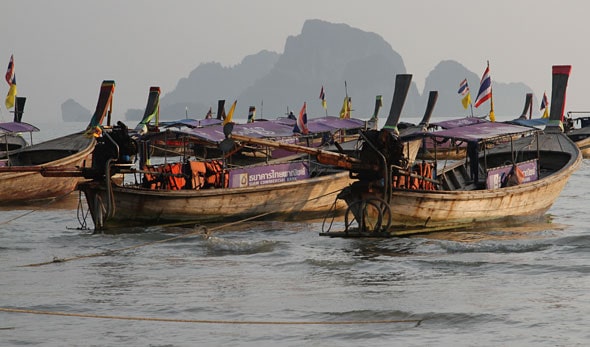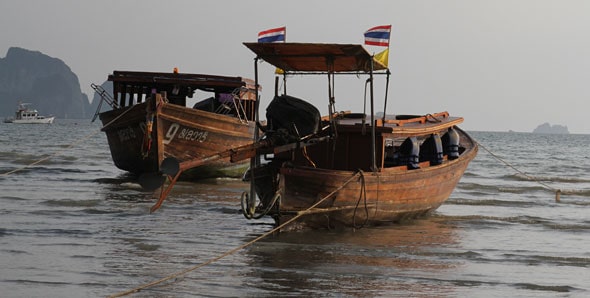 Several families were digging through the sand looking for shellfish (?) mostly ignoring me waggling a camera. There was mom, pop, and several kids, all with buckets and shoveling away.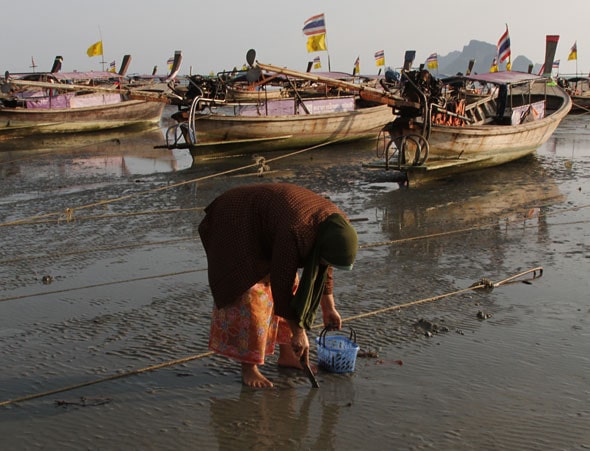 Like I mentioned, I took a zillion photos of the Krabi area. It's not possible to share them all here so eventually there will be a gallery for just that. Time.
More about Long-tail boats…
Ko Phi Phi: Longtail Boats
Long Tail and Long Boat Racing
How and where to rent Long-tail boats on Krabi