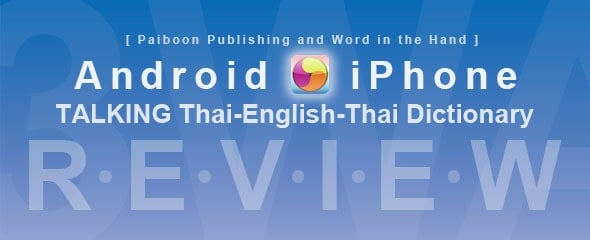 The Three Way Talking Thai-English-Thai Dictionary…
Benjawan Poomsan Becker & Chris Pirazzi have been working around the clock (seriously) to give us the best Talking Thai-English-Thai dictionary on the market. And it doesn't matter if you are into actual books, smart phones, or computers, Benjawan and Chris have it covered.
I've been using a version of the Three-Way Talking Thai Dictionary for years. I started with the small dictionary in paperback form and then purchased the Three-Way Thai–English, English–Thai Pocket Dictionary when it came out.
I love actual books but I do spend a lot of time on my computer, so when the PC version was available (the Three-Way Talking Thai-English-Thai Dictionary), I was all over it.
Following fast came the iPhone Dictionary app which morphed into the Three-Way Talking Thai-English-Thai Dictionary iPhone/iPad/iPod Touch app. What more could you ask for?
Well, not only did all the dictionaries get a heavy update, but the Android version of the Thai-English-Thai dictionary launched this week as well. Finally, the rest of the smart phone world can see what all the shouting has been about.
I don't have an Android phone so Snap from Learn Thai in Chiang mai offered to review it for us. Thanks Snap!
Snap's Android App Review: Talking Thai-English-Thai Dictionary…
Let me first say, that I was tickled pink to be included in the testing of Paiboon's Talking Thai-English-Thai Dictionary app for Android phones, tickled pink, but perhaps not worthy, as a now lagging learner of Thai.
After, I'm sure, an incredible amount of work and tweaking by it's creators, I was more than happy to purchase the finished product. The T-E-T Dictionary is one of three Thai dictionaries I have on my Android phone, the other two I haven't consulted since.
Already very familiar with the basic layout and functions, having used the PC version for about a year now, I found it very easy to navigate through it's various 'sections' of the menu: English, Thai, Sound (English transliteration), Configure Thai sound and Help…although as yet I've found no need to consult the latter.
Once you've located whichever word you're looking for, you have several choices:
Play Sound: which is, in my humble opinion, essential for anyone learning a new language…especially one that is tonal. And, because this app is pocket portable, could save one from avoiding those grinding (heart sunken) halts, when we realise that we've been pronouncing a word embarrassingly wrong. If all else fails, at least you have the option of clicking play and letting it do the talking for you.
Go: well, is just that, 'Go', which will take you from one section to another. Look up a word in English and select the Thai word and 'Go' will plonk you in the appropriate Thai – English part of the dictionary etc.
See Real World Fonts: As someone who's sat staring for tens of minutes at signs on Thai streets, this function also is a blessing. I remember my first encounter trying to figure out which Thai letter could possibly have been morphed into a backwards 'S'!!!!
Find Words Inside: For me, this is the piece de resistance! As someone who loves to dissect things…like Thai words, this function is a dream come true. Not only does it find words inside, but it finds words inside the words inside. Now, if I cling to the notion (possible myth) that there are only about 3000 individual words in the Thai language and all others are compounds of those words, and I just learn those, I'll be set, right?
Explain Spelling: A function that students would love. 'Explain Spelling' addresses why the word is the tone that it is, breaks the words down into syllables/consonant and vowel clusters, and feeds you the sounds bit by bit. Want to know more? Select any of those sounds to find out more about 'vowels and syllables' or 'consonants', which are two of the many subjects in the 'Reading and Writing' chapter of the app.
It seems the more you dig, the deeper you go with this dictionary.
Google Search: Self explanatory, but handy. Particularly if you want to test (where possible) the accuracy or appropriateness of a word using Google's 'Image' search.
Even if you're not serious about learning Thai and just heading to the LOS for a vacation, this app is worth every penny and more. Just imagine ordering food and actually getting what you thought you ordered, not what you actually ordered! Or, getting unlost instead of continuing on a wild goose chase around town…or simply making pidgin Thai conversation and enjoying interacting with the locals.
Now if I could only find an app half as good as this one, in Khmer!
Snap,
Learning Thai In Chiang Mai – My Journal!
Note: To see how to install and use the Talking Thai-English-Thai Dictionary, check out a video of the features of the Talking Thai English Dictionary Android App.
iPhone App Review: Paiboon's Talking Thai-English-Thai Dictionary…
As Snap covered the basic features I'll mainly share the iPhone/iPad/iPod Touch/PC update.
The PC version of the Talking Thai-English-Thai Dictionary (reviewed on Hugh Leong's site) started out with 42,000 entries, high-quality sound recordings, English to Thai, Thai to English, sound to Thai, multiple pronunciation systems, instant search, and typing in Thai.
That was in 2010 and it was considered smoking hot back then. And 2011 brought us even more entries.
Then a few months ago, when Chris Pirazzi contacted previous beta testers to check out the 1.6 iPhone/iPad/iPod update, he wowed us even more:
What's new in 1.6:

This release delivers another massive increase in the number of dictionary entries, from more than 100,000 entries to more than 150,000 entries (from 134,000 translations to more than 220,000 translations), plus another 28,000 entries (not counted above) containing the names of cities, subdistricts, districts, and provinces of Thailand.

As always, there is a high-quality sound recording of a native Thai speaker for every single Thai word in the dictionary.
In addition to the huge increase in entries, this release also adds:

A new setting on the iOS platform called "Show Playback Buttons" that lets you turn on the display of little speaker icons right inline with each Thai word on-screen, so that you can hear any word with just one touch, as you can also do on the Windows and Android platforms.
A handy new unified Quick Click Chart in our Help section on Reading and Writing which shows all Thai consonants and vowels at once on your screen, allowing you to click to hear each one or to go to its details in the relevant section.
A large number of small improvements to the Help including a lot more sound recordings for sample phrases, more sample words, and playback icons in our charts of Thai vowels.
An no. They are not done yet. In fact, Benjawan Poomsan Becker wants to hear from you:
We will continue to add words to future updates of the app that I come across or that are suggested by our customers. Therefore, we want to reassure readers that if they do happen to come across a word that they feel needs to be added to our dictionary it can be included in future updates. I look forward to seeing suggestions.

To submit new words email: [email protected]
For a detailed list of goodies, read the overview at Word in the Hand.
Using the various Talking Thai-English-Thai Dictionaries…
I bounce between three electronic versions of the Talking Thai-English-Thai Dictionary. The dictionary app is on both my iPhone and iPad, and the PC version on my Mac with an emulator.
When I'm running around town, logically, the iPhone is the one I use. And when I'm at home or traveling, I prefer the iPad because the screen is larger. But when I'm compiling Thai vocabulary lists and need to cut and paste into excel files, the PC version is invaluable.
It's not expensive to run all three versions. My original copy was for the iPhone but it sucks into my iPad without an additional charge. And the massive upgrade for the iPhone/iPad/iPod Touch as well as the PC is free. Totally free.