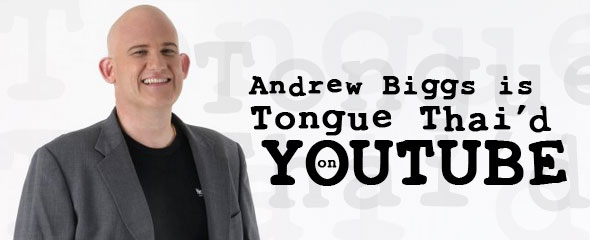 Tongue Thai'd is not just on TV…
Do you remember last week when I posted that Andrew Biggs is Tongue Thai'd on TV? And then we were all like YEAH! But then, being too eager, couldn't find his show on MCOT asap? Well, I have even better news. Tongue Thai'd is being fed to YouTube. Double yeah! Especially for those living overseas.
I've created a playlist of Andrew's videos on my WLT YouTube channel, so all you have to do is start at video one and work your way down. Andrew is busy getting practice sheets on his site for you to work with so be sure to download those as well.
WLT's YouTube Playlist: Tongue Thai'd Andrew
Tongue Thai'd: Practice Sheets (no longer available)
If you have a cacca connection, like I sometimes do, you might want to download the videos to your computer. In HandBreak Thai Language Videos for the iPhone I walk you through downloading YouTube videos via Safari.