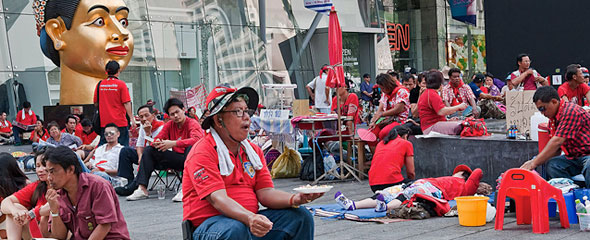 What I see in my neighborhood…
I live in an apartment right in the middle of the Ratchaprasong area, so I am able to give a firsthand report about what I see. Several times a day, my wife and I go on the streets around the Ratchaprasong intersection, out among the reds.
From our windows we can see and hear the action 24/7 – we can also feel the windows vibrating from the hundreds of banks of loudspeakers and the noise of the crowd. In order to get on with our lives as normally as possible, we have no other choice than to dive into the red masses from time to time.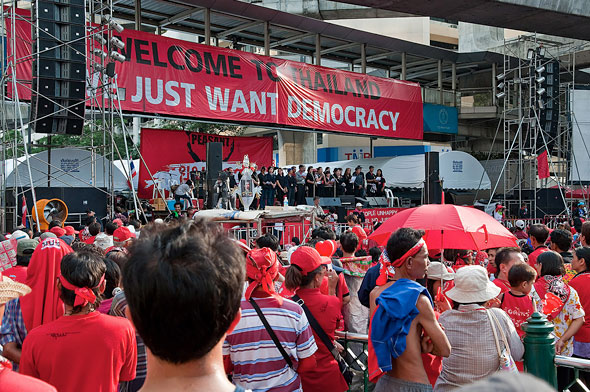 No matter which side it comes from, we keep a neutral attitude, ignoring the political lies and propaganda. To be honest, I see far too many deviations from the truth, and too much propaganda from all sides involved in the conflict.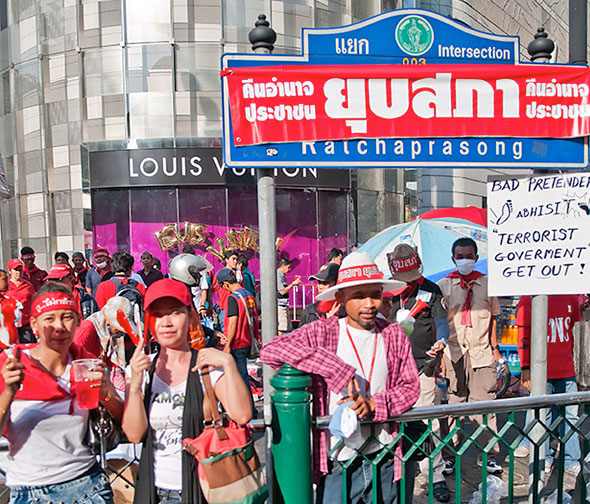 When we are approached by friendly people, we don't care what color they wear. With this attitude and putting the propaganda aside, it is actually a pleasant experience to dive into the red crowd to taste the hundreds of varieties of food they offer from all parts of the country, listen to some music sometimes, and watch the many people dancing and cheering with so many just being happy. We do all of this while ignoring the political propaganda around.
Now they are celebrating Songkran, and it's like a mega-party in front of our house.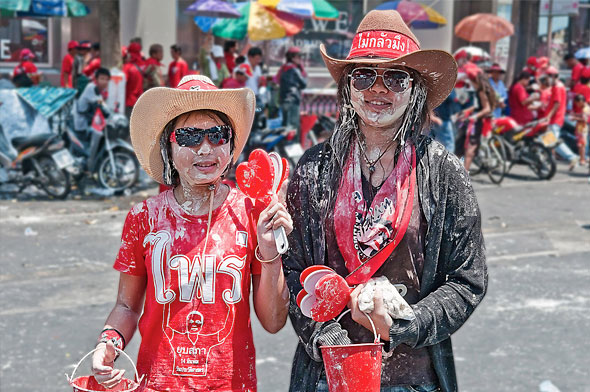 People are warm and friendly and many approach me to apologize for the inconveniences they are causing. They also offer specialties from Issan, drinks, ice coffee, etc. Even after the terrible events that happened at Phan Fah on Black Saturday, the people around my neighborhood are still friendly, happy, and mostly smiling.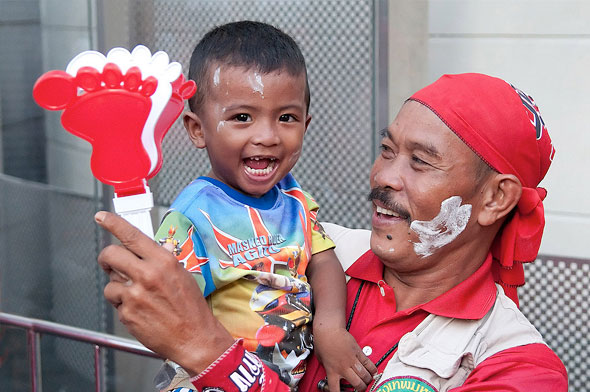 Should we sit like sad victims in our apartment, complaining about the noise and the mob? Or should we stay out of our neighborhood and hope that the government sends troops to "enforce the law" and spill blood in front of our doorstep? We have chosen not to do that. Without politically joining any particular group, we are making the best out of the situation.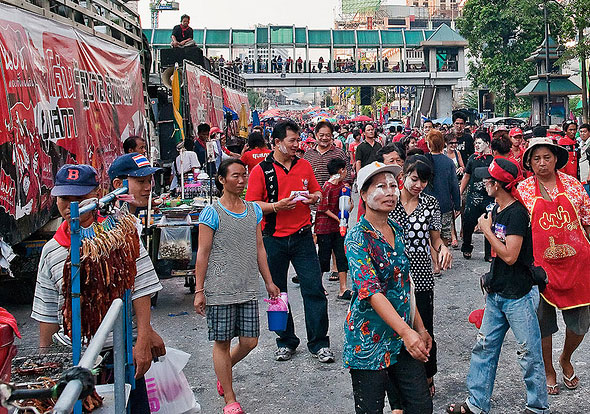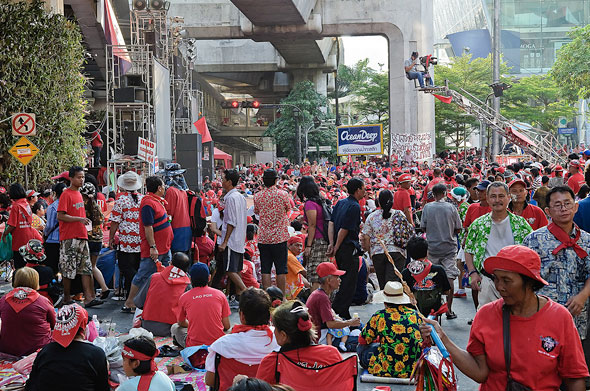 In one sense we have no other choice than to connect with the rally and the people when going out for food and entertainment. But we are certainly not joining the political propaganda rally – we are not wearing red.
Welcome to Ratchaprasong Resort!…
In the beginning it was more of an open street party. Now it is developing into something like an independent village in the heart of the city. People are installing themselves more comfortably, and the infrastructure is developing. The markets are getting diverse; the selection of street food is getting better by the day; the number of tents, shelters, street pharmacies, open air massage parlors and so on are increasing constantly. I even heard the red leaders calling the area "Ratchaprasong Resort".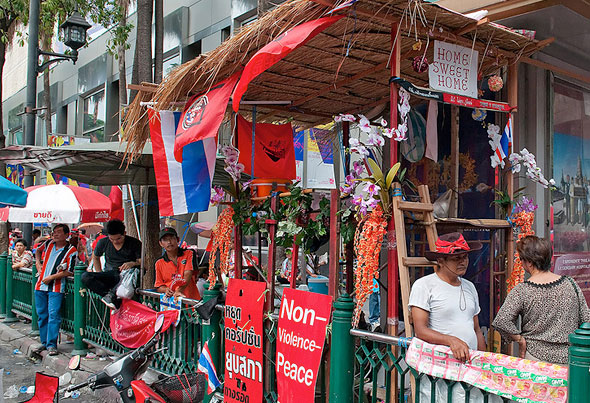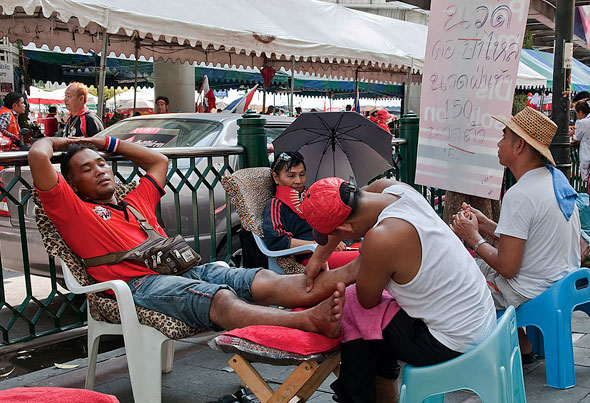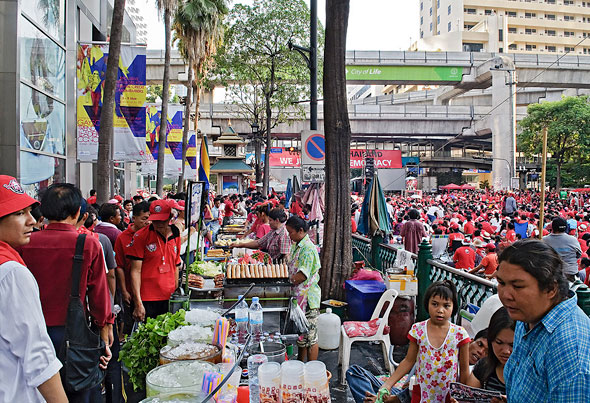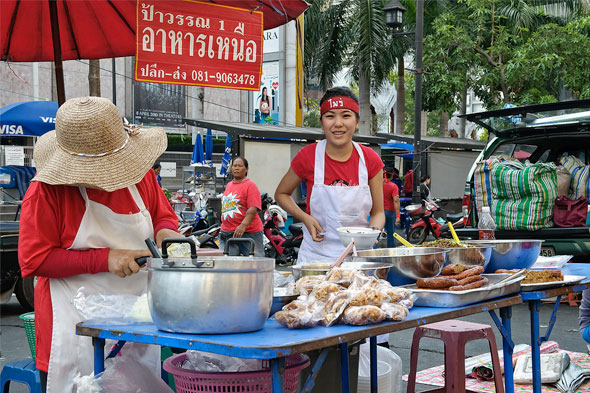 Sometimes I feel like I am close to crying. I like Thai people – no matter what color. When I retreat into my apartment, the positive experience of the human warmth and friendliness fills my heart and mind. If during such a moment I start thinking about the terrible but real threat of an army marching in violently, I fight hard to hold back tears. It's an awful emotional roller-coaster.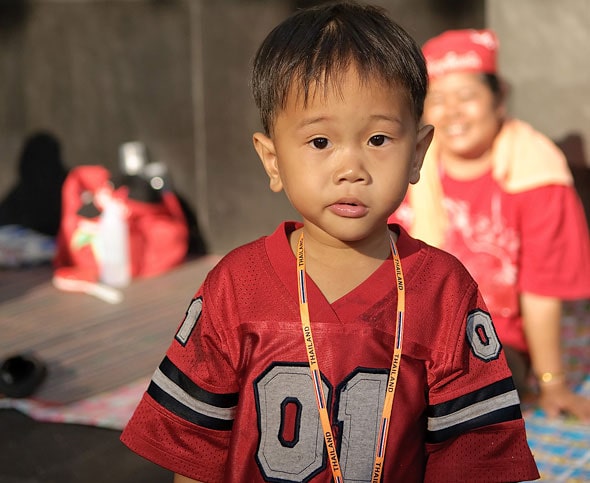 As a foreigner I have no rights to be involved in politics in Thailand, but I still feel that I would like to help somehow. That's why my wife and I gave pillows to needy toddlers and old people sleeping on the pavement. It's not because we want to support the Red Shirts, it's because we are human beings with hearts.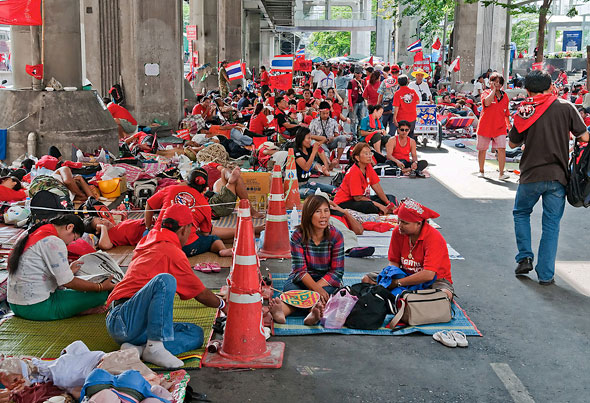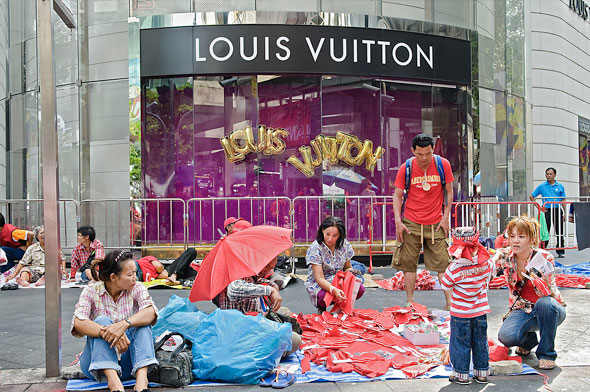 I regularly capture what is going on around my neighborhood, so I started a flickr account to share my photos. Please stop by.
Bernd Mechsner
flickr: Ratchaprasong
ThaiVisa: My Neighborhood Under Siege: Ratchaprason