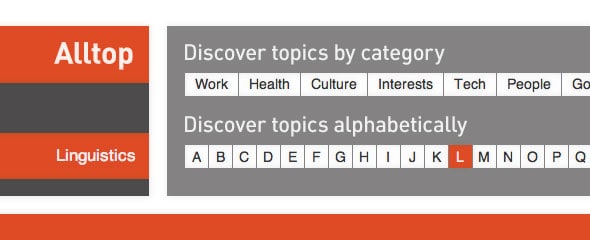 Sà-wàt-dee ká Alltop.com…
To those arriving from linguistics.alltop.com, welcome to Women Learning Thai.
WLT is where you'll find all things Thai language and Thai culture. I'm armed with language books, lesson plans, CDs, tapes, flash cards, software, online and offline resources, books on Thai history, culture, travel… and a Canon Kiss. I write about tips and techniques, local quirks and insights. Anything language or Thai culture, Thai travel related.
To get a quick peek, go to the growing archives either in the right nav (by month) or in the top nav (where you can expand to see all months).
On average, I post once a week. Well, unless I get a wild hair (and there will certainly be wild hairs here…)
What's an Alltop.com?…
Alltop.com is an "online magazine rack" of popular topics. We update the stories every hour. Pick a topic by searching, news category, or name, and we'll deliver it to you 24 x 7. All the topics, all the time.
Alltop.com (the brainwave of Guy Kawasaki), is for those (like me) who are tired of stashing away hundreds of feeds in Netvibes, Bloglines, etc.
For instance, just check out All the top Linguistics news where they grab high-quality feeds pertinent to language learning. And when the blogs update, Alltop does too.
So instead of having to hunt around for the top blogs on your subject of choice, Alltop does it for you.
And if you don't find your favourite high-quality feed, then email Alltop and let them know. They do listen as they do want to know.
Language blogs I'd like to see listed on Alltop.com…
After adding WLT to Alltop.com, they asked me what high-quality feeds I'd advise.
All Japanese All The Time Dot Com
Where Khatzumoto keeps you excited about learning the Japanese language… or any language.
babelhut.com
Thomas and Peter write about language and language learning.
Confessions of a Language Addict
Don't mind the blog design, it's the inspiring words that count!
ForeignLanguageBlog.com
Here's where you get the latest foreign language learning information from books, the Internet and around.
Thai 101
The impressive Rikker's words of wisdom and resources on learning the Thai language.
soyouwanttolearnalanguage
And you can't go wrong grabbing from soyouwanttolearnalanguage's blog resources!