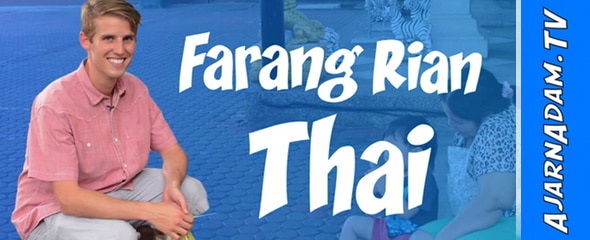 Adam and Ben Bradshaw: Farang Rian Thai…
Being a fan of Adam Bradshaw for years, I finally interviewed him in 2011. When it comes to speaking Thai, Adam is one of the best out of the many talented expats I've come across.
Since breaking into the business, Adam has been involved in many projects involving the English and Thai languages. His most recent (and my favs) are The Breakdown and Talking Thailand. Both are quality shows (and I believe Adam's drive for perfectionism has something to do with it).
When Adam's brother Ben (also talented in languages) showed up in Thailand last year they teamed up to produce Farang Rian Thai (ฝรั่งเรียนไทย). During each show Ben shares his progress with learning Thai. That's awfully brave of him!
At the moment there's only three episodes but there's sure to be more soon.
Farang Rian Thai (ฝรั่งเรียนไทย): Episode 1…
Farang Rian Thai (ฝรั่งเรียนไทย): Episode 2…
Farang Rian Thai (ฝรั่งเรียนไทย): Episode 3…
Where to find Adam and Ben Bradshaw…
ajarnadam.tv: Farang Rian Thai
Facebook: AjarnAdamBradshaw
Facebook: Ben Bradshaw
Facebook: AdamBreakdown
YouTube: jadambrad
Twitter: @AjarnAdam