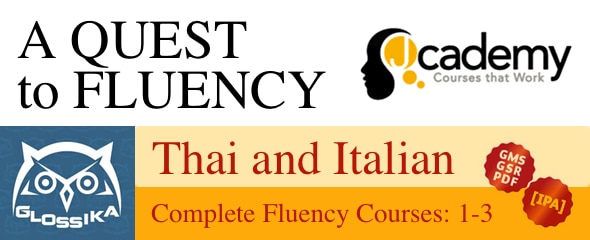 Paul's Quest to Fluency…
A little over a month ago Paul Garrigan launched his quest to become fluent in the Thai language. Impressed with the obvious dedication shown, Stu Jay Raj (jcademy.com) took Paul under his wing: 6 Months to Thai Fluency – Paul Garrigan Week One – Thai Bites.
From day one I was excited about Paul's quest. But to join, I first had to discover my own motivation to raise the stakes in learning Thai. No doubt, motivation in language learning is key.
You see, Paul and I are both introverts. It's a personal attribute that gets in the way of becoming fluent in any language. A no brainer, to communicate by speaking, you really do need to be interested (motivated) in talking with people.
My Quest to Speak Fluent Thai in Six Months: I've lived in the country for thirteen years, so it is embarrassing to admit I'm still not fluent. There have been periods when I've put in the hours to learn the language. I can read Thai, and I've got a reasonably large vocabulary, but I just don't like talking. My goal over the next six months is to rectify this situation.
Paul's week three post gave that "ah hah!" needed to find a motivation that has a decent chance of sticking with me.
5 Improvements in My Approach to Learning Thai: It is my goal that within one year, I'll be putting out videos in the Thai language as well as the ones in English. This is my dream, and I'm passionate about making it happen. There might not be even one Thai person interested in what I have to say, but I know it will give me so much pleasure to do this.
After reading Paul's main reason for becoming fluent in Thai, I realised that my own motivating factor should also be something tangible, not mysterious, or just because "it's the thing to do".
Now here's the thing. When searching for my motivation to join Paul's quest I decided to switch to Italian. Because motivation-wise, it just so happens that everything fell into place for me to learn Italian (for the interim) before getting back to Thai.
This week I found out that I'm headed to Venice at the end of the year.
Also this week, Glossika launched their Complete Fluency Italian Course.
The clock is ticking. I have under 200 days to get my head around Italian and the pressure is creating a RUSH of motivation. VENICE!! YA! ITALIAN!! YA!
Then, after the New Year, with the Glossika Method fully entrenched (hope, hope), I'll get back to my regular studies with the Thai materials at Glossika and jcademy.com. How's that for a plan?
The guts of the language quest…
Paul will study with Glossika's Complete Fluency Thai course (pssst: the pre-launch price is US$49). And at the same time, I'll be tackling Glossika's Italian course (already launched). The two courses are designed the same so we'll have plenty to discuss.
As mentioned, Paul will be working hand-in-hand with Stu and jcademy.com. As a polyglot, Stu Jay Raj is an inspiration for learning any language so I'll be quoting him often. Plus, his site includes posts on getting your accent just right – none of that superimposing your native language over your target language. IPA warning: I've succumbed.
The Glossika Method…
I've written about Stuart Jay Raj many times but Mike's Glossika is new to this site. Other than to say that the method is centred around GMS (Glossika Mass Sentences) and GSR (Glossika Spaced Repetition), there isn't room in this post to get into much detail. I will later though.
Before I sign off I do want to quickly inject that I've been interested in mass sentences ever since Brett mentioned using sentences to learn languages effortlessly.
Mining sentences (finding sentences, getting the sentences approved by someone knowledgeable/trustworthy in the language, and then recording the sentences) is not effortless. But now there's Glossika – and Glossika mined the sentences for us. So now there's no excuse.
Until next time…
Please do read what Paul's been up to during the first four weeks of his quest:
Care to tag along? We'd love for you to join the quest!