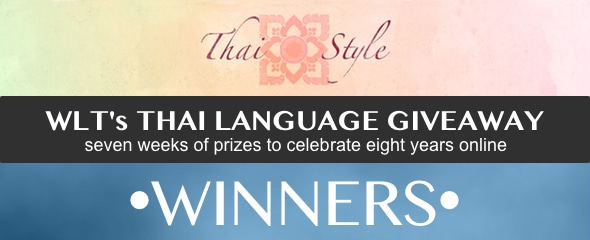 Welcome to the FOURTH week of WLT's seven weeks of Thai Language Giveaways. The Language Giveaways are a part of the Language Lovers Competition. The LLC is now over – to see the results go to Thank You for Voting: Top Language Lovers of 2016.
Chosen by Kruu Jiab and Tom, here are the winners of the Speak Thai Course:
To be fluent in a language, it is a life long project and different resources help developing different skills. So thanks Catherine for an amazing Thai language resource website! And congratulations to the 4 winners; Stuart Cox, Michel Geneva, Lauren Sautter and Micky.

There are different skills that should be developed alongside each other when learning a language; vocabulary, pronunciation, listening, function (grammar, sentence structure, etc) as well as learning about local culture, attitudes, personality, beliefs, etc.

My Speak Thai Course helps learners to develop these skills from a beginner to intermediate level. If you already speak some Thai I hope my course will still benefit and help you to develop your current skills.

After moving to a quiet island, I now have time to concentrate on editing my materials. I am currently working on new edition of my Speak Thai Course which will be released before Christmas this year with even more thorough explanations, a new design, better layout, more selfstudy/homework materials, new audio, smart vocabulary flashcards and more! The new edition will be available for all current learners to download at no extra cost!

Good luck and keep me updated with your progress! Kru Jiab and Tom
Kruu Jiab and Tom, thank you so much for sponsoring the FOURTH week of WLT's giveaway! Thanks also go to those leaving comments – be sure to check back on Tuesday morning for more.
Note: To get a list of the coming prizes please read the first post in the series, Vote THAI and WIN! | SEVEN Weeks of FREE Thai Giveaways.
The SET Foundation really really really needs our help…
As mentioned in a previous post, the SET Foundation seriously needs our help this year. Psssst … Kruu Jiab and Tom donate every year (thanks you two!)
Did you know that…
Since SET became a registered foundation in 2005, the value of its scholarships (to end of 2015) totals 158.00 Million Baht.
If you can please donate to The SET Foundation by filling out the Paypal button at the top right of their site. Ta:)