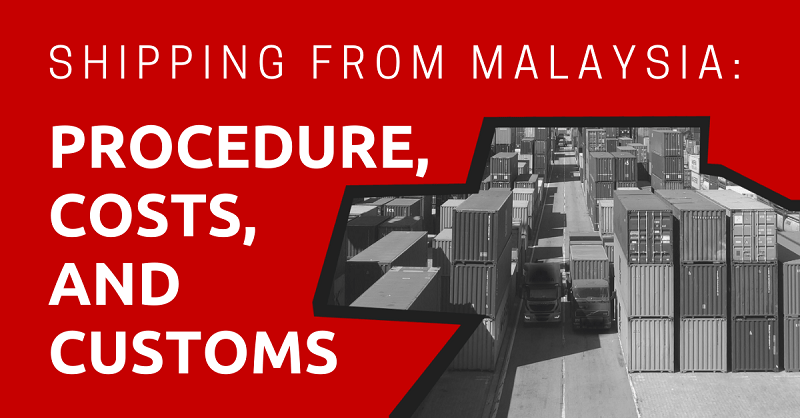 Whether you're selling goods, moving house, or sending a small package, things can get complicated when you're shipping from Malaysia to another country.
Before you do so, you have to know what paperwork to fill out, how much to pay, and how to deal with customs.
Having said that, this guide will walk you through the entire process of shipping anything — large or small — from Malaysia to almost any other country around the world.
Also, if you're looking to ship your belongings to Malaysia, check out this article instead.
Paperwork
Every international shipment requires paperwork. The amount of paperwork can vary depending on the size of the shipment.
Smaller items shipped using mail carriers don't require much paperwork. However, this can change when shipping full containers.
Freight forwarders or shipping companies can help you get the required paperwork, but here is a sample list of international forms listed on the UPS Malaysia website.
Paperwork for Small Parcels
For parcels containing small items, the process is pretty straightforward.
The sender only needs to fill in the shipping label and include a copy of the commercial invoice. The commercial invoice is used by customs to figure out any taxes.
The invoice should contain the price, value, and quantity of the item(s). In certain conditions, the commercial invoice also includes the sale or trade conditions agreed upon by the buyer and seller.
Depending on the destination of the package, you may need a certificate of origin. A certificate of origin certifies that the exported item is produced, grown, or manufactured in Malaysia.
If required, you can obtain the certificate of origin from the Malaysian International Chamber of Commerce and Industry.
There is no specific requirement to ship additional pallets.
Paperwork for Bulk Shipping
If you're shipping items in containers, there is a lot more paperwork involved. Your shipping company, freight forwarder, or shipping agent can help compile and fill out the required documents.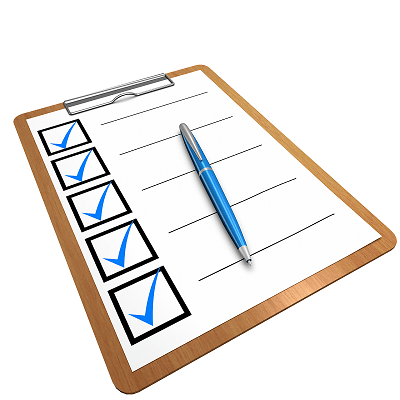 Depending on your requirements, you may need only a few or all of the following documents when shipping from Malaysia to international destinations:
commercial invoice that contains a detailed list of products, order specifications, and transaction information

performa invoice used to receive quotes

packing list of inventory that includes packed items, their weight, and dimensions

certificate of origin, which is available from the local chamber of commerce; the document certifies that goods in a particular export shipment are wholly obtained, produced, manufactured, or processed in a particular country

certificate of export, or certificate of free sale, that confirms the item is legally available in the free market for sale and authenticates that the item is not new or unregulated

inland bill of landing, or the contract between the sender and the shipping company, which indicates that goods are picked up and transported on the sender's behalf

ocean bill of landing when booking sea freight

air waybill if transporting goods using air freight

bank draft if the buyer or the seller used bank financing

dangerous goods form when shipping dangerous goods and hazardous materials

AES, or Automated Export System, when sending items to specific countries, particularly the United States

shipper's letter of instruction that provides information to the freight forwarder or the shipping company about the shipment and instructions on how to proceed with it
Preparation for Shipment
Before shipping cargo, it's important to streamline the process by understanding the various steps involved in the shipment.
You can do it the old-fashioned way by writing everything on a piece of paper. This gives you a visual snapshot of the entire shipping process.
However, you should take a look at some of these important steps to prepare yourself for shipping from Malaysia to other countries.
Country Rules and Regulations
The first step is to get familiar with the rules and regulations of the shipping destination.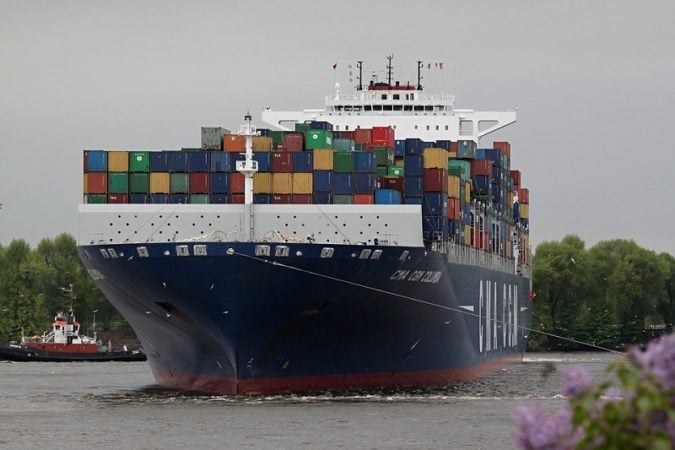 If you're shipping small items, a good place to start is the UPS Malaysia website. Select the destination country and the underlying regulations such as export documentation, clearance information, and prohibited commodities.
This gives you a general idea of the export regulations. While UPS is not the only carrier, the website should address your basic concerns.
If you're using ocean freight or shipping large quantities, the best source of information is the shipping company, freight forwarder, or the agent taking care of the cargo.
To save time, it's practical to seek help from the shipping agent because they can guide you reasonably well regarding the laws and the documents required to ship the cargo.
You should not rely solely on the shipping agent, however. For instance, you can easily fill in the pertinent information on AES instead of counting on the freight company to do it for you.
Similarly, filling the forms yourself is just one of many things that anyone can learn in order to save time and cost.
Packing Goods
Before shipping, it's important to prepare the cargo properly so that it may withstand rough handling.
Since the cargo may be handled by mechanical equipment, cranes, and lifts, it's a good idea to pack everything in a strong and lightweight container.
If the item can be easily damaged, then secure it using pallets or a container. Anything tied securely onto a pallet or packed in a shipping container is likely much safer.
It also makes sense to distribute cargo weight evenly by providing a cushion using airbags and foams. This prevent items from rubbing against each other during the shipment.
For shipments that take multiple days, weeks, or even months, pack goods in water-resistant material to avoid rust and corrosion.
Extra Duties and Taxes
International shipment can often incur unexpected costs in the form of extra duties and taxes.
Under these circumstances, it's logical to arrange documents that may otherwise seem inconvenient. After all, preparing the necessary customs documents beforehand helps speed up the clearance process.
If you're shipping small items delivery duty unpaid (DDP) is perhaps the most favored route to take. In this instance, the customer pays the duties and taxes.
With that said, make sure that the customer is aware that they need to pay such charges.
For bulk shipping needs involving container shipping DDP is customary. DDP indicates that the duties and taxes are already paid by the sender.
Shipping your items to a fulfillment center or a warehouse also incorporates DDP, which means that the price of cross-border shipment includes duties and tax.
Bulk Shipping From Malaysia
The export-friendly policies of the Malaysian government make it fairly easy to send goods or household items to other countries.
To make it even easier, the following section outlines brief but critical information to help you get started.
Container Shipping (LCL and FCL)
For bulk shipping of cargo, Malaysia has several ports spread throughout the peninsula and East Malaysia.
Almost all the major international logistics brands are located in the country. Many of the well-known local companies also compete favorably in terms of quality and prices.
The competitive environment provides a good value proposition if you're sending goods to another country.
When sending items in bulk, you can use less than container load (LCL) or full container load (FCL) shipment.
LCL makes sense if you're sending items that take anywhere between 2 cubic meters to 13 cubic meters of space. In this scenario, the container also includes shipments from other senders.
LCL rates are generally more stable than FCL rates. While LCL certainly costs a lot less than FCL, the shipment may take longer because LCL shipment may be loaded and unloaded at different transshipment ports.
FCL, on the other hand, may be a better choice if you're sending something that takes more than 14 cubic meters of space. In this scenario, you have exclusive rights to the full container.
Despite the relatively high price, FCL ensures the safety of items. Without any doubt, FCL is a better choice for sensitive goods that can get contaminated or damaged when placed with other non-relevant items.
Freight Forwarders
A freight forwarder is an organization that helps people move their goods.
A lot of big-brand logistics companies act as transporters and freight forwarders. Similarly, there are even larger numbers of stand-alone freight forwarders who work with logistics providers to handle each client's specific needs.
In Malaysia, it's easy to find a reputable freight forwarder who can help you take care of all your logistics needs.
Instead of spending hours on research, one way to find a company who can help you is to get a free quote from various reputable freight forwarders and shipping companies.
Getting a free quote also lets you talk to someone who can further help you.
In fact, you can use the form on our website to get a free shipping quote within 24 hours.
Cost of Bulk Shipping from Malaysia
The cost of bulk shipping mainly depends on the distance the shipment travels to its final destination, the volume of cargo, weight, and mode of transportation.
When transporting multiple items, you'll likely use LCL or FCL. The most common types of containers are 20-foot containers offering 33 cubic meters of space and 40-foot containers offering 66 cubic meters.
LCL typically carries multiple pallets from more than one customer. So, it's important to note that you'll be charged a minimum of 1 cubic meter of space, even if the actual item takes less space.
In simple words, you can conclude that the dimensions are important to keep the price down.
Another factor that may come into play is the chargeable weight.
Depending on how the charge is calculated, heavier goods may be charged more than lighter goods. Some shippers may relate 500kg to 1 cubic meter of space when calculating costs.
Using container shipping is much more economical than air freight, but it also takes longer as well.
Here is a breakdown of costs from a major port in Malaysia to some of the other countries. These estimates include typical insurance, taxes, and miscellaneous expenses. All costs are in USD and vary.
| | | | | |
| --- | --- | --- | --- | --- |
| Destination | 20-foot container | 40-foot container | Contents of One-Bedroom Apartment | Time(Days by Sea) |
| China | $1,696 – $1,874 | $3,223 – $3,561 | $1,103 – $1,219 | 6 – 8 |
| Singapore | $2,240 – $2,478 | $4,256 – $4,707 | $1,456 – $1,610 | 1 – 3 |
| Indonesia | $2,240 – $2,478 | $4,256 – $4,707 | $1,456 – $1,610 | 2 – 4 |
| UK | $4,024 – $4,448 | $7,645 – $8,452 | $2,616 – $2,891 | 18 – 23 |
| UAE | $5,990 – $6,618 | $11,379 – $12,574 | $3,893 – $4,301 | 9 – 11 |
| USA | $11,330 – $12,520 | $21,527 – $23,789 | $7,365 – $8,138 | 26 – 31 |
Air Freight and Other Transportation Options
Airfreight is a practical choice for packages that need quick delivery.
In contrast, ocean freight is a much better option for anything weighing more than 30kg. This is due to the shipment size and weight, which increases dramatically faster than LCL if you're sending items using airfreight.
Apart from airfreight, your freight forwarder may also be able to quote you prices for sea/air and sea/train combinations.
To save on costs, a lot of exporters in Malaysia often use rail routes originating from China to Europe. In this instance, the goods are shipped to a port in South China and transported through a rail network from Beijing to Europe.
Shipping Small Items
For small packages and cartons weighing less than 30kg, it's ideal to use a courier service, which likely offers quicker delivery and better rates.
Using a courier service also makes sense for shipment of large volumes that are less than 500kg to neighboring countries such as Singapore, Thailand, China, and Indonesia.
The local courier sometimes uses land transport to deliver the items in a cost-effective and timely manner.
There are lots of courier services in Malaysia that can help you deliver a package safely to international destinations.
For example, to send very small parcels you can use Flexipak. It is extremely cost-effective and often the rates are fixed.
Besides that, several well-established local courier companies can help deliver small items to international destinations. They are Pgeon, CityLink, GD Express, and Skynet just to name a few.
The quality of service may vary between these local brands, but they're less expensive than international companies.
Relying on international companies is not a bad idea either, particularly if you're sending important items and cost is not the deciding factor.
FedEx, DHL, UPS, and TNT offer reliable service to almost every destination in the world. Some courier companies such as J&T Express specialize in delivering to specific countries, like Singapore.
Local and International Shipping Companies
Here is a list of some of the most well-known local and international courier companies that can help send small items and low-volume cargo to international destinations.
While this is by no means an exhaustive list, it certainly gives you a good idea of what to expect when shipping small items from Malaysia.
Pos Malaysia
Pos Malaysia is a publicly-traded state-owned company that traces its history to the early 1800s. They can send parcels to more than 200 countries.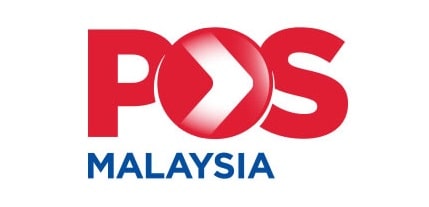 The typical cost for a 1kg parcel is RM50 to RM55 and RM6 for an additional 500 grams for neighboring countries, and takes anywhere from one to two weeks to ship.
GD Express
Founded in 1995, GDEx is a popular company that has offices in Malaysia and Singapore.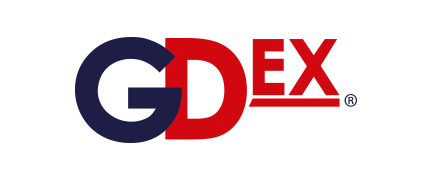 While the quality of service is often considered superior to other local companies, the prices are almost two times higher than major competitors.
City-Link
A major competitor to GD Express, City-Link also provides reliable services to every major destination around the globe.

The quality is slightly less than what is offered by GD Express but the rates are competitive. Moreover, City-Link Express is often quicker than most local shipping companies.
DHL
If you feel comfortable sending your parcels using an established international brand, DHL is a great choice.

The cost per kg is slightly higher than the local companies but parcel tracking is also better. However, the quality of service matches local companies — some of which offer the same quality at reduced rates.
FedEx
FedEx is a good alternative to DHL and UPS.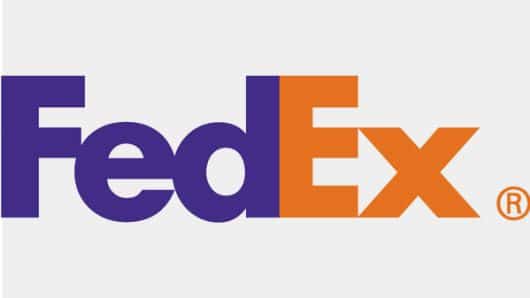 The rates are often higher than DHL and UPS, but the International Priority Service to Asian countries is the fastest in the industry. It may take less than 24 hours for parcels to arrive in nearby countries.
Cost of Shipping Small Items from Malaysia
Assuming that you're using a courier service to send your parcels and small items, the cost of shipping mainly depends on the weight, distance, and duration of shipment.
Usually, the rate for sending documents is less than the rate for parcels. Similarly, small items cost more to ship.
You can use the following guidelines to get some idea of the cost related to shipping a small item to Singapore, China, Indonesia, the UK, and the USA. All costs are in MR.
| | | | |
| --- | --- | --- | --- |
| Destination | Documents 0.1kg | Parcels 2kg | Small Items 20kg |
| Singapore | 45 – 120 | 60 – 180 | 300 – 450 |
| China | 60 – 230 | 80 – 300 | 600 – 1300 |
| Indonesia | 50 – 160 | 70 – 280 | 500 – 1000 |
| UK | 80 – 300 | 110 – 480 | 800 – 2000 |
| USA | 70 – 230 | 100 – 450 | 750 – 2000 |
It's important to note that these figures are estimates to give you an idea of the actual costs when shipping small items from Malaysia. Also, the price ranges listed above indicate different types of courier services and variations in delivery times.
You can also use the following links to evaluate the shipping expense:
Dealing with Malaysian Customs
It's easy to streamline your shipment by understanding the export regulations of Malaysia in addition to those of the destination country. You can also get assistance from Malaysian Customs.
With that said, following is a list of a few important concepts:
Duty Rates and VAT
For standard items, there is no VAT or excise duty. However, the carrier may impose fuel surcharges, residential surcharges, and peak surcharges on packages and pallets.
For commercial goods, the Malaysian government applies a tariff of up to 10 percent. Traders also need to pay a 6 percent sales and service tax on items exported out of the country.
Malaysia is a partner to several Free Trade Agreements, which can help cut rates and reduce paperwork.
Restricted Items
Based on the local needs and production demands, the Malaysian government may ban certain products from exports.
For instance, face masks were banned from export during the COVID-19 pandemic. Prohibited exports include weapons, military equipment, turtle eggs, and Rattan from the Malaysian peninsula.
Licenses
Certain products may require a license from authorities before you can send them outside the country.
These usually include livestock, food, arms, and antiques. Malaysia also has an export licensing system. Your freight forwarder can help you get a list of such items.
Shipping Times
If you're using air freight to ship items, the duration likely depends on the chosen mode of transportation.
Expedited air freight often takes anywhere from one to three days to reach the customer. Under normal conditions, the item may take up to a week to reach its destination.
However, the rate is likely to be much higher than shipping using ocean freight. If time is not a concern, most freight forwarders recommend sending anything over 150 kg by ocean freight.
Here is an overview of the typical shipping times from different parts of Malaysia:
| | | |
| --- | --- | --- |
| From | Destination | Time |
| Port Klang | Indonesia (Belawan) | 1 Day |
| Tanjung Pelepas | Indonesia (Semarang) | 2 Days |
| Port Klang | Singapore | 1 Day |
| Port Klang | Thailand (Bangkok) | 4 Days |
| Tanjung Pelepas | China (Nansha) | 4 Days |
| Port Klang | China (Xingang) | 12 Days |
| Tanjung Pelepas | Australia (Melbourne) | 16 Days |
| Port Klang | Italy (Genoa) | 27 Days |
| Penang | Germany (Bremerhaven) | 30 Days |
| Port Klang | U.K. (London) | 24 Days |
| Port Klang | U.S.A (West Coast) | 21 Days |
| Port Klang | U.S.A (East Coast) | 30 Days |
Common Mistakes When Shipping Items from Malaysia
Before shipping anything from Malaysia to other countries, make sure that you're aware of the following scenarios and policies.
Dimensional Weight
If the dimensional weight is greater than the actual weight, it's common for shipping companies to use the dimensional weight instead.
In this case, the cost of the shipment can be two to three times higher than the estimated expense calculated using the actual weight.
Prohibited and Restricted Items
Irrespective of the destination, certain goods such as fresh vegetables, firearms, and drugs are always prohibited by customs.
Sometimes, people mistakenly send prohibited items using a courier service. As a result, such items are confiscated at international ports without the possibility of return.
It's also important to understand that there is a clear distinction between prohibited and restricted items. You can't send a prohibited item but you can send restricted items under certain conditions.
Unsecured Packaging
Loose packages often end up costing you way more than the estimated cost of the shipment. It's common for senders to get complaints and request refunds because fragile products break easily during shipment.
Movers routinely manhandle packages. To prevent a disaster, pack the items correctly and use bubble wrap for maximum protection.
Country-Specific Shipping Tips
Below are some things to consider when sending your shipment from Malaysia to each respective country.
Singapore
Due to the proximity to Malaysia, shipping to Singapore is the cheapest option.
Besides air freight and ocean shipping, try to receive quotes for land transport, which is often less costly than other alternatives.
Moreover, Pos Lagu, J&T Express, and GD Express offer specialized courier services to Singapore.
United States
When shipping to the Eastern United States, you can also use a combination of sea freight to Oakland, California and then road transportation to cities up and down the East Coast.
China
If possible, it's better to avoid the two peak seasons when shipping to China. These occur from mid-September to mid-October and at the start of the Chinese New Year in January or February.
During these seasons, the cost of shipping is high and delays are rampant.
Indonesia
Compared to air freight, sea freight to Indonesia not only offers very competitive rates but it mostly takes less than a week to deliver the cargo.
The competition, good network, and strategically located seaports make ocean freight a great value for money if you ship regularly to Indonesia.
Now, on to You
If you're aware of the basics, shipping from Malaysia should be a breeze. This guide should've helped you get started in the right direction.
To start the process, you can get a free shipping quote within 24 hours from various shipping companies, which should help in calculating your estimated expenses and delivery time.