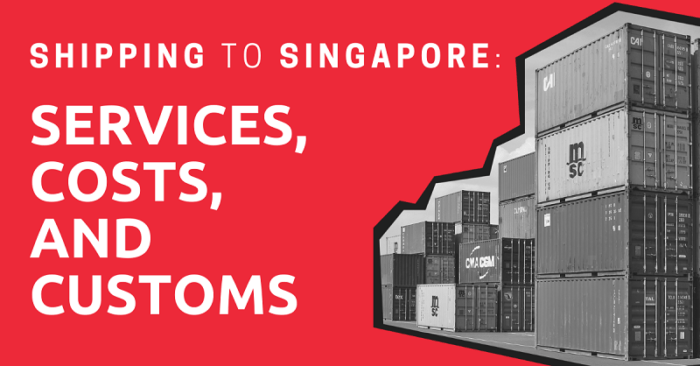 Shipping to Singapore: Services, Costs, and Customs
Are you looking to pack your bags and move to Singapore?
Are you looking to ship a package to Singapore?
Are you worried whether your items will be shipped safely to its destination?
Whether you are looking to ship all your household items, a small but expensive package, or just sending a letter to Singapore, we've got some useful information for you.
Shipping to Singapore doesn't have to be a cumbersome process. You just need to find the right shipping service provider and know the processes involved, the costs, and other important details.
This guide will tell you what you need to know about shipping your belongings to Singapore, including information about Singapore customs procedures, shipping costs, shipping time, and more.
This article will take approximately 23 minutes to read. Don't have the time right now? No worries. You can email the ad-free version of the article to yourself and read it later!
Writing Singapore Address
Writing a Singapore address might be quite different from writing a US one, but you will eventually get the hang of it.
Postal codes in Singapore have six digits. The first two digits are the sector code and the remaining four digits represent the delivery point.
Here's the Singapore mailing address format:
[Recipient Name]
[Door No.] – [Unit No.], [Apartment Name]
[Street Name], [Area / Location]
Singapore – [Postal Code]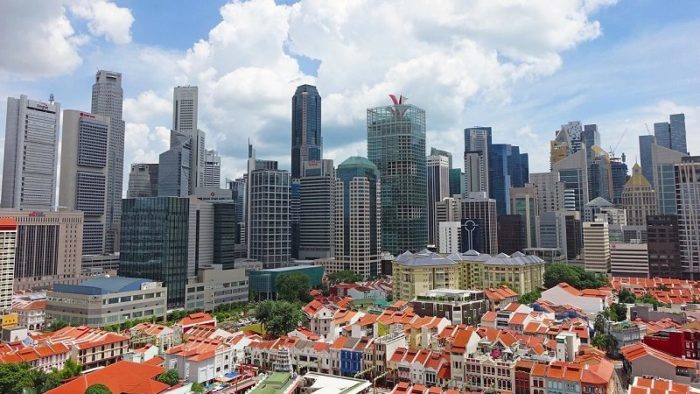 Filling Out Shipping Paperwork
When shipping packages to Singapore, you need to provide sufficient documentation including official receipts and invoices, if your goods are dutiable.
If you are sending an owner-packed package, you need to submit a packing list complete with all the details of the items in the package.
You'll need to furnish specific forms for these documents. The shipper will provide these forms with examples of how to fill them out.
Fill them out and give them back to your shipper.
If your shipment contains any non-declared alcohol or tobacco products, then be prepared to pay duties. You can check the duty rates at the Singapore Customs website.
The "Declaration of Dutiable, Restricted and Prohibited Imports" need to be filled with the total value of the shipment.
If you're sending such goods with the required paperwork, then you won't have issues sending them.
Shipping Large Items to Singapore
If you are looking to ship heavy goods or large items to Singapore such as shipping household items to your newly rented condo, it is always recommended to go for either container shipping or freight forwarding.
Before choosing a shipping service, obtain all details about their tax restrictions, fees and charges, delivery times, etc.
Container Shipping
If your goods are too large or too heavy to be delivered through traditional postal service, opt for container shipping.
Container shipping simply means that your goods will be transported inside a container on a ship.
There are only two ports in Singapore: the PSA Singapore terminals and Jurong Port. They are located quite close to each other so there's no huge difference on shipping prices.
Container shipping can be broadly classified into two main categories:
LCL (Less than container load)
FCL (Full container load)
LCL
In less than container load (LCL) shipping, also known as groupage, goods are shipped inside a container alongside other customers' packages and goods.
Compared to full container load (FCL) shipping, LCL is much more affordable. It is generally advisable to opt for LCL shipping if the volume of your goods is less than 13m3 (cubic meters).
The rates for LCL shipping are calculated based on the weight and volume of your goods.
This website explains how to calculate the cubic meter on your own.
The major drawback of LCL shipping is that you must wait until the entire container is full and ready to ship before your items leave port, which might take a few days or a few months.
LCL shipping may be much more affordable, but it also takes much longer.
You can also go for LCL shipping if your goods are heavy but don't require an entire container for shipping.
FCL
In a full container load (FCL) shipping, you book an entire container to ship only your goods, which means you have total control over the container and you don't need to share the space with anyone else.
But the price for FCL shipping is way higher than LCL.
The major advantages of FCL is that you can be guaranteed that your goods are secure. FCL shipping is also much faster compared to LCL shipping.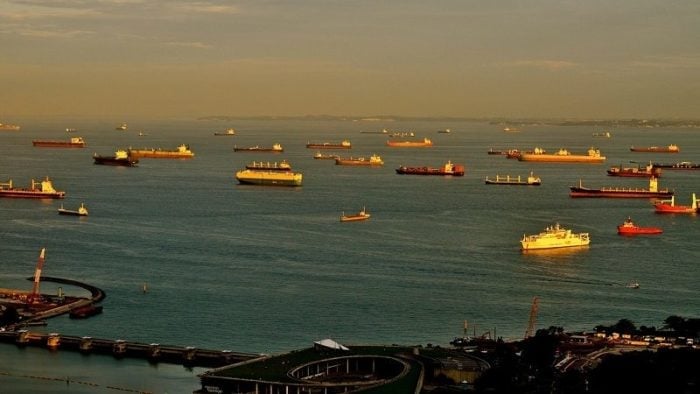 Freight Forwarders
Once you've finally decided to ship your items through container shipping, you need to look for a reliable freight forwarder that will act as a liaison between you and the shipping agency.
The reasons why you need to find a good freight forwarder is because they help you:
Find the right shipping agency
Strike a good deal with the agency
Prepare all the shipping documents
Track the shipments for you
Store the goods temporarily, if needed
Get the shipment delivered to the correct location in Singapore
One thing you need to remember is that the freight forwarder doesn't ship your goods. They only assist you in finding one.
If you are a business owner looking to ship a large volumes of goods, then having a freight forwarder will be invaluable to you.
A freight forwarder will help you obtain the necessary shipping documents, have your goods temporarily stored, and help with inland transportation as well.
They partner with various shipping agencies and know the nitty gritty of the shipping business, ensuring goods reach their destination safely.
You can use the search directory at Freightnet to locate a trusted and reliable freight forwarders in Singapore.
In the Freightnet website, you can get all the details of the freight forwarder, including their address, phone number, email, Skype ID, website, etc.
While most freight forwarders display their shipping costs, some don't. Shipping costs are typically calculated by measuring:
Gross weight, or
Dimensional weight
An easy way to find a shipping company is to use this form. Once you fill out all the shipping details, you will get up to five quotes from international shipping companies that can ship your items to Singapore. These shipping companies also accept credit card.
Shipping Small Items to Singapore from Around the World
If you're looking to send small items to Singapore, use the services of the companies listed per country.
From the USA
When shipping items from the US to Singapore, you can always rely on USPS (United States Postal Service), one of the leading postal and shipping services providers that ship goods to many countries from the US.
When you choose USPS, you stand to gain the following benefits:
Free shipment pick up
Online shipment tracking
Various insurance options available
You can choose from various shipping options available to ship your goods from the US to Singapore as detailed below:
Send Letters and Documents from the US to Singapore
If you are looking to send official or personal letters from the US to Singapore, use the USPS Global Express for guaranteed and on-time delivery.
Ship Small-to-Medium Packages from the US to Singapore
If you are looking to send packages that weigh less than 70 lbs., use the USPS Priority Mail Express International.
USPS Customs Forms
If you are looking to send a First Class Mail International that weighs under 16 ounces, you need to include the customs forms in the mail. You can simply print out the customs forms and attach it with the mail.
From the UK
When shipping from the UK to Singapore, you can use the UK Post, which offers the following:
For small packages weighing less than 500g, prices to ship to Singapore start at £7.63
Insurance coverage up to a maximum of £100 for lost or damaged goods
The option to buy insurance coverage up to a maximum of £500
Sending Letters or Documents from the UK to Singapore
If you are looking to send official business documents or personal letters, you can use the International Confirmed Shipping service from the UK Post.
It takes a maximum of 5-7 days for your letter to reach its destination.
Shipping Small-to-Medium Packages
For sending small packages weighing less than 30 kgs from the UK, you can easily avail the services of International Standard Shipping from the UK Post. Normally, the package gets delivered within 5-7 working days.
UK Post Customs Forms
If you are looking to send any goods outside of the UK, then you need to fill out the customs forms. It is important to attach the customs forms along with your package for a hassle-free delivery to Singapore. You can download the UK Post Customs forms here.
From Australia
People looking to send goods, letters, or packages from Australia to Singapore can use the Australia Post. It is a government-owned postal services provider in Australia that also offers retail, financial, and travel services.
Depending on the shipping method you choose, sending duration might vary between 2-30 days. Choosing Australia Post gives you the following:
Online shipment tracking
Rates starting from $25
Option to choose additional insurance for your goods
Below, you will find various shipping methods to ship items from Australia to Singapore.
Sending Letters or Documents from Australia to Singapore
People looking to send any documents or letters from Australia to Singapore can use the International Courier Service from Australia Post. It is one of the premium letters and parcel services offered by Australia Post for sending documents and letters overseas. According to Australia Post, your letters will reach in just 2 business days. You can send parcels up to 20 kg or letters weighing no more than 500 gm. You can even add a maximum insurance coverage of up to $100. The service comes with online tracking of shipments along with SMS and email notifications.
Shipping Small-to-Medium Packages
When sending small-to-medium packages from Australia to Singapore, you can use the International Standard shipping method. Generally, people use this shipping method for non-urgent parcels as it can take around 6 business days to deliver to Singapore. You can send parcels up to a maximum of 20 kg.
Australia Post Customs Forms
People sending any goods, parcel, letters, or documents overseas need to attach a customs declaration form. You can get all the details about the customs declaration form and where to download it from here.
Private International Shipping Services
Apart from post offices run by governments, there are various private players operating in the shipping business around the world. Some of them are even quite popular than the government-run post offices and shipping agencies. The most popular in this sector are:
FedEx
FedEx is a multinational delivery services company headquartered in the US and is available in more than 220 countries. People looking to send goods overseas can opt for FedEx as it guarantees international deliveries in 1-2 business days.
With FedEx's International Priority, you can send parcels up to a maximum of 150 lbs. within a couple of days to Singapore. It is a door-to-door service that also takes care of the customs clearance as well.
For urgent deliveries, you can make use of their International Next Flight service.
DHL
DHL is a German-based courier, parcel and express mail service that operates throughout the globe.
With DHL Packet International, you can send letters, documents, goods and parcels to any part of the world including Singapore.
While the Packet International option can deliver your package to Singapore within 4-8 days, the Parcel International Direct will deliver in 3-10 days but also comes with shipment value protection.
UPS
If you choose UPS to send your packages, you can use of their International Shipping Services. With UPS, you can get your package delivered to Singapore in just 2 days.
How to Ship Your Pet to Singapore
If you're looking to move permanently to Singapore and want to take your pets with you, here are a few important reminders.
Singapore has plenty of strict rules, including those concerning bringing in pets to the country.
Before shipping your pet or buying a pet-friendly condo in Singapore, you need to make sure that:
The pet's breed can be allowed to get shipped.
Your residence allows pets.

If you are going to live in a HDB residential flat, you can only have one small-breed dog
If it's a non-HDB residential building, you can have pets of up to three small-breed dogs and one scheduled dog. If your pet is a cat, you need to check with your landlord because different buildings have different rules.
Here's what you need to do when bringing pets with you to Singapore:
Get your pet vaccinated based on the origin country's rules and a serology test*
Reserve a quarantine space*
Get a pet license
Get an import license
Book an inspection at the Intelligent Food Approval and Safety Tracking System at least five days before arrival
Get parasite treatments for the veterinary health certificate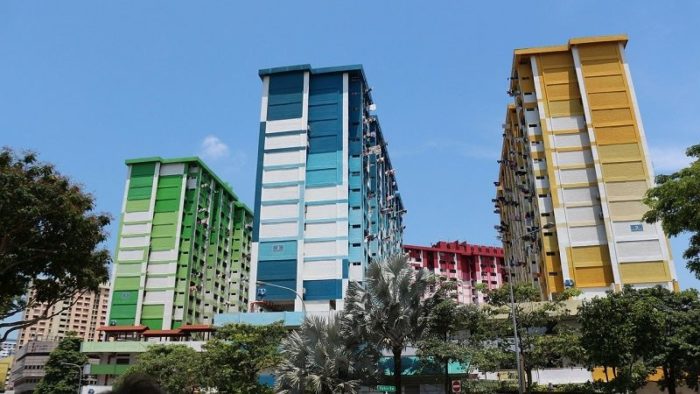 *Singapore has four country categories, labeled A to D. Each country category has different vaccination and pet quarantine requirements.
For example, if your origin country is in Category A, your pet won't need rabies vaccination and may not need to be quarantined upon arrival.
On the other hand, if your origin country is in Category D, your pet will need a rabies vaccination and must be quarantined in the Sembawang Animal Quarantine Station at least 30 days upon arrival.
The Singapore Animal and Veterinary Service agency has a detailed procedure on how to import pets to Singapore.
If you don't want to handle these procedures yourself, then you can hire a pet shipper to save you the troubles.
Insuring Your Package
When shipping goods overseas, a common conundrum people have is whether to purchase insurance.
The need for insurance largely depends on the value of your goods. For instance, you don't really need to insure letters or documents.
But if you are sending a huge consignment of goods or expensive items, then consider insuring those. In case of any issues, the insurer will pay the declared amount or the value of the goods, whichever is lower.
Almost all parcel and delivery services providers, whether it is government-owned or a private company, offer an option to insure your package at an additional cost. Let's look at the insurance costs and other details of various agencies.
USPS
USPS provides free insurance for your goods up to a maximum of $100. If you need additional insurance for your goods, then you need to pay $1.25 for every $100 to a maximum of up to $2,499.
UK Post
When sending parcels to Singapore via the UK Post, you can add insurance anywhere between £20 and £2,500 for your goods. The exact amount of insurance largely depends on the shipping method you pick. But most of the options provided by the UK Post will cover everything from damage, loss, and shipment delay, etc.
Australia Post
People sending parcels to Singapore using Australia Post can insure their goods for up to $100 at only $5. For every $100 added to your insurance coverage, you need pay an additional $3.50. The maximum amount of insurance you can avail is limited to $5,000.
Singapore Post
At just $1.50, you can avail insurance up to a maximum of $1,000 from Singapore Post. For every $1,000 additional insurance coverage for goods, you need to pay 2% of the declared amount.
DHL
For additional insurance coverage for your goods, DHL charges around 1.5% of the declared value of your shipment.
FedEx
FedEx offers free insurance for a maximum of $100. For insurance up to $300, you need to pay an additional $2.10. For every $100 insurance after $300, you need to pay an additional $0.70.
UPS
Like FedEx, UPS also offers free insurance up to $100. Hence, if you are shipping packages to Singapore worth less than $100, your goods are automatically covered. But if you are sending goods valued higher than $100, you need to pay additional charges for every $100 of insurance required.
Shipping Amazon Packages to Singapore
Are you are looking to order an item from Amazon.com to send to your mom in Singapore? If you are, remember that Amazon doesn't ship all products internationally and only a few lines of products are available to be shipped across borders. One more issue is that the shipping rates may differ based on the delivery address.
Amazon ships many types of products to Singapore, but if you are not sure whether they ship a certain item, check the delivery address's zip code. If an estimated delivery date is provided, it means the item can be delivered.
You can also refer to the "Details" link below the price at the top right panel that houses the "Add to Cart" and "Buy Now" buttons. Clicking the Details link will also show you the product cost along with the Amazon Global Shipping cost.
If the zip code you entered cannot be delivered to, then you need to find a shipping agency that will deliver the item to your mom in Singapore.
Calculating Shipping Costs to Singapore
Before you start shipping items to Singapore, you need to calculate the shipping costs associated with it. It will give you a good idea of how to choose an affordable and reliable shipping agency.
You need to take into account various parameters including the package weight, value, delivery time, and size to calculate the exact shipping costs.
The table below shows the exact costs associated with shipping your goods from different countries to Singapore. For illustration purposes, we've chosen an example product weighing 10 lbs. and valued at US $150.
Shipping from the US:
| | | |
| --- | --- | --- |
| Service | ETA | Price (USD) |
| USPS Priority Mail Express | 3-5 days | $125.45 |
| DHL Express Worldwide | 1-2 days | $76.81 |
| FedEx Priority Overnight | 1-3 days | $65.99 |
| UPS Worldwide Saver | 1-4 days | $78.99 |
Shipping from Australia:
| | | |
| --- | --- | --- |
| Service | ETA | Price (USD) |
| USPS Priority Mail Express | 3-5 days | $98.25 |
| DHL Express Worldwide | 1-2 days | $81.30 |
| FedEx Priority Overnight | 1-3 days | $68.39 |
| UPS Worldwide Saver | 1-2 days | $65.49 |
Shipping from the UK:
| | | |
| --- | --- | --- |
| Service | ETA | Price (USD) |
| USPS Priority Mail Express | 3-5 days | $118.45 |
| DHL Express Worldwide | 1-2 days | $111.30 |
| FedEx Priority Overnight | 1-3 days | $67.99 |
| UPS Worldwide Saver | 1-4 days | $120.96 |
Duty Rates
Like many countries, Singapore also uses the CIF (Cost, Freight & Insurance) method for calculating duties and taxes. Some of the goods that attract duties in Singapore include:
Tobacco products
Petroleum products
Motor vehicles
Intoxicating liquor
If you ship any of these goods to Singapore, then you need to pay duties for them to clear customs. All other products are exempted from duties.
To get complete information on Singapore Customs and Duty, go to the Singapore Customs website.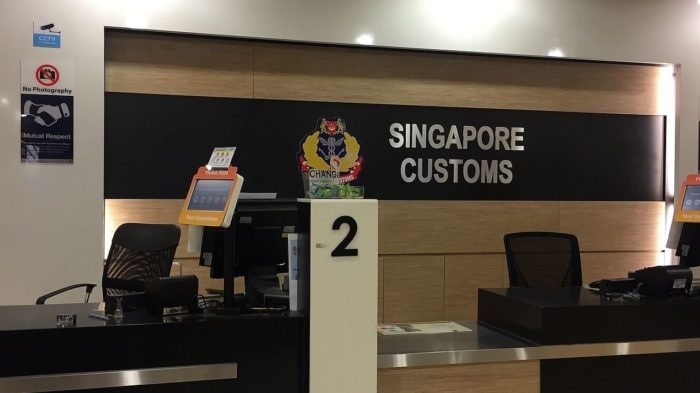 Let's use an example to see how the CIF value is calculated:
Shipment value: $100
Shipping cost: $15
Insurance: $25
In this example, the total CIF amount is $140. But note that the duty rates differ for every category of product being imported. You can get a list of all dutiable goods here.
VAT
Like many other countries, Singapore also charges Value Added Tax (VAT) for goods imported to Singapore. The existing VAT rate is 7% on the total CIF value of the shipment along with duties. Other countries use the term VAT, but in Singapore it is called GST (Goods and Services Tax).
Since the GST is calculated based on the total CIF value, it means that the calculation is based not only on the shipment value but its insurance and freight amount as well.
Restricted Items
Every country has its own list of prohibited or restricted items that cannot be shipped into their country. In Singapore, they categorize restricted items into two categories:
Prohibited goods or goods that you cannot ship into Singapore such as pistols, endangered specie animals, or voice changing equipment
Controlled goods or goods that need an authorization or import permit for importation
Get a complete list of Singapore's prohibited and controlled goods here.
Shipping Duration
The time it takes to ship your goods into Singapore largely depends on the size of your package and the country from where you are shipping.
Generally, you can expect your shipment to reach its destination in 2-3 days if it's a parcel shipping though the priority mail services from leading courier agencies like UPS, DHL, or FedEx.
If it's container shipping, it can take a maximum of two months to reach Singapore.
Avoiding Common Shipping Mistakes
Before you start shipping any products overseas, you need to understand the countries' regulations about restricted items to avoid the common shipping mistakes many people make.
These mistakes could cause a lot of frustration and result in your goods remaining in the Singapore Customs office for days. Here are some of the mistakes you need to avoid:
Shipping restricted items
Not packing items properly
Not providing all the required documents for GST clearance
Incorrect shipping weight details on packages
Picking the wrong shipping agency
Putting an incorrect shipping address, e.g., not writing the address in full
Tips for Container Shipping to Singapore
When shipping your items in a container, the first thing you need to do is choose between LCL (less than container load) or FCL (full container load) shipping.
If you are looking to send items that don't require an entire container, choose LCL.
But if you have a large supply of goods to ship and want to take full control of the container, FCL is a better option.
Container shipping is less expensive.
Check whether the freight forwarder charges by gross weight or by dimensional weight.
Negotiate shipping prices and choose a freight forwarder that offers the best price.
How to Package Your Goods
You need to take every precaution when packaging your belongings for international shipping. That's because it is highly likely that your packages will go through multiple transit points.
Anything can happen to your goods, from the moment they are loaded on board the ship at the port of shipment till they reach their destination. You don't want your belongings getting damaged while in transit, so make sure you pack them properly and that all packages are correctly stacked on top of each other.
Follow these tips on how to ensure goods are packaged properly and ready for international shipping.
Don't leave empty spaces inside the box as the items might wobble and get damaged. Fill empty spaces with crumpled paper, cloth, or other materials that won't scratch or cause any damage to the items.
If you are putting different types of objects inside a single box, you can either put dividers inside the box or wrap every item individually and use divider materials to separate them.
Use high-quality sealing products such as duct tape, packing tape, or electrical tape to protect your packages from shipping hazards.
Make sure every seam is tightly sealed using the H-sealing taping method.
Finally, don't forget to put a label sticker on top of your package.
Packaging Expensive and/or Fragile Items
If you are shipping fragile goods internationally, use reinforced boxes or double-walled parcel boxes. This type of packaging does a great job of keeping your items well protected while in transit.
You can also use cardboard stuffing or edge protectors to provide added protection for your goods.
Handling is a critical part of the shipping process.
If you are shipping items made of glass, you need to clearly indicate in your boxes that they contain fragile materials and need to be handled with care.
It is also extremely important to stuff all the empty spaces inside your parcel boxes to prevent the objects inside them from moving around during transit.
You can also go for box-in-box packaging, where you put your goods inside a parcel box and place it in a larger box with all the empty spaces within the larger box sealed.
Now, on to You
When it comes to international shipping, there are no guarantees. This comprehensive shipping guide, however, gives you a basic idea of what it's like to ship to Singapore. We hope this shipping guide will help you understand the common risks involved and avoid unnecessary risks when shipping to the Lion City.
If it's actually shipping items from Singapore that you are after, then check out our other article here.