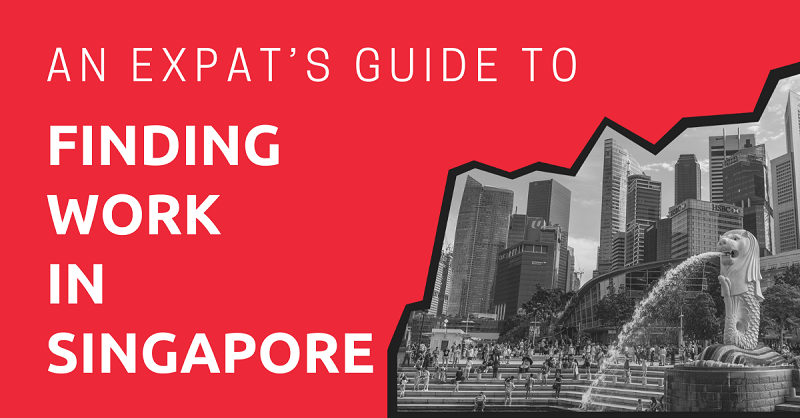 As Singapore is one of the safest countries in the world, has low tax rates, a great climate, and excellent connections to international airports, it's one of the most sought-after places to live. Since it is also one of the smallest countries in the world, there is a lot of competition to move and find a job there as a foreigner.
To help you improve your chances of getting your dream job in Singapore, follow this guide. It includes everything you need to know about the requirements and qualifications you need to work in Singapore, the websites and recruitment companies to consider when looking for a job, and the salary you could earn.
This article will take approximately 32 minutes to read. Don't have the time right now? No worries. You can email the ad-free version of the article to yourself and read it later!
Before Flying to Singapore
If you've decided that you want to work in Singapore, you're likely trying to figure out all the logistics of doing so. The most important thing to consider is what job you're going to do when you get there. Although you may want to spontaneously get up and move, moving to Singapore requires a bit more forethought.
While you can easily travel to Singapore and enjoy everything the country has to offer, you need a work visa to live there for an extended period of time. As employers have to apply for the work visa for you, you need a job offer before you move to Singapore. Thankfully, many employers are happy to recruit and hire foreigners online, so you can start your search from the comfort of your own home. The next important thing to consider is whether you meet Singapore's strict requirements to be eligible for a visa.
Requirements
The exact requirements you need to meet depend on the hiring company, the type of job you're interested in, and the work visa you need, but here are some of the minimum requirements you may have to meet:
Work Visa and Permit
Singapore's Ministry of Manpower offers many types of work visas depending on your experience, education, nationality, and industry. The two most popular work visas are the Employment Pass and S Pass.
An Employment Pass is for qualified foreign professionals, executives, and managers that earn $4,500+ a month. An S Pass is for mid-level skilled employees that earn at least $2,500 a month.
If you're interested in starting a business in Singapore, you can apply for a different work visa called the EntrePass. You must be considered an entrepreneur, innovator, or investor and want to start an innovative business. You are not allowed to start businesses such as coffee shops, hawker centres, bars, or nightclubs as there are already many in Singapore owned by locals.
Credentials
The exact credentials you need depend on the job you're looking for, but employers in Singapore typically prefer to hire foreigners who are experts in their field.
Otherwise, they would just hire locals, as there is less paperwork and cost involved to do so. This means you typically need a bachelor's degree or master's degree in a relevant field to find a job in Singapore. It improves your chances of getting a job, but also your ability to be approved for an Employment Pass.
However, if you're skilled or semi-skilled, you may not need a university degree. Instead, to get an S Pass, you can have either a degree or diploma as long as you have studied for at least one full year.
Language Skills
There are four official languages in Singapore: English, Malay, Mandarin, and Tamil, that reflect the country's multicultural population. Most people speak English as well as their mother tongue, so you can thrive in Singapore if you know one or more of these languages.
Depending on your job, some employers may even prefer that you only speak English. For example, if you want to teach English to Singaporeans, employers prefer native English speakers for their authentic accent.
Cultural Adaptability
Since Singapore has many different cultures, it's a great place for foreigners to feel at home. There are many expats moving to Singapore and locals are very welcoming. If you can adapt to a multicultural workplace, you may be more attractive to potential employers, and it can help you assimilate better as well.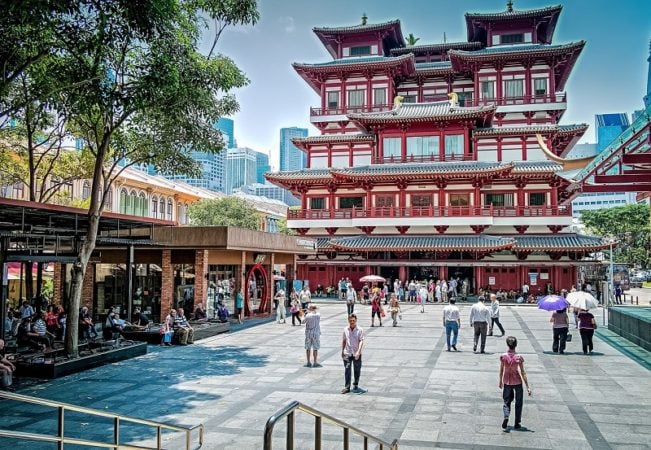 A large part of the culture in Singapore is influenced by religion. The dominant religions are Buddhism and Islam, so learning more about each religion before you move can help you understand Singapore's religious and cultural practices. For example, Singapore has public holidays for Buddhist, Catholic, Hindu, and Muslim holidays like Diwali, Eid al-Fitr, Christmas, and Vesak day.
One important thing to remember when moving to Singapore is that Muslims don't eat pork. Many companies accommodate this dietary restriction by preparing different foods and using different equipment to prevent cross-contamination. If your company offers food, ensure you ask about these restrictions so you know which cutlery and other kitchen equipment to use.
Nationality
As Singapore is such a multicultural country, they typically welcome foreigners of any nationality. While some employers prefer to hire locals if they offer the same skills and experience as you, other employers prefer to hire foreigners despite the extra effort they have to put in to do so.
For example, English schools prefer employees whose mother tongue is English, typically from countries such as Canada, the United States, England, or Australia. This is because they want students to pick up a foreign accent. If you meet all the necessary requirements, the Ministry of Manpower approves all nationalities for an Employment Pass or S Pass.
Age
Many visas have strict age requirements that you need to meet.
For example, while you can typically get an Employment Pass or S Pass at any age, the older and more experienced you are, the higher your salary needs to be.
This often leads to employers preferring younger candidates that they can pay a lower salary to and still apply for an employment pass.
Work Experience
To improve your chances of getting a job in Singapore, you should pursue relevant work experience in your home country first. This shows potential employers you have the necessary knowledge and experience you need to succeed so they can spend less time and money training you. If you're looking at professional or technical roles, you typically need a minimum of two to three years of experience in your field for employers to consider you.
Having work experience in other countries can also help improve your chances of getting a job in Singapore. It shows potential employers you have experience moving and adapting to different cultures and work environments.
Health Certificate
To work in Singapore, you typically need to complete a medical examination when you arrive. This medical examination screens candidates for four different infectious diseases: HIV, tuberculosis, syphilis, and malaria. The medical centre will then complete a medical form that you need to get your work permit.
Some employers may pay for the medical examination, but some may require you to pay for it. Thankfully, healthcare is very affordable in Singapore.
Searching for Jobs
Since you need a job offer from a Singaporean company before you can move, it's best to look for jobs online beforehand. There are plenty of online job portals you can use to find a job, or you can also apply directly to the companies you're interested in.
You can also consider using a recruitment agency that will do the job hunt for you or look for a networking event in your area that includes employers looking to hire candidates for roles in Singapore.
As all options are viable, let's take a closer look at each one to help you decide which is the best option for you.
Expat Job Websites
Companies in Singapore looking to hire foreigners know that the best way to attract candidates is by posting their jobs online. Employers may use different job portals, so it's best to check a few to expand your options and improve your chances of getting a job. If you know what industry you're interested in, you can even consider industry-specific job portals to narrow down your search. Here are some of the best websites to check to find a job in Singapore:
JobsDB
One of the most popular job portals in Asia is JobsDB. You can find almost any type of job there, such as human resources, finance, or administrative positions, so it's best to customize your searches. You can customize your search by job title, location, job function, and salary range.

You can customize your search even further by career levels, such as entry, middle, senior, and top, employment type to limit your search to full-time jobs, and the education level the employer is looking for so you only find jobs you're qualified for.
Some job postings even state the preferred nationality the employer is looking for, or simply state "open to foreigners." This helps you avoid any postings targeted only to Singaporeans.
JobStreet
Another popular job portal in Asia, and specifically Singapore, is JobStreet. Companies from any industry tend to use JobStreet, making it very popular among applicants. To apply for jobs on this portal, you need to create a profile. You just need to include your basic information to get started, such as your name and email address.

Once your profile is set up, you can customize your search by job title, location, specialization, and salary range. JobStreet lets you search by industry, so you can find jobs in the following fields on this job portal:
Accounting/finance
Administration/human resources
Sales/marketing
Art/media/communications
Services
Hotel/restaurant
Education/training
Computer/information technology
Engineering
Manufacturing
Building/construction
Sciences
Healthcare
STJobs
When newspapers were more popular, employers used to post advertisements for jobs in the Straits Times, one of Singapore's popular newspaper companies. As more and more people are using technology, the Straits Times created their own website called STJobs for companies to continue posting their job advertisements.

It's the best website to find jobs with the Strait Times, such as a journalist or editor, but there are many other jobs available there as well. You can find jobs in many industries, but especially in security, early childhood education, healthcare, or life sciences.
You don't need an account to browse jobs on STJobs, so it's a great place to start your job search.
Foundit
Foundit is a great option for passive job hunting as you can create a resume and post it online for employers to find. If they're interested in your skills and experience, they may contact you for an interview. You can also search for jobs yourself on Monster's website or mobile app.
Monster features jobs from Nets, DBS, and other finance companies, so it's a great option for those interested in a career in finance. Other popular industries on Monster are architecture, engineering, and business.
You can even search for jobs by skills, such as team player or leadership skills, which is beneficial for those who aren't sure what role they're interested in yet.
MyCareersFuture
MyCareersFuture is a job portal created by the Singaporean government. This makes it a great place to look for government jobs, such as teachers, registered nurses, or administrative assistants.

If you need career advice or tips for finding a job in Singapore, this is also a great website for you. MyCareersFuture offers career advice and guidance from a professional careers team so you can get tailored advice for finding a job in Singapore.
LinkedIn
While LinkedIn is known for being a networking website, employers and recruiters also use it to find and hire new employees. You can create a detailed profile that highlights your skills, education, and experience so prospective employers can find and approach you.

Or you can search for jobs yourself on the LinkedIn job portal after creating a profile. LinkedIn will show you the jobs available that best suit your skills and experience. For example, if you have teaching experience and the credentials to teach in Singapore, LinkedIn will place any teaching jobs at the top of your search so you can apply to jobs you're qualified for.
LinkedIn is a great place for jobs in media, such as content writers or marketing specialists, or for jobs at tech startups.
E27
Yet another website to find startup jobs in Singapore is e27. It's a great job portal for recent graduates with minimal experience as there are plenty of entry-level technology jobs.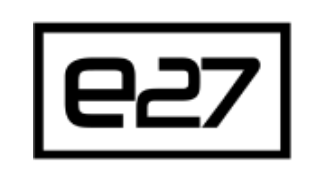 You can filter your search by specific salaries, helping you find a position that pays you enough to get approved for an S Pass or Employment Pass.
Cultjobs
If you're more interested in creative positions, such as those in film, art, fashion, animation, or architecture, Cultjobs is the best website for you.

CultJobs gives creative companies a platform to post their jobs from the following categories:
Administrative and operations
Architecture and interior design
Arts management
Client services and project management
Content and copywriting
Data science and analysis
Design and UX
Education and training
Events and live productions
Fashion
Marketing and public relations
Photography, video, and animation
Sales and business development
Software engineering and IT
Jobscentral
JobsCentral is a great, generic job portal where you can find any job in Singapore. They have jobs from any industry, such as education, design, technology, or finance.

If you upload your resume, you can receive job recommendations based on your skills, education, and experience. This saves you the time of constantly looking for jobs yourself.
GrabJobs
Voted one of the top job platforms in Singapore by MediaOne, GrabJobs is an efficient job portal. While it functions similarly to other portals by allowing users to search for jobs they're interested in, it differs in some ways.

The application and initial interview for positions take place within the app as a GrabJobs chatbot asks candidates questions from employers. This helps employers filter through applicants but it also helps applicants find jobs they're qualified for.
You can find jobs from any industry on GrabJobs, but it tends to be most popular for marketing, customer service, and logistics careers.
Tech in Asia
Tech in Asia is a great job portal for technology startups. You can find any job that a tech start-up needs, not just ones related to technology, such as roles in marketing, PR, accounting, or finance.

The top hiring industries on Tech in Asia are e-commerce, fintech, professional services, ad tech, and general internet. So, if you're interested in a job in one of these industries, Tech in Asia may be the best option for you.
eFinancial Careers
If you're interested in a career in finance, looking for jobs on eFinancial Careers may be a good option for you. eFinancial Careers offers jobs in finance, banking, accounting, and technology so you can narrow your search to these industries.

You can even search for jobs by company on eFinancial Careers if you know what employer you're interested in working for.
Carousell
Carousell is one of the largest online marketplaces in Singapore. While you can find plenty of second-hand items on the site, you can also look for jobs.

Choose the jobs category on Carousell and filter your search by industry, education level, and working hours. Ensure the jobs you're looking at are available to you by choosing the "all nationalities may apply" filter.
You can find many different jobs on Carousell, but the most popular industries are computer and IT, customer service, sales, marketing, finance, education, and healthcare.
Facebook
Another non-traditional website to find jobs on is Facebook. Facebook allows employers to advertise jobs from any field. This is a great option for you if you already use Facebook as you won't need to learn any new skills to use the website.

You can search for jobs directly on Facebook or join Facebook groups related to available jobs in Singapore. For example, joining a Facebook group like jobs in Singapore for all foreigners can help see what new jobs are available so you can quickly apply.
Looking at Specific Industries
There are plenty of jobs available in Singapore. Some industries prefer to hire locals, but many others are willing to hire foreigners as well. Here are some of the most popular industries for foreigners who want to work in Singapore.
Information Technology (IT)
As technology is constantly changing, IT is one of the most popular industries in Singapore. Positions such as software developer, computer programmer, or information technology analyst are all popular options for foreigners in Singapore.
Search for IT jobs on general job portals, or use one of the IT-specific job portals we mentioned to find your dream job, such as Tech in Asia or e27.
Banking and finance
As there are many Singaporean banks, such as DBS, UOB, Bank of Singapore, OCBC, and POSB, people often think of Singapore as a global financial hub. This means jobs in banking and finance tend to be popular among foreigners.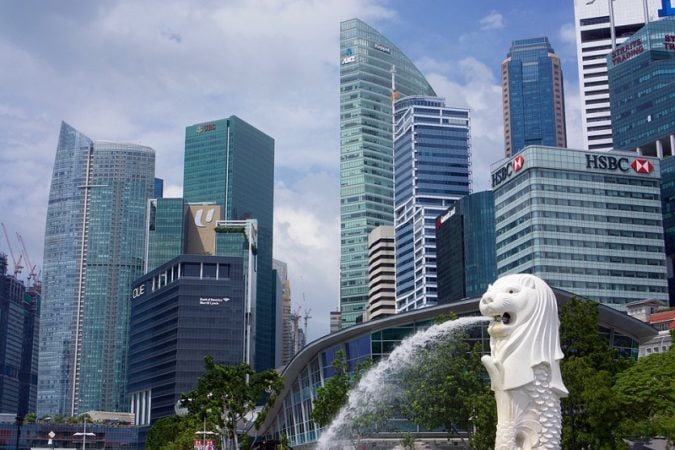 If you have a background in finance, working in Singapore can be lucrative. Consider roles such as accountant, financial advisor, or investment banker to start your finance career in Singapore. You can find plenty of finance positions on eFinancial Careers.
Teaching English
Teaching English is one of the most popular jobs for foreigners in Asia and although English is one of the official languages of Singapore, ESL teachers are still in high demand. If you are a qualified teacher, you can work in international schools or government schools in Singapore.
If you have a master's or doctorate degree, you may even be able to teach at higher learning institutions.
These tend to be the highest paying positions, but you can also look for ESL teaching jobs for after-school programs. You typically only need a bachelor's degree rather than a teaching qualification, so it's a great entry-level option for foreigners interested in living and working in Singapore.
Look for English teaching jobs on tesol.org. It's an international website with English teaching jobs around the world, just be sure to specify that you're looking for positions in Singapore.
Marketing
Many Singaporean companies want to reach a large, international audience to sell their products or services. To do this, they tend to hire foreigners who know their target audience. For example, if a clothing brand wants to sell its clothes to Americans, it may hire an American marketing specialist to create targeted campaigns.
Digital marketing is especially popular in Singapore as companies want to create large social media followings to reach a wide audience. Consider roles like marketing analyst, social media manager, or search engine optimization specialist to start working in Singapore.
Most job portals have marketing positions available, but GrabJobs tends to have the most.
Healthcare
Although Singapore is a small country, they have a large aging population. To help the older generations, private hospitals and clinics tend to hire foreigners. Doctors, nurses, and healthcare aids are all popular positions in Singapore for foreigners as long as you have the necessary qualifications.
General job boards, such as JobStreet and Indeed have plenty of healthcare jobs available. Just ensure you have the credentials the employer is looking for before applying.
Biotechnology
Leading drugmakers, such as Merck & Co and Pfizer have plants in Singapore and the government has invested millions of dollars into the biotechnology sector. This means biotechnology companies are constantly hiring new employees to produce pharmaceuticals.
Consider roles such as microbiology analyst, clinical trial assistant, or medical writer to work in this industry in Singapore.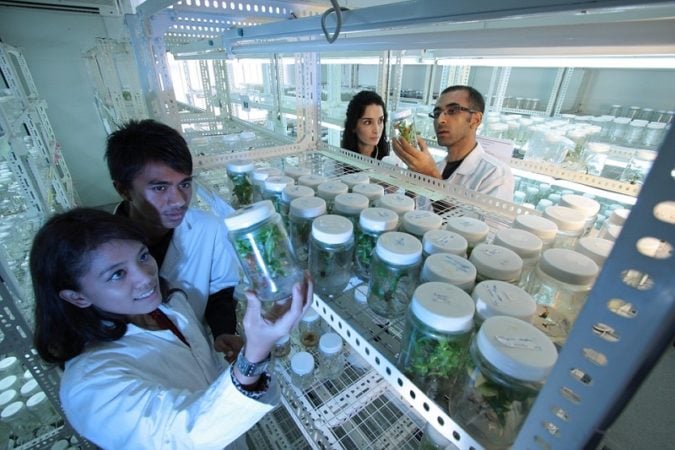 Start your search on job boards like JobStreet or LinkedIn to find the best biotechnology jobs.
Oil and Gas
Like many other countries in Asia, oil is one of the most popular industries in Singapore. The oil industry makes up 5% of Singapore's GDP and Singapore is one of the top three export refining centres in the world. To keep up with this demand, many employers hire foreigners to work on oil rigs.
To start your search, check oilandgasjobsearch.com where you can find positions such as, drilling engineer, energy engineer, vessel manager, or director of safety.
Recruitment Agencies
If you want some help with your job search, working with a recruitment agency may be a better option for you. Don't worry if you're not in Singapore yet, you can use recruitment websites instead.
Here are some of the top recruitment companies in Singapore for you to consider:
Randstad
Randstad is one of the most popular recruitment agencies in the world, so many people in Singapore use it to find jobs. Randstad offers recruitment and HR services, and helps candidates find jobs in startups, non-profit organizations, small-and-medium enterprises, multinational companies, and public agencies. To get started, create an account and discuss your career aspirations so Randstad can narrow down some positions for you.
Michael Page
Michael Page is another international recruitment agency with a branch in Singapore. They have a deep understanding of the local job market, so they can help you find a job related to your skills and experience. Michael Page can help you find jobs from any field, but may focus on the following fields:
Banking and finance
Digital media
Engineering and manufacturing
Healthcare
Human resources
IT
Law
Life sciences
Marketing
Procurement
Sales
Adept Manpower
Adept Manpower helps prepare job seekers for finding a job in Singapore by offering courses with resume tips, interview tips, and more. They partner with employers in Singapore and around Southeast Asia to find the best candidates for their positions.
Kerry Consulting
If you're interested in a career in finance in Singapore, seeking help from Kerry Consulting may be a good option for you. They work with a large network of multinational companies to help them hire mid and senior-level positions, such as department heads and vice presidents. That means Kerry Consulting may not be the best option for you if you're looking for an entry-level position.
Trust Recruit
Trust Recruit has been helping people find jobs in Singapore for more than 20 years now. They know the local job market well and hire for an assortment of industries, such as IT, telecommunication, construction, marine, oil and gas, and manufacturing.
Morgan Mckinley
Morgan Mckinley offers a more personal approach as you will work directly with a consultant. The consultant can offer advice about the best career for you based on your skills and experience. Then, help you find and apply for the perfect role.
Pros and Cons of Recruitment Agencies
Before deciding whether working with a recruitment agency is the best option for you, consider the pros and cons of doing so.
Here are some of the pros:
You don't need to actively search for jobs. Instead, a recruiter will find jobs that suit your skills and experience and recommend them to you.
You can learn more about the job market in Singapore from an expert.
It can help you network with employers and other professionals and recruiters typically have strong professional connections.
Working with a recruiter is free as employers pay the recruiter fees. Avoid any recruitment agencies that ask you for compensation.
Here are some of the cons:
Recruiters tend to work with a limited pool of employers meaning they don't know every job that's available. This can limit your job search.
Finding the perfect position for you can take longer than you may expect.
The Power of Networking
Another great way to find a job in Singapore is by networking. Networking is when you interact with people to develop professional contacts. There are always networking events in Singapore if you're already there, or you can find ones online. As many companies switched to remote work during the Covid-19 pandemic, social events and meetings did as well.
Look for industry-specific networking events, such as IT or marketing events, to get to know people in your industry and learn about any job postings available.
You can also use social media platforms we mentioned earlier, like Facebook and LinkedIn, to connect with employers in Singapore and develop professional relationships with them.
Salary
As the cost of living in Singapore is quite high, one of the things people want to know about before they move to Singapore is the salary they could earn. Your salary typically depends on your experience, credentials, age, and industry. In this section, we're going to discuss the following:
Minimum wage
Payment inequality
Salary ranges
Cost of living
Taxes
Minimum Wage
There is no minimum wage for any foreign or local workers in Singapore. The only restrictions the Ministry of Manpower places on salary is the minimum pay for certain work visas, such as the Employment Pass or S Pass, which we discussed earlier.
Payment Inequality
As there is no minimum wage in Singapore, there is some payment inequality. Foreigners tend to get paid more than locals do for the same job. For example, a foreign English teacher typically receives an average of $4,500 a month while a local teacher at the same institution receives $3,500. Companies usually justify this by saying locals spend less on accommodations.
Salary Ranges
Since there are so many jobs in Singapore available to foreigners, the salary ranges a lot. For example, according to Indeed Salaries, an ESL teacher makes an average of $4,386 per month in Singapore, while a financial advisor makes an average of $5,373 per month.
To help you earn a higher wage, it's best to pursue higher education and on-the-job training in your home country. This typically allows you to negotiate a higher wage.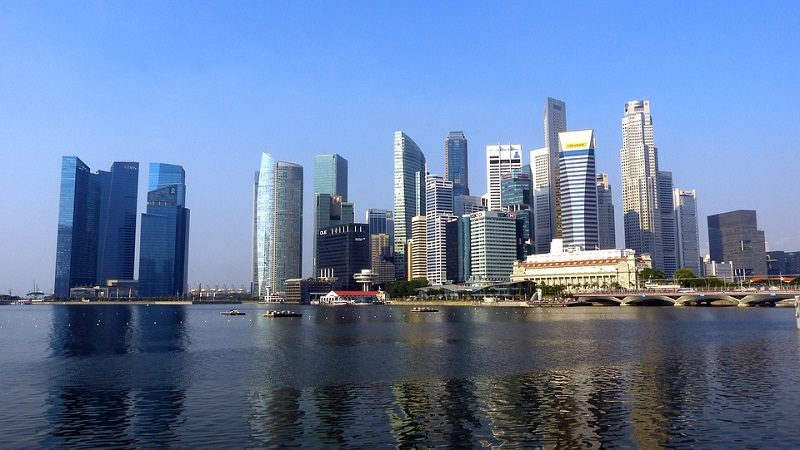 That being said, Singaporean companies know that the cost of living in Singapore is high, so they typically pay a higher wage to accommodate for this, especially compared to other countries in Southeast Asia, such as Thailand or Indonesia. Some employers may even offer to pay for your moving costs, such as your flight, to encourage you to move.
Here are some of the highest-paying positions in Singapore for you to consider:
Chief Financial Officer (CFO): $182,080 per year
Chief Executive Officer (CEO): $119,734 per year
Head of Marketing: $146,242 per year
HR Director: $144,322 per year
IT Security Specialist: $85,359 per year
Project Manager: $87,595 per year
Nurse Manager: $82,967 per year
Taxes
One of the biggest reasons foreigners enjoy working in Singapore is thanks to their low tax rates, for both corporate and personal taxes. If you own a business in Singapore, you have to pay 17%, regardless of whether you're a citizen or a foreigner. If you're a foreigner working in Singapore for 183 days or more, here are the personal tax rates you may be subject to according to the Inland Revenue Authority of Singapore (IRAS):
| | |
| --- | --- |
| Earnings | Tax Rate |
| First $20,000 | 0% |
| Next $10,000 | 2% |
| Next $10,000 | 3.5% |
| Next $40,000 | 7% |
| Next $40,000 | 11.5% |
| Next $40,000 | 15% |
| Next $40,000 | 18% |
| Next $40,000 | 19% |
| Next $40,000 | 19.5% |
| Next $40,000 | 20% |
| Next $180,000 | 22% |
| Next $500,000 | 23% |
| Above $1,000,000 | 24% |
To avoid paying taxes in your home country as well, determine if there's a tax treaty with Singapore. This is an agreement that two countries come to so citizens and/or residents of both countries don't need to pay double the taxes.
Thankfully, filing your taxes in Singapore is fairly easy as most employers do it for you. If yours doesn't, you can easily file your taxes and pay them online. You can also pay your taxes via mobile banking, internet banking, bank machines called AXS, or at a post office.
Cost of Living
To understand if the salary a company is offering you is going to be enough, it's important to know what the cost of living in Singapore is. Generally, food and activities are quite affordable in Singapore, your biggest expense is likely going to be your rent.
Locals usually live in apartments called HDBs in the suburbs as they're affordable. Some Singaporeans rent out their entire HDB or a room in one to foreigners, so you can typically rent a room for $800 to $1000 SGD.
If you want to live in a condo with amenities such as a pool, it's going to be more expensive. A room may cost $1,300 to $1,500 SGD depending on location. As Singapore is so small and public transport is excellent, you can live on the outskirts of the country for lower rent and just get a quick MRT (Singapore's rapid transit system) ride into the centre.
If you rent a room in an HDB, you typically need $2,000 SGD to $2,100 a month for all your expenses. If you rent a condo, you typically need $2,600 SGD to $2,700 a month for all your expenses.
Now, On to You
If you're not sure whether you're qualified enough to work in Singapore, you can use the Ministry of Manpower's self-assessment tool. This tool helps you check whether you qualify for an Employment Pass or S Pass. It asks you about your intended position, your personal particulars, such as what your nationality is, your work experience, and your educational background.
If you're eligible for an Employment Pass or S Pass, start applying to jobs! Don't be hesitant to apply to all the jobs you're interested in so you can compare any offers you receive from different employers.
But before you accept any job offer, it's best to research the company beforehand. Ensure they have a good reputation, especially from past employees. Since moving to a new country can be challenging, you don't want any added stress from a job or employer you don't like.