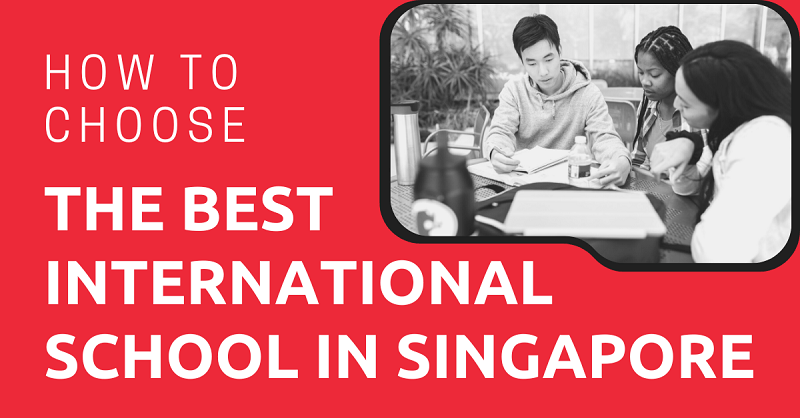 If you live in Singapore and want to enroll your children in an international school, there's a lot to consider.
While the quality of local schools in Singapore is great, international schools offer a more varied curriculum, often producing high-achieving and successful students.
However, because they are over 60 international schools on this small island, you may struggle to choose the best one for your children.
This guide, then, will help you make your decision. It covers everything you need to know about international schools in Singapore, such as curricula, costs, and — most importantly — the educational benefits that your children will receive.
This article will take approximately 20 minutes to read. Don't have the time right now? No worries. You can email the ad-free version of the article to yourself and read it later!
International Schools Vs. Government Schools
While Singapore education system is among the top of the world, you might be wondering why you need to enroll your kids into an international school.
Actually, there are many differences between international schools and government schools — the latter of which is commonly known as Ministry of Education (MOE) schools in Singapore.
Let's see what separates international and schools and government schools.
Approaches to Education
While both types of schools offer high-quality education, the MOE school approach is more intensive.
MOE schools offer an intensive curriculum that tends to focus on practical subjects like math and science, with less of a focus on creativity. This makes it a competitive environment that can often be stressful for children.
International schools offer a more individualized learning approach, encouraging personal development and creative freedom. This helps students grow and develop soft skills and values like mindfulness and patience.
This means registering your children at an international school will give them access to high-quality education but more freedom to pursue creative outlets.
Curricula
Another main difference between international schools and government schools is the curriculum.
All government schools follow the same elementary or secondary MOE curriculum. This ensures all MOE students receive a consistent education.
International schools, on the other hand, can create their own curriculum, typically based on the curriculum from the country they're representing.
School Fees
MOE schools do have school fees, but they're significantly less than fees at international schools.
MOE school fees change based on your nationality. Singaporean citizens and permanent residents pay less than international students, but fees typically aren't more than SG$1,000 a month.
On the other hand, international schools may charge anywhere between SG$13,000 to SG$47,000 a year, so they could be much pricier.
Related article: Singapore Permanent Residence (PR): Cost, Requirements, and Procedure
Languages
While Singaporean schools offer a variety of second language-learning opportunities, such as Mandarin, Hindi, Tamil, and Malay, they only offer local languages.
International schools can help students from different countries learn their native language as they typically offer instruction in English and the country's mother tongue.
For example, a French international school may teach half the classes in English and the other half in French.
School Schedules
All MOE schools follow the same schedule, so they enjoy all of Singapore's public holidays and have time off in March, June, September, and December for school holidays.
Some international schools may honor Singapore's public holidays, but they also offer time off on holidays from the represented country, like getting the July 4 off at an American international school for Independence Day.
International schools may also have the same school holidays as the represented country. This is something to consider if you plan to travel during the school holidays or stay in Singapore.
Comparing International Schools
International schools offer a different curriculum than the national system in place in the host country.
In Singapore, there are international schools that teach curricula from a number of different countries, such as:
Australia
Canada
The United Kingdom
France
Germany
The United States
India
Japan
Teachers and students may be from these countries, but international schools accept faculty and students from all nations, creating a more diverse and inclusive learning environment.
If you want to place your child in an international school, here are some things to consider.
Curricula
International schools' curricula vary according to the country the school represents.
You can register your children at any international school; they don't need to have the same background as the school. So, understanding the different curricula can help you choose one.
Here's a quick description of the different types of curricula available at international schools.
American International Schools
American international schools typically implement the American Education Reaches Out (AERO) standards for students from kindergarten to grade 12.
This ensures they align with the curriculum that teachers are following in the United States. 
The main goal of an American international school is to help students prepare for the SATs, an aptitude test for college admission. American programs give high school students more freedom, as they can choose the classes they want to take.
When students graduate from these schools, they'll receive an American high school diploma that's recognized in the United States and Canada.
Australian International Schools
Australian international schools start from foundation to year 10.
Students focus on eight disciplinary subjects:
math
science
health and physical education
the arts
humanities
social sciences
technologies
languages
This helps students learn seven general capabilities, which are:
personal and social capability
ethical understanding
intercultural understanding
information and communication technology skills
critical and creative thinking
numeracy
literacy
Students at Australian international schools take the National Assessment Program – Literacy and Numeracy Tests (NAPLAN) in years 3, 5, 7, and 9 to help prepare them for their leaving exams.
British International Schools
British international schools start from foundation to year 13. The core subjects students learn are:
music
math
numeracy
English literacy
science
art
physical education
drama
religion
In year 11, students sit the General Certificate of Secondary Education (GCSE) to prepare for leaving exams called A-Levels.
A-Levels aren't compulsory, but they help international students apply to more prestigious universities.
International Baccalaureate (IB)
The International Baccalaureate is one of the most popular types of curriculum for international schools. It's a program for students aged 3 to 19 and is used at international schools in over 150 countries.
International schools may use the International Baccalaureate primary program, middle year program, diploma program, or career-related program.
The goal of all four programs is to provide a consistent framework for students, but it still offers flexibility for teachers to tailor the program to their students' needs.
Education Quality
The school's education quality is a reflection of its teachers and curriculum. So, to help you choose the best international school, the first thing you should consider is its teachers.
International schools in Singapore tend to employ expats from different nationalities. You should assess the teacher's background and experience to determine whether they can help your children grow.
If your children specialize in a certain subject, try to find an international school with a teacher that excels in that area.
Extracurricular Activities
International schools have plenty of extra-curricular activities to keep students busy and help them develop important soft skills, like communication and leadership skills.
Here are some examples of extracurricular activities an international school may have:
swimming
robotics
karate
golf
mahjong
rugby
volleyball
basketball
cross-country
Brazilian Jiu-Jitsu
gymnastics
speech and drama
musical theater
anime drawing
archery
cooking
horse riding
kayaking
scuba diving
debate
chess
If your children participated in extracurricular activities in your home country, pursuing them in Singapore can help them be more comfortable in their environment, so try finding an international school with the same activities.
Environment
Another element to consider when choosing an international school is the environment. International schools tend to have more facilities than MOE schools.
They may have pools, gardens, playgrounds, meditation areas, theaters, arenas, and music rooms where students can deepen their hands-on learning.
International schools tend to have more technology and equipment as well, such as top-notch computers, laptops, and projectors, often giving students their own equipment to use for schoolwork.
A major benefit of registering your children for an international school rather than an MOE school is that the class sizes are smaller.
The maximum number of students allowed in an international school class is typically 24, but the average is generally around 17 to 20 students with two qualified teachers.
MOE classes tend to have an average of 32 to 34 students per class with one or two teachers, depending on the school.
This means if you enroll your children at an international school, they'll have better access to their teachers to receive support and guidance when they need it.
School Fees
The cost of international schools in Singapore varies according to the school, but there are typically two types of fees you may have to pay:
application and registration fees
tuition fees
Application and registration fees are a one-time fee you pay to register your children with the school. This covers administration costs or funds the entry exam your children may have to take. Application and registration fees can range from SG$250 to SG$4,000 on average.
Tuition fees are annual fees you pay every year your children attend the international school. They tend to increase with the grade level.
For example, at the Canadian International School, the annual fees for pre-kindergarten to grade 3 are SG$36,670 per year, while the annual fees for grades 11 to 12 are SG$47,070 per year.
The average cost of tuition at an international school in Singapore varies between SG$30,000 to SG$50,000 per year.
Parents may also have to pay miscellaneous fees throughout the year, such as fees for school uniforms, examinations, transportation, extracurricular activities, and booklets. Some schools may include these fees in tuition, but many list them as additional charges.
What is the Best International School in Singapore?
There is no a single best international school in Singapore.
Instead, you should visit schools with your children and involve them in the decision-making progress by creating a shortlist of international schools you like, and then visit them with your children.
You can typically tour the school for free, assess their facilities, and learn more about what they offer. Your children can assess the learning environment and decide if it's one they would be comfortable in.
You can visit each school's website to book or request your tours beforehand. During the tour, you can also ask about the school's prerequisites to ensure you meet them.
For example, some schools have strict language requirements. If your children don't meet these prerequisites, you can easily remove the school from your shortlist, making your decision easier.
Once you visit all the schools you're interested in, you and your children can make an informed decision and choose the best one.
Including your children in the decision-making process shows them you value their opinion and want them to be happy at school.
Here are some of the best international schools you and your children can choose from.
Dover Court International School
Dover Court International School was established in Singapore in 1972. The school aims to treat every student as an individual to help them achieve their best.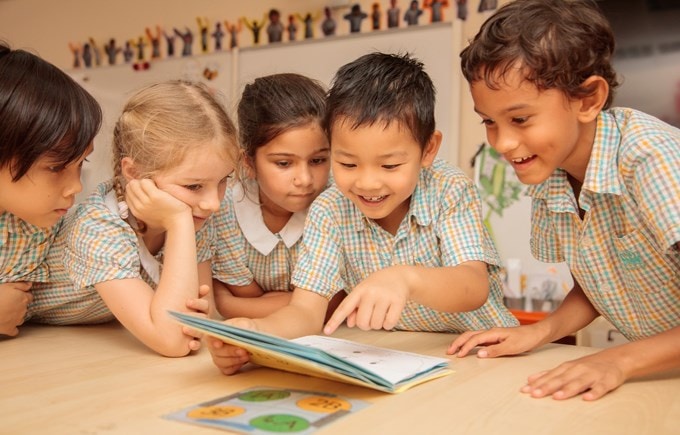 Class sizes are small, with 22 to 24 students being the maximum under one teacher and a teaching assistant. Teachers create an inclusive learning environment and encourage students to actively participate and express themselves.
The school year has three terms, starting in August and ending in June.
Its facilities include a 12-acre campus with indoor and outdoor learning areas, a shaded pool complex, running track, football pitch, basketball court, netball court, sports hall, two libraries, art studio, drama studio, design technology laboratory, and multi-purpose hall.
Curriculum: British, International Baccalaureate (IB)
Languages of instruction: English
Ages: 3 to 18
Yearly fees: from SG$25,000 to SG$40,000
Canadian International School
The Canadian International School has two campuses, one in Jurong West and the other in Tanjong Katong.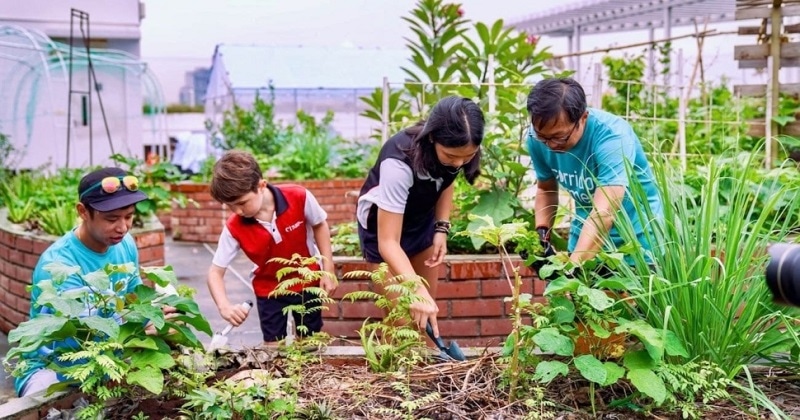 The school has two semesters. The first one starts in September and ends in January, while the second one starts in January and ends in June.
Both campuses have a cooking room, play areas, aquatics centers, libraries, theaters, music rooms, recording studios, film studios, fitness centers, gymnasiums, basketball courts, soccer fields, and tennis courts.
Not all teachers are Canadian, but they are all qualified, so your children will receive high-quality teaching. Teachers also work with assistants to ensure students receive the support they need.
Curriculum: Canadian, IB
Languages of instruction: English, French, Mandarin
Ages: 2 to 18
Yearly fees: SG$25,000 to SG$50,000
Stamford American International School
The Stamford American International School is an IB World School, meaning it offers all four IB programs. The school has two campuses, one in Woodleigh and one in the Early Learning Village.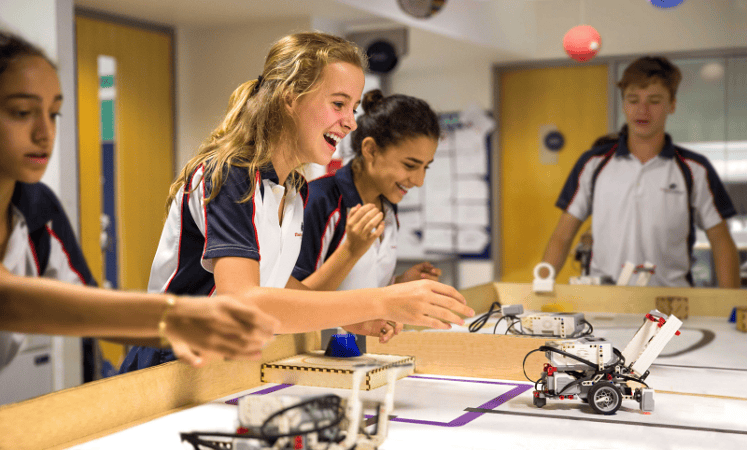 Students can choose from a range of extracurricular activities, such as 3D printing, dance, anime, art design, board games, calligraphy, chess, yoga, creative writing, photography, and drawing.
The school year has two semesters, starting in August and ending in June.
Curriculum: American, IB
Languages of instruction: English
Ages: 1 to 18
Yearly fees: SG$26,000 to SG$50,000
Swiss School in Singapore
The Swiss School in Singapore offers two streams to students: a French and English stream, or a German and English stream. This helps French and German speakers immerse themselves in their learning and improve their language skills.

This also allows students to apply for schools in either German-speaking or French-speaking countries when they graduate, making it a good option for families who don't plan to stay in Singapore forever.
The school has two semesters with the year starting in August and ending in June.
Children can take part in extra curricular activities like ballet, football, Zumba, yoga, martial arts, dance, crafts, robotics, parkour guitar, and tennis.
Curriculum: Swiss, French, International
Languages of instruction: English, French, German
Ages: 2 to 12
Yearly fees: SG$24,000 to SG$30,000
Integrated International School
Integrated International School is an Australian school that was founded in 2009. The curriculum at the school is based on steady progression, meaning each year classes become more challenging.

The school has two approaches: one for mainstream students and one for students with individualized needs who may need additional learning resources.
Integrated International School has plenty of support staff, such as behavioral therapists, counselors, speech language therapists, and occupational therapists, who can offer support to students from a variety of backgrounds.
The school has facilities like playgrounds, parks, a basketball and badminton court, and a counseling room.
Curriculum: Australian, IB
Languages of instruction: English
Ages: 2 to 16
Yearly fees: SG$34,000 to SG$40,000
Global Indian International School
The Global Indian International School was established in Singapore in 2002. The school has two campuses, one in Punggol and the other in East Coast.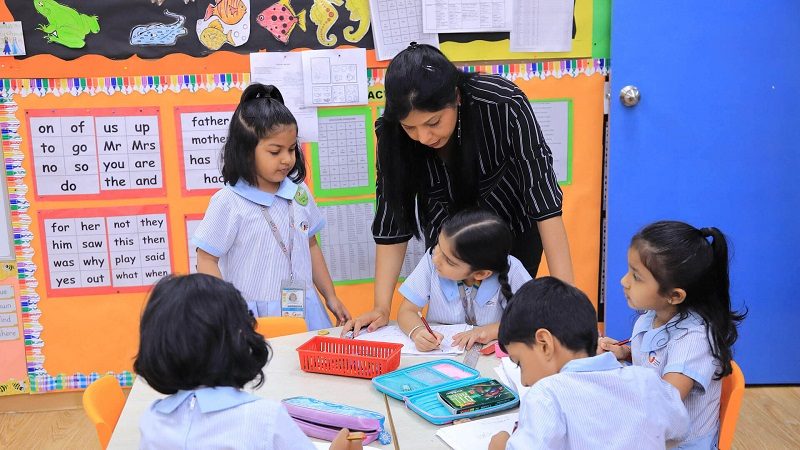 The school offers students aged 2.5 to 18 a choice of an international curriculum (such as IB PYP, Cambridge IGCSE, and the IB Diploma Programme) or an Indian curriculum (CBSE).
The school provides over 40 skill-based studios, performing arts and sports infrastructure, and digital classrooms.
Extra-curricular activities are held after school hours and include tennis, table-tennis, badminton, soccer, chess, taekwondo, karate, basketball, cricket, athletics, and more.
Co-curricular activities are conducted during the school day, and there are more than 20 activities and clubs for students to choose from, including music (keyboard, guitar, Carnatic vocals, tabla, etc.), dance, fine arts, folk painting, beading, ceramics, home decor, radio jockeying, AI, robotics, science, debating, and green clubs.
There is no additional charge for participation in extra or co-curricular activities. It is inclusive of the school fees, except when additional equipment is needed for individual students.
The Global Indian International School has three terms, starting in April and ending in March.
Curriculum: Indian, English, IB
Languages of instruction: English
Ages: 3 to 18
Yearly fees: SG$7,500 to SG$18,000
Singapore Korean International School
The Singapore Korean International School opened in Singapore in 1993 in Bukit Tinggi. The school's three goals are to help students achieve Korean, global, and local identity.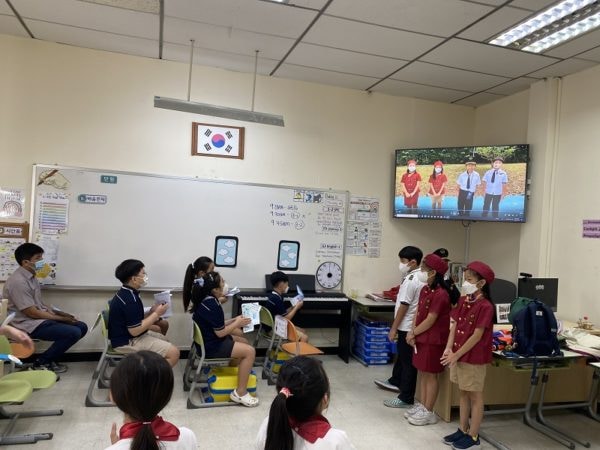 Classes are taught in Korean with English and Mandarin being taught as foreign languages, which leads the majority of the student body to be Korean.
Students can enjoy extracurricular activities like arts and crafts, chess, cooking, taekwondo.
The school year is March to December.
Curriculum: Korean, IB
Languages of instruction: English, Korean
Ages: 3 to 18
Yearly fees: SG$5,100 to SG$10,000
What is the Application and Admission Process Like?
Once you decide which international school you want to apply for, determine what time of the year they accept applications to ensure you don't miss the deadline.
When it's time, complete the application form. You can typically do this online.
When you complete the application form, you may have to pay an application fee as well, which can range from SG$1,000 to SG$5,000. 
Then, prepare the necessary documents. The school will likely provide a list of the documents you need, but here are some examples:
copies of parents' and children's passports
copies of children's birth certificates
recent school transcripts and reports
copies of visas (i.e., Employment Pass, Dependent Pass, Student Pass)
teacher reference letters
medical reports
vaccination records
passport-sized photographs of your children
The school will review your application to determine whether your child is a good fit for the school.
In some cases, your children may have to complete a placement test so the school can assess their proficiency in subjects like math, science, or language.
If your children are accepted, the school sends you a contract that you have to sign so you understand and agree with their policies and regulations.
Once you sign the contract, the school will likely send you an invoice with the fees you must pay before your children can start, such as tuition and registration fees.
They'll also give you a calendar with important events so that you can stay up-to-date with what your children are doing.
Now, on to You
While sending your children to an international school can be expensive, it's a worthy investment.
Your children will have access to top-notch education, engaging extracurricular activities, and a diverse learning environment.
This gives them the freedom to explore their creativity and develop soft skills like communication, problem solving, and time management, preparing them for a bright future in any career.
Every school has different offerings, prerequisites, fees, and application processes, so ensure you check their websites for more details so you can make an informed decision.
You can also talk to other parents in your community to see what schools their children go to and ask for recommendations.
Just ensure you involve your children in the decision-making process, as they'll be the ones attending the school. If they're involved, they're more likely to be engaged with the learning.
Related articles: