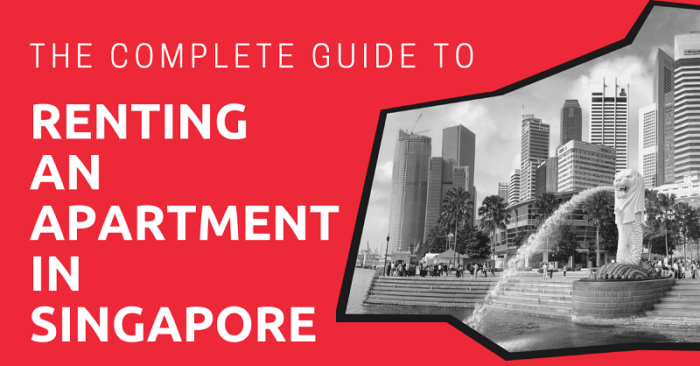 "The LL accept LOI, now prepare TA, ok ah?"
Make any sense to you? No.
Looking to rent a property in Singapore? Yes.
Then this article is for you. If you are moving to Singapore and plan to rent a home, then chances are that at some point in the process you'll receive a What's App message similar to the above and you're going to want to know what it means.
What's more, renting property in Singapore is more than just deciphering Singlish, the colloquial Singapore English language. There are myriad of nuances in the otherwise seemingly normal process that make it feel as foreign as eating crocodile tail soup. Yes, that's a 'thing' here in Singapore, admittedly not very common but head to the Berseh Food Centre in Kelantan Lane and you could be gobbling it up in minutes.
I digress. Back to property, although be ready for a lot of food conversations in your property search. Where is the nearest food centre? Have you had lunch yet? Have you tried chili crab? Just some of the likely questions you'll be asked as you take your shoes off to step inside a potential apartment.
Are you getting the picture yet? Singapore might be a small island but there are some big differences when it comes to the property rental process compared to whatever country you are coming from.
In this article I will explain everything you need to know and more to ensure that you navigate and negotiate like a local and achieve a rental place to suit your own personal Singapore dream.
This article will take approximately 39 minutes to read. Don't have the time right now? No worries. You can email the ad-free version of the article to yourself and read it later!
Things to Keep in Mind When Looking for a Rental
Before we get into the nitty gritty of the rental process and how it works, I'll take you through some of the nuances that make it 'Uniquely Singapore', as the Singapore Tourist Board puts it.
Language
I've already touched on this but be prepared for a whole new set of jargon and especially the use of acronyms. Everyone in Singapore loves a good acronym and property agents are no exception. You'll pick them up as you read through the article but to highlight a few key ones:
LL – Landlord
LOI – Letter of intent signed when you are securing a property
TA – Tenants agent as opposed to the Landlord agent, LA
Wet kitchen – as opposed to dry kitchen, otherwise known as an outside area for food and laundry preparation that can be easily hosed down
Black and White – Singapore's old Colonial heritage homes, not your grandma's old photos
+1 – not an invitation for you to bring your latest squeeze to a party but the phrase for an additional room in the house, typically used as a maid's room
As you can see, plenty of room for confusion abounds but you'll get the hang of all these new words the longer you spend property hunting, which incidentally could be quite a long time. I looked at 30 properties on my third occasion of house hunting here in Singapore and that was even when I considered myself an 'old-hand'.
While talking about language, let's look at the names for the different types of property in Singapore. I will go into each of these in more depth later but to give you a head's up, you'll be searching from a selection including HDB flats, condos, cluster houses, landed property, bungalows, good-class bungalows, black and whites, and shophouses.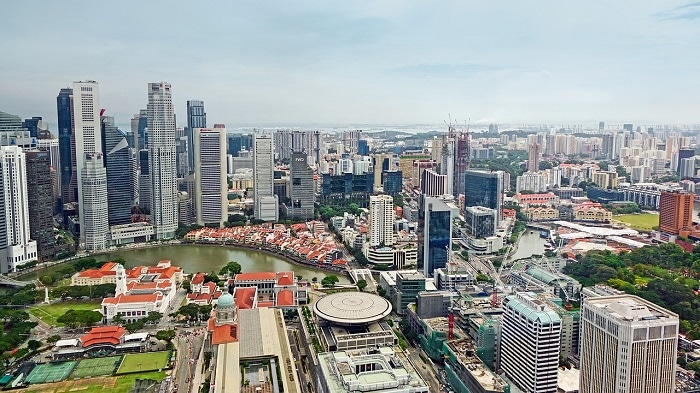 Oh, and let's also not forget, in Singapore there is no ground floor. The first floor is the ground floor. This may be normal for those of you coming from other parts of Asia or the US but for anyone coming from Europe you will frequently find yourself climbing one more set of stairs than you need when viewing a property on the second or above floor.
Another language quirk…the void deck. As the name would suggest, this is a deck, or floor, void of apartments. It is a space used for community gatherings and social occasions.
Nationality & Culture
It is not just the language barriers that exist but also cultural differences. While prices can be negotiated, it is worth remembering that Singaporean landlords don't like to 'lose face' and would rather keep a property empty than let it go at a price they consider too low.
If you hit a barrier on price, then you can take the negotiations into what I call the ++ level. If I pay that price what will you add to make it more attractive to me.
It might be improving the quality of the kitchen units or modernizing the window grilles. Even when the sums seemingly don't add up, as long as the landlord can demonstrate that they got a 'good rental price' for the property, they are happy, even when they ultimately paid out to secure you as a tenant.
Seasonal Price Fluctuation
According to Property Guru, one of Singapore's leading property websites, Singapore experiences seasonal fluctuations with rental prices, and size of units, rising in July and August in line with the influx of expat families ahead of a new international school year.
If you can avoid these months, it is worth missing the ugly scramble over the best properties. The smart move could be to start your hunt in May or June when there is more stock on the market in anticipation.
Districts
People think that most places in Singapore are a 20-minute journey from any given point, and that with excellent MRT (Mass Rapid Transit), Singapore's public rail network, and bus links, there is no real need to worry about location.
However, it is amazing how quickly 20 minutes in Singapore mentally becomes a chore. Suddenly the coffee shop on your street corner is the furthest you can be bothered to go on a Saturday morning.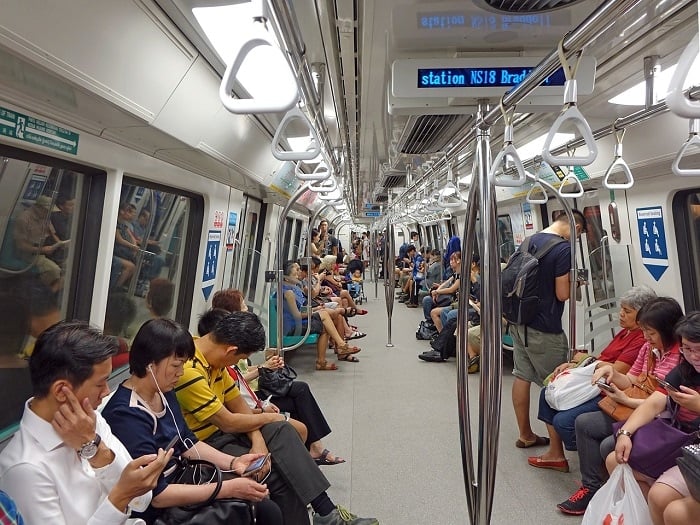 So, focus your location less on your commute and more on your neighborhood. The general gist is to think about whether you are after the coffee shops of the City or cultural immersion in the heartlands; itself another phrase you will repeatedly hear and meaning suburban Singapore.
Property agents often refer to Districts when explaining where a property is, or they might ask what district number you want to be in. Let me tell you now, very few people have a clue which district number they live in and just to really confuse you, while district numbers are linked to the first two digits of the postal code they don't actually match it.
So, while I live at postal code 26XXXX I actually live in District 10. Apparently. I only know that now as a result of checking on the Urban Redevelopment Authority code checker for this article. If you know which area of Singapore you want to live in, perhaps put it into this code checker before you talk to an agent otherwise they will nod their head and then take you to view a property in District 65 rather than 11 after they have confused Hillcrest for Hillview.
Weather
Carry an umbrella on your house-hunting escapades. Singapore's tropical rainstorms come out of nowhere and while you might have entered a viewing in bright sunshine, it is all too often that you come out in the midst of a torrential rainstorm.
This has its upsides though as it forces you to consider whether the property has a good covered walkway route to the MRT or bus stop, which is something you will want in order to avoid arriving at the office looking like a drowned rat or in a hot, sweaty mess on your daily commute from home.
The same tropical weather is also responsible for high levels of mould in many properties, so keep an eye out for the tell-tale green signs; an indicator that you will need to live with air-con on to keep it out.
Map
Talking of walkways and routes, what you see is not always what you get. A condo on the map may look far from anywhere but, in reality, there could be a cut through that makes it more conveniently located.
For example, The Arcadia condominium on Arcadia Road looks to be on a dead-end road on Google maps but it actually benefits from a walking route directly into Greenpark Avenue and all the shops and restaurants of Greenmead Avenue. I highly recommend getting out and about into the local streets on your visit and ask around with those that know the area well.
Tourism & Nightlife
In any other city I would suggest you consider the popular local nightspots as being an area to avoid; this being Singapore it might actually be the reason to consider an area, by way of bringing more life to your experience. Public drinking is banned everywhere after 10:30 pm and in some areas such as Geylang and Little India, it is actually banned from 7 pm Saturday through to 7 am Sunday.
Rowdy behavior is not going to be keeping you up at night; nor are noisy students. I used to live near to a students' university halls of residence and every time I had a party, they were the ones complaining to the police about the noise. A strange turn of life events.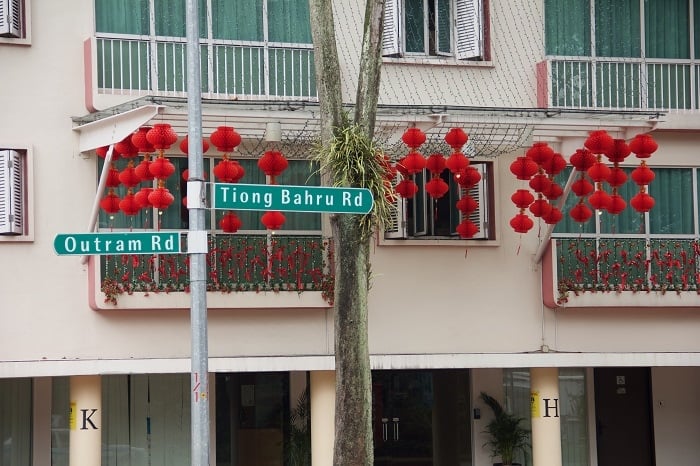 Some of the more popular areas for local bars and restaurants, such as Holland Village or Tiong Bahru, are actually among the more fun places to live. You can easily walk home from those local bars that have a license to serve alcohol late, but also stay safe in the knowledge that had you chosen to stay home for a quiet night, the bar noise will have been kept inside after 10:30 pm.
Families
If you are a family, you might be looking for a garden, which will limit your search to older style properties, as Singaporeans covet air-conditioning over nature's breeze. Newer properties are built to the very edges of their plots. Or perhaps you will want a shared set of garden, pool, and sport facilities, as on offer with a condo (no one in Singapore uses the full term condominium, get used to it) or perhaps you'll want to be near to a leisure club such as The British Club or Swiss Club; all good considerations to help you narrow your search type and location.
If your children are in their teenage years, consider being near to an MRT or bus stop. It's amazing how short walking distances become long ones in a teenage mind. No one wants their offspring to become what I term an "Uber kid"; someone who will only leave their house by Uber, which actually in Singapore is now known as Grab as it merged with Uber back in 2018, but "Grab kid" just sounds wrong!
Special Needs
Singapore prides itself on its wide, well-kept streets and wheelchair-friendly routes and access, and this extends to its public housing and private condos which have wide doors, elevators, and ramps as regular features. However, if you require wheelchair access for yourself or guests then I suggest steering clear of the older style private houses, known as bungalows, as these tend to be a cornucopia of little steps and raised decks all harking back to the kampong days when houses were built on stilts.
Pets
Ahh, the question of pets in Singapore is an article unto itself. When I first arrived in Singapore I was told by well-meaning friends to leave my pets behind in the UK. Eleven years later I am very happy that I ignored them and that my furry friends are here. It is true that cats are not allowed in HDB flats (Housing & Development Board) and that you can only keep one of 62 different dog-breeds there, but private condos have a different set of legal rules for dogs and no actual laws for, or against, cats.
The answer to the question of 'can I live here with my dog / cat' lies with the AVS (Animal & Veterinary Service) who specify the difference between scheduled and non-scheduled dogs and what is allowed; regarding cats, the answer lies with the condo's management team and their preferences. I suggest doing your research before falling in love with a condo space and being told your four paws can't join you.
Construction
You can't read or talk about property in Singapore without mentioning construction. While looking around a house for a friend the other day I barely even noticed the huge construction happening next door. Had I been in any other city I'm sure it would have put me off straight away but here in Singapore, it seems like every other building has construction nearby.
If you move into a property with neighbouring construction, take the view that you are lucky as the worst is likely to have already passed. The initial pile driving is the headache-inducing noise that we all want to avoid, but generally once this has been finished the reminder of the construction is fairly light noise-wise.
Singapore is renowned for its quick builds thanks to its army of migrant construction workers and noise barriers are used as a matter of course around all construction sites. Notably, construction workers do work on Saturdays, but again this speeds the entire process up.
With all of the above understood, let's dive into the nuts and bolts of renting property in Singapore.
Financial Considerations
Singapore has the dubious honour of being placed tenth in the Cost of Living index for all countries and in third place if filtered by rent indexes. As a small city state with only 721 square kilometers of land, property is at a premium and rental prices reflect this.
While this global positioning is unlikely to change much, there are annual fluctuations in the rental market. It is difficult to find the exact figures to show this as most data points to property sales rather than rentals, but anecdotally I am now living in my largest, but cheapest, property since I arrived in Singapore eleven years ago.
When I moved into my second house, I was paying SGD$4,000 less per month than what a similar house on the same street had cost three years earlier. Rents have certainly cooled from previous years.
The property rental market is almost exclusively serving foreigners, as the overriding majority of Singaporeans tend to live at home until they are ready to buy their first property. Therefore, it figures that rental market pricing tends to informally follow foreign employment figures and salaries in Singapore. In strong expat employment markets the rental prices increase, when expats leave due to tighter government restrictions on hiring locally then rental rates drop. This is, of course, an incredibly simplistic way of putting it but it is one way of understanding it.
The price you pay will ultimately be dictated according to size and space; location; proximity to services and facilities on offer. Let's give you a bit of context.
I live in an old, 70s style house with a large garden very centrally near Holland Village. We are a family of 5 with 2 pets so space was my requirement and proximity to transport and schools.
It is costing SGD $11,000 per month for a 3 + 1 bedroom house in the Holland Village area. I can hear your sharp intake of breath from here but 3 beds + 1 actually means 6 bedrooms. 3 are huge with ensuite bathrooms, 2 are downstairs and therefore not counted as bedrooms, and one is the +1, a large maid's room/bathroom.
I have a huge garden with excellent privacy and a pool. SGD $11,000 is an insane amount of money to spend on property per month, but I don't know any other city in the world where I could even access this size of house and a pool and still be 15 minutes from the CBD.
At the other end of the scale, I have friends who have just moved to the prettiest house on the East Coast with four bedrooms but next to no garden and they are only paying $7,000 a month. Yes, I did question if I had got the balance right when I saw their house, but for me the East Coast is the wrong part of town for work and school and outdoor space is crucial to me. It's a question of what your priorities are.
So, to understand what you are likely to be paying, you need to understand the types of property available and the locations to look at. Here goes …
Types of Accommodations
There are several types of accommodations you can find in Singapore. Let's take a look.
Short-Term Rental
Short-term lets are not legal in Singapore. There is no AirBnB and there is a minimum stay of three months applied to all private residential properties and six months for HDB Flats. If you are looking for something short term you need to look at Serviced Apartments.
The best place to start for these is the Serviced Apartments Association which lists a good selection of options.
They won't be cheap though, a check on Booking.com throws up a one-bedroom apartment for a month costing between SGD $4,000 and $10,000 depending on your choice of location and luxury level.
Long-Term Rental
Room Rental
Provided you are willing to sign up for longer than three or six months, then there are options to rent a room in HDB Flats and private condos and houses across town. A good place to start this search will be through a portal such as Craigs List. You can filter by house type, smoking or non, pets allowed, and so forth.
Price-wise you are looking at around SGD $650 per month for a room in an out-of-town area such as Kovan, through to $2,000 for a nice master bedroom in a swish newly built Condo such as The Sail, which is right at the heart of the CBD, and has access to all the condo facilities such as a gym and pool.
HDB Flats
HDB is the name for the Housing & Development Board flats. These are the only properties called Flats, all other private high-rise properties are called Apartments. HDBs are blocks built by the Singapore government as social housing and there are strict rules around rental as they are aimed predominantly as an affordable form of housing for lower income Singaporean households.
However, there are some privately held flats that are subsequently let out by the owner and generally for extremely good prices.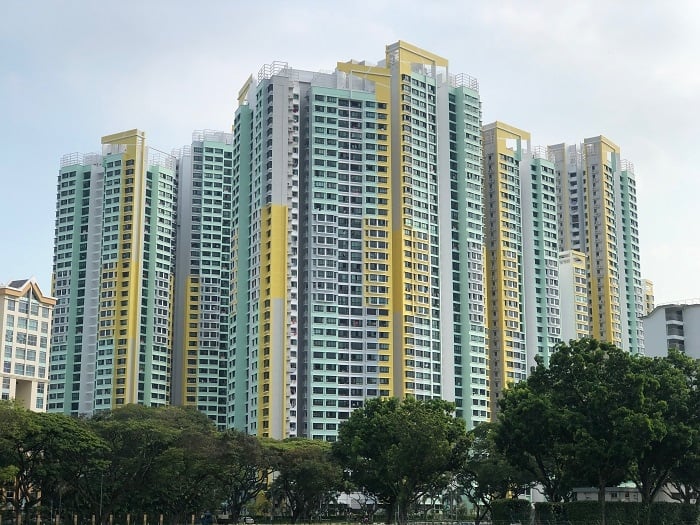 The rule of thumb is that HDB Flats cannot be rented out to tourists; they can only be rented to foreigners who hold a student pass or long-term social visit pass. This means that professional expats on an employment pass can't access them.
Check the Ministry of Manpower website to understand the different work permits. A three bedroom HDB flat in an area on the fringes of the city, such as Tiong Bahru, will cost around $2,800 per month according to PropertyGuru.
Condominium Apartments
Condo's are privately owned apartment blocks and are let out either through individual owner-landlords in coveted blocks such as The Arcadia or through real estate companies, such as Far East Organisation, who manage whole blocks including the relatively new and stunning development, Cyan.
As you would expect, condos come in all shapes, sizes and locations. Don't be fooled into thinking that a condo is a cheaper option to a house. On the contrary, with their incredible shared facilities, pools, gym, tennis courts, and often stunning outlooks, many condos are frighteningly expensive, and it is a lifestyle choice to pick them over a cheaper house in the area.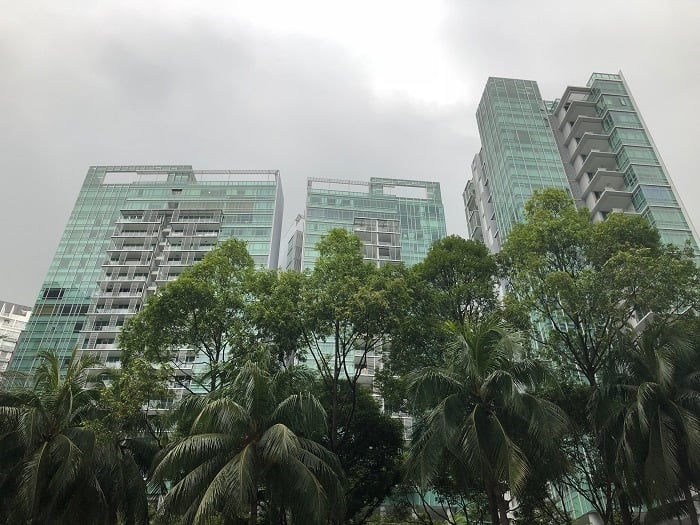 As with landed houses in Singapore, the older blocks tend to be more spacious and airier with greenery surrounding them, while the new builds are stunningly sleek glass boxes with modern, well-kept facilities.
Rental prices vary wildly for condos. A one-bedroom apartment in an old-style condo such as The Seawind on the East Coast will set you back around $3,200 per month, while a 2-bedroom apartment in the very smart, The Skyline, closer to town will be more than $11,000. The difference being in location, square footage and frankly, the name.
Cluster Houses
A cluster house is the bridge between a condo and a landed property/house. It is a private house with shared communal facilities with a small number of other houses. Sometimes they are detached properties, other times they are conjoined.
For many people it gives them the 'best of both worlds', the privacy and feeling of space of their own home but with the convenience of an estate managed pool, private parking, gym, and other facilities.
Cluster houses are highly sought after. According to The Business Times, sales of cluster houses rose 168% between 2014 and 2017, but are in shorter supply as rental propositions than traditional condos and, as such, have rental rates equivalent to fully landed houses.
A four bedroom apartment in The Alana, a cluster house considered out-of-town in Seletar and with no close MRT links will set you back $7,200 per month, while the equivalent size will cost you $9,000 in Watten Residences, a property located much nearer in to town in Bukit Timah.
Landed Property
Landed property refers to houses where the owner has the title to the land. This normally means terraced, semi or fully detached houses, though the latter here is called a Bungalow.
Bungalow and Good Class Bungalow
Traditionally a Bungalow would have been just that, a one-storey building with open sides to allow for maximum airflow in the days before air-conditioning. Nowadays a Bungalow refers to one of the older-style landed houses that do have air-conditioning and modcons installed, but still appeal to those with a taste for tropical living as they are more open, spacious properties. Good-class bungalows are those at the higher end of this scale with large gardens and pools.
Conversely with landed property, it is not the case that the bigger the property the more expensive the rental. Frequently the larger sized bungalows are cheaper than a smaller semi-detached landed property because they are a much older building with jaded bathroom and kitchen units and a tendency for items to require more frequent fixing.
Landed property is usually big and have enough space to fit your household items that you ship to Singapore.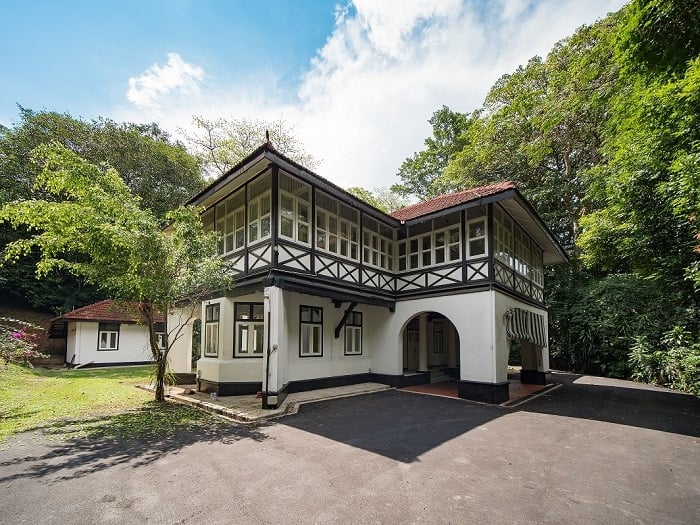 Landed property can vary in price from around SGD $4,500/month for a 3 bedroom terraced property on the West Coast through to up to $22,000/month for a 5 bedroom Good Class Bungalow on Cluny Road, near Tanglin, that feels more like an Ambassador's Residence.
One of the disadvantages of landed property is the need to factor in the additional costs for property management such as pest control at, say, $100+ per month; a gardener at up to $300 per month depending on your land area, and pool maintenance which can be as much as $500 per month.
However, negotiations on the rental price are easier to have on landed property compared to condos, as each property has its own quirks and it is hard to compare like-for-like in the same way.
I have a friend who just negotiated a $15,000 Good Class Bungalow down to $12,000 in the space of 5 minutes because the landlord can see the property's short comings; huge construction next door and a thick layer of mould thanks to the fact that it has been empty for three months. Frankly the landlord was just glad at that point to find someone willing to take it on and you could even argue that $12,000 was still too much.
Heritage / Conservation Homes
If you are truly after the Singapore dream, then you'll want to look at a heritage home. These are the properties that have been deemed as conservation buildings by the URA (Urban Redevelopment Authority) as being historically significant, restored and protected.
These fall into two main categories:
Shophouses
Shophouses are the iconic, brightly coloured, rows of terraced houses beloved by Singaporeans and foreigners alike. Renting one of these is both a nostalgic and delightful experience.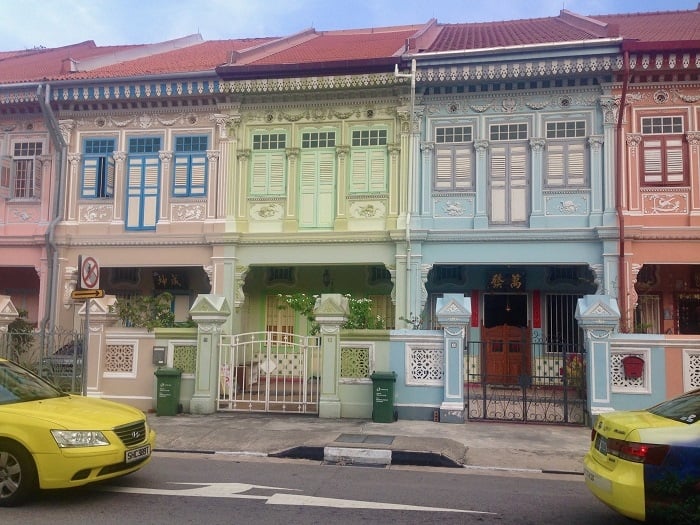 Behind the old facade, many of these properties have been highly modernized and provided you have no desire for outdoor space, leisure facilities, and don't have a baby that will keep your neighbours awake by crying all night, they can make the most wonderful homes.
Shophouses are found in clusters and often in the 'cooler' parts of town such as Haji Lane and Arab Street. Looking at PropertyGuru it seems that the current pricing is between $6,000 and $8,000 per month for a full house.
Black and Whites
While most people think of Black and White's as the huge Ambassadorial style properties from the Colonial era of Singapore, the name actually encompasses a huge style of property from massive bungalows through to one room terraced properties.
Black and White refers to the dark timber beams and white-washed walls that are ubiquitous to their design.
It is estimated that there are approximately just 500 of these properties left in Singapore and living in one is considered an honour if you are a foreigner who loves history and wants to play your part in preserving it, complete with allowing tourists to traipse through and gawp at your stunningly restored house.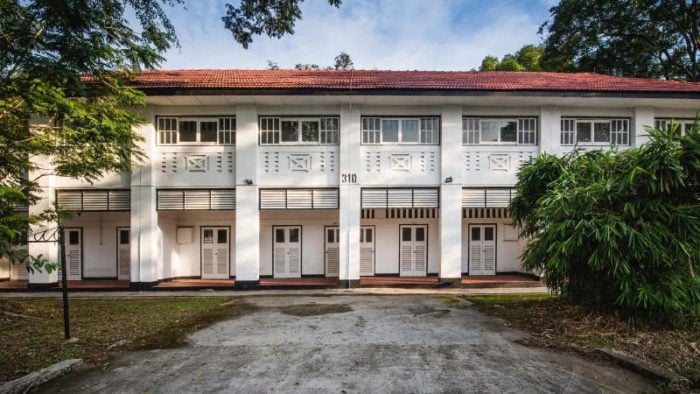 Meanwhile, many Singaporean's will consider you crazy for wanting to live in a property beset by a troubled history and apparent ghosts.
Black and Whites exist in their own little sphere and renting one is through a closed auction process with the Singapore Land Authority (SLA). Prices tend to stay more static than the open market and many people continue to enjoy living in vast properties well below the current market rate.
However, with a Government programme of redevelopment in place, this is being redressed and many people are being given rent hikes.
To see the cost of upcoming Black and Whites and to view historical data on auction prices, you can go to the SPIO website.
Location
So now that you know what type of property you are looking to rent, you can think about the location and how this might affect your budget.
Singapore is fantastically well connected through its MRT, bus routes, and cheap taxi services (one of the few things that are cheap here) so living location is less about the commute and more about the vibe of Singapore that you want.
That said, clearly if you are in an industry that is located more obviously at one end of the island than another you might want to consider living nearby. For example, those working in the oil industry in Tuas, IT businesses in Changi, or those based at the American naval base in Woodlands.
For the rest of us, it's more about 'do you want the laid-back beach vibe of the East Coast or the wild, jungle feel of Bukit Batok?'; albeit with a driving school on your doorstep where perhaps it is actually more the wild jungle of learner drivers that you have to contend with.
Apartments nearer the CBD are considerably more expensive than those lying further out into the suburban areas.
For example, a 2-bedroom apartment in The Sail at Marina Boulevard will set you back $3,750/month, compared to just $2,900/month in the afore-mentioned Bukit Batok.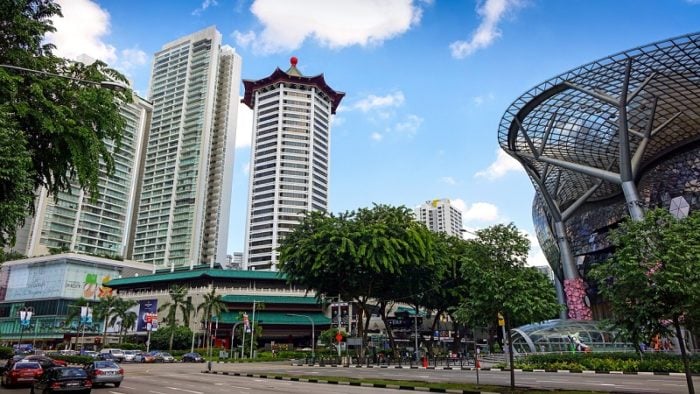 The exception to this rule being Sentosa which is Singapore's very own billionaire's playground. Rental prices in condo's on Sentosa Cove, such as the W Residences, will more than match, or be higher still, than those near to the CBD with prices ranging from SGD $7,000 per month for a 3-bedroom apartment and up-to an insane $26,000 for the 5-bedroom panoramic penthouse. Lucky those with that level of budget.
Schools
A big consideration for many expats is schools, and this can be a driving force for a property decision. American families with children at Singapore American School will choose a property in Woodlands, which is an all-singing, all-dancing American neighbourhood; while those at an international school such as United World College will likely live closer down to the West Coast or even the East Coast if they are at the UWC East Coast campus.
Up and Coming Areas
Most neighbourhoods in Singapore have already 'up and come' as it is such a small city, but it's certainly true to say that there are some areas which will suit the younger, hipper expat crowd who aren't made of money or driven by banal decisions such as proximity to school.
Tiong Bahru immediately springs to mind as a rapidly gentrified area with hip coffee shops and young fashion brands establishing their businesses from their kitchen table. That said prices aren't what you would call cheap. A 2 bedroom apartment in the achingly-cool Tiong Bahru Estate will set you back SGD $4,300 a month.
Finding Apartments & Homes
If you thought you were going to pound the streets and knock on doors to find your next home, think again. The majority of rental properties will give you no indication that they are for rent from their outward appearance. Occasionally you will see a banner attached to a front gate with an agent's name on it but this tends to indicate that they are desperate for a tenant at that point.
There are really only two routes to finding property in Singapore – go online and/or use an agent. The two aren't mutually exclusive, as even when using an agent, it can be useful to go online to assist them in opening doors to properties you want to view.
Online
There are a couple of very useful websites that I would recommend as follows:
Agents
Singapore's estate agents operate in a very unique way.
Unlike most countries where you have an estate agent who acts as a go-between for the landlord and the tenant, in Singapore each party has their own agent and it is actually illegal for the agent to act for both sides on the same property.
So, an agent may be a 'Landlord Agent' for one property and a 'Tenants Agent' for a separate property but they cannot be both for the same property.

It is impossible to property hunt without dealing with a landlord agent as unless there has been a word-of-mouth recommendation from an existing tenant to a new one (as we did when we left one property and recommended our friends to take it on from us), the landlord will appoint someone to run the viewings and negotiations on their behalf.
You do not, however, have to appoint a tenant's agent to act on your behalf. In reality many people will, especially if looking for landed property, as there seem to be back doors that can be opened and viewings secured for properties that you didn't even know were on the market.
With regards to costs, there are no official regulations on commission rates in Singapore, but the typical pattern is that for a property above SGD $3,500 in rent and a 2-year lease, the landlord pays one month's rental which is split between the landlord agent and tenant agent (if one has been used). The tenant pays no commission.
For properties with just a one-year lease, the landlord pays just half a month's rent.
For properties that are rented at or below SGD $3,500 in rent and a 2-year lease, the landlord pays one month's rental to their landlord agent and the tenant pays one month's rental to their tenant agent. For a one-year lease, this is also split and both parties receive half a month's rent from their respective landlord or tenant.
Howeve,r there are no hard and fast rules so we recommend you discuss this at the outset with your agent, if you choose to work with one, and preferably sign this Estate Agent Agreement before embarking on using their services.
All agents are required to be registered by the CEA (Council for Estate Agencies) and there is a Public Register that you can use to check on this. The best way to find a good tenants agents is through word-of-mouth. Some agents struggle to understand that a foreigner has a very different property appetite to a local.
Rental Leases in Singapore
The process to signing a lease in Singapore is fairly straight forward and involves a number of clear steps as follows.
Making an Offer
You've seen the apartment and fallen in love, now you put forward your best offer to the landlord. If you've used your agent, the offer will go through them. Either way I recommend putting it in writing on email or text.
Letter of Intent (LOI)
On accepting the offer, the landlord will forward a 'Letter of Intent'. An agreement that confirms commitment on both sides. It is at this point that you want to negotiate all the conditions of your agreement with regards to pets, visitors, repairs, etc.
I suggest a very long walk around the house with your agent to spot any repairs or changes that you need made to the property prior to moving in.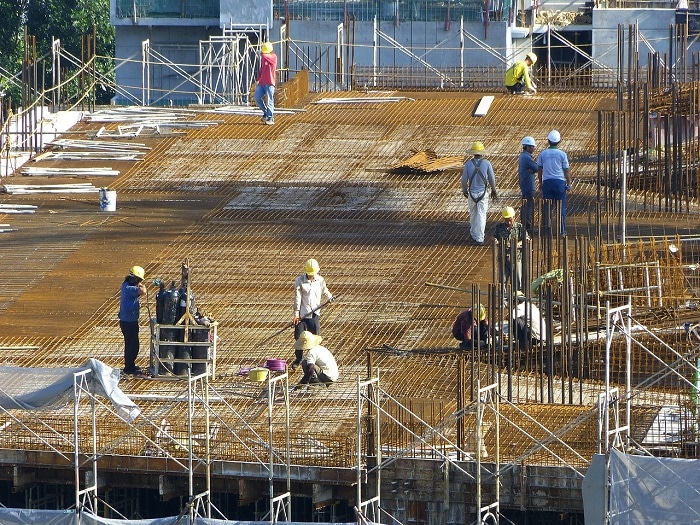 Good Faith Deposit
On signing the LOI, you will be required to submit a deposit, which is normally a month's rent for a one-year lease or two months' rent for a two-year lease. If you successfully complete on the property rental this will form the majority, if not all, of your security deposit.
Tenancy Agreement
The final binding agreement between yourself and the landlord. Before signing, make sure that you have read it thoroughly and are happy with all the points.
Corporate Lease vs. Individual Lease
As many expats arrive in Singapore as a result of gainful employment, many leases are signed as corporate leases, where the employing company name is put down as the signatory on the Tenancy Agreement.
Landlords love this as they see it as a more secure cash-cow and will always ask straight out if you are on a corporate or individual lease.
Diplomatic Clause
The average length of a lease contract is two years; most contracts will include a break point after 12 months, called the Diplomatic Clause, which acts as a safety net in the unfortunate event that you lose your job and have to return 'home'.
Notice Period
The average notice period on a lease is two months and this still holds true if invoking the diplomatic clause as above.
Should you need to break your lease early you will have to wait 12 months to be able to trigger the break and then give two months' notice, so in effect the minimum rental period will be 14 months.
Security Deposit
Likely already paid if you put forward a Good Faith Deposit, but occasionally a balance needs to be paid. This deposit is refundable when your lease lapses, but note the landlord may retain some of it for damages to the property when you leave.
Landlords seem to vary hugely on this. I have friends who have seen nothing come back to them despite leaving a property immaculate, and others who after discussion with a landlord have agreed to have a wooden floor polished at their own cost and received a full deposit back.
Stamp Duty
In Singapore there is a tax on the Tenancy Agreement, which is a necessary expense borne by the tenant, regardless of whether they are renting a single room or a whole unit. Payable direct to the Inland Revenue Authority of Singapore (IRAS) prior to the Tenancy Agreement coming into place, it is calculated at a rate of 0.4% of the total amount based on monthly rental amount and the duration of the tenancy. A 24-month lease on a $4,000 monthly apartment will give a payable stamp duty of $384.
Furniture
Most properties are unfurnished. If you haven't arrived with a container in tow, then there are plenty of furniture rental options out there, such as the imaginatively named Expats Furniture Rental. At least it does what it says on the tin!
Maintenance & Repairs
This will have been agreed in your tenancy agreement but all landlords will have a threshold after which they will pick up the cost of repairs to the house or white goods. If it is a particularly old property you might want to push for this threshold to be quite low, otherwise you could be paying quite frequently. Typically, you are looking at around $200.
The landlord may also have a list of preferred contractors to work with, so don't just go engaging anyone, as then the landlord can argue that they won't cover the cost as it is more than they would have paid. If in doubt check ahead of repairing.
Utilities
On moving into the property, you will need to set up your electricity, water, phone, and wifi. These are all very straight forward and there isn't a huge amount of competition within Singapore, so you won't spend days in researching. There are some greener alternatives coming to the market, so a look at a platform such as iSwitch can help decide if they are for you.
The biggest utility cost in Singapore is electricity, typically for your air-conditioning. I pay around $600 a month for a large landed property, but I only use my air-conditioning very lightly as I like a more open-air style of living. If you choose to live inside with the aircon on all day your costs will go up.
Other costs you might like to consider are those for additional services such as gardeners, pest control, and pool maintenance. Not relevant for those of you looking at condos where services are provided for, and covered by, the management.
Rental Disputes
The two typical disputes in Singapore that arise tend to be over your deposit or breaking your lease early. Other factors, such as not paying your rent on time or breaking the terms of your tenancy agreement by, say, having pets in the property could also give rise to a dispute.
There is a Small Claims Tribunal process here in Singapore should disputes go beyond what is manageable between yourself and the landlord.
Renting vs. Buying
To rent or to buy. The age-old question and one which can be settled fairly quickly by understanding that there are strict regulations for foreigners to purchase property in Singapore. Read my other guide on buying a condo in Singapore to find out more.
Now, on to You
You should now consider yourself an expert in understanding all the ins and outs of the rental process in Singapore. Now you need to get out there and start the property hunting game.
Only you can decide what factors are going to be most important in your search for a property; location, space, cost, amenities, and so forth. I highly recommend that the backbone of your search is based around looking for yourself and talking to others.
When viewing a property, make sure that you go back at different times of the day. That gorgeous empty pool in the condo could be a seething mass of children at the end of the school day.
Your sun-drenched terrace might just turn into an unforgiving oven if there is no shade at any point in the day. Go back at different times of the day, do a practice run on the commute, check out the local shops and most important of all, make verbal notes on your phone as you go around the property.
It is amazing how quickly all those viewings merge into one and if like me, you end up making 30 of them, you will very quickly forget what is what.
Good luck!