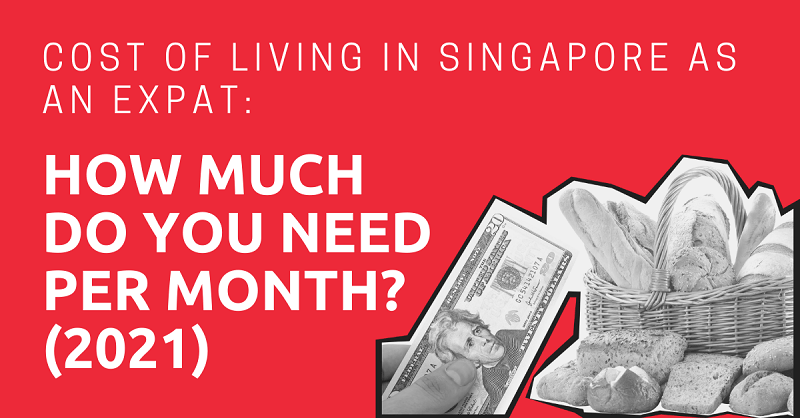 2020 was the first year in seven that Singapore didn't top the EIU list of world's most expensive city for expats to live in…but it still came in at fourth! Ouch. But is this really true when living 'on the ground'?
In this article we take a look at the essential living costs that you need to consider if you want to live here as an expat in Singapore.
Of course, this won't be the complete picture as there will always be costs which will differ from person-to-person, such as clothing and leisure activities, but this guide should help you understand what your basic living expenditure around food, rent and transport could look like. Perhaps this will help in your salary negotiations or just to get a picture of how much disposable income you might have once you have settled in.
Please note, all costs outlined are true at the time of writing but they may fluctuate with market changes.
This article will take approximately 21 minutes to read. Don't have the time right now? No worries. You can email the ad-free version of the article to yourself and read it later!
Living Expenses
There is no doubt that Singapore is very expensive in so many ways from rent to restaurants or owning a car and more. But there are also plenty of other elements to life here that are surprisingly cheap; taxis, local food and full-time live in help for example.
As with many things in life, much of it is down to the choices you make around the lifestyle you want to keep. Of course there is no right or wrong way to live and everyone has different priorities but this article will guide you as to what costs you need to take into consideration and what range they fall in depending on the choices you make.
Bear in mind that with any expat move there are always additional set-up costs, from your relocation and shipping to acquiring furniture for your new abode so don't forget to factor these in. You may also have to make some upfront one-off costs or deposits for say, putting your child into nursery school or joining a football club. Make sure to make a note of these, many an expat has forgotten to claim these deposits back several years after making them.
Lastly, don't forget the rule of thumb, keep track of your monthly expenditure and don't overspend. Try to keep to budget and you may even be able to make some savings from your time in Singapore.
Rent
In the twelve years that I have lived in Singapore rents have gone up and down a bit like a yo-yo but there has been one constant…they are always expensive! On a par with New York or London I would even suggest, though you still get more bang for your buck than in Hong Kong.
Accommodation choice in Singapore is plentiful from beautiful uber-modern apartments to older-style condominium (condo) blocks, tightly-packed terraced houses to luscious landed properties with swimming pools and relatively-speaking huge gardens to iconic heritage 'shop houses' and beautiful historic 'black and white' homes.
Rental price wise, it's not so much which of these options you choose per se, but the location across Singapore, the age of building, the floor space and level and the proximity to services and amenities which will have most bearing on the monthly rental cost.
What will be of most importance to you is likely location so let's take a look at average costs across different parts of Singapore using PropertyGuru.
Starting with the CBD and Marina Bay area, for those of you who like to live right in the heart of the city and want minimal commuting time if working in the financial district, a swish, 2-bed 1,000 sq ft apartment will set you back SGD $6,500/month.
If its proximity to the central shopping area that you are after, look at Orchard Road and the Tanglin area. A 2-bed 800 sq ft apartment will come in around SGD $5,388/month.
Heading west to many an expats' favourite, Bukit Timah, for its proximity to the neighbourhood friendly Holland Village and many international schools, a semi-detached 4-bed house will be SGD $8,300/month.
While if you shoot up to the north of the island to Woodlands a 5-bed, detached house with garden and pool racks up to $12,000/month, somewhat skewed by demand from Americans wanting proximity to Singapore American School.
Head north east to Pasir Ris and prices drop down to just SGD $2,900 for a 2-bed, 764 sq ft apartment.
Over towards the East Coast, a stunning 3-bed conservation 'shop-house' will set you back SGD $8,100 a month.
What you are probably gathering by now is that it's all a little bit like comparing oranges to apples and depending on where you want to be and what you want to be in your costs might vary from anything from SGD $2,000 / month all the way up to SGD $18,000 / month.
For a more detailed idea of areas and costs I suggest you read my other article The Complete Guide to Renting an Apartment in Singapore.
Importantly, there are some other factors to consider along with the direct rental cost.
If you live in a condo, all of your maintenance and additional costs are likely to have already been factored into your monthly rental price but if you live in a landed property, you will want contracts for services such as gardening, pest control and even swimming pool maintenance if you are lucky enough to have one of those. Expect to pay up to or around SGD $200/month, SGD $100/month and SGD $500/month accordingly for each of these.
Electricity & Water
As a small island, Singapore's natural resources are extremely limited so utilities such as electricity and water come out comparatively expensive. You will quickly notice this if you decide to live in 24/7 aircon and may well change your living habits after the first monthly electricity bill!
Bills for electricity and water are generally bundled together through the national grid provider, SP Services, but you can shop around through companies such as iSwitch. Costs will range between SGD $200/month and SGD $600/month depending on the size of property and usage.
TV, Cable & Broadband Internet
These are also generally bundled together with one provider such as Singtel or Starhub and as with many things in Singapore there are all sorts of deals and offers available depending on what you decide you want. Singapore is a well-connected, technology efficient city and so costs are relatively cheap for the speed and amount of data you will receive.
For SGD $150 a month I received a fibre broadband line for wifi, a land line connection and a cable set top box connected to Singtel TV with additional sports channels. If I wanted to add more movie channels that might cost an additional SGD $18 or so. I mainly watch movies however through Netflix, Apple TV + or Amazon Prime and if you want US or European access you'll want to add a VPN at about SGD $5/month.
Phone
The above bundle apparently gives me a landline phone number as well but I wouldn't know, I haven't used one of those in many years!
My mobile phone (hand phone to use the going-term here) on the other hand sets me back around $160 / month which is expensive but that is because I have a huge amount of 5G data to be able to work on-the-go and which gets shared with three data-sucking, TikTok watching teenagers.
Most post-paid data plans will set you back between SGD $35 and SGD $100 a month. Pay-as-you-go plans, as you would expect, are considerably more expensive and can climb out of control pretty quickly so if you don't want post-paid, I suggest a pre-paid SIM only plan which are sold in bundles of just SGD $10 through to SGD $30 depending on how much data you want.
Food
Again, being a small island with limited local food supplies, food and grocery shopping bills can quickly rise, especially if you are drawn to foreign brands. However hard I try it is rare to leave the supermarket with even one small bag that has cost less than $100. A large weekly shop-in of supplies will set me back $200 to $400.
But this is because I'm generally quite lazy and go for convenience shopping in my local Cold Storage which is notoriously expensive, as are other shops like Jason's Marketplace.
If I was to go local and head to Sheng Siong or Giant, I could cut my shopping bills in half, especially when buying essentials such as washing powder or cleaning products.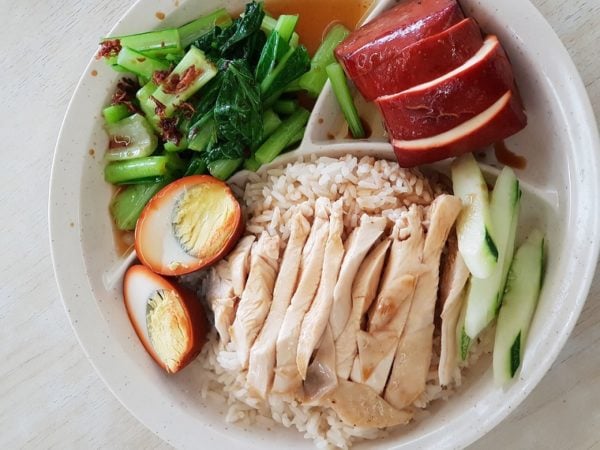 Food wise, a pack of a dozen local eggs will set me back SGD $3.10 compared to SGD $6.45 if I go for the imported Australian eggs. With only one very small cow farm in Singapore, the milk you buy will be imported and cost around SGD $3.20 for 1L.
If it's fruit and veg you are after then the supermarkets will merrily sell you everything in any season…at a price. I'm sometimes horrified to see a punnet of raspberries will set me back over SGD $7 when I know in the UK they would be sold for about one British pound. But raspberries aren't native to Singapore.
Head down to the local wet-market and you can fill your bag with all sorts of delicious local fruits such as mangos, durian and papaya and still see change from SG $20.
Coffee
If you are talking coffee as in Starbucks Coffee then a flat white will cost SGD $7.60 regardless of where on the island you buy it but go local and pick up a Kopi (black local coffee with condensed milk) for about $1.80. Many expats quickly become converts. While you are there try some Kaya toast…sweet and delicious.
Dining Out
Singapore has some fabulous restaurants, even some Michelin starred ones such as Basque Kitchen by Aitor but these will burn a hole in your pocket pretty quickly. A main course can be as much as SGD $38 alone and it is rare to come out spending less than $200 for 2 people.
But if dining-out is your thing, the good news is that you can eat out every night at a local hawker market and enjoy the most delicious food for under SGD $25 for two of you.  Head to Hawker Chan on Smith Street and you can still enjoy a Michelin-starred local chicken rice for less than SGD $15. 
One of the single biggest expenses when eating out is alcohol so let's talk about that.
Alcohol
Why is wine so expensive in Singapore? A regular question on many expats' lips after the first sip of a pretty average glass of sauvignon blanc that has just set them back SGD $20. The short answer is customs duties. The long answer is a little more complicated and hinges around heavy mark ups and an accepting market.
Alcohol is notoriously expensive but spirits less so than wine and the price will fluctuate depending on where you purchase it. A bottle of Jacob's Creek wine that will cost you just GBP5.50 in the UK will set you back SGD $28.50 in a Singapore supermarket and double that in a mid-priced restaurant. Even in a BYO restaurant, corkage will be around SGD $30.
Health
Healthcare in Singapore is top notch but depending on your needs it doesn't always come cheap.
A GP consultation fee will average SGD $40 while a trip to a specialist will range between SGD $125 and SGD $250 or even more.
A one-night stay in an 8-person, non-air conditioned public ward in NUH will cost just SGD $41 while the private Deluxe Suite will set you back SGD $851.72. 
Once you enter into the realm of procedures you will be looking at thousands. There is a reason for the slightly sick stock phrase of 'it is cheaper to die than to fall sick in Singapore".
Health insurance is the answer and look to my other article Complete Guide to Health Insurance in Singapore for everything you need to know on this.
Gym
Gyms are big business in Singapore and chains like F45 seemed to pop up almost overnight and take over the city. Personally I prefer to take myself off for a run in the Botanic Gardens or go cycling down one of the many park connector routes that criss-cross the island but if pumping iron and spin classes are you thing, then you won't be short of options.
Gym memberships vary in price and can start from as little as SGD $7 / month for a simple once-a month access-only package with Virgin Active through to SGD75/month for the premium flexible account with unlimited use. Fitness First comes in even more expensive at SGD $125/month.
Movies
Regardless of how many on-demand movie channels you have at home, nothing beats the experience of the 'big screen'. SGD $15 a ticket is the fairly standard price across town but my top tip is head to the more artsy style The Projector where seats cost just $13.50.
Transport
Provided you aren't looking to buy your own car, transport is considered cheap in Singapore.
Rides on the MRT (Mass Rapid Transit System) and public buses are best done using an EZ Link card, a cashless system that you can swipe for public transport and even use in shops such as Seven Eleven.
Tap in and tap-out fares are calculated on journey distance for both trains and buses. You are likely looking at approximately SGD $1.60 to travel from your home to the city so your monthly return commute of 20 working days will be just SGD $64.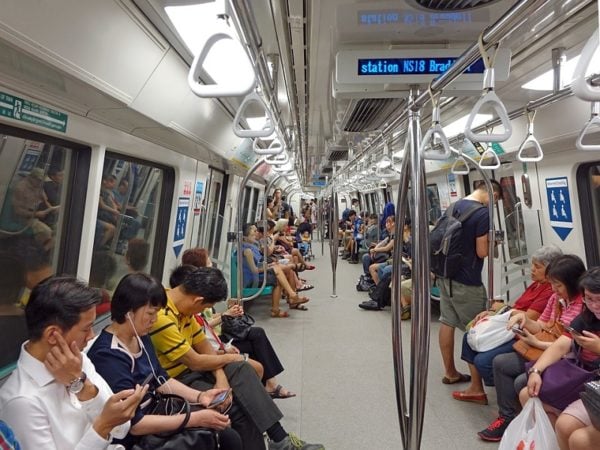 Taxis are also very reasonably priced with the cost of a journey made up of a combination of a set flag-down or pre-booking price of SGD $3.20 – $3.90 and the journey cost calculated as SGD $0.22 for every 400m travelled. Note, the clock also ticks for waiting time at SGD $0.22 for every 45 seconds.
Surcharges are applied for peak periods such as rush hour, 25% of metered fare, or late night, 50% of metered fare, and you'll see an additional SGD $3 on the pick-up charge if coming from either the CBD or Changi airport.
If you are dead set on driving yourself around town then just be aware that everything about the pricing from buying the car to the COE (Certificate of Entitlement) to road tax and insurance is set to discourage you. All in, you would likely need to set aside up to SGD $100,000. That's a lot of taxi journeys.
A considerably cheaper option would be to lease a car. AceDrive advertise their starting price at SGD $1,300 per month.
Maid
Many expats in Singapore rely on a domestic helper to ease them through daily life. From keeping your house in tip top shape to doing the shopping and cooking or helping with young children, there are many reasons why it is very normal to have live-in daily help.
Helpers are fully employed members of your household and you will have a contract and set salary in place. Depending on their experience and skill level expect to pay in the region of SGD $600 to SGD $1,200 on a monthly basis. In addition to this you'll want to buy an insurance contract to cover personal accident, medical insurance and the Government security bond.
This will be in the region of SGD $350 per year for a two year contract. In addition there is a monthly Government levy of SGD $265.
Additional costs include paying for her medical check-ups every six months at around SGD $50 / visit, airline tickets home to visit her family each year and an allowance to cover her food and toiletries. Some families also set their helper up with a mobile phone contract or add-ons such as a gym membership.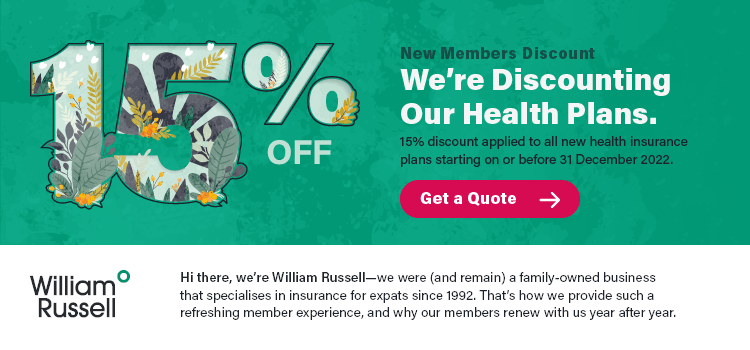 Advertisement
Last but not least, factor in the "13th month" this is an annual bonus paid either at Christmas or Chinese New Year of the equivalent of a month's salary.
Laundry
If you have gone the helper route you are unlikely to be looking at laundry costs as she will be helping you with that but without a helper you might perhaps be looking at laundry for sheets and shirts. Individual items will cost anywhere between SGD $2 and $7.50.
Education
After rent and cars (if you've chosen to buy one), education is the next likely biggest cost you will be facing.
Local schools are known to be cheaper than international schools but are difficult to get into with balloting procedures for limited spaces. If you are lucky enough to secure a slot expect to pay anywhere between SGD $6,000 and SGD $20,000 a year depending on whether you are at primary or secondary stage.
Alternatively you will be looking at international schools of which there is plenty of choice to suit many budgets and needs. In recent years a number of smaller, more affordable international schools have arrived in the market place but these will still be more expensive than the local schools.
On average the cost of international school will range from SGD $13,000 at the cheapest primary level to SGD $47,000 at the most expensive secondary level. If price is a factor, do look around as some schools offer scholarships or discounts to assist families looking for spaces.
In addition to tuition fees, you can expect to pay a registration fee of between SGD $500 and SGD $4,500; an acceptance fee on receipt of a confirmed place of between SGD $1,000 and SGD $5,000 and then for many schools an annual building development or one-off capital levy fee of between SGD $1,000 and SGD $8,000.
Lastly, don't forget that bus services, uniform, extra-curricular activities, field trips and technology will all be additional costs. That end of year bill won't be pretty!
Haircut
If your tresses are your shining glory then you will likely be taking a trip to one of the smarter hair dressing salons in town which might set you back between SGD $85 and SGD $125 per trip but if it's just a quick short back and sides then go local and pay just SGD $25.
Vacations
Does this count as a necessary cost? In my book, absolutely! After all, one of the biggest draws to expat life in Singapore is the easy access to so many amazing destinations across Asia. As to what you spend on that vacation, how long is a piece of string? The choice is yours.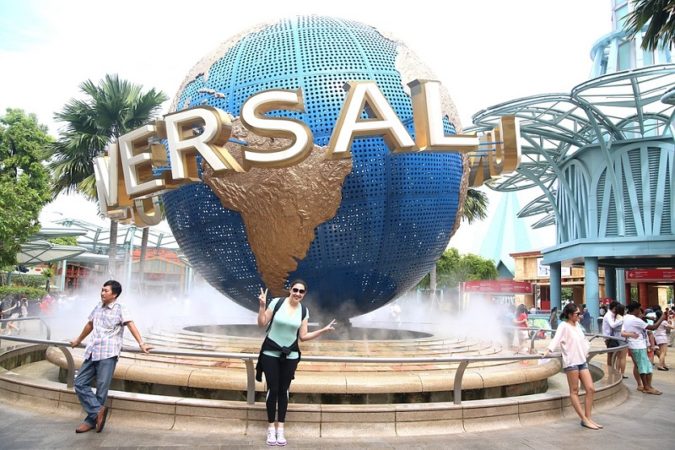 Budget airlines such as Air Asia and rental sites like AirBnB can make your backpacking days of old come alive again, in a slightly more adult way, while travel agencies such as LightFoot Travel are always on hand to make that once-in-a-lifetime trip a reality. The budget? That's entirely up to you.
Visa
The cost of securing a work permit to make your expat adventure a reality in Singapore is surprisingly cheap. There is a SGD $105 application fee and just SGD $225 to pay for the pass issuance, whether this is the first time you apply or for a renewal, which you will need to do every two or three years.
Average Cost of Living by Area of Singapore
Singapore is really such a small island that there aren't such huge differences in the overall cost of living from one end of the island to the other and so it would be difficult to pull this out exactly for each area. But the big differentiating factors that you might want to take into consideration are your rent and your groceries.
In areas such as the CBD, rents are high as space is at a premium and convenience is the order of the day for busy working people so expect to see, and pay the price of, the higher end supermarket chains rather than the local food markets.
Cheapest Place to Live
As a follow on from this, it figures that the further away you go from the CBD and central retail area of Orchard Road, the cheaper the cost of living goes in terms of rental and being able to shop local and eat local.
At the time of writing, the cheapest area of Singapore is likely up in the North East, around Punggol and Pasir Ris. Some of the more affordable schools such as Middleton International School are in this area, housing is cheaper and the area is dotted with many local eateries and wet markets for your daily shopping.
How Much Do I Need Then?
There is no easy answer to this question as it will depend on the lifestyle choices you want to make so perhaps start with thinking about what is important to you. Is location and distance to work or school important? Do you want greenery and space or are you after the urban lifestyle? Will you be working from home more frequently and therefore in need of an additional room as a home office?
How much you need per month isn't going to change dramatically depending on where in Singapore you live but rather on how you live so here's a rough guide: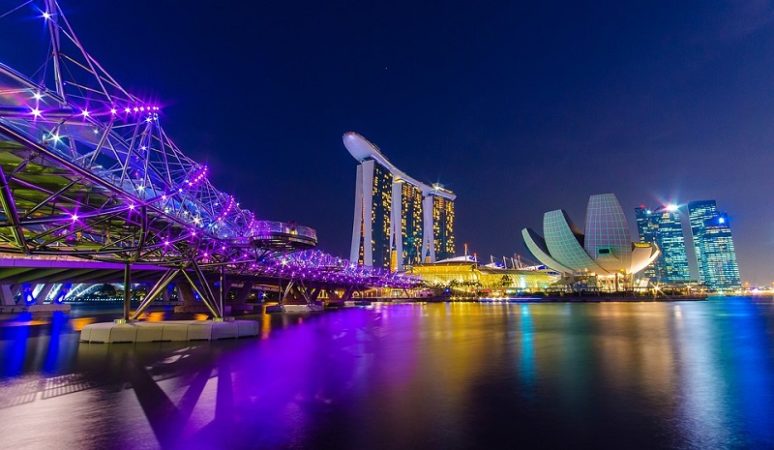 If you take a single room in a shared house, where you split the bills, only shop and eat local and use a mobile phone, you should budget for around SGD $1,500 a month.
If you want a slightly fancier life in a nice condo, you plan on taking taxis and eating out in restaurants or having some drinks in a bar then I suggest you will need at least SGD $5,000 a month.
But if you are here with a family and need space for at least four of you in a house with a pool and a maid to look after you and have busy active and hungry children, you will need to start allowing anything upward from SGD $15,000 a month. Add in a car and school fees and you need to start looking at SGD $20,000 a month and upwards. Singapore living is not cheap.
Now that you have a clearer picture of all the different costs to consider you should be able to answer these questions and then apportion your costs against your priorities to meet your own budget. Good luck!