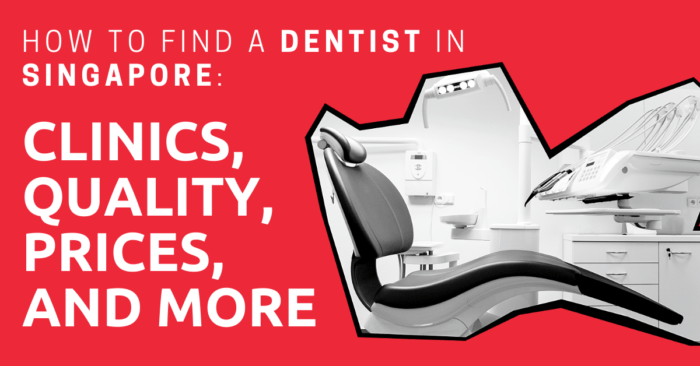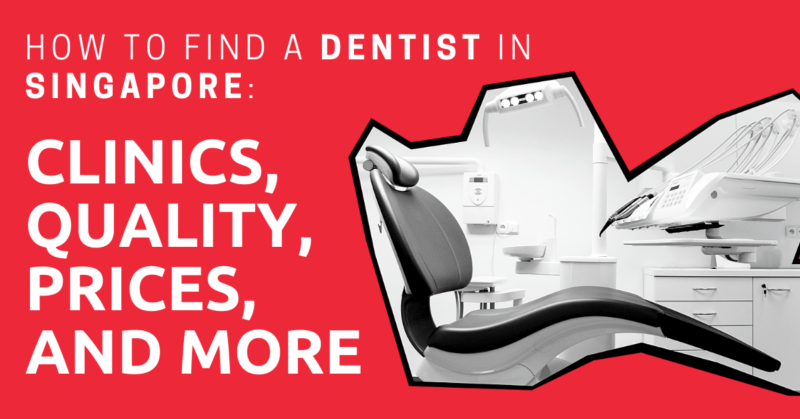 One of many wonders of living as an expat in Singapore is just how colourful and bright a city it is. The streets are dotted with boldly coloured shophouses and lush, green foliage pops up in the unlikeliest of places.
Even the expressways leading from the airport to the city itself are adorned with bright pink bougainvillea. Colours seem to zing all around you in a way that they don't back home, wherever that home is for you.
In fact, it's a city where everything just seems a little brighter than normal, including people's smiles. Oh, wait a minute, that's because they are a little brighter.
With one dentist to every 2,195 people in Singapore (according to the Ministry of Health's 2022 statistics, which recorded 2,484 registered dentists practicing from over 500 dental clinics island wide) it's fair to deduce that a lot of pearly whites are being buffed and polished every day. No wonder everyone's smiles look bright.
With so much choice available, how do you know where to start the next time you need to book an appointment in the dental chair?
Read the following article to know everything there is about choosing the best dentist in Singapore. This guide covers types of dentists, dental treatments, pricing, insurance, our top tips, and recommendations on visiting the dentist. 
This article will take approximately 23 minutes to read. Don't have the time right now? No worries. You can email the ad-free version of the article to yourself and read it later!
Why Singapore?
Aside from there being an abundance of clinics to choose from, dentistry in Singapore also comes with a reputation for excellent quality and good service with aftercare.
Locally-trained dentists are highly qualified, with completion of a four-year course at the National University of Singapore Faculty of Dentistry being the minimum requirement for registration as a general practitioner with the Singapore Dental Council. Becoming a specialist requires a further three-year focused course that can only be taken after at least two years of practice following initial registration.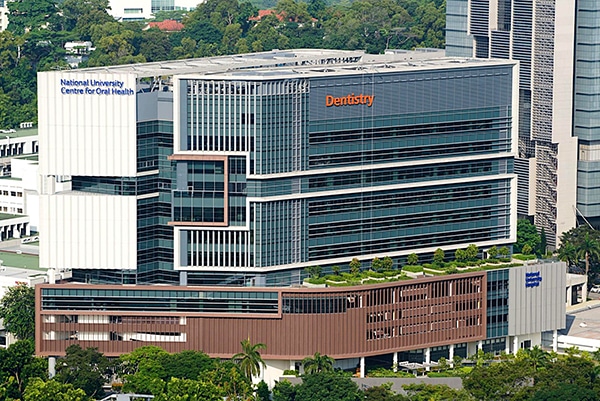 Foreign-trained dentists are required to have graduated from one of a limited number of approved universities globally, and to have practiced under supervision for a minimum of two years before being allowed to progress to full registration and independent practice within Singapore.
Couple this extensive training with the use of English as the common teaching and practicing language, as well as generally high levels of medical hygiene and sanitation, and it is easy to understand why dentistry has a strong and positive reputation in Singapore.
In short, have no fear if you need to see a dentist in Singapore. Following a bit of guidance on how to choose the best dentist for you, you will be sure to find yourself in good hands.
Type of Dentists
Before you rush off to book your appointment, let's first understand what types of dentists and dental clinics there are in Singapore.
Dentists: General Dental Practitioners vs. Specialists
All dentists have to undergo three years of general dentistry training to become a registered GDP (General Dental Practitioner) and practice in Singapore.
A Specialist Dentist is one who has subsequently undergone an additional three-year course with a focus in one of seven different fields:
Endodontics: root canal treatment
Oral & Maxillofacial surgery: disorders of the mouth, jaws, face and neck
Oral Medicine: prevention of dental disease
Orthodontics: braces
Paedodontics: child dentistry
Periodontics: gum disease treatment
Prosthodontics: crowns, bridges and dentures
Dental Clinics: Public vs. Private
Singapore's public healthcare system, including dental services, runs in tandem to and in competition with a private one.
Generally speaking, dental healthcare in the public sector is cheaper than private, not least because Singaporeans enjoy a reduction in costs through healthcare schemes and subsidies offered by the government.
As an expat, however, these won't apply to you (unless you have taken Permanent Resident status and pay into a Central Provident Fund) but even so, public clinics will still be a slightly cheaper option for you than private clinics.
However, while public clinics might be slightly cheaper, the wait times to see a dentist will be longer. 
The wait time for a referral from a GDP to a Specialist in the public sector may take 4-6 weeks, whereas most private clinics can give you an appointment within 1 or 2 days. That said, some public dental clinics have a loose arrangement to offer some walk-in slots every day, and dental emergencies such as excessive bleeding or extreme pain will always be seen.
Singapore's National Healthcare Group delivers public healthcare through a system of hospitals and polyclinics.
Polyclinics are government-subsidised healthcare centres providing good quality medical and dental care. Five of these polyclinics also offer subsidised dental care.
If you visit a polyclinic and subsequently need specialist treatment, they will refer you to a government hospital or the National Dental Centre (NDC), where you can still be treated with public rates. Should you get a referral to the NDC from a private clinic however, you will have to pay the private rate offered by the NDC.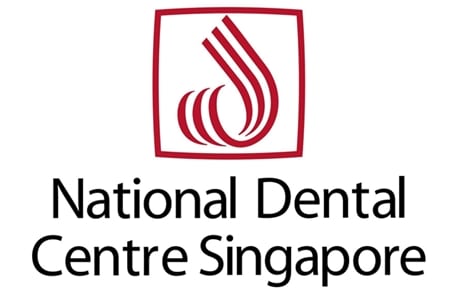 Private clinics can easily be found island-wide and come with varying reputations and costs. More of that later, though it is worth noting here that some private clinics in local 'heartlands' (non-expat areas) often have very comparable rates to public clinics.
Within Singapore there tend to be two main types of private dental clinics, the single dentist practice, and the bigger group practice. The disadvantage of a single dentist practice being that if you need specialist treatment they are likely to have to refer you onto another practice, but equally, if you are being treated within a big group practice covering all specialities, you may feel that you are being held hostage to their proposed treatment plans and pricing.
Overall, people tend to choose between private and polyclinics depending on their budget and insurance, and between GDPs and specialists depending on their needs.
Dental Treatment
A GDP (General Dental Practitioner) is your starting point for all dental treatments. S/he will do a check on your overall teeth and gum health as well as offer advice and treatments for oral hygiene, and then suggest specialist treatment as required.
Specialist treatments can best be categorized under the seven recognized dental specialties that dentists train in.
Endodontics
These include treatments for toothaches, cracked or knocked out teeth, tooth abscesses, and infections. For example:
Root canal treatment: the treatment of an infection in a tooth to prevent reinfection and save the natural tooth. Treatment is done under local anaesthetic and involves making an opening in the crown of the tooth to remove the infected tissue.
Oral Maxillofacial
Specialists in this field conduct more surgical treatments, such as tooth extraction and removal of tumours and cysts. For example:
Wisdom teeth removal: undertaken when the wisdom teeth have impacted or failed to come through into your mouth because of lack of space in the jaw. Removal of these teeth is done under general or local anaesthetic.
Oral Medicine
Oral medicine is, as the name suggests, the meeting of dental and medically related disorders. This can include diagnosing and treating chronic or recurrent problems such as the removal of pre-cancerous lesions or problems occurring due to autoimmune disorders. For example:
Oral cancer screening: running a biopsy on mouth sores that linger for more than 2 weeks.
Orthodontics
This speciality treatment is most commonly associated with braces, but the conditions it treats are far wider than just the movement of the teeth. It actually covers all development of your teeth and bite, so that can include cleft lip and palate management, sleep apnoea or snoring problems, and other jaw abnormalities.
Treatments include fixed braces, aligners and removable retainers. For example:
Fixed braces: these use brackets made from either stainless steel or clear ceramic porcelain fixed to the teeth and varying width and strength of wires interlaced between them to encourage teeth movement.
Invisalign: a well-known system that is often referred to in lists of treatments offered by a clinic, this is a modern alternative to conventional fixed braces and involves a series of removable clear plastic trays moulded to your mouth to straighten your teeth or treat problems with bite or overcrowding.
Paedodontics
As the name would suggest this is dentistry for children from birth through to adolescents. Treatments within this speciality include preventative services such as sealants and fluoride therapy, through to fillings, crowns, and extractions.
Paedodontic specialists also manage traumatic injury to developing teeth and jaws, and dental treatment for children with special needs. Treatments include:
Fillings: damaged teeth are restored using metal free, tooth coloured filling material.
Sealants: the use of non-invasive methods to protect teeth which may be prone to cavity formation.
Periodontics
The treatment of disease in your gums and surrounding tissues. Conditions can range from bad breath through to tooth sensitivity gum recession and full abscesses. Treatments include crown lengthening through to soft tissue grafting. Treatments include:
Deep cleanse: when a dental hygienist runs an advanced form of cleaning to remove bacteria, tartar and other debris that has built up under the gumline.
Prosthodontics
These specialists treat problems such as missing or discoloured teeth. Treatments include crowns, bridges, teeth whitening, veneers, laminates, and implants. Think of an old grandpa removing his dentures and placing them in a glass of water and you've got prosthodontics! Treatments include:
Crowns/Caps: used when significant tooth restructuring is needed. Aesthetic, high-strength materials such as porcelain and zirconia or another composite resin are used to rebuild, protect, and strengthen your teeth.
Veneers: thin porcelain shells that are custom fitted to improve the colour, position and shape of your teeth.
Implants: these are used for heavily compromised or missing teeth, an implant is placed in the jawbone and fuses with your natural bone to form a strong foundation for replacement teeth.
Also falling within the above specialities, but deserving of their own individual mentions because of their popularity, are treatments such as aesthetics/cosmetic and sports dentistry.
Aesthetics
More commonly known as cosmetic dentistry, aesthetics crosses oral surgery, orthodontics, prosthodontics, and periodontics. Treatments include teeth whitening, bonding, botox injections, and more. For example:
Whitening: a special light-activated gel is applied to your teeth and light applied to enhance and speed up the action of the agent which whitens and brightens your teeth.
Bonding: used to close a gap in the teeth or straighten uneven teeth, composite resin is used to bond the teeth in a pain-free and undamaging way.
Botox: used for improving facial aesthetics and in the treatment of joint and muscle pain in the face and throat.
Dermal Fillers: used to assist in the reduction of fine lines and wrinkles or transform thin, sagging lips.
Sports Dentistry
This is the fitting of specially moulded, protective sports mouth guards for children and adults.
Polyclinic and Public Healthcare
If all you are after is a good old clean and polish of your gnashers and time isn't of the essence, then it's well worth looking at one of the island's polyclinics.
The National Healthcare Group and SingHealth both run polyclinics. Appointments can be made online through the National Healthcare Group booking system but do note, prices for foreigners are different to those quoted for Singaporeans.
If your child is in need of more urgent attention then the paediatric unit at the NDCS (National Dental Centre Singapore) offers a walk-in clinic for new patients between 8 a.m. and 11:30 a.m.
Adult emergencies can be treated at the A&E section of any hospital, but they will only actually treat truly urgent or painful cases – most of the time you will be handed some painkillers and advised to make a follow up appointment.
Private Dental Clinics
If what you are after is a bit more than just some sparkle, then you should probably be looking at one of the private dental clinics. 
In addition, just about every local shopping mall has a clinic, and you can find clusters of clinics in the larger medical centres such as Novena Medical Centre and Camden Medical Clinic on Orchard Road.
The MOH (Ministry of Health) and Singapore Dental Council even have a search portal of all registered dentists in Singapore with listed fees (for those who have opted for inclusion).
But as usual, word-of-mouth (pardon the pun) recommendations tend to be the best so ask around. The really brave among you might spot the loveliest smiles on the street and ask for their recommendation.
For the rest of you, these are a few of our suggestions:
Dr. Justin Stewart at PURE NZ DENTAL
Top of all expat's 'little black book' of referrals is Dr. Jusin Stewart at Pure NZ Dental, a British dentist with over 20 years of experience in dental practice. Pure NZ Dental is your go-to for all the family – from adults, teens, children, and babies.
Pure NZ Dental specialises in minimal intervention dentistry including cosmetics, and is a very sound and balanced dentist. Pure NZ Dental offers prevention and general everyday dentistry alongside specialist treatments such as white fillings, whitening, sealants, and dental implants.
Pure NZ Dental has a team of experienced dentists and modern facilities to ensure you that you are in good hands.
The Dentist@Orchard
Located right in the heart of the expat shopping ground of Orchard Street, The Dentist@Orchard takes a holistic focus to oral health, believing that it is an important indicator of one's physical and psychological health.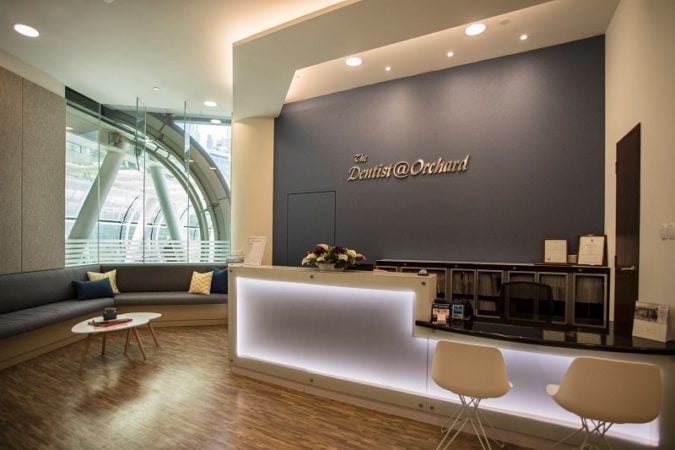 The combination of high quality dental treatments and the tranquil and soothing environment of the clinic ensures its well-deserved recognition as one a top clinic for expats in Singapore.
Expat Dental

Based in the Novena Medical Centre, Expat Dental is known for its dental excellence and patient comfort. With a full set of specialisations on offer, from restorative dentistry to sports dentistry and even digital dentistry, you can be sure you'll be on the receiving end of the latest techniques and highest quality care.
Smile Focus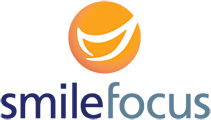 One of the first clinics to cater for the expat client, Smile Focus has been going strong for over 21 years and continues to deliver trustworthy, quality dental care for the whole family, with a full range of services on offer from its Camden Medical Centre based clinic.
NTUC Denticare

For those of you looking for a household brand for affordable dental care, then we recommend NTUC Denticare. It was established in 1971 as part of NTUC Health – Singapore's largest healthcare cooperative – and with 19 dental clinics island wide.
Price
Pricing for dental treatments across Singapore is generally predictable and transparent.
The Ministry of Health even publishes a list of average fees paid by private patients in Singapore's public institutions, which makes a great starting point for comparisons with private clinics.
Costs will vary according to whether you are seeing a GDP or a specialist, the type of procedure, its complexity, and your chosen dentist's experience and training. Expect to pay more for those who teach at public institutions, are opinion leaders in their speciality, or sit on advisory boards.
All clinics start with an initial consultation fee, which is on average between SGD $40 and $65 for public clinics, and more like $90 – $160 for private specialist consultants.
Costs for treatments can also vary according to the quality and associated cost of materials used.
For example, if you go for the full bling option and choose gold for your dental crown you can expect to pay more than if you use a non-precious metal; dental implants manufactured in Europe tend to cost more than those made in Asia, while clear ceramic braces are more expensive than metal versions.
So before you whip out your credit card, it is worth doing a bit of research to see what a clinic charges for whicht treatment and product. 
We have put together a starter table for you to use as a comparison. Prices are in SGD $.
| | | | |
| --- | --- | --- | --- |
| Dental Treatment | Details | Average Cost: Public Clinic | Average Cost: Private Clinic |
| Polishing & Scaling | | $46.90 – $89.50 | $72 – $160 |
| Braces | Double Arch Non-surgical | $3,300 – $7,000 | $5,000 – $11,000 |
| Impacted Wisdom Tooth Surgery | Per Tooth | $381 – $998 | $400 – $2,500 |
| Dental Implants | Per Implant | $1,600 – $1,944 | $2,000 – $5,350 |
| Crowns | Per Crown | $750 – $1,284 | $850 – $2,750 |
| Root Canal Treatment | Per tooth – Anterior Tooth | $294 – $493 | $400 – $1,450 |
| Full Dentures | Per Arch | $555 – $1,627 | $640 – $2,140 |
*Please note, these costs are correct at time of going to press and have been referenced across a wide variety of private clinics.
Insurance
Dental care in Singapore is not going to be cheap, especially if you choose a private clinic and need ongoing specialist care, so it would be prudent to get some insurance in place to assist should you need it.
Generally speaking most expats' health insurance doesn't automatically cover dental care. It might cover you for emergency dental treatment for accidental damage caused (as might your travel insurance when an accident occurs on an overseas trip), but not much beyond that. At the same time, dental insurance can be difficult to secure as a stand-alone policy in Singapore.
The solution then is to 'upgrade' your existing health insurance to include a fully comprehensive plan with dental care.
It is generally straightforward to add dental benefits to your medical insurance and the majority share the same features as follows:
Coverage for routine cleaning through to dental surgery and orthodontics.
Coverage limits up to SGD $8,000 / year.
If you have insurance in place it is worth checking with your dental clinic whether billing can be managed directly between your insurer and the clinic.
Not all clinics enable this direct billing, but most will assist with your filling of forms should you need to do it yourself. Some clinics may require a 'Letter of Guarantee' from your insurer prior to your treatment.
If you have taken Permanent Resident status then you can benefit from subsidies under the Government's MediSave and CHAS (Community Health Assist Scheme) schemes. After treatment, fill in a medical claims authorisation form and your dental clinic will help you to submit the claim.
Once approved, the claimable amount will be sent to your clinic. This process usually takes no more than 2 weeks.
There are many different options for insurance. Here are a couple to look at:
Chubb Dental Care Plus: offers a comprehensive set of coverage for dental treatments and check-ups, with up to 80% coverage on emergency and routine treatments and x-rays, across a network of clinics. There are also benefits on offer, such as SGD $150 worth of dental vouchers with two years of continuous coverage, and up to 25% savings on dental treatments for up to 4 nominated family members.
Medical International: offers comprehensive insurance plans through partners Allianz, Bupa, Cigna, and others, enabling dental health wherever you are in the world. Covering maintenance care, restorative treatments, and surgical procedures, policies also come with benefits such as "no waiting time" service plans.
Other major insurers which the majority of dental clinics accept direct billing from include:
United Healthcare Corporation
As with all things insurance, pre-warned is pre-armed so read up on your policy and your clinic's payment terms ahead of committing to any treatment.
Choosing the Best Dentist
Visiting the dentist is a highly personal experience. For some the mere thought of the dental chair incurs cold sweats amid memories of poor childhood experiences, for others it may be a mixture of excitement and relief to be dealing with perceived oral flaws.
Within this guide we have given you an overview of types of dentists available, dental treatments on offer, pricing, and insurance, but how do you actually decide which dentist to choose?
Start by asking yourself a number of questions:
Is time of the essence? If you are in pain now, you don't want to wait a few weeks for a referral, so a quick phone call to a private clinic to be seen today is your best option. If it is just for a routine clean and polish, then check out the many polyclinics across the island and save your pennies for the hot date you plan to secure with your future shiny smile.
Do you prefer an individual personal experience for an immediate need, or is it more important to find a centre that covers all specialities and treatments for future potential needs?
Is location important? You might be able to find cheaper dentists outside of the expat areas, or if it is convenience that is important, finding a recommended dentist in the CBD near to work or tourist areas near to home might override the price increase.
Is it important to you that the clinic offers a direct billing option with an insurer to save the headache of endless form filling?
Word of mouth recommendation is always highly advised so perhaps ask around your colleagues, friends, or other parents (if the treatment is for your child).
What you are looking to hear in a recommendation is as follows:
That the dentist has good communication skills and objectivity. That they listen to you and advise on treatment options clearly while also addressing any concerns you have.
That the dentist in question has the specialist training and extensive experience with the treatment that you or your family member is likely to need.
That the clinic itself can offer the range of procedures that you or your family member may require, or has a referral program in place to other recommended clinics.
Visiting the Dentist
So you've selected the dentist, now for the appointment. What do you need to do ahead of your first visit to the dentist in Singapore?
Rule number one: Don't procrastinate! If you are due for a routine appointment or you have a concern, then get on it and make the appointment. Delays lead to problems escalating, which will ultimately cost you in further treatment being required.
Rule number two: If you are on a tight budget, let your dentist know upfront so that they can consider how to prioritise procedures. Ask for the estimated fees before booking the appointment and if you are using insurance, check your policy for coverage details.
Rule number three: Once you find a dentist you like, stick with them. Building a relationship with your dentist builds trust and minimises the risk that they will advise unnecessary treatment. It is not unheard of for dentists to criticise previous work you have had done and unnecessarily (and unethically) suggesting it is re-done through them.
Rule number four: If its aesthetic procedures you are after such as teeth whitening, don't think you can be clever and skip the dentist for your local beauty salon instead. Their lack of qualification in specialist oral hygiene and healthcare will simply lead to more expensive dental treatment needed to rectify their poor work later on.
And last but not least:
Rule number five: Keep up the regular check-up appointments and hygiene routines recommended by your dentist. Ongoing maintenance and care of your teeth will minimize the number of subsequent visits and painful costs.
Now, on to You
We hope that this article answers everything you need to know when it comes to finding a dentist in Singapore.
Singapore is full of qualified dentists. If you want to find and compare dentists near where you live, you can use websites such as Dental Departure.
You can also read reviews from other customers there.