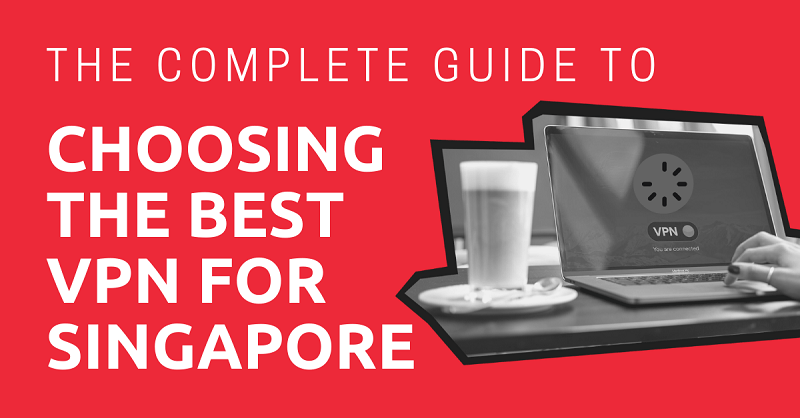 Want to stream your favorite TV shows in your native language while living the expat life in Singapore? Concerned about your privacy and security when doing online banking or surfing the Web in another country so far from home?
If so, you need a VPN. While Singapore is a very secure country when it comes to cyber security, VPNs offer expats a number of benefits to make life in Singapore more convenient and even more private, and secure.
With a VPN, you can cloak yourself in anonymity when surfing the Web, avoid public wi-fi, bypass geo-restrictions, and perhaps most importantly, stream your favorite sports and TV shows.
Unfortunately, many expats moving and living in Singapore still have no idea what VPNs are and how they can help.
In this article, you'll learn all about VPNs and most importantly, how to choose the right VPN provider for you.
If you want to cut right to the chase and know the top VPN in Singapore, check out NordVPN.
This article will take approximately 19 minutes to read. Don't have the time right now? No worries. You can email the ad-free version of the article to yourself and read it later!
What is a VPN?
A VPN is short for virtual private network and works just like its name states. It is a private virtual network for your computer, phone, TV, and other media devices.
A VPN's connection is completely private and keeps all of your online activity data away from prying eyes. Since the connection is encrypted and virtual with hosting servers located around the world, it masks your location and ensures the anonymity of your online activity.
You can use a VPN anywhere with internet access, but you must use a VPN subscription service. Most VPNs are designed to support multiple devices and platforms. Many even have apps for use with tablets, smart phones, and smart TVs.
Both free and paid VPN services are available, with each offering varying levels of security and services.
Benefits of a VPN
There are several benefits of using a VPN in the US, UK, or anywhere else in the world, including Singapore.
Privacy Protection
Every country in the world has its own laws regarding personal data collection and privacy. Singapore seems to be quite secure in this regard. However, sometimes even with strict data collection and privacy laws in place, the laws are not always applied or enforced.
Therefore, it's up to you to protect your online privacy.
A VPN can help you do exactly that by masking your IP address. Routing your online activity to another IP address keeps your data from being collected and keeps all of your online activity anonymous, even over public wi-fi connections.
Enhanced Security
Another benefit of using a VPN in Singapore is security. When you connect to a server in a virtual private network, each connection request is encrypted.
Once the server receives the encrypted connection request, the request is decrypted and sent to the web page. Conversely, the data sent from the web page is also encrypted by the server and then decrypted once it's received by the VPN client.
Some VPN providers will even route your online activity through two servers and encrypt your online data not once but twice. It's usually not needed, but this provides even another layer of protection.
This means you can access your online banking or use public WiFi without having to worry someone may hack your account or steal your credit card details. 
By using a VPN in Singapore and following these security protocols, you can go online anywhere, anytime and safeguard your personal information and online accounts. With hackers and scammers everywhere, you can never be too secure.
Hide Your Location
With a VPN, you can hide your location when using the Internet or using certain applications. Whether you want to avoid surveillance by your ISP or simply ensure your privacy, a VPN can encrypt your traffic and hide your location by sending it to servers in any number of locations around the globe.
This way, no one can spy on your online activities.
Access Blocked Content and Bypass Geo-Restrictions
Although Singapore doesn't have much content restriction compared to countries such as China, Indonesia, and Thailand, content options for streaming services are definitely different from the UK or US.
Why is this the case? Well, because streaming services like Hulu and Netflix use the IP address of your device to stream content specific to your local viewing area.
With a VPN, you can "geo-spoof" your location to watch all of your favorite sports and streaming content from Hulu, Netflix, HBO, Peacock, and more.
How to Use a VPN
It is very simple to use a VPN. You can download the VPN app from the VPN provider website, install it on your device, and you are good to go.
Many VPN providers make this an easy, seamless process and guide you as you set up your desired VPN configuration.
As a side note, make sure to download and install the application on all of your devices. This will make life easier and protect you regardless of whether you're using a computer, mobile device, or smart TV.
Please note that there might be a specific number of devices you can connect at the same time depending on your plan and provider.
After installing the app, enter the login information you created when setting up your VPN account. Some VPN providers have tedious, multi-step login procedures for added security, but this is a good thing.
When you are logged in, the VPN app will connect to the server closest to your location for optimal connection speed. When running the app for the first time, you will also be prompted to set up your personal preferences, so you can choose a server in another country or region if you choose.
Most VPNs also offer various features you can pick from each time you connect. For example, many VPNs give you the ability to change your connection protocols, and some even offer split tunneling to split your connection between a local network and your VPN.
Of course, these features are generally only available for paid VPN services.
If you want to be more advanced, you can set up your VPN to connect via your operating system, manually enter your server information and set it up on your computer.
This method is not recommended unless you know what you are doing. It's a big hassle. Errors can occur and you might not have access to various app features.
Differences Between a Free and Paid VPN
There are several free and paid options available when choosing a VPN provider. Here's what sets them apart:
Features
There are two types of free VPNs: those littered with advertisements, and "Lite" versions of paid VPN services. Both are free to use but substantially limited in comparison to their paid counterparts.
A paid VPN subscription provides you with unlimited use of every single available feature. This includes access to servers in several countries around the world, allowing you to bypass geo restrictions and stream Netflix, Showtime, Hulu, and any other content.
Some paid providers employ sophisticated, high-end methods for bypassing VPN detection.
Plus, you'll also benefit from unlimited data and speed.
Security
Free limited VPN versions are annoying to use, but unlimited free versions are just as annoying and not as secure. In fact, some even track and sell your browsing data or share your connection with others.
Paid VPN subscriptions, on the other hand, offer a range of security features. With a reputable paid VPN, there are no activity logs and session data is erased every time you disconnect.
Paid VPNs also use advanced encryption methods to protect data during transmission. Some even employ kill switches, leak protection, and Double VPN services in which two servers are used to route and encrypt your data.
In other words, each session is highly secure.
Speed
Free VPNs in general are much slower than paid VPNs.
Choosing a VPN
As you can see, there's plenty to consider when choosing a VPN. Let's look at everything your checklist should contain.
Compatibility
First and foremost, make sure the VPN you choose is compatible with all of your devices.
If you're like most people, you may use an Android phone, iPad, and Windows computer – or any combination of devices with different operating systems.
Today, nearly all paid VPNs are compatible with all devices. However, some, like NordVPN, have much more user-friendly app interfaces for seamless use across each one. Just be sure your VPN of choice has apps for all of your devices.
Speed
It goes without saying, but speed is important when choosing a VPN. You want to go with a fast VPN that won't slow down your Netflix streams or hinder your workflow.
Performance
Some VPNs perform better than others. The last thing you want is a VPN service that is slow or glitchy and needs to be constantly reloaded for it to work as it should.
Features
Different VPNs have different features and focus on different things. The key is to think about your needs and choose a VPN that can meet or exceed them.
For example, is speed a priority? Are you more concerned with privacy and security? Do you want to access geo-restricted content like Netflix or Hulu?
Look for a VPN with the features to meet your needs and perform like you need it to.
Server Locations
Being an expat in Singapore means thinking about server locations.
While the closer your server is to your actual location will result in faster connection speeds, you won't have access to geo-restricted content.
For instance, if you want to watch US Hulu or Netflix, you will need to connect to a VPN server located within the US.
Shared or Dedicated IPs
A VPN with a shared IP gives multiple users simultaneous access to the same IP. This makes it even more difficult for hackers to pinpoint user locations, but these often-free shared services also slow down internet speeds and may compromise your data in other ways.
A VPN with a dedicated IP generally costs more and is often an add-on feature. However, VPNs with a dedicated IP are much faster than VPNs with shared IPs. Not only is this great for streaming content like Netflix, but you will also have the peace of mind of using a reputable and respected provider.
Ease of Use
You should choose a VPN with a simple, intuitive interface and an easy, streamlined setup process. A user-friendly VPN will make your life easy by kicking on automatically or with the press of a button whenever you start your phone, laptop, or other connected device.
24/7 Service and Support
A good VPN should also provide reliable 24/7 service and support. A live chat option is also a plus.
Reading customer reviews is a great way of gauging a provider's customer service. Most of the VPNs below offer friendly live chat and 24-hour support. If you are considering a VPN without 24/7 live chat support, chances are it's not the best option for you.
Money-Back Guarantee
Lastly, it's wise to choose a VPN with a free trial and/or money-back guarantee. This way, if you aren't satisfied with it for whatever reason, you can move on with nothing to lose.
Every reputable VPN company offers a 30-day money-back guarantee. Some even offer more. If a VPN service provider doesn't offer it, it's best to scratch it off the list.
Best VPN for Singapore
VPNs are fast, secure, and inexpensive, making their use increasingly popular by those living in Singapore and across the globe. With hacking cases, phishing scams, and cyber-attacks on the rise, a VPN isn't just an option, it's a must.
Fortunately, there are dozens of VPN providers to pick from. Unfortunately, too many options can make picking one that much more difficult.
To save you some headaches and hassle, here's a brief overview of today's top VPN providers for expats living in Singapore.
NordVPN
Panama-based NordVPN operates over 5,800 servers spread out in 90 countries around the world. It's affordable, fast, secure, and able to bypass geo-restrictions for Netflix, Hulu, and other streaming media viewing.
NordVPN also delivers with dedicated IPs to support lightning-fast streaming, download, and browsing speeds. This alone gives NordVPN the edge over many other VPN providers.
However, NordVPN also follows a strict no-logging policy and features advanced encryption technology, no connection leaks, a kill switch, and Double VPN for the highest level of security.
With NordVPN, you can have up to six devices connected simultaneously, and just about every platform and device is compatible. At $3.49 a month for 24 months, NordVPN is affordable as well.
The only real drawback is slightly slower server connection times, depending on where you and your server are located. However, NordVPN has a quick connect function that allows you to connect to the fastest server at that time automatically.
Overall, NordVPN is about as rock-solid as a VPN service provider gets.
Surfshark
Surfshark operates over 3,200 servers spread across the world. Like NordVPN, Surfshark offers premium VPN services with every feature you could need or want.

With Surfshark, you can unblock Netflix, Hulu, HBO Go, Hulu, BBC iPlayer, and countless other streaming sites/apps. Its global network of servers are also lightning-quick and have security features like advanced encryption protocols, no-logging, and leak protection.
Surfshark is also compatible with unlimited devices, and at $2.49 a month for 24 months, it won't break the bank either.
On the downside, unlike NordVPN, Surfshark doesn't offer dedicated IPs. Instead, they follow the shared IP model. Although this is better in some security aspects, it does make Surfshark a little slower than NordVPN and some other VPN providers.
ExpressVPN
ExpressVPN is headquartered in the British Virgin Islands and operates over 3,000 servers in a whopping 94 countries. They have a solid reputation, offer live 24/7 support, and are consistently ranked as one of the top VPNs in the business.

Not surprisingly, ExpressVPN is compatible for a variety of iOS, Android, Mac, and Windows devices. It also boasts lightning-fast servers and the ability to unblock Netflix, Hulu, Amazon Prime Video, Showtime, and other streaming services.
As far as security goes, ExpressVPN follows a strict no-logging policy, rotates IP addresses, uses advanced data encryption, and even offers split-tunneling to divide your internet browsing.
Nonetheless, all of these features come at a price. At $100.05 for 15 months, ExpressVPN isn't the cheapest option around. You can also only have five simultaneous connections with ExpressVPN at a time, which may or may not affect you depending on the number of devices requiring support.
CyberGhost
CyberGhost is a Romanian-based VPN service provider with over 6,600 servers located in 88 countries around the globe. They are a fast-growing company with a strong infrastructure that has earned a good reputation in the VPN industry.

With no mandatory data retention laws, Romania is an excellent location for CyberGhost's no-logging policy. The company's Singapore VPN network is also much stronger than in neighboring countries like Malaysia.
Unfortunately, although you can access Netflix, BBC, HBO Now, and other streaming services with CyberGhost for just $2.19 a month for 24 months, the speeds lag slightly in comparison to NordVPN and some other VPN providers.
IPVanish
IPVanish is another popular VPN for expats living in Singapore and other countries around Southeast Asia. Highly rated by its users, it works across multiple platforms and has user-friendly apps available for iOS, Android, Mac, Windows, and Fire TV.

This often-overlooked VPN is enhanced with robust security features and allows you to manually configure protocols without downloading the app. While they don't advertise it, many IPVanish servers have also proven successful at unblocking Netflix and other geo-restricted content.
However, at $47.88 for 12-months, IPVanish isn't the most budget-friendly VPN provider around. Their customer service is also lackluster and doesn't include live chat, which is a bit disappointing.
VPN Comparison
| | |
| --- | --- |
| Provider | Price & Features |
| NordVPN | $3.49 per month for 24 months Dedicated IP, up to six simultaneous users, no-logging policy, ultra-fast connection, full access to Netflix, Hulu, HBO Now, BBC, and other streaming content, 24/7 support |
| Surfshark | $2.49 per month for 24 months No-logging policy, servers in 65 countries, advanced 256-bit AES encryption, shared IPs, unlimited simultaneous users, access to Hulu, Netflix and other restricted content, 24/7 support |
| ExpressVPN | $6.67 per month for 15 months Servers in 94 countries, advanced security protocols, no-logging policy, compatible with smart TVs, gaming consoles, and any other device, stream Netflix with zero throttling and interruptions, 24/7 support |
| CyberGhost | $2.19 per month for 24 months Servers in 88 countries, no-logging policy, advanced 256-bit AES encryption, up to seven simultaneous users, 24/7 support |
| IPVanish | $3.99 per month for 12 months Servers in 75 countries, no-logging, DNS, kill switch, IPv6 leak protection, 256-bit AES encryption, 24/7 support |
Now, On To You
As you go over these VPNs one more time and think about the varying degrees of streaming ability, security, support, and price they offer, you should ultimately pick the one best suited for your needs.
Each of these VPNs offer similar security and streaming features, but there are subtle differences between them. However, when it comes to speed, consistent site unblocking, and reliable customer support, the differences become more apparent.
That said, Singapore is pretty safe in terms of internet privacy and security, so it all comes down to what you need a VPN for. Do you need a VPN for streaming your favorite sports and shows? Do you need one for work or faster browsing?
Now that you know all about VPNs and what to look for, you can confidently pick the provider that best fits your needs.