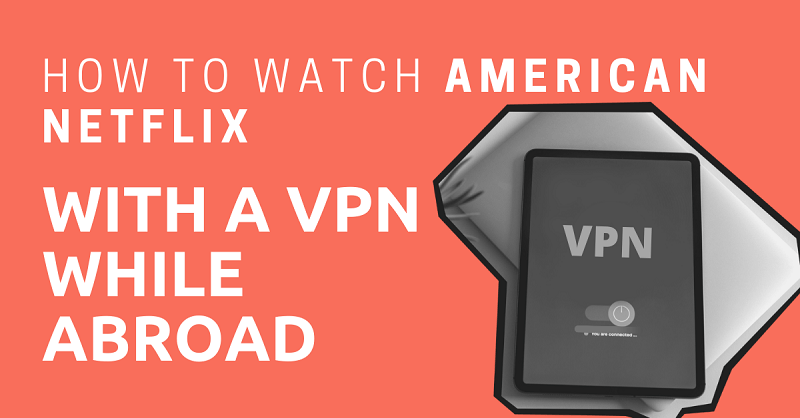 If you've ever tried to watch Netflix when traveling or living abroad, you might have been annoyed to see that some of the movies and series that you normally have access to in the US are not available.
Although Netflix is accessible almost everywhere in the world, each country has its own list of available content. Netflix-produced series should be available everywhere, but others are only accessible in specific countries. The frustrating thing for Americans is that other countries have fewer English-language titles than the US, with some having less than 50% of what's available in America.
So how can you keep watching the content that you're used to when abroad? By using a VPN, or virtual private network.
Not all VPNs still work with Netflix, however. In this article I'll discuss how a VPN works, talk about some of the VPN providers that are out there, how to choose one that will work with Netflix, and show you how to set up a VPN with your computer or mobile device. You'll be able to get back to watching your favorite shows quickly and easily.
If you just want to know which VPN provider that's good for watching Netflix, check out NordVPN.
Note that if you are in China, I recommend reading ExpatDen's Guide to Choosing the Best VPN for China, as the providers in that article are chosen specifically for getting through the so-called "Great Firewall".
This article will take approximately 22 minutes to read. Don't have the time right now? No worries. You can email the ad-free version of the article to yourself and read it later!
How it Works
A VPN server is simply a computer somewhere else in the world that you connect to first, before going to the site you're visiting. Your connection to the VPN server is encrypted.
Normally a website would be able to tell where you are in the world based on your IP address, given to you by your internet service provider (ISP).
With a VPN, websites see the VPN's IP address instead. So if the VPN server was in Sweden, for example, you would appear as if you were in Sweden to any website that you visited, even if you were actually in Thailand.

VPN providers often have dozens of servers all over the world, which means that they have a large range of IP addresses in use. However, sites like Netflix know that these IP addresses belong to VPNs. In the past few years, Netflix has started detecting when you're using a VPN and displays a message to turn it off to be able to watch content on their site.
Fortunately, there are some VPN providers that still work with Netflix.
VPN Providers
There are a ton of VPN providers out there. Some are trust-worthy. Some aren't. Some work with Netflix. Most don't. Some have good tech support. Others are lacking. I'll discuss a few VPN providers in this section that are known to work with Netflix, along with their pros and cons.
You should still do your own research when looking for a provider as things change over time, and it's possible that a VPN service that works with Netflix at the time this article is being written doesn't work any more at the time that you read it. We do revisit and update articles regularly, so hopefully that won't be the case, but just keep it in mind.
NordVPN

NordVPN is probably the most popular VPN in the world, not only for streaming, but for everyday use as well. Unless you use an ad-blocker, you've probably seen their online ads at some point.
They unblock Netflix, Hulu, Amazon Prime, Disney+, and HBO, as well as others.
NordVPN has over 5,400 servers in 59 countries. 59 countries is a lot, but it's fewer than ExpressVPN at 94 and CyberGhost at 90. All of the providers on my list have servers in the US, but if you are looking for a VPN that works in other specific countries, you'll have to check their individual sites to see if they support the countries you want. Check my comparison chart below for links to each provider's list of countries.
NordVPN has apps for Windows, Mac, Linux, iOS, and Android, and if you need to use it for other devices, such as game consoles, or to get around the limit of 6 devices connected simultaneously, you can also set it up on your router.
One very good feature for your own peace of mind is NordVPN's independently-verified no-logs policy. It means that they have no information about your online activity to either give away or sell to third parties.
NordVPN does not have a free trial, which is a shame. Apparently they used to have one, but it was being abused so they shut it down. So to try out their service for "free", you'll have to pay $11.95 USD for one month first and then use their 30-day money-back guarantee to get a refund.
Their long-term plans are quite reasonably priced at $3.71 per month for a 2-year plan or $4.92 per month for a 1-year plan.
I've heard good things about their tech support, with a 24/7 live chat feature and quick replies from knowledgeable staff.
ExpressVPN

ExpressVPN is one of the most popular VPNs for streaming, as they are known to work with Netflix and other streaming sites like Hulu, Amazon Prime, Disney+, and HBO.
They have over 3,000 servers in 160 locations across 94 countries, and work on almost any device, including desktop computers (Windows/Mac/Linux), phones (Android/iOS), tablets, routers, game consoles, and smart TVs.
They allow you to have up to 5 devices connected at once on a single account. To get around the 5 device limitation, you can set up ExpressVPN on your router instead of on each device individually. You can then have as many devices as you want connected to your WiFi network, and they will all go through ExpressVPN.
ExpressVPN states that they do not keep logs that can be used to identify you, and this has been independently verified. Like NordVPN, this makes ExpressVPN more trustworthy and allows you to feel safer when using it compared to a provider with no independent verification.
Like NordVPN, they don't offer a free trial, so if you want to try it out before committing you'll have to pay $12.95 USD for a 1-month plan and then use their 30-day money-back guarantee to get a refund before the month is up.
The other downside of ExpressVPN is price. Even with their cheapest plan, they are more expensive than other providers on my list at $6.67 USD per month for a 12-month plan (+3 months free for 15 months total).
As with NordVPN, I haven't used their customer support but have heard that it is quite good. They have 24/7 live chat and fast response times.
CyberGhost

CyberGhost is a yet another popular VPN to use for streaming. Like the others on my list, they can unblock US Netflix as well as other services like Hulu, Disney+, Amazon Prime, HBO, and others.
They allow you to connect up to 7 devices at once to any of their 6,800 servers across 90 countries, and they've got apps for desktop, mobile, smart TVs, consoles, and routers.
While CyberGhost also has a no-logs policy and a transparency report, they don't seem to have been independently verified like NordVPN and ExpressVPN. Although they are most likely telling the truth about their logging policy, it would be nice to have independent verification to increase trust with customers.
Unlike NordVPN and ExpressVPN, CyberGhost does offer a free trial. It's only for one day, but it's still better than nothing, especially since you don't have to give them your credit card information to try it out.
CyberGhost also has a longer money-back guarantee than most at 45 days, and their prices are also very cheap, at just $2.25 per month if you commit to a 3-year plan. Personally I would not commit for that long, because it's possible for Netflix and other streaming sites to blacklist them at any time. If you've already paid for 3 years up front, that money has gone to waste. For a one-year commitment, though, CyberGhost is still very reasonable at $3.99 per month.
PrivateVPN

PrivateVPN is a provider that I've used myself for an extended period of time. I used it to watch Thai Netflix while I was outside of Thailand to help in my Thai language learning. The VPN service that I had used before PrivateVPN didn't offer servers in Thailand, so that's why I switched.
Overall the experience was good. It was a little bit slower than my previous provider, but it worked well with Thai Netflix and allowed me to access Thai content that I couldn't get in North America. While you might be looking for American content while outside of the United States, the fact that it worked for me in reverse is a good sign that it would work for you as well.
They have fewer servers than other providers I'm mentioning, at only 150+ compared to thousands, but ultimately if it works, it works. The advantage of a provider with more servers is that there should be fewer users per server and thus your speeds should be faster. But my speeds with PrivateVPN were fast enough to watch Netflix without any slowdowns or interruptions.
PrivateVPN offers a 7-day free trial, which is the best trial offer of the providers on my list, so it's easy to try it out and see if it works for you before paying.
Their prices are reasonable, with their cheapest option being $4.14 USD per month for a 12-month plan, or $8.10 for a single month.
I never used PrivateVPN's live chat or email support, so I can't comment on that personally, but I've read that it is not as good as the support you get on the other providers that I've mentioned. Apparently PrivateVPN doesn't have as many support staff, and sometimes their live chat is not available because of this.
Comparison Chart
NordVPN
ExpressVPN
CyberGhost
PrivateVPN
Monthly Price
$11.95 USD
$12.95 USD
$12.99 USD
$8.10 USD
Cheapest Price
Per Month
$3.71 USD
for 24 months
$6.67 USD
for 12 months
$2.25 USD
for 36 months
$4.14 USD
for 12 months
US Netflix
✅
✅
✅
✅
Hulu
✅
✅
✅
✅
HBO
✅
✅
✅
✅
Amazon Prime
✅
✅
✅
✅
Disney+
✅
✅
✅
✅
Simultaneous
Devices
6
5
7
6
Free trial?
🚫
🚫
1 day
7 days
Refund Policy
30 days
30 days
45 days
30 days
Servers
5,444
3,000+
6,800+
150+
Countries
59
94
90
60
Live Chat
Yes, 24/7
Yes, 24/7
Yes, 24/7
Yes, but not always available
As you can see in the comparison chart, these VPN providers are all very similar and should all work to allow you to watch American Netflix when abroad. So the choice comes down to price, speed, and other features that interest you. The 7-day free trial from PrivateVPN is more generous than others, CyberGhost has the longest money-back guarantee at 45 days, while NordVPN and ExpressVPN have independent verification of their no-logs policies.
Take a look at their individual websites to see their comprehensive lists of features and read reviews on other sites as well to help make your decision. Of course there are also plenty of other VPN providers out there aside from the ones I've listed that you might want to take a look at too.
Can I Use a Free VPN?
As the saying goes, "you get what you pay for." Or in this case, you don't get what you don't pay for.
There are a number of reasons why you probably don't want to use a free VPN. The first is that almost all of them are blocked by Netflix. Top10VPN.com writes that Windscribe Free is the only 100% free VPN that works with Netflix in 2020. So if you're trying to use a VPN to watch Netflix, you almost certainly have to pay.
Another reason not to use free VPNs is that they are also typically slower than paid VPNs since more people are trying to use them simultaneously. They also usually have data limits, limiting how much you can do with them before they cut you off. For example, Windscribe Free has a 10 GB limit, so even though it is free and works with Netflix, you can only watch a few hours of content before you've used up your monthly limit.
But probably the biggest reason not to use a free VPN is because of privacy and security. Free VPNs still need to make money somehow. If they also have a paid version, it might make sense that they make money from that which then allows them to offer a free tier. If not, it could mean that they monetize their users, by collecting information about them and selling it.
Some free VPNs don't even encrypt your connection to them, which means that they don't protect your privacy/anonymity at all, while others download malware to your device when you install their apps.
If you're going to try a free VPN, please do your research first to make sure the provider is trustworthy. Ultimately, I'd recommend going with a well-known and trusted paid VPN that is known to support Netflix instead.
How to Choose a VPN
To ensure you get a VPN provider that works with Netflix, there are a few things that you can do:
Check Providers' Sites
Check the provider's site for their list of features. Sometimes they say that they support Netflix. Note that even if they claim their service works with Netflix, it's still possible for Netflix to decide to block them at any point in the future.
As mentioned when discussing PrivateVPN above, choosing a provider with more servers means that there should be fewer users per server and so your speeds should be faster. If you want to use servers in countries other than the United States, make sure the provider has servers in those countries too.
Read Online Reviews
Read online reviews about various providers, and get information from sites such as Reddit as well. Just make sure that what you are reading is up-to-date, as providers that once worked with Netflix or other streaming sites might no longer work today.
Try Before You Buy
Some providers give free trials. If so, this is the best way to ensure that it will work for your needs. You can also use free trials to check their server speeds. Make sure that in addition to checking that Netflix works, you also check that all of the titles you normally get are available. I've heard of some VPNs "sort of" working with Netflix in that Netflix won't block you, but they might still limit what titles are available while on the VPN.
If the provider doesn't give free trials, you might need to pay for a month to test it out. If it works, you can choose to keep paying for it. If not, cancel your account and move on. You are likely to be able to get a refund before the month is up as well if needed.
How to Use a VPN to Stream Netflix
If your VPN provider has an app for your device:
Download and install the app on your device (computer, tablet, phone, etc.).
Start the app and enter your login information – the same email address and password that you used to sign up for your account.
Choose a location in the United States. With some providers you might just choose the country, while with others you might choose the specific state or city to connect to. Some apps also have a way to choose the fastest location for you automatically, or you might need to choose a server specifically for Netflix. This all depends on your provider.
Go to Netflix and log in to your Netflix account.
Enjoy American Netflix from wherever you happen to be!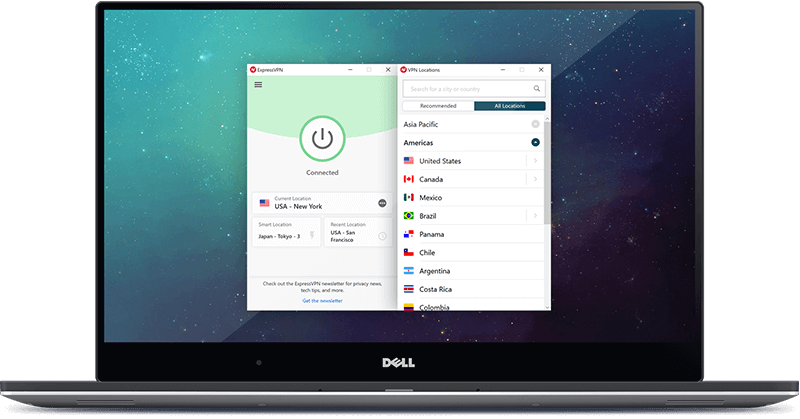 If your VPN provider doesn't have an app for your device, you'll need to read their documentation or contact their tech support to get set up. Typically you would install "generic" VPN software in this case, such as OpenVPN or WireGuard, and then configure that software to connect to the VPN, but it really depends on the provider.
Other Benefits of VPNs
VPNs have benefits other than just unblocking Netflix. Here are the main ones:
Bypass Geo-Restrictions and Content Blocking
In addition to being able to watch American Netflix from abroad, you can do the same with other sites as well. Sometimes governments also block certain types of content, such as adult sites and gambling sites, or in some cases even sites like Facebook, Twitter, Google, and YouTube. Using a VPN would allow you to still visit those sites. Of course I don't recommend using a VPN to do anything illegal in the country you are currently in.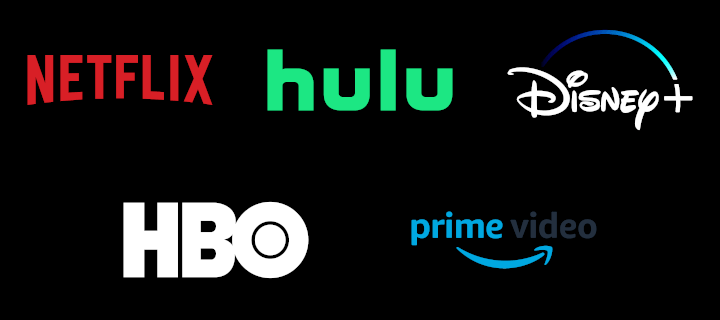 Anonymity and Privacy
If you use a VPN and don't log in to any websites that you visit, you are more anonymous to those websites. They can still set cookies in your browser to track you (unless you block those as well), but they can't associate anything with your IP address since it belongs to the VPN server and not your device. They might still track you via your browser fingerprint though, which is often unique to you. In that case, Brave browser might be of help by randomizing your browser fingerprint.
Avoid Speed Throttling by Your ISP
Some internet service providers lower your speed depending on what you're doing online, such as downloading something via bittorrent. If you use a VPN, however, your ISP won't know what you're doing since all of your traffic goes through the VPN. Keep in mind the connection to the VPN also slows your speed as well. You'd have to test speeds with and without the VPN to see if it's worth using it. But if your ISP is throttling your traffic, it most likely is.
Downsides of VPNs
While VPNs can be very useful, there are a few downsides to using them as well.
Another Subscription Service to Pay for
If you're going to get a VPN just to watch Netflix, one of the biggest downsides is having to pay twice, once for Netflix and once for the VPN. It's especially annoying since they are both subscription-based, meaning you'll have to pay monthly for both of them. You can't just pay once and be done with it. While free VPNs do exist, most of the time they're not worth it, as mentioned earlier.
Slower Internet Speeds
Since using a VPN adds another "hop" between you and the sites you're visiting, this also means that your internet will be slower – most of the time. As mentioned above, sometimes a VPN can be used to get around your ISP's speed throttling, but the vast majority of the time your speeds will be slower than usual. If you can try out a few VPN providers before you commit to a long-term subscription, that will allow you to test their speeds and see which one is fastest.
Issues with Some Websites
Websites sometimes detect when you're using a VPN and either block you or make your life more difficult. Once I tried to make a purchase online and forgot I was using a VPN at the time. It caused problems for me since my IP address said I was in another country than my credit card address. My order was delayed until they called me a few days later and I explained what had happened.
Hard to Know Who to Trust
Not all VPN providers are trustworthy. Some might keep logs of what sites you're visiting, even when they say they don't. They might also share this information with third parties. Ultimately you can't know what they're doing for sure, so going with a provider that is well-known and well-liked on various sites like Reddit and Hacker News is also a good idea.
Difficulty in Setting Up
Depending on the provider, it can be difficult to set up a VPN on your devices. If you are less technically-inclined, choosing a VPN provider that has their own apps for each device you plan to use (phone, tablet, computer) will make it much easier to get started. All of the providers I've compared in this article have their own apps to install on your devices.
It's also possible to set up a VPN directly on your router, so all devices on your WiFi network go through the VPN, but this can be even more challenging to set up, again depending on the provider. Sometimes they have easy-to-follow instructions on how to do this, while with some you might have to contact their technical support staff to help you.
Now, on to You
To stream American Netflix while abroad and get the same content you're used to back home, a VPN is a must. While the number of VPN providers that work with Netflix is shrinking, it's still possible to find some that work well.
I hope that this article has been informative and has given you some insight into how to choose a good VPN provider for you.
If you have had any good (or bad) experiences with the VPN providers I've listed or any others, especially with respect to streaming Netflix while outside of the US, please let us know in the comments below!