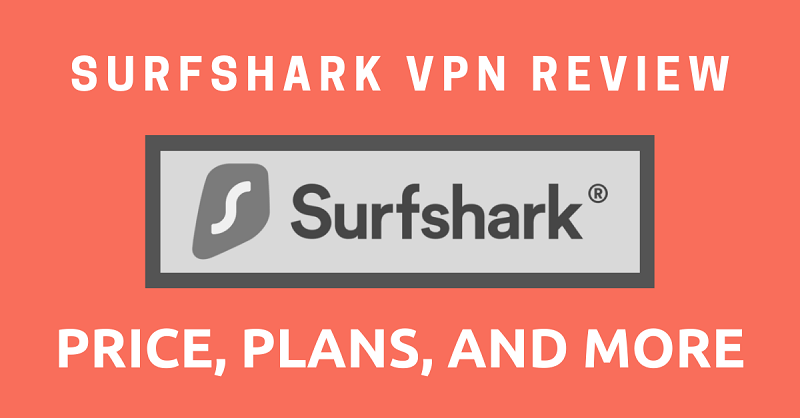 When it comes to picking the right VPN, you want to be sure you opt for a service that's easy to set up, connects automatically, and keeps your online activity secure at all times — Surfshark VPN does all three of those things and more.
I've been using Surfshark for the last year as an expat living in Thailand, and I can honestly say that I've never had an issue with the service.
That said, Surfshark may or may not be for everyone.
However, in order for you to decide if Surfshark can help protect your online activity or stream services otherwise unavailable to expats, I've written this review breaking down every aspect of the VPN.
This article will take approximately 17 minutes to read. Don't have the time right now? No worries. You can email the ad-free version of the article to yourself and read it later!
Why I Need A VPN
I used to think that only people who use the internet for unscrupulous reasons need to hide their online identity, and although that might've been the way things worked years ago, that's just not the case nowadays.
In fact, everyone who uses the internet – whether through a laptop, pc, or phone – should protect themselves with a VPN.
I know that if I don't protect my online activity with a VPN, I'm leaving myself open to potential hackers. And because I do a lot of work online that deals with highly confidential information, I can't run that risk.
I also don't want to run the risk of having my identity stolen and used for illegal activities. The chances of these things happening might be rare, but it feels good to know that I'm protected online.
Major reasons aside, I also like to use a VPN to avoid personalized ads, ISP tracking, and price discrimination. And my kids like to watch PBS Kids shows, which aren't available from Thailand — so the VPN helps make it appear that we're in the U.S.
With that said, you have to make sure the VPN you get can do all of these things and more – and I've found that Surfshark VPN gets the job done.
What Is Surfshark VPN?
Surfshark is a VPN that masks your online location and protects your data at all times, whether you're using the internet on your laptop, pc, or phone.

Many companies offer VPNs, but not all of them offer the services and price point that Surfshark provides.
Let's look at both of these points in more detail.
Surfshark VPN Services
Below are just a handful of services that Surfshark will provide you when you protect your online presence with them.
Strict No-Logs Policy
Surfshark doesn't log your IP address, browsing history, network traffic, session info, used bandwidth, and connection timestamps.
This means none of your online actions are tracked or stored – anywhere.
Kill Switch
Surfshark's Kill Switch feature automatically disconnects you from the internet in case you drop a VPN connection while online.
You can disable this feature if you'd like, and I often do, expect when I'm working on an unsecured network.
As I mentioned in the section above, I can't afford to have any of my work information leaked, because it will cost me my job.
Private DNS and Leak Protection
When you use the internet via Surfshark's IPv4 stack, you get the ultimate level of security with private DNS and leak protection, no matter which server in the world you're connected to.
Camouflage Mode
With Camouflage Mode, Surfshark makes sure that no service provider – whether that's your internet provider, Netflix, or more – knows you're connected to their service through a VPN.
I like this feature because in Thailand, internet service providers do log all of your online activity. And although I'm not doing anything illegal, I just don't like the idea that they have access to that level of information about me — even if it's just my YouTube viewing habits.
MultiHop
Surfshark's MultiHop features connects you to the internet by routing your connection through multiple countries, which makes it even more difficult for hackers or data collectors to track your online whereabouts.
No Border Mode
This feature lets you use Surfshark in even the most strictest of regions, those places that block you from accessing certain online services and websites.
This comes in handy in Thailand, as there are quite a few sites I can't access in the U.S., especially streaming services like PBS Kids. You are also able to use it to watch U.S. Netflix from abroad.
Encryption
Surfshark protects your personal data by using AES-256-GCM encryption – the industry's leading encryption format.
Why I Chose Surfshark
The number one reason why I chose Surfshark was because of the price point. Most of the features that Surfshark offer are right on par with those offered by more expensive VPN providers available in Thailand, so this wasn't an issue as well.
What I Like About Surfshark
I've stuck with Surfshark for one major reason — ease of use. Whether I'm on my laptop or phone, Surfshark automatically connects me to a VPN.
I don't have to unlock my phone or go into the app on my laptop to manually connect to a VPN, which saves me time and headaches.
What I Don't Like About Surfshark
There's not much to fault Surshark for, but the only minor thing I find annoying about the service is when it automatically connects me to a VPN in Thailand (where I already am but different IP address) when I choose "Fastest Connection" upon startup.
Since I usually need to access websites in the states, like for streaming or banking, I have to manually disconnect and reconnect to another location in these cases.
Surfshark VPN Costs
You have three options when signing up for Surfshark VPN: pay by the month, pay every six months, or pay every 24 months.
If you opt for monthly payments, you'll fork over USD12.95 per month, which is the costliest option of the three.
If you sign up for six-month billing, you'll pay USD6.49 per month – more savings than the monthly plan, but still not the best option available.
If you want to save your cost of living while securing your digital life, go with the 24-month plan. You'll only pay USD2.49 per month, though you're billed USD59.76 for 24 months in advance.
However, that's a savings of USD251.04 when compared to the monthly plan.
And when you consider the prices for VPN providers from ExpressVPN (USD6.67/month) and NordVPN (USD3.71/month), you can't beat the price — that's USD1.20 to USD4.00 cheaper per month.
Surfshark Free Trial
If you're not ready to commit to Surfshark, you can try it for free for 30 days. You still have to pick a subscription option and enter your payment details, but if you can cancel before the 30-day mark, you won't be billed and your subscription will be canceled.
If you do decide to stick with Surfshark, you'll have peace of mind knowing that every plan you subscribe to comes with a 30-day money back guarantee.
Setting Up and Using Surfshark VPN
Setting up Surfshark is as simple as downloading the software and making a few adjustments.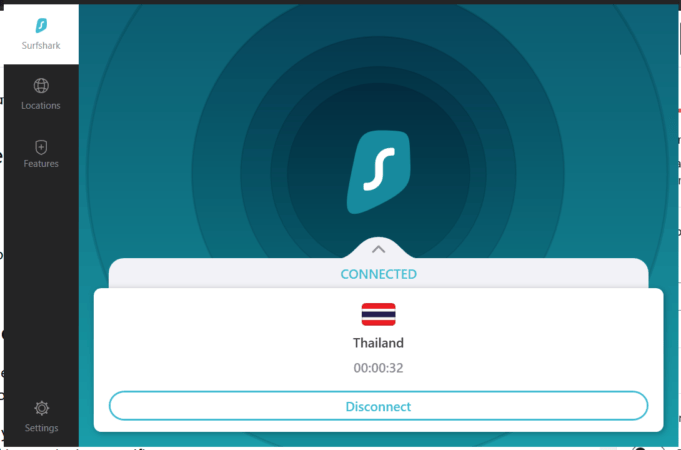 Assuming you've already subscribed to one of the membership options, I'll now show you how to secure your laptop and/or pc and your phone with Surfshark VPN.
Laptops and PCs
You first have to download the version of Surfshark made for your operating system, whether that's iOS, Windows, or Linux.
Next, you have to sign into the app with the email address you used to subscribe to the service.
You'll now have access to all the features on the app and can begin setting it up.
Securing Your Laptop
Launch the Surfshark app and select whether you want to connect to the nearest country or fastest server. In some cases, the countries may be similar or very near to where you are.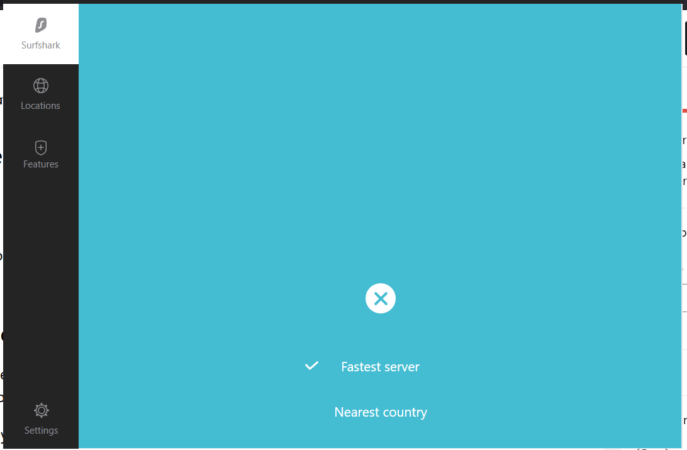 After you make your pick, you will be connected to a Surfshark VPN until you either shutdown your computer or shutoff the app.
In most cases, this is all you have to do to secure your online presence. For more advanced features, check out the section below.
Choosing Your Location Manually
If you want to make it appear that you're using the internet from a different country, you can manually select your location in the Location tab.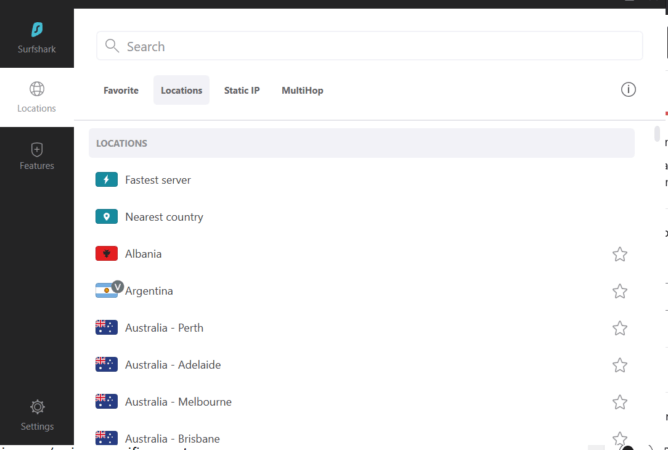 Once there, you'll see a list of available VPNs in countries listed in alphabetical order.
Setting Up Advanced Connectivity Functions
If you want to secure your online presence even further, you can go to the Settings option in the lower left hand corner of the Surfshark user interface, scroll down, and click Connectivity.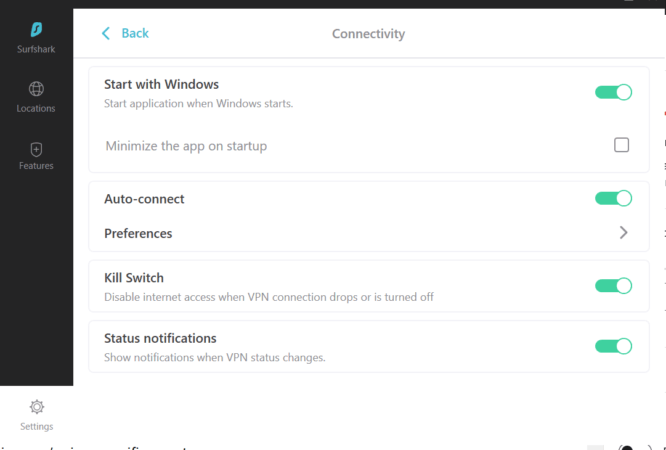 Once there, you can choose to have Surfshark automatically connect when you log on to your laptop. You can enable the Kill Switch feature. And you can opt to get status notifications should your VPN change.
Phones
After you download the iOS or Android Surfshark app, enter your email address. Your app will then be activated.
Securing Your Phone
To immediately secure your network, go to locations and pick either Faster Server or Nearest Country. I find that both options work well and don't slow down my internet speed.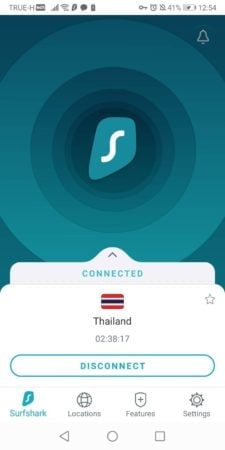 You could also manually pick your location from the list of available servers, which is great when you have to trick an app into thinking you're in a specific country.
In fact, this was the only way I was able to download my American banking app onto my Android from Thailand. I had to set my VPN to America – New York City.
You may need to do the same for your banking apps or streaming services like Netflix to get all the services or shows you want.
Setting Up Advanced Functions
For more advanced settings, go to Settings > Advanced. Once here, you can bypass the Great Firewall (if you have to).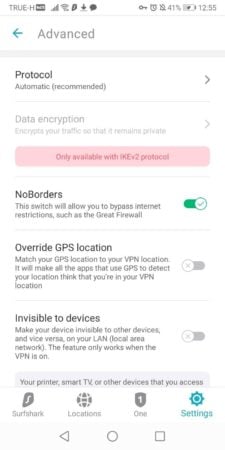 You can also Override GPS location, which makes all the apps that use your GPS think you're in your VPN server's location. If you actually need to use GPS for directions, food delivery apps, or ride-sharing apps, you can disable this option.
Lastly, you can make your device invisible to all the other devices on your network, like printers, Bluetooth speakers, and so on.
Activating VPN Kill Switch
For connectivity settings, go to Settings > Connectivity.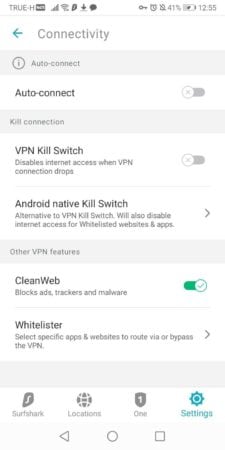 By activating this setting, your internet connection on your phone will drop if or when your VPN connection drops.
Just keep in mind that with this setting activated, you won't be able to use your internet or certain apps until you reconnect to a VPN.
Surfshark VPN Alternatives
Surfshark is a safe and secure VPN service that protects your online identity, but it's not the only service out there.
Here are two more options you have.
ExpressVPN
ExpressVPN is a solid alternative to Surfshark, however, they are quite a bit more money per month for almost the same service.

The only thing you can do with ExpressVPN that you can't do with Surfshark is stream Hulu, so if you don't have a Hulu account, it shouldn't be an issue.
ExpressVPN is also USD6.67 per month for a 15-month contract, making them three times as costly as Surfshark.
However, ExpressVPN is highly rated among expats all over the world.
NordVPN
Feature-for-feature, NordVPN offers almost the same exact services as ExpressVPN, which means it too allows you to stream Hulu.

But as compared to ExpressVPN, NordVPN is more inexpensive — almost 50 percent cheaper at USD3.71 per month.
However, it's almost double the cost of Surfshark. And again, unless you want to stream Hulu, Surfshark would be the more cost effective choice.
Can You Use Surfshark on Your Router?
In short, yes.
In fact, this is probably the best way to use a VPN in your home because all of your devices (computers, phones, smart TVS, etc.) that connect to the wifi on your router will automatically be protected.
But you first have to make sure that your router is VPN compatible. To do this, you must log in to your router and see if it has VPN settings.
With that said, Surfshark recommends using its VPN on your router if you have no other choice but to do so. The app, they say, is much more powerful.
Can You Use Surfshark on Your Smart TV?
Yes. But in order to use Surfshark on your smart TV, you'll have to connect your router to Surfshark (see above).
Can You Use Surfshark on Your PS4?
Yes. But you'll also have to install Surfshark on your router as you would with a smart TV.
Is Surfshark Speed Fast and Stable?
I could sit here and talk about all the technicalities that make Surfshark a fast VPN, but to be honest, I judge the speed based on this: Can I stream movies while connected to a VPN and not experience any lag?
The answer is, "Yes." Since I've had Surfshark, I've never experienced any lag in any of my streaming services, and webpages in general load just as fast as if I wasn't connected to a VPN.
Moreover, I've rarely been knocked off Surfshark once connected. In fact, the only time I could think of it happening was because my internet service dropped at the condo, which obviously affected my VPN connection.
Is Surfshark Really Safe?
Because of all the features (private DNS, leak protection, Kill Switch, encyption, etc.) listed at the top of the article, you can rest assure knowing that your online activity is safe and secure while using Surfshark VPN.
Is Surfshark Easy to Use?
If you know how to open an app on your laptop, then you'll know how to use Surfshark. Once the app is opened, you just have to click the connect button and you're all set.
From a phone, all you have to do is bring up your phones dashboard by wiping either up or down — depending on your phone — and you'll see an icon that you have to click to connect to a VPN.
To shut down your VPN connection on either your laptop or phone, all you have to do is click the disconnect button or icon again.
Now, on to You
As you can see, protecting your online identity is an absolute must – and in order to protect yourself while online, you need a VPN.
The last thing you want is someone hacking into your bank account or gaining access to your personal details and doing unscrupulous things with them. Or maybe you just want access to online services that you can't get while abroad.
With that said, the VPN you subscribe to should be easy to set up, offer one-click connectivity, and keep you safe and secure no matter which device you're using, which Surfshark does incredibly well.