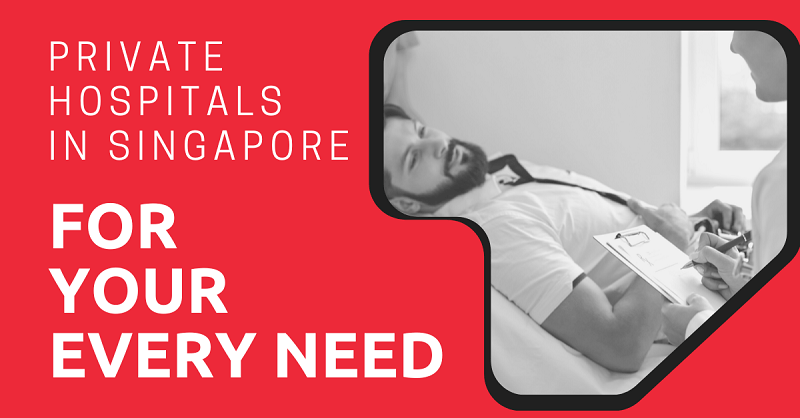 Singapore has an excellent healthcare system that takes into consideration the needs of both their local citizens and international patients. At the time of writing this article, there are about 8 private hospitals and medical centers total in Singapore.
Private hospitals are run independently as companies or owned by larger healthcare corporations. They are free to set their own prices for services but are still regulated by the government to ensure healthcare needs are accessible to everyone. In addition to private hospitals, there are numerous private clinics and polyclinics providing non-emergency outpatient services.
This article will take approximately 16 minutes to read. Don't have the time right now? No worries. You can email the ad-free version of the article to yourself and read it later!
Cost Vs Quality of Care at Singapore Hospitals
While it is common for private hospitals and clinics to have a higher price range than the public alternatives, the difference is clear in speed, service, comfort, and convenience.
Private hospitals are usually smaller with fewer daily patient numbers, therefore private patients tend to have a more pleasant and comfortable experience. In addition, patients are usually admitted within an hour as private medical facilities allow for appointments.
On the other hand, public hospitals run entirely on a first-come, first-served basis and you could be stuck in the waiting room for many hours. 
Medical Care Options
Overall, Singapore's healthcare system is excellent and you have a wealth of options available, however, the public coverage is only for those with Singapore citizenship or permanent resident card so we do implore you to have good medical insurance when you move to Singapore.
The majority of private facilities are managed by the following three groups:
Raffles Medical Group: Raffles Hospital, Raffles Medical Clinics
Parkway Holdings: Mount Elizabeth Hospitals, Gleneagles, Parkway East Hospital
Healthway Medical Corporation: All 53 Healthway Medical family centers throughout Singapore
The following are the eight private hospitals currently in Singapore. Although all of the hospitals can handle all basic medical services and needs, some have primary specialties and are better than others depending on your condition.
Top 3 Private Hospitals in Singapore
The following 3 hospitals are the largest and top private hospitals in Singapore offering various specializations from cardiology, oncology, neuroscience, and tertiary services.
All three are accredited by the Joint Commision International (JCI), which is an organization that certifies and verifies the safety and quality standard of healthcare providers around the world.
Gleneagles Hospital
Gleneagles Hospital Singapore is one of the best hospitals in Asia with the newest medical technologies and state-of-the-art facilities. They have their own dedicated land and air ambulance services with close affiliations to top hospitals around Asia.
Gleneagles specialties include:
Gastroenterology – anything related to the stomach, intestines or digestive system.
Liver Transplant – they've won the Transplant Service Provider in Asia Pacific for 2 consecutive years.
Cardiology – they have a complete team of cardiologists and cardiac surgeons for both adult and pediatric needs.
Orthopedic & Sports Medicine – they have over 50 orthopedic and sports medicine physicians experienced in treating sport and bone conditions affecting the shoulder, hand, back, spink, knee, foot, and ankle.
The cost of a specialist's consultation varies depending on the medical condition and seniority of the doctor. While public hospitals like Changi General Hospital charge between SGD $100 and SGD $150 for non-residents, Gleneagles charges between SGD $150 and $300 for a general consultation.

If you have any difficulty booking appointments or finding a specialist, Gleneagles Singapore provides a one-stop service for international patients through their Gleneagles Patient Assistance Center (GPAC). This multi-lingual and dedicated team can provide advice on treatments and estimated costs for procedures as well as arrange all visa applications, doctor appointments and hotel bookings.
Mount Elizabeth Orchard
Mount Elizabeth Hospital Orchard, or also known as Mount E is the largest and most popular private hospital in Singapore. While there are two locations, this one is on Orchard road – Singapore's iconic shopping and hotel district.
Mount Elizabeth has over 1000 medical specialist physicians and surgeons listed in their directory. However, they are known for their cardiology (heart) and neurology (brain) department and have won the Cardiology and Neurology Service Provider of the Year 2019 awards. They also state to have the most cardiologists and neurologists in the Asia Pacific region.
While most private hospitals only have single rooms, Mount Elizabeth offers 4-Bedded and 2-Bedded ward (rooms) options which are equivalent to public hospitals ward types A (1-2 beds) and B1 (4 beds).
Without insurance, the daily average cost for a 4-Bedroom at Mount Elizabeth is approximately SGD $291, while the cost for a room at Singapore General Public Hospital is currently SGD $252 per day. For many expats, the slight price difference is well worth the additional comfort and time savings.
Because of its location, a downside of visiting Mount E is the limited number of parking spaces and expensive hourly parking fees. It is also much busier than some other private hospitals on the list given its popularity and wide range of services. However, you can always pop over to Paragon or Ngee Ann City for some shopping and dining to kill time.
Mount Elizabeth Novena
Mount Elizabeth Novena is the newer and more modern addition to the Mount Elizabeth Hospital group. It opened in July 2012 as the most expensive private hospital to be built in Singapore in the last 30 years.
They boast to be the "Hospital of the Future " with award-winning eco-friendly features, premium accommodations, and cutting edge technology. They have Hybrid Operating rooms that can do minimally invasive procedures to reduce pain and have shorter recovery times.
Mount Elizabeth Novena has more than 250 specialist physician suites offering a wide range of services, including rehabilitation therapy such as physical therapy and speech therapy. However, similar to the other Orchard location, Mount Elizabeth Novena specializes in heart and vascular disease treatments and surgical procedures.
They were one of the first private hospitals in Singapore to perform a successful left ventricular assist device (LVAD) procedure, which is inserting a mechanical device to help the heart pump blood efficiently.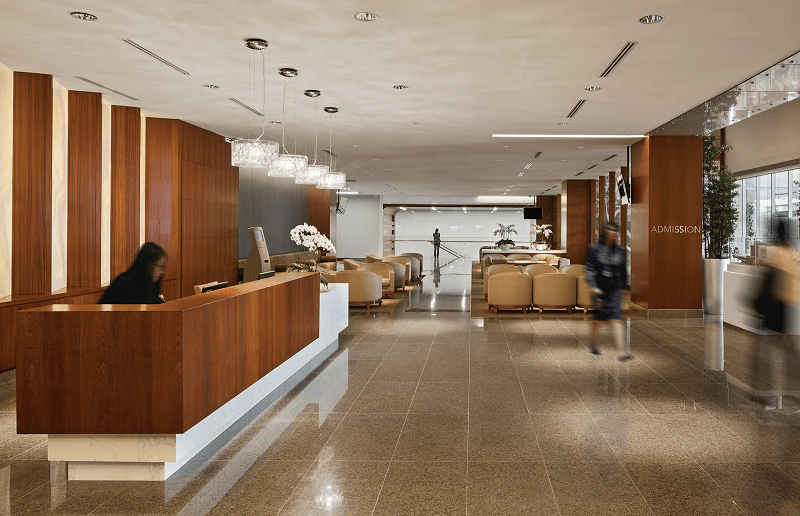 When you enter Mount Elizabeth, you could easily mistake the inviting space for a hotel lobby with rooms equipped with everything you'll need for a perfect staycation. They provide high quality bath amenities, complimentary minibar, and even butler service for deluxe and suite type rooms. The meals are also cooked by world-class chefs from lobster dinners to specialized postnatal meals also known as confinement meals for mothers after childbirth.
Most Integrated and Comprehensive: Raffles
Raffles Hospital Singapore is a JCI-accredited, 380-bed hospital located in the heart of the city in Bugis. It is the flagship location of the Raffles Medical Group who operates medical facilities, clinics, and pharmacies all around Asia.
It has a fully integrated healthcare system, making it faster for patients to get appointments and allow doctors access to patient records across departments so they can provide better diagnoses. For example, if your primary care doctor doesn't have access to your dental records or ultrasound scans, early detections of health conditions like heart disease, diabetes, or osteoporosis can fail to occur in some cases.
This is possible because Raffles Medical has over 40 specialist clinics around the city offering a variety of outpatient services such as general practitioner (GP) consultations, family medicine services, health screenings, dental, women's health, and more.
A full list of services and locations are available here. Patients can visit any of the clinic locations to conduct non-emergency services and that data is centralized and shared among all departments.
The Raffles clinics are a great choice if you want to perform a regular health checkup. Their general health screening package is priced at SGD$169 and includes a physical exam, comprehensive blood tests, and women's Pap smear assessment. Since health screenings are typically unsubsidized, screening packages are sometimes equal or cheaper at private clinics and hospitals compared to public hospitals.
Raffles Hospital isn't really known for any specific specialty but offers a wide range of medical services and 26 specialist centers, from the notable Raffles Cancer Center to a Traditional Chinese Medicine center for holistic needs. They have multilingual staff fluent in English, Chinese, Arabic, and on-site translators for further assistance.
Further, Raffles Medical launched their own Integrated Shield Insurance Plan in 2018 called Raffles Shield offering competitive premiums and additional benefits, such as access to private hospital wards in Raffles Hospital. There are plenty of health insurance options in Singapore available to expats. You can easily look around to find a coverage suitable for your needs and budget.
Best for Cancer Treatment
While the four hospitals mentioned above have excellent oncology/cancer departments, the following are specialized private cancer centers in Singapore.
Parkway Cancer Center
The Parkway Cancer Center (PCC) is the leading private cancer center in Singapore. It operates within Mount Elizabeth Orchard, Mount Elizabeth Novena, and Gleneagles Hospital. They won the Oncology Service Provider of the Year 2017 for the Asia Pacific region.
As a renowned cancer center, they have the latest radiological and imaging facilities including PET scan, MRI, and CT scan. Aside from their excellent team of oncologists, PCC also has a palliative medicine clinic, dietician clinic, and counseling services to support cancer patients.
The price of cancer treatment varies widely and is greatly influenced by the stage and kind of cancer a patient has. Most cancer treatments begin with a biopsy, in which a sample of the cancerous cells is removed for analysis, and depending on the stage, either surgery or chemotherapy may be required next.
Compared to public hospitals, where the average price for an unsubsidized cancer biopsy is SGD $2,000, Parkway is estimated to cost around SGD$5,800. Private hospitals and clinics typically charge two to five times more for cancer services and treatments.
Farrer Park
Farrer Park Hospital (FPH) is a technologically advanced hospital that opened in 2016. They state that technology is "woven into every facet of treatment and patience experience" from doctors getting real-time updates of patient's test results to having special bath benches with cutouts so patients can wash themselves while seated.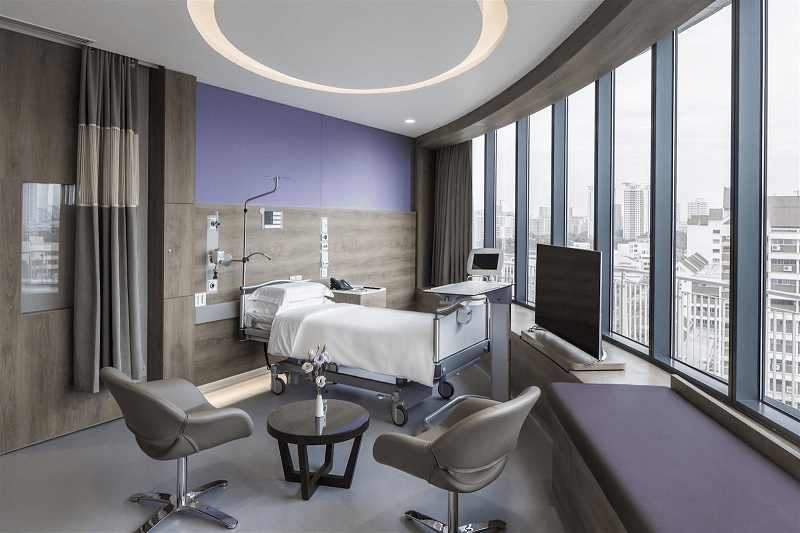 FPH has done remarkable things in the cancer sector, specifically for prostate health. In 2020, the FPH Cancer Center was awarded the Asia Pacific Service Provider of the Year Award for Prostate Care for using an advanced, minimally invasive treatment to treat benign (non-cancerous) prostate enlargement called Prolieve®.
They were also the first to try out the Lu177 PSMA Therapy® treatment which can reduce tumor volume and stop cancer growth. Further, they have collaborated with other healthcare groups both public and private to help provide fertility preservations services for female cancer patients.
FPH is uniquely yet conveniently located directly above Farrer Park MRT within the Connexion Building that houses their five-star hotel, the One Farrer Hotel. There's also a variety of quality food and beverage options, a lavish spa, gardens, and a small art gallery.
In-patient room costs at Farrer Park range from SGD$250 overnight for a shared room and go up to SGD$1,330 for a suite.
Best for OBGYN and Pediatrics Services
Obstetrics and Gynecology (OBGYN) deals with some of the most important health issues in a woman's life, including birth control, pregnancy and childbirth. If you are thinking about giving birth in Singapore, you will have some of the best care and support in the world.  
Parkway East
Parkway East Hospital is one of the oldest hospitals and was previously known as East Shore Hospital. It started off as a maternity hospital back in 1942 but gradually became a full medical center offering a range of specialist services. It holds about half the capacity of Mount Elizabeth or Raffles Hospital with 143 beds.
While their OBGYN has a good reputation, their Pediatrics department is highly reputable because of their excellent doctors, namely Dr. Lim Xue Yan. She specializes in general pediatrics, which includes newborn screening, developmental assessment, and treating common pediatric conditions like asthma.
Dr. Lim has been awarded the Nestlé Gold Medal in Pediatrics and a recognized as a member of the Royal College of Pediatrics and Child Health. Only a handful of pediatrics in Singapore hold these honors.
Mount Alvernia
Mount Alvernia Hospital is the only non-profit private hospital in Singapore providing healthcare services based on Christian and Catholic values. Therefore, they are the only hospital in Singapore to offer Clinical Pastoral Care, meaning patients can request to speak to chaplains (pastors) or spiritual guides if they need additional emotional support. They also provide baby blessings for all races and religions.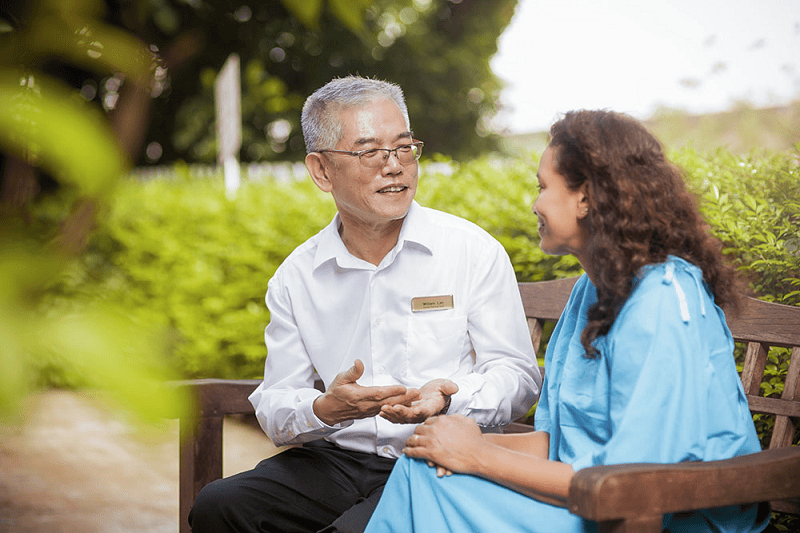 Over the last few years, it has become known for its maternity services because of the more affordable prices compared to other private hospitals. It also has a reputation for delivering smooth natural births and C-Sections.
You can book a virtual session with them to learn more about their maternity services and facilities.They have Maternity Packages based on delivery type (Natural, Assisted, C-Section) and room type (Single, Deluxe, Family Suite) starting at SGD $3,000 which is a lot cheaper than some other private hospitals like Gleneagles that's about SGD $10,000.
Maternity care can be quite expensive in Singapore, so it is highly advised to find maternity coverage when shopping for insurance plans if you are planning to have kids within a year or more.
Thomson Medical Center
Thomson Medical Center is the largest private provider of healthcare services for women and children. They specialize in gynecology, fertility, pediatrics, and dermatology but are most well-known for their fertility (IVF) services.
Thomson Fertility Center has the highest IVF success rate in Singapore at 80% for women under the age of 30. It has become a reliable choice for both local and international patients struggling with fertility.
You can expect to pay around SGD $13,000-$19,000 for a one full IVF cycle. If one person in the couple is a Singapore citizen, the government will offer a subsidy for your IVF treatment through the Marriage and Parenthood (MOH) Scheme at select hospitals.
Medical Tourism
Singapore currently ranks second in the world after Canada in the Medical Tourism Index. Singapore's private hospitals offer advanced medical services, first-class services and facilities, and internationally recognized specialist doctors.
Although the costs are still relatively high compared to neighboring Southeast Asian countries, they are 60% less than the average medical procedures done in the West.
Ambulance
While the majority of trips to the doctors are planned, there is the ever-present reality of dealing with unexpected emergencies. Singapore has a national ambulance service, the Singapore Civil Defence Force (SCDF) Ambulance Service, that can be called out day or night to respond to an emergency.
This service is free to everyone, locals and expats, provided it is genuinely an emergency (non-emergency call outs are charged at SGD $274). The ambulance will take you to the nearest designated hospital to your location.
If you are cogniscent enough in the midst of your emergency to decide you want to be taken to a specific hospital then you'll want to call out the Singapore Emergency Ambulance Service, a private service approved by the MOH (Ministry of Health).
This is a paid for service with an escalating price tag from $200 for a straight-forward home-to-hospital pick up through to thousands of dollars for an international repatriation, but the benefit being that it leaves you in control of which hospital you want to be delivered to.
Now, on to You
This is just a general overview of private hospitals in Singapore. As foreigners and non-resident expats, you are not eligible for Medisave and government subsidies, making the cost of using public hospitals almost similar to private hospitals in some cases. A lot of the costs can be covered by your insurance provider or employer so be sure to check and comparee which plan fits your needs best.  
If you are traveling to Singapore make sure you have good travel insurance to cover emergencies. If you are looking for work in Singapore, besure to ask your prospective employers what is covered by the insurance they offer because the cost of living in Singapore is high enough without medical bill surprises popping up!