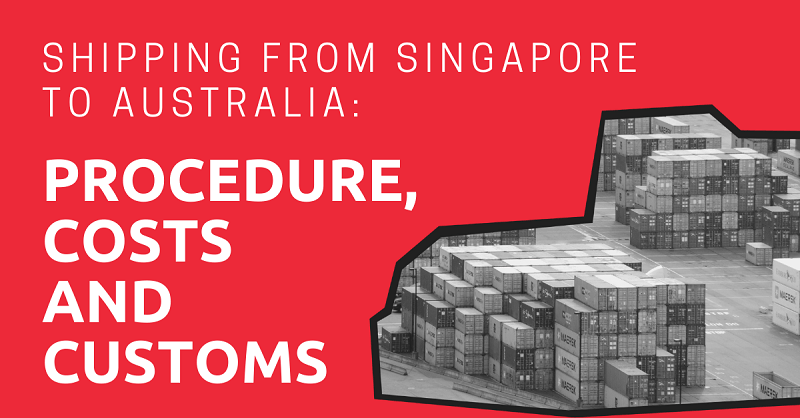 So, you want to send some items from Singapore? And you want to do it cheaply but reliably, right? Then this guide is for you.
In the following article I will unpack (pardon the pun) the process of sending your stuff from Singapore to somewhere else around the world. I'll cover how to pack your items, what you need to know about customs, and what costs and time frames you can expect through a number of different carriers and service providers.
If it's actually shipping items into Singapore that you are after, then check out our other article here.
This article will take approximately 19 minutes to read. Don't have the time right now? No worries. You can email the ad-free version of the article to yourself and read it later!
What or What Not to Ship
Whether you are just sending home a much-loved souvenir from your travels, starting a small business, or shipping the entire contents of your expat home, you'll want to read this section first.
Singapore is not the place to fall foul of any law, and as such, knowing what you can and can't ship overseas is pretty important.
You can reference the items yourself against this handy 'Dos and Don'ts' list from SpeedPost, part of SingPost, Singapore's national postal service, but in a nutshell don't consider trying to ship prohibited or restricted items.
Prohibited items include dangerous goods such as explosives, flammable liquids, toxic substances, and radioactive materials; while restricted items include live goods, money & securities, narcotics, and liquids.
You also need to be mindful that whatever you are sending isn't considered illegal in the destination country. If you aren't sure, then use this country checker from SingPost.
Preparing a Package
Take it from me, there is nothing more frustrating than shipping your most comfortable mattress ever, halfway around the world, only for your partner to slash it open with a knife on arrival because no-one told him there was only one thin paper layer of packaging around it.
Whatever the item you are sending, there are good ways to pack and bad ways to pack and it is definitely worth knowing these as, frankly, there is little point sending something if it is going to get broken in transit or damaged on unpacking.
Courier and shipping companies are not known for their light touch, so whatever you are packing, prepare for heavy handling. Make sure the box or envelope you use is sufficiently strong; put the heaviest items in first and clearly mark which way up the box should be transported.
Use padding. Be it shredded paper or bubble wrap, the extra layer will help to hold the item in a fixed place and prevent inadvertent bumps and scratches.
If you are using a professional shipping company and have a third-party packer in, don't take this as an opportunity to kick-back and go for lunch. You'll want to make sure they are taking care of your precious items and packing them appropriately.
One trick of the trade is to use so much packing material that it ends up doubling the quantity of boxes and space you have to pay for. Yes, there is such a thing as over packing.
Pack to protect against water but at the same time bear in mind the effects of humidity and moisture content within a tightly sealed package. Singapore is hot and steamy but that is nothing compared to the temperature inside a steel container, which can reach up to 130 degrees. This is mould spore heaven.
I highly recommend getting any wooden items treated for both mould and woodworm, such as wood furnitures for your condo in Singapore, before packing them up, otherwise the unpacking could be pretty unpleasant after five weeks in a container.
And my number one tip, label, label, label. Label each individual package so that you can remember what is inside; though best not to scream 'highly valuable item, please steal me' on it.
Use numbers and keep a personal reference of what each number corresponds to; and label each package '1 of X, 2 of X' where X is the total number of packages being sent. That way you can quickly check off that all items have safely arrived at their destination.
Writing Australian Address
Writing Australian address is somehow similar to Singapore address. But in this time, you need to include a state name too.
Australian address goes like this:
Recipient's name
Street Name
Suburb/Town, State and Postcode
Australia
For example, if you are sending an item to John Smith, who's living on 21 James Road, in Ashgrove suburb, Queensland, then, it's going to be:
John Smith
21 James Road
Ashgrove, Queensland, 4060
Australia
Please note that many people tend to use an abbreviation for the state name as seen below:
| | |
| --- | --- |
| State | Acronym |
| Australian Capital Territory | ACT |
| New South Wales | NSW |
| Northern Territory | NT |
| Queensland | Qld |
| South Australia | SA |
| Victoria | Vic |
| Tasmania | Tas |
| Western Australia | WA |
Paperwork
Whether you are sending a solo item or shipping a full container, you can't avoid having to complete some paperwork.
Starting with the Customs Declaration Form. For shipping of any items up to the value of SGD $700, you will need to complete the universal CN22 form in which you provide a description of the item being sent, declare the value, country of origin, and date and sign.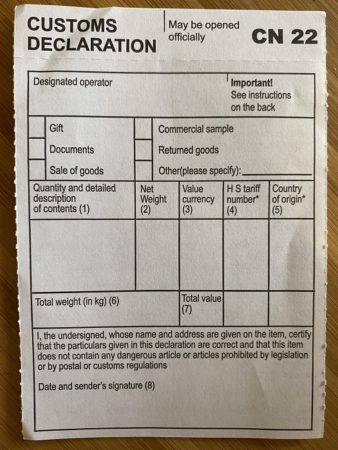 For items over SGD $700, you'll be using the CN23 form, a similar form with a bit more detail. These forms will be stuck to the outside of your parcel.
For larger items or multiple items, it will depend which service you are using as to how much paperwork there is to complete.
For example, FedEx requires you to complete its International Air Waybill for its FedEx International Priority/Economy/First services while a relocation company may include waivers and insurance.
For the most part, the paperwork is pretty straightforward and is designed to help your item arrive at its destination swiftly and directly. It is important you give accurate descriptions if you wish to avoid delays
Bulk Shipping
Bulk shipping is the transportation of goods around the world in large quantities. So, if you are looking at sending more than a few items at a time for your apartment in Singapore, you will be looking at bulk shipping.
However, the word bulk is normally associated with cargo; the shipping of huge quantities of items such as sand, grains, or steel that cannot be packed individually.
All other shipping is actually referred to as container or freight shipping, though freight tends to be more commonly associated with commercial purposes except when you refer to it as air freight, which is the shipping of items via air.
Did you get that? Yes, shipping can actually refer to transport by ship, land or air. Confusing right!
Container Shipping
Container shipping is for items that can be placed in boxes or individually packaged and loaded directly into an intermodal container, meaning it can be easily moved between a truck and a ship, and placed on a container ship.
Containers are measured in twenty-foot equivalent units (TEU) with 20-foot or 40-foot the standard.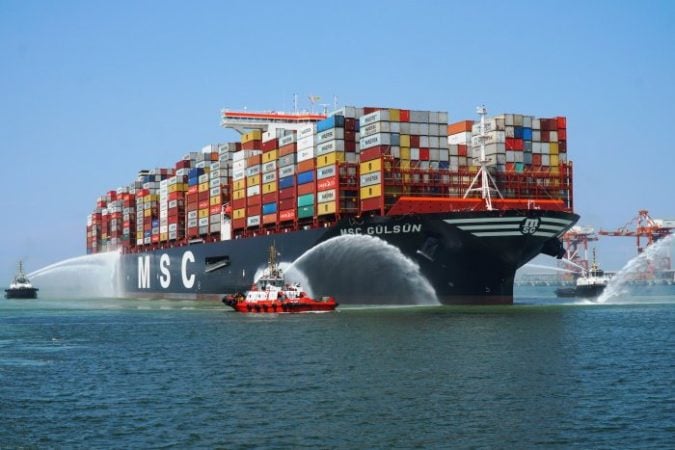 The largest modern container ships, such as the MSC Gulsun, can carry over 23,000 TEU, which is slightly mind blowing when you think about it.
Actually, the whole world of shipping is slightly mind blowing, just take a look at Marinetraffic.com to see a live map of all the commercial ships in action in real time. It's like watching a live game of battle ships, without the blowing up part obviously!
The number and size of items you are looking to ship will determine the amount of container space you are looking for.
Full Container Load (FCL)
This is when you fill an entire container with your own items. For an indication of what size container is needed, relocation agents will tell you that a 20-foot container can fit the contents of a typical 3-bedroom house while a 40-foot container is double that.
Double the size doesn't mean double the price though. In actual fact a 20-foot container costs around 75% of the cost of a 40-foot one; this is because much of the pricing lies in the logistics of moving the container around which doesn't change due to size.
Less Than Container Load
Not everyone wants to fill a whole container, so there are also options for a 'Less than Container Load' (LCL). You share the space with multiple others. The downside being that you have to wait until all the space has been filled before the container can be placed on the ship, so you have no control over your shipping time.
Arguably LCL is also riskier as the container may be opened several times before your items reach their destination and your boxes may be subject to considerably more shuffling and rough handling than with an FCL.
Air Freight
I already mentioned that some shipping can also go by air, using cargo planes rather than cargo ships. If you are looking at sending a smaller quantity, or if speed is of the essence, then air freight may make more sense.
Air freight generally takes 1 to 3 days for items to travel between any two global destinations, while container ships, which travel on average at 23 mph, can take anywhere between 1 and 5 weeks depending on the destination distance.
Air freight is however considerably more expensive than sea freight, on average five times more so.
Freight Forwarders
Freight forwarders are the intermediary agents, or brokers, with whom you will need to deal if you wish to send a large shipment. They will handle the logistics of liaising with the shipping company for you, booking a container or air cargo space, arranging warehousing prior or after shipping, tracking your shipment, and more.
Essentially, they provide you with a seamless service as they hold all the relationships with the individual shipping, warehousing, and logistics businesses, saving you the impossible task of coordinating it all yourself while also trying to negotiate the best price.
It is in the interests of the freight forwarders to pass the best price on to you as this is how they stay competitive and win business alongside forging a reputation for reliability and quality.
There are many freight forwarding companies; from household names which offer full freight services such as DHL and FedEx through to more commercial cargo and logistics businesses such as Trans Global and M&P International Freights.
Freight Costs
Shipping companies use five factors when calculating costs – the cargo volume or weight, the mode of transport (sea, air, land), the journey distance, the destination country, and the time of year.
All shipping has peak periods. These normally fall in the European summer months when many relocations happen and between the Gregorian calendar New Year and Chinese New Year. In peak periods costs rise as demand is greater.
To get an instant comparison of freight rates by sea, you can use our moving comparison form.
Relocation Companies
If you are packing up your apartment or house and looking to relocate away from Singapore, then I would suggest you look straight to a relocation company. With years of experience and specializing in packing up households, they will be best placed to give you a realistic quote and time frame for the size and volume of your shipment, as well as handle all the logistics.
They are also able to offer additional services such as the wrapping and boxing of your items, unpacking at the destination, and even picture hanging and DIY services.
There are many relocation agents operating out of Singapore. With a huge array of choices, it can be overwhelming to know where to start, so you might find this form a useful way of receiving and comparing five free quotes from international moving companies.
You can also check out global players such as Allied Pickfords or Crown Relocation, as well as more local agents like SIR Move Services, which operates directly out of Singapore and Malaysia but can provide a seamless service to another local partner in your destination country.
International Delivery Companies
For those of you not looking for the full freight or international relocation services, then you will want to engage the services of an international delivery company. There are many global brands offering these services but let's start with Singapore's own national postal provider, SingPost.
Speedpost International Delivery
Speedpost is the express delivery service offered by SP Parcels, a subsidiary of Singapore Post. Offering delivery of documents, parcels and freight to over 220 destinations globally, Speedpost is well regarded as being an easy-to-use, accessible service to everyone in Singapore, with good online tracking options through its online portal.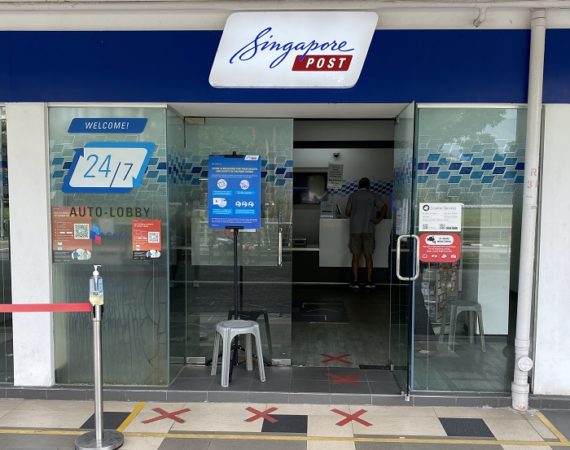 With four tiers of service – express, priority, standard, and economy – there are delivery services to suit every budget and time frame. The default option is for delivery duty unpaid (DDU) but you can add on a delivery duty paid (DDP) service. Speedpost offers a very comprehensive comparison chart of costs for each service here.
With 62 different SingPost branches across Singapore, Speedpost is an island-wide service and helpfully you can even purchase all your packaging and tape within the Singpost outlet while you queue for the service.
Be warned that some SingPost branches are busier than others so if you can't avoid peak times it might be best to use one like the Killiney branch or one further out of town such as Bukit Batok. Find your nearest branch here.
DHL
DHL is also well-used and well-regarded for its parcel and document service through to its full air, road, and sea freight services.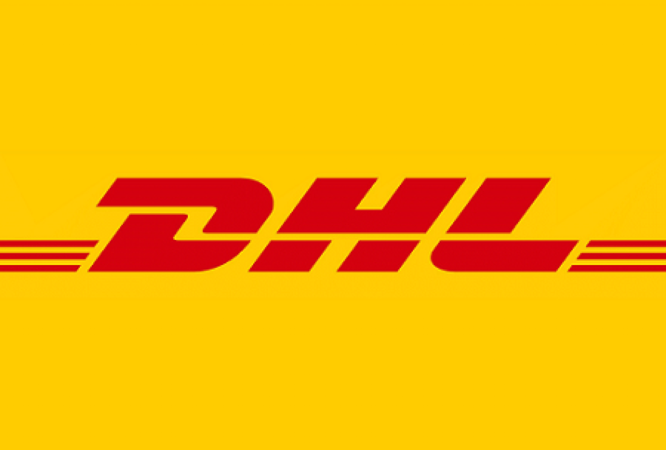 For the parcel service there are two offerings: Express and Parcel. Parcel offers delivery of items up to a maximum of 20kg with a 3-day to 11-day time frame, while Express offers up to 70kg and delivery on the next possible business day.
DHL has a good tracking service through its MyDHL+ portal, which is available to both account holders and one-off guest users, as well as a quick to use cost calculator here.
FedEx
FedEx bills itself as one of the world's largest express transportation companies with services to more than 220 countries and territories, but it is only available to account holders, which might put some people off before they even start.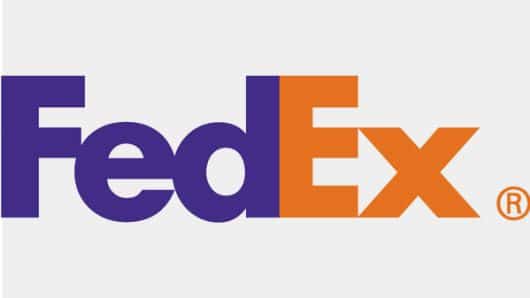 However, individual accounts can actually be created very quickly and simply require registration through the use of a valid credit card.
Once in the FedEx fold, you have access to its speed-based services: FedEx International First, Priority, and Priority Direct, or its budget-based service, FedEx International Economy. These are all for items under 68kg, although freight services are available for loads larger than this.
FedEx uses propriety software, FedEx Ship Manager TM, for all account holders to quickly access services such as quotes, scheduling pickups, generating customs clearance documents, and tracking shipments.
All FedEx costs for the different shipping services out of Singapore can be accessed here.
UPS
UPS is another competitive service with a suite of worldwide delivery options: UPS Worldwide Express Plus, Express, Express Saver, and WorldWide Expedited, for deliveries not requiring an express service. You can find an online quote form for each of these services here.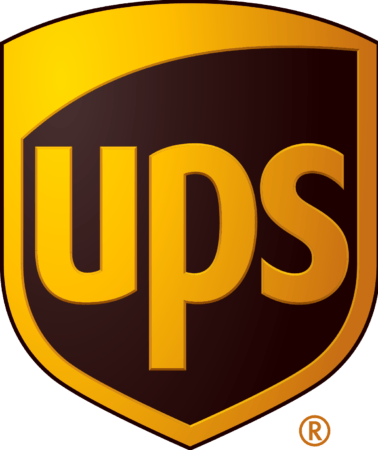 UPS offers a very small number of drop-off points within Singapore, alongside its direct collection service. These are really only useful for those of you based centrally, as one drop off is at LuckyPlaza on Orchard, another in Kallang, and the last in French Road. If these aren't convenient and you still want to use the drop-off service you will need to head all the way out to Changi to the UPS Customer Service centre. 
International Shipping Services Comparison
The following table gives a quick comparison of sending a 1kg flat envelope legal document from Singapore to London, using the above service providers and their fastest by-air service.
These costs are exclusive of duties and other relevant taxes and are intended as guidance only.
| | | | |
| --- | --- | --- | --- |
| Provider | Service Name | ETA | Cost |
| Speedpost | Speedpost Express | 1-2 working days | SGD $65 |
| DHL | DHL Express | 2 working days | SGD $66.10 |
| FedEx | International Priority | 1 working day | SGD $40.57 |
| UPS | Worldwide Express Plus | 1-2 working days | SGD $72.70 |
Customs
If you are simply sending a small number of personal items via a delivery service and are not engaging in commercial exports, then you will need to fill in a Customs Declaration Form CN22 or CN23, depending on the value of the items you are shipping.
If you are engaging in commercial exports, you will need to set up a Customs Account with Singapore Customs, having registered your business with ACRA (Accounting and Corporate Regulatory Authority) and obtained a UEN (Unique Entity Number).
If you are container shipping, then the cargo will need an approved Customs export permit and supporting documents such as an invoice, packing list, and airway bill. These documents will be pulled together by your freight forwarding agent or relocation company.
Whichever service you are using, it is important to be sure that your items are not prohibited or restricted in any way and thus require a special export permit. If in doubt, check with the Singapore Customs here.
International Customs
Bear in mind that it is not just customs leaving Singapore, but also customs on arrival in the destination country. If the paperwork is not in order, or if you are trying to send a prohibited or restricted item for that country, then you can expect the delivery to be delayed while this has to be sorted.
Shipping Insurance
We've all heard that urban myth of someone who packed their entire house into a container only for it to fall off the side of the ship. But do you know anyone this has actually happened to?
There's a very small risk of containers lost at sea each year, and you might question the need for insurance.
However, shipping insurance is not just for total loss. We all have tales of items being smashed, damaged or lost in transit, and there is nothing more frustrating than receiving your items to find they are no longer intact.
Shipping insurance is based on monetary value of your items, as opposed to weight or volume of the cargo, and with variable services offered such as all-risk insurance, mould & mildew, pairs (where one of a pair of items is damaged) it is very difficult to give a precise figure for insurance coverage.
As a rough guide, you can expect to pay somewhere between 0.6% and 4% of the total cost of your possessions.
Common Mistakes
Having made the decision to ship any items, you want to make sure that they are delivered as fast and safely as possible, so try to avoid these common mistakes:
Not packing your items securely so that they are damaged en-route
Using an incorrect delivery address
Under-estimating the weight of your shipment
Shipping prohibited or restricted items without the correct documentation
Failing to complete all the shipping documentation properly
Choosing the wrong shipping service for the time frame you require
Now, on to You
Shipping items needn't be difficult nor end in tears, provided you follow a few simple guidelines and advice as given in this article, along with any additional information that your shipping service provider gives you.
Many of the companies also have a wealth of information on their websites and customer portals, so a little bit of homework can go a long way to ensure reliable delivery at a cost that suits you.
You can start your shipping from Singapore to Australia by filling out this form here.