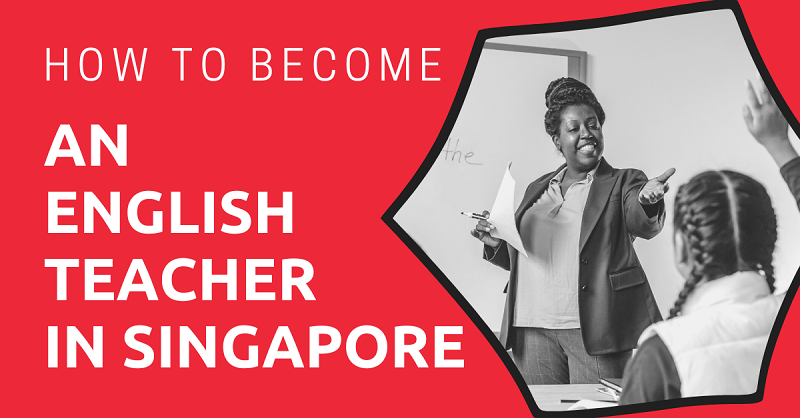 Since English is one of Singapore's four main languages, the job market for English teachers there is more limited and competitive than in other Asian countries. However, there is still a need for ESL teachers due to the number of international expats and competitive education system where many students need English tutors.
Many opportunities are available in language centers, international schools, and government schools for those with the right qualifications.
This article will take approximately 15 minutes to read. Don't have the time right now? No worries. You can email the ad-free version of the article to yourself and read it later!
Requirements for Teaching English in Singapore
One of the basic requirements is that you need to be a native speaker of English from the USA, UK, Canada, Australia, New Zealand, Ireland, or South Africa, If you're not a native speaker from the listed countries, you must either have a proper teaching diploma or certificate and experience as an English teacher.
University or College Degree
English teachers in Singapore must hold a Bachelor's Degree. This is the bare minimum requirement. If your degree is in education or linguistics, you will have a better chance of being hired at an international or government school.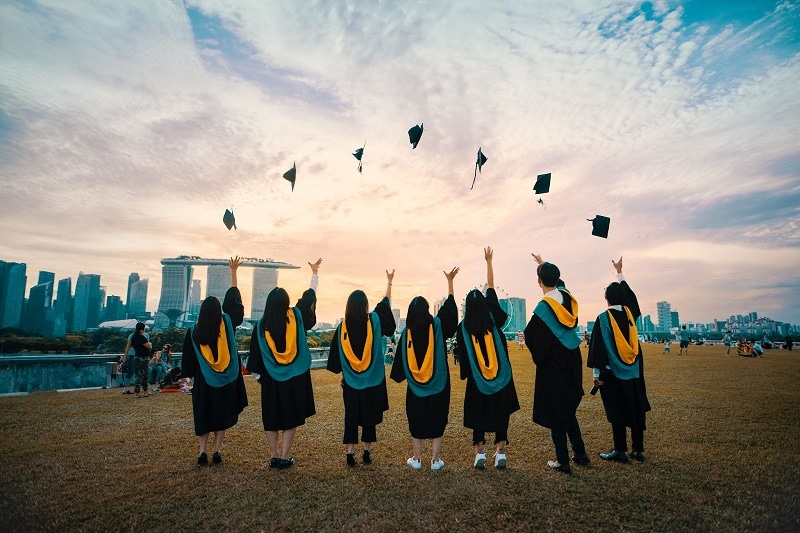 The Singapore Ministry of Manpower requires all English teachers to present their original degree or diploma and transcripts upon applying for your Employment Pass or work permit. If your certificate or transcript is non-English, you will need to submit the original document with an English translation done by an official translation service provider.
Basic Teaching Certifications
Another major requirement to teaching in Singapore is holding a valid teaching certificate from an accredited institution. You can choose from one of the following certificates: Teaching English as a Foreign Language (TEFL), Certificate in Teaching English to Adults (CELTA), or Teaching English as a Second Language (TESOL). Please note these certifications are not enough alone to teach at an international school in Singapore.
The most common certificate is TEFL as it is easier to obtain and the course is overall less intensive and cheaper compared to the Cambridge CELTA course. However, CELTA courses may guarantee you better job opportunities at more prestigious language schools or ESL centers.
It is recommended that you obtain your certification in person rather than online because online courses may not complete the required minimum of 120 teaching hours and you will gain more experience as a new teacher.
The International TEFL and TESOL Training (ITTT) in Singapore offers TEFL and TESOL certification both online and offline. The British Council and CA International College offer CELTA certification courses in Singapore. Due to the higher cost of living in Singapore, many individuals opted to get their TEFL/CELTA certification in Thailand or Vietnam, where course prices can be significantly lower.
MEd and PGCE/PDGE
It is strongly preferred that you have a Masters in Education (MEd), Post Graduate Certificate in Education (PGCE), or Post Graduate Diploma in Education (PGDE) in your native country if you wish to teach English at a college, university, or international school in Singapore.
On average, English teachers holding a Master's Degree can earn 30% more per month compared to Bachelor Degree holders.
The National Institute of Education (NIE) in Singapore provides a PGDE training program for Bachelor's degree-holders. If you would like to go further in the teaching profession, you can always begin your teaching career in Singapore and then pursue a graduate degree.
Regionally Specific Teaching Certification
Schools which teach a country-specific curriculum – like the Singapore American School – will usually require you to have a valid teaching license or teaching certification from that country as well as the above qualifications.
Criminal Background Check
According to the Ministry of Manpower, all employees seeking to apply for a work permit must go through a criminal background check. You can either provide a police clearance certificate from your home country in English or obtain verification proof from a background screening company.
Types of Teaching Jobs in Singapore
As an ESL teacher in Singapore, you can expect to teach about four to five classes per day, or 20 to 25 hours per week, excluding lesson planning and other administrative duties. You will typically work five days per week and have two days off. Unless you work for a government or an international school, you will most likely be required to work on weekends.
Before signing a teaching contract, consider the student-to-teacher ratio in the classroom and the average number of teaching hours you are required to work per week. Compare these Singapore teaching jobs to see which one best fits your qualifications and salary expectations.
Ministry of Education (MOE)
During your job search, you may hear the term MOE teachers used by locals in Singapore. It stands for teachers teaching in local government schools or public schools employed by the Ministry of Education (MOE).
MOE teachers are highly respected by local Singaporeans. These positions include excellent benefits, such as medical insurance and a housing allowance, as well as guaranteed job security, and regular salary increases.
However, it is a highly competitive position, and only a small number of foreign teachers are hired. Teachers in MOE schools sometimes work more than 10 hours a day because of the extra administrative duties placed on them, such as planning weekly extracurricular events.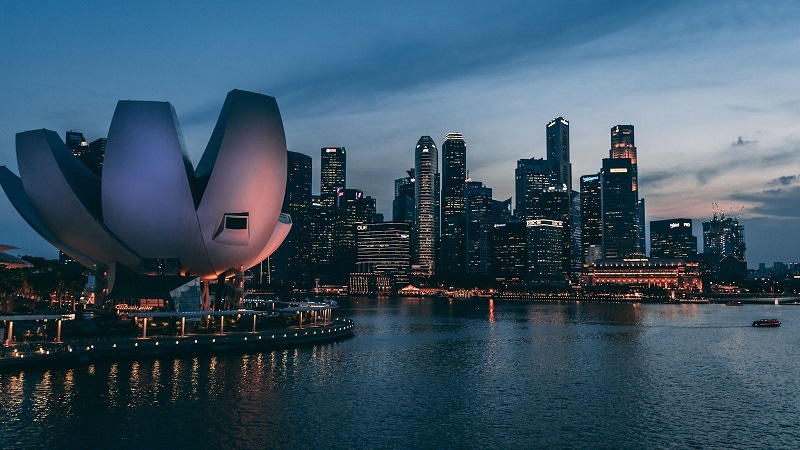 Classroom sizes average around 40 students, which is nearly double the number found in international schools. Because it can be challenging and stressful to handle, it is not suggested that any new or inexperienced instructors apply to be a MOE teacher as their first position.
Foreigners can apply to be MOE teachers directly through the Ministry of Education website. You must have a Bachelor's Degree or higher in Education, PGCE/PGDE, or professional teaching certificate. MOE also offers PGDE training programs for those with undergraduate degrees. 
If you are accepted, you will need to sign a minimum 2-year teaching contract or bond. The starting average salary for Kindergarten and Primary teachers is $3000 SGD/month, and Secondary School (middle school and high school) teachers can earn about $5000 SGD per month.
International Schools
Similar to most other countries, international schools often offer the greatest salaries and benefits for English teachers, including insurance, housing, and travel stipends. However, it is a highly competitive position, and applicants should have a Bachelor's or Master's degree in English or Literature as well as a few years of teaching experience, usually at least 2 years of overseas teaching experience on top of experience in your home country.
If you are looking to apply from outside Singapore, you should plan at least a year in advance. Start your search process in late fall and prepare for interviews around January or February. Most schools will have secured their staff by March for the upcoming school year.
Salary ranges for third-tier and second-tier schools range from $50,000 to $85,000 SGD per year. First-tier schools can pay between over $100,000 SGD each year, depending on the grade level and curriculum difficulty you are teaching. Classroom sizes average around 20 students.
Private Language Schools & Academies
Private language schools provide the most job opportunities for foreigners looking to teach English in Singapore. These places will usually require you to be a native English speaker and have a TEFL certificate. There aren't many benefits or opportunities for career advancement but your schedule is quite flexible and there are not really any responsibilities outside of your lessons.
You will be teaching one of these types of English courses in a small class setting: General English, Academic English, Business English, and IELTS or test prep.
Most of your students will be teens seeking to supplement their English speaking and writing skills outside of school. Another majority group consists of non-native expats who want to improve their business or presentation skills in English.
You can earn anywhere between $3000 SGD starting to upwards of $5000 SGD per month depending on your teaching experience and the quality of your language school.
Private Lessons
Providing private lessons or tutoring to students outside your working hours is a great way to supplement your income. You can charge anywhere from $15 SGD/hour for teaching primary school students to $40 SGD/hour for Business English, IB, or exam prep tutoring.
However, you should check with your school to see if you are permitted to teach privately on the side, as this may interfere with your Employment Pass and income reporting laws. Another option is to look for a part-time employment through a tutoring agency.
Finding a Teaching Job
There are many online resources available to help you find English teaching jobs in Singapore. Singapore currently has around 60 international schools and a number of private language academies. If you're interested in teaching at a certain school, browsing their website and looking at current job postings is usually a smart place to start.
Websites
Glassdoor Singapore or JobStreet have the most job ads for English teachers. With listings ranging from primary school teaching assistants to English professors, it can get a little disorganized and overwhelming. You can use the filter option to search teaching positions that match your teaching interests, salary expectations, and location.
If you are looking to teach at any public or government education institution, you must apply through the MOE website under Teaching Careers.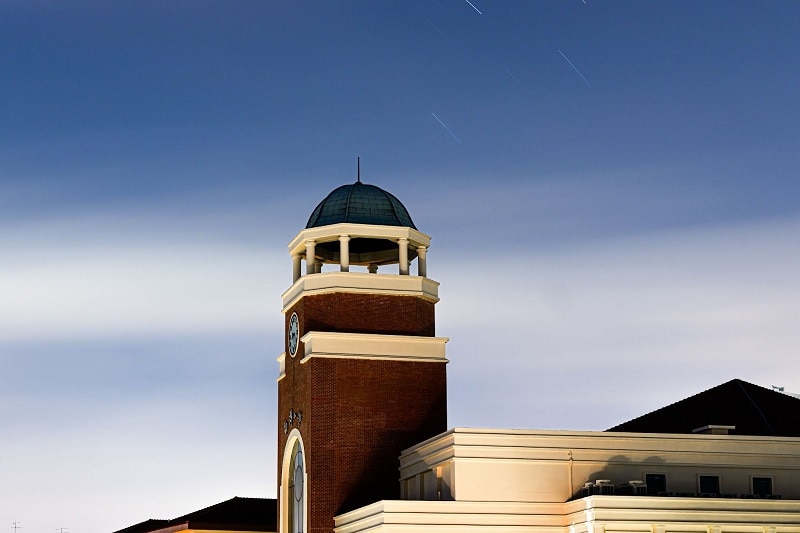 Most international schools will hire through specific websites, such as Search Associates, Schrole, Teacher Horizons, or TES. Search Associates and Schrole are subscription-based but you will have the access to exclusive recruitment events and interview coaching. Teacher Horizons and TES are free to use and also include many job listings for international schools in Singapore.
Besides general job listing sites, many language schools invite you to apply directly via their website or email. Here are some reputable language schools in Singapore:
Social Media
The online English teaching community in Singapore isn't as large as it is in other Asian countries, but you can still find some opportunities, particularly if you're hoping to take on some private lessons.
Check out Facebook groups such as Expats in Singapore, Working in Singapore, and Singapore Jobs.
In Person
If you are already living in Singapore, job fairs are definitely worth checking out.
The annual Singapore Teaching and Leadership Job Fair is the biggest event for applicants interested in teaching in international schools. Since Covid, a few other foreign schools, such as the Australian International School Singapore, have begun to recruit instructors by organizing virtual job fairs. You can learn about these events by reading the local news or conducting a Google search for teaching job fairs during the summer, as these events typically occur in the fall.
Last but not least, it never hurts to swing by a language school in a shopping center or office building to inquire about any available positions. They usually hire year-round and you can start working in a week or two if all goes well.
Preparing for the Interview
After submitting your application online, it may take anywhere from a week to a month to hear whether or not you've been chosen for a job interview.
If you applied for a MOE teaching job, the interview process is divided into at least three stages that might last anywhere from two to five months before you are hired. You will initially meet with HR for a first screening interview, either over the phone or in person. The following step consists of a 30-45 minute interview with a panel of interviewers. You can learn about the kind of interview questions asked by reading Glassdoor reviews. The last stage involves teaching a demo lesson to the interviewers on a topic assigned to you.
International school interviews are similarly divided into three stages and can take up to a month before a job offer is received. There will be two rounds of 15-30 minute face-to-face interviews followed by a demo lesson.
Interviews at language schools are much more relaxed but you will still need to prepare a demo lesson to teach to either one of the interviewers or staff members. Overall process is pretty quick and you can expect to work within a few days of accepting your offer.
You should bring your original diploma, teaching certificate, CV, passport, and sample teaching materials that you may want to show.
Living in Singapore
Singapore's higher-than-average teacher salary is necessary because the country is regarded as one of the most expensive cities to live in. Therefore, it's important your monthly expenses match up with your salary expectations or relocation package. Here are some quick notes about what to expect while living in Singapore.
Learn More:
Visas
Foreigners will typically need an Employment Pass or Work Permit to legally work in Singapore issued by the Ministry of Manpower. Your employer will apply for this on your behalf if you meet the requirements. If you earn over $6000 SGD per month, your spouse and children under 21 can also receive a Dependent Pass.
Tourist visas are not required for most nationalities, especially passports issued in Native English-speaking countries. This permits a stay of 14-30 days, with an option to extend your stay up to 90 days depending on your reason. If you schedule your time wisely, you might be able to use this opportunity to go to a job fair or to an interview.
Learn More:
Where to Stay
Singapore is not very big and the local transportation system can basically get you around anywhere you need to go.
For singles or couples, Tanjong Pagar, Bukit Timah, or Holland Village are lively neighborhoods with a wide price range of apartment choices. In the northernmost part of Singapore, the Woodlands neighborhood is great for families and has a large number of American expats.
As of 2022, the average cost of rent in Singapore is $700 SGD per month for a room in a shared HDB (Housing Development Board) flat. One bedroom apartments start around $1,500 SGD/month.
Learn More: The Complete Guide to Renting an Apartment in Singapore
Cost of Living
Electricity bills, a mobile phone plan, WIFI, transportation, health insurance, groceries, and a gym membership are just some of the other monthly fixed costs to think about in addition to rent. A single person may need an additional $600-$1000 per month to cover these costs if they chose to live a more modest lifestyle.
If you want to live a somewhat fancier lifestyle, such as residing in a one-bedroom condo, taking cabs, dining out, and going out on the town frequently, you may need to set aside up to $5,000 SGD every month in your budget.
Learn More:
Now, on to You
If you want to take a break from teaching in your home country or simply experience life in Singapore without committing too much, teaching English is a great place to start. Just make sure you have the necessary qualifications before applying and budget accordingly as Singapore living is not cheap.