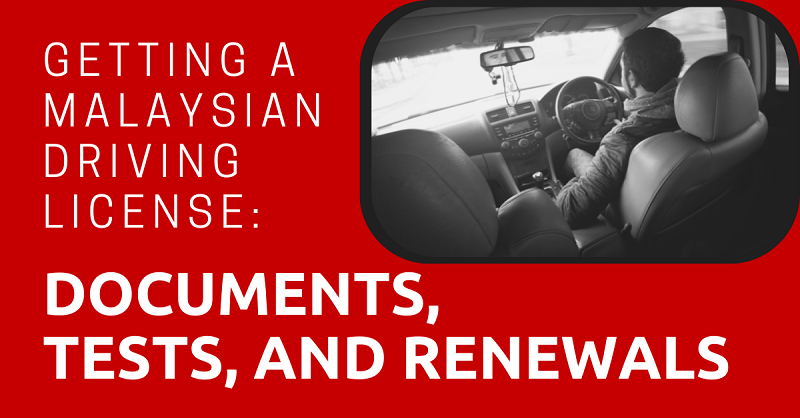 If you want to be able to drive in Malaysia, you must have a Malaysian driver's license. It's a form of ID that will allow you to get around the country freely and conveniently, especially since the best way to travel around the country is if you drive a car or motorbike.
If you get caught driving without a license and insurance coverage, you are considered to be breaking the law. And if you drive without a license and don't follow road rules, you may be putting your life and others' at risk.
So, one of the first things you need to do if you want to rent or buy your own vehicle is to get a driver's license. This guide will provide you with all the information you need to get a valid license as an expat.
Basic Requirements to Apply for a Driving License in Malaysia
The Road Transport Department Malaysia (Jabatan Pengangkutan Jalan or JPJ) is the agency that issues a driving license.
The processes and the requirements to apply for one are pretty straightforward. You just need to make sure that you:
meet the minimum age limit
are physically fit
are able to see well for a minimum distance of 23 meters
are not color blind
are able to obey and understand the rules and laws of road use in Malaysia
If you are differently abled but want to get a driving license, first you have to get a medical check form from any of the JPJ branches.
You would then have to go to any clinic or hospital that performs the required medical examination.
Age Requirements
The age requirements depend on the type or class of driving license that you want to apply for. They are as follows:
| | |
| --- | --- |
| Minimum Age | Class of Driving License |
| 16 years old and above | Class A, B2, V, or C driving license |
| 17 years old and above | Class D or DA driving license |
| 21 years old and above | Class E to Class I driving license |
Driving License Class
The different classes can be a bit confusing, but they basically refer to the different types of vehicles you can drive.
| | |
| --- | --- |
| License Class | Type of Vehicle |
| A | Vehicles for disabled people |
| B | Motorcycles (all displacement) |
| B1 | Motorcycles not exceeding 500cc |
| B2 | Motorcycles not exceeding 250cc |
| C | Motorized tricycles |
| D | Manual transmission cars with unloaded weight not exceeding 3,500 kg |
| DA | Automatic transmission cars with unloaded weight not exceeding 3,500 kg |
| E | Trucks (all classes) |
| E1 | Trucks with unloaded weight not exceeding 7,500 kg |
| E2 | Trucks with unloaded weight not exceeding 5,000 kg |
| F | Tractors / Light motorized machines (wheeled) with unloaded weight not exceeding 5,000 kg |
| G | Tractors / Light motorized machines (chained) with unloaded weight not exceeding 5,000 kg |
| H | Tractors / Heavy motorized machines (wheeled) with unloaded weight exceeding 5,000 kg |
| I | Tractors / Heavy motorized machines (chained) with unloaded weight exceeding 5,000 kg |
The most popular license class that is used by foreigners is the class D or DA. The D license allows you to drive manual and automatic cars while the DA license allows you to drive only automatic cars.
Here's a tip: not only is the DA license more expensive, but it will also not allow you to drive a manual car, which can be a problem in case you need to drive one. I personally chose to get the D license as it costs less and lets me drive both types of cars.
It also pays to know the different types of licenses according to experience level. This is discussed in the section below about the different types of licenses that one can apply for in Malaysia.
Required Document
For expats in applying for a driving license in Malaysia, these are the documents required:
Original valid passport and one copy
Visa with at least 3 months' validity
1 color photo with a white background (25 mm x 32 mm)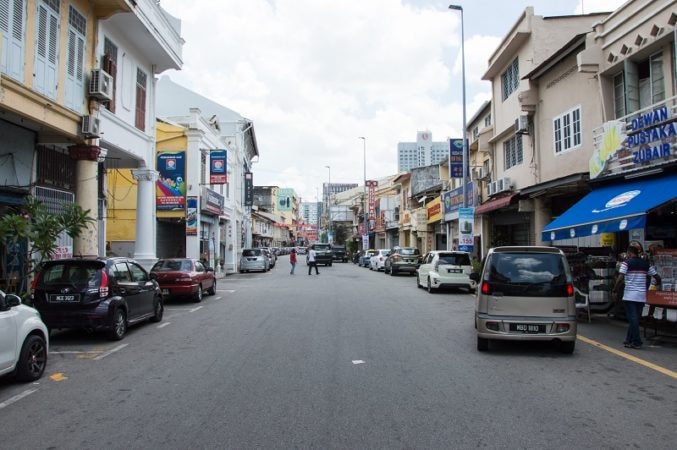 The required documents may change from time to time, so it's best to check with the JPJ office first before you begin to apply for a license.
Types of Malaysian Driving Licenses
There are different types and classes of Malaysian driving licenses according to applicants' eligibility and the type of motor vehicle they intend to drive.
Here are the four different types of driving licenses that you can apply for:
Learner Driving License (LDL)
If you do not have any license, this is the first type of license you must get in Malaysia.
In the first place, this is the license you'll be allowed to get if you're still in the stage of learning how to drive. You get the LDL license after you pass your first driving test at the driving school, which will not only help you apply for the license but also help you collect it.
The LDL allows you to drive under the supervision of an experienced driving instructor. This license can be renewed every 3 or 6 months if you still haven't taken or passed the JPJ exam. The validity period of the LDL is 2 years upon its issuance.
Once the LDL has expired, you will have to go through the entire LDL application process again. Thus, it is advisable to complete the lessons within two years.
Probationary Driving License (PDL)
Drivers who have successfully passed all the exams and completed the learning courses at the driving school can apply for the PDL, also referred to as the 'P' plate driver license, at the JPJ office.
This type of license is valid for two years upon issuance. Those holding the PDL need to put a 'P' sticker on their vehicle to show that they are drivers in the probationary period.
Competent Driving License (CDL)
A CDL is given as the valid, full driving license to drivers who have completed their probationary (PDL) driving period of two years.
Vocational Driving License (VDL)
This is a special license for those who want to drive commercial vehicles such as buses and trucks. This is issued by the JPJ and the Lembaga Pelesenan Kenderaan Perdagangan (LPKP), which is the department in charge of licensing commercial vehicles in Malaysia.
Where to Apply for a Malaysian Driving License
You can apply for a license at any JPJ office nearest to you. They usually open during weekdays from 8am to 4pm. However, before you go, it's best to check their office hours as they differ from one location to another.
Look at the official website to see the lists of the different offices in each state here. There is no need to book an appointment to make your application; all you have to do is walk in to any office.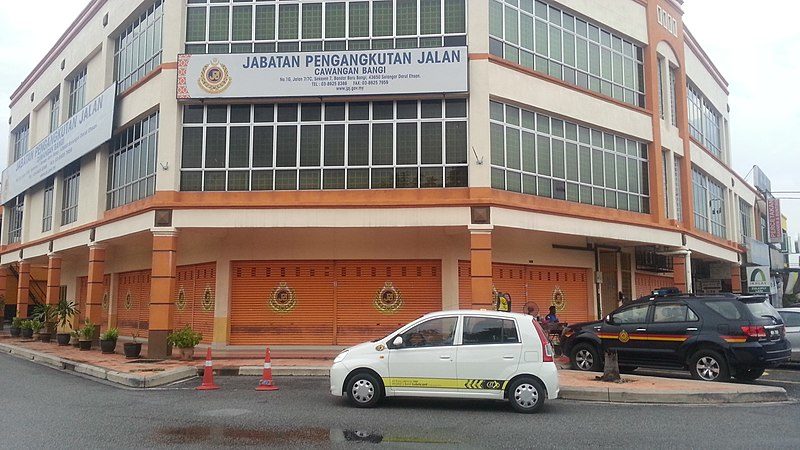 Bear in mind that some offices, especially those in the Klang Valley, are busier than others. So, you will have to wait a bit if there are a lot of people.
Applying for a Driving License in Malaysia
If you are an expat or a student who is going to stay in Malaysia for the long term, it is advisable that you apply for a valid driving license if you do not have an international driving permit (IDP).
A Malaysian license will allow you to travel more comfortably and widely, which you will find beneficial especially since not every place has a reliable public transport system.
Step 1: Register with a Driving School
As mentioned earlier, everyone who wants to learn to drive has to apply to a driving school. This is the only way to go about it if you don't have a license from your own country. All first-time drivers are required to take a course at a local driving school where you will learn the theories and practical skills needed to drive.
First, you need to look for a trustworthy driving school near you.
This is to ensure you receive professional training that can help you overcome your fears on the road. The presence of a qualified driving instructor helps you build confidence and establish good driving habits while you are learning.
After enrolling in the driving school of your choice, you will attend the KPP01 or the Kursus Kurikulum Pendidikan Pemandu.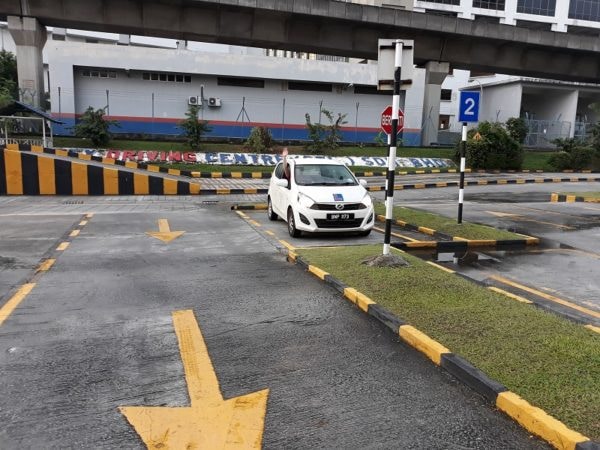 This is a six-hour course that covers a range of topics such as the driving code of conduct and traffic signs. This course is conducted on weekends. You should dress smartly and be respectful during class.
If you are not a Malay speaker, the driving school may allow you to skip this module, and you may study for the theory test at home using other resources. But don't worry as the actual theory test is bilingual (in English and Malay).
If you prefer to study at your own time, you may use this app on Google Play: KPP Test Malaysia 2022. It contains questions that are directly taken from the actual test.
Step 2: Complete the Theory Exam
You will be doing this test at the driving school of your choice. The actual theory exam is computerized and consists of 50 multiple-choice questions. You will need to answer 42 questions correctly to pass this test.
There are eight questions that you need to answer within 15 minutes to determine whether you are color blind. Failing to answer these questions correctly will lead to disqualification, and you will be advised to go to a clinic for examination. So, pay close attention to this section of the test.
Step 3: Get Your LDL and Complete the Practical Lessons
Once you pass the computerized theory exam, you will get your LDL or Learner Driving License within a week's time. While you are driving with the LDL, you will have to display the L-plate on your vehicle.
At this stage, you will have to undergo the KPP02 or Kursus Kurikulum Pendidikan Pemandu – Latihan Litar. You will also be doing a practical circuit with your instructor. The practical driving lessons will include understanding the various parts of your vehicle and how to conduct safety checks before and after driving. These will be tested during your driving exam.
Next, you will undergo the KPP03 or Kursus Kurikulum Pendidikan Pemandu – Latihan di Jalan Raya. This refers to practical driving lessons on actual roads under the supervision of an experienced instructor.
Step 4: Complete and Pass the Road Test
Once you have completed the practical lessons, you only need to complete and pass the road test, which is as easy as it sounds.
Of course, we are not here to downplay the whole process. The driving test is, of course, the most nerve-wracking part of the whole process. My advice is to do things as you were taught; do not attempt tricks with your driving.
Remember to be polite to your examiners and be confident in your skills. Failing the test does not mean you will never be able to drive. You can retake the exam until you successfully pass it. Just stay calm and do your best.
Step 5: Drive with Your PDL for 2 years
Those who have passed the road test or the practical test set by JPJ will get the PDL. After you have driven for 2 years with the PDL or P-plate, you will be eligible to apply for the CDL.
Final Step: Get the Competent Driving License (CDL)
Congratulations on making it this far! To get your Competent Driving License (CDL), visit the nearest JPJ office and bring with you your PDL. As a foreigner, you will have to pay RM 60 (USD 15) for your license to be upgraded to CDL.
You may apply for the CDL from a minimum of one week before the expiry to a maximum of one year after the expiry of your PDL.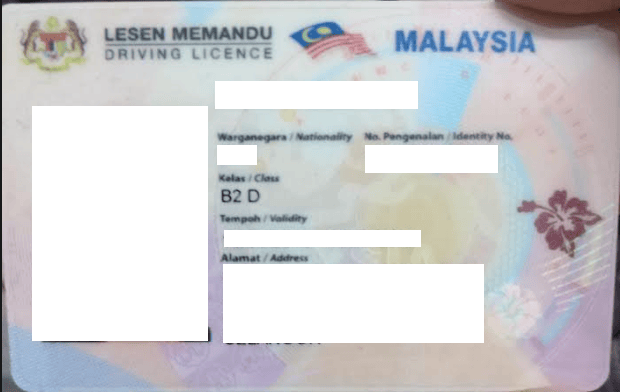 Suppose you miss this window of time, you will have to undergo the application process all over again.
Fees
Generally, the fees differ from location to location. However, the ceiling price of how much a school can charge has already been set by the Jawatankuasa Pelesenan Institut Memandu (JKPIM), a department that falls under the JPJ jurisdiction.
A ceiling price was set to ensure that fees are affordable in every state.
*For ease of conversion, assume that USD 1 = RM 4
Category
License Class
Price of License
Motorbike License
B2
Between RM 350 (USD 87.50) and RM 450 (USD 112.50)
B
Between RM 900 (USD 225) and RM 1,100 (USD 275)
Manual Transmission Car License
D
Between RM 1,150 (USD 287.50) and RM 1,300 (USD 325)
Automatic Transmission Car License
DA
Between RM 1,250 (USD 312.50) and RM 1,500 (USD 375)
Note: The prices are just an estimation. For more information about fees and additional charges, contact the driving school where you want to enroll.
Renewal
Besides ensuring that your motor insurance and road tax are up to date, you also need to remember to renew your driving license. Driving without a license will incur a penalty; in Malaysia, road rules are strictly enforced. Don't wait until your license expires before you renew it. Make sure you check its validity from time to time.
According to the JPJ office, you are allowed to renew your CDL at any time before it expires. This means you can go and renew it as early as one or two months before expiry. It is fairly easy to renew a Malaysian driving license.
However, you do not want to let more than three years pass after the license's expiry date before you renew it. Otherwise, you will have to reapply.
Here's what you need to do to renew your Malaysian driver's license.
Offline Method
There are a few places you can go to renew your driving license. First, you can go to any post office that offers the renewal service. Just bring your valid ID, which in this case is your passport, and your latest driving license.
Secondly, you can renew it at any JPJ office. Lastly, visit any Pusat Transformasi Bandar or Urban Transformation Center (UTC) branch to apply for your license's renewal. Be sure to bring your ID and latest driving license.
Check out these JPJ and UTC lists to know the locations and their respective business hours before you visit.
Online Method
If you find that you do not have the time to do your renewal offline, you can do it yourself online. This is more efficient as you do not have to wait in line or for your number to be called.
I myself use the MYEG platform to renew mine. All you have to do is create an account if you are a first-time user. Then log in and click on the 'Renew my driving license' button. Fill in the required fields and make a payment.
Your new license will be delivered to your doorstep once your application is successful. They charge a small delivery fee based on location. In Klang Valley, it's RM 5.
In the rest of Peninsula Malaysia, the cost is RM 6. For Sabah and Sarawak, it's RM 10. It is really cheap to do it online when you consider parking costs and toll and fuel charges of renewing at a physical office.
Fees
It is best to renew your driving license before its expiry if you want to avoid getting fined by the police.
The following shows the fees to renew your license according to validity. You can choose how long you want the license to be valid, as shown in the table below.
The fees are based on the most common license class used by foreigners who are living in Malaysia, which is the Class D license.
| | |
| --- | --- |
| Validity | Price |
| 1 year | RM 30 (USD 7.50) |
| 3 years | RM 90 (USD 22.50) |
| 5 years | RM 150 (USD 37.50) |
You will be penalized if you get caught driving without a valid (or expired) license. The following are the amount of fine you'll have to pay, according to how many days the license has expired.
| | |
| --- | --- |
| Number of Days of License Expiry | Fine Charges |
| 1 to 15 days | RM 150 (USD 37.50) |
| 16 to 30 days | RM 200 (USD 50) |
| 31 to 60 days | RM 300 (USD 75) |
International Driving License (IDP)
As the name suggests, the IDP allows the license holder to drive outside Malaysia. The IDP can be applied for at any JPJ state or branch office. You can also apply for this at the office of the Automobile Association of Malaysia (AAM).
You can get an IDP in Malaysia with your Malaysian driving license (CDL). These are the requirements to apply for an IDP:
Hold a Competent Driving License that's valid for more than one year
Owner is not blacklisted
The duration of IDP is for one year only
Just go to any JPJ office or the Automobile Association of Malaysia (AAM) office with the following documents:
Original/copy of proof of identification
Competent Driving License
1 passport-sized color photo
The process of getting an international driving license is fairly straightforward, and officers will help you throughout the process. All you have to do is walk in to any JPJ or AAM office; this can be done without an appointment.
Submit your application with a payment of RM 150 (USD 37.50), and you will receive a one-year IDP on the same day of application.
Converting an International Driving License to a Malaysian Driving License
If you already have an international driver's license, you can use it to get a Malaysia driver's license at the main office (not a branch office) of JPJ in Kuala Lumpur.
You are eligible to convert your license if:
You have a Long- or Short-Term Social Visit Pass, you are married to a Malaysian citizen, or you are an MM2H holder
You have a valid driver's license from your home country that is equivalent to a Malaysian CDL or PDL; if your current valid driver's license is not in English, you will need to present a verified translation of your driving license from the embassy of the issuing country or from the issuing authority in charge of the relevant license information
You want to convert only for a class B2 (motorcycle) license or a class D (car) license
These are the documents you need to prepare for the conversion:
Passport (original and copy of page with biometric data)
Valid visa or pass issued by the immigration office (original and copy)
Driving license application form (JPJL1)
Application form Exemption Application Method 5 (Appendix B-2)
Valid foreign driving license (original and copy); a translation of your foreign driving license in English – must be official translation and certified
MM2H only: Confirmation / offer letter from Immigration (original and copy)
Once you have all the necessary requirements, you can proceed to the main JPJ office. After checking that all your documents are in place, the officer will give you an appointment date of when you need to go there again.
Go to the office again at the date given and submit all your documents, which will be sent for processing to the Putrajaya main office. Then, you will have to wait for the authorities to contact you with the date to collect your driving license, which will be valid for one year.
For further renewals, see the 'Renewal' section for the procedure.
Driving Schools
Choosing a good driving school is one of the most important things you \ can do to ensure a good and comfortable learning experience. The best way to choose one is by asking your local friends who have driving licenses.
Different schools charge varying rates, and it's difficult to figure out what each component of the package costs.
There are stories of some schools soliciting extra payment before allowing a student to pass the exam. I know of many people who had to pay the extra before they pass. Be careful to avoid these schools as they may and will fail you if you do not want to pay.
Not only will you waste your time, but you will also waste your money if you have to pay to retake your exam. We cannot stress enough the importance of doing your research before picking a school and asking your local friends for advice. In any case, let's have a look at some of the popular driving schools in Malaysia.
One Stop Driving Centre
The One Stop Driving Centre is a good option for those who are living in the Klang Valley as their schools are located in the heart of Kuala Lumpur and Petaling Jaya. The price for the class D license package is RM 1,700 (USD 425).
You will be thrilled to know that they offer a free pick-up and drop-off service to get to and from the school. Being well aware of the need of female students to feel comfortable when learning driving, this school has lady instructors to cater to students who prefer them.
There is a joining gift for everyone who signs up with this school too.
Metro Driving Academy
Metro Driving Academy is one of the famous schools that many Malaysians recommended. The package cost for a class D license is RM 2,500 (USD 625). You will enjoy benefits such as free transport to the school from selected pick-up points.
For those who think they will not do well in the practical test, here's some good news. You are allowed to retake the JPJ practical test an unlimited number of times. To help you pass, you will get two free practical lessons should you fail the practical tests.
Sekolah Memandu Rakyat
Alternatively, you can opt for Sekolah Memandu Rakyat. The package cost for a class D license is RM 1,600 (USD 400). The benefit of going with this school is its flexible payment option. It's also cheaper than other driving schools.
Now that you have compared the different packages offered by different driving schools, it's time to apply to one of them.
Motorcycle License Procedure and Tests
If you are keen to ride a two-wheeler, the procedure is not much different from getting a regular driving license. Just like Malaysians, you can ride motorcycles up to 250cc with a basic license but are required to receive additional training to be licensed to ride larger bikes. This is known in Malaysia as a B-full license.
For motorcyclists, some of the lessons will include inspection of clothing and safety gear, riding on a narrow surface, riding through a course with cones, emergency braking, rough-surface riding, making a figure 8, and making sharp corner turns.
These will be tested during the practical exam.
Now, on to You
I personally did not face any major obstacles in obtaining and renewing both my car and motorcycle licenses. The personnel I dealt with have been friendly and helpful when I had inquiries.
Have you managed to get your driving license in Malaysia? If so, what was your experience like? Did anyone give you a difficult time in the process? Share with us your insights, so that we can hear your side of the story.