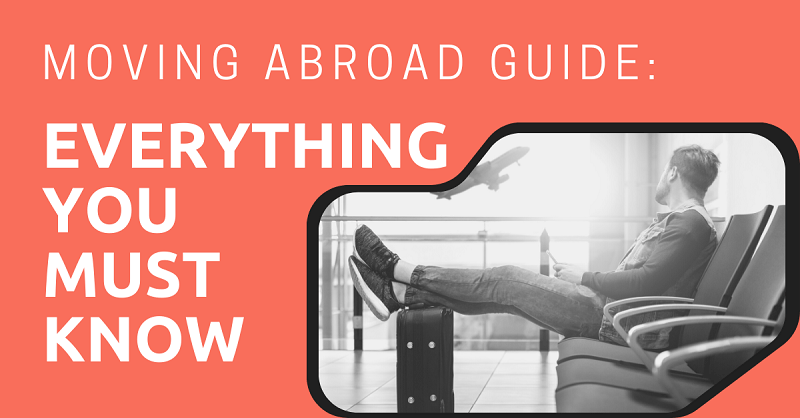 There's a lot that can go wrong when you move abroad. You could easily get overwhelmed by everything you have to deal with in your new life: finding a place to live, paying bills, getting medical care, banking, dealing with legal issues, enrolling your kids in school. Now, imagine having to do all those things in a country with a different language and different ways of doing things.
Don't fret because we can help reduce the stress in the whole process by coming up with this rough guide for moving abroad. We'll cover the most important things to remember when moving abroad, including the documents you need to bring with you, requirements for taking your pets to a new country, and more.
Some of the information will vary from country to country, but we'll establish a good baseline here that should serve you well wherever you move.
This article will take approximately 27 minutes to read. Don't have the time right now? No worries. You can email the ad-free version of the article to yourself and read it later!
Leaving Home
After you've made the decision to move to a new country, you'll then have to figure out where you want to live, which area is best for you, etc. But first, you'll have to sort things out at home.
Before leaving, you'll need to think about how long you'll be staying abroad. This entails making decisions such as whether or not to sell your home, car, and/or other belongings, or keep them and maintain a foothold in your home country.
It may not be easy to decide regarding this, especially considering that there are good arguments to be made for either choice. On one hand, it's nice to have the security of having a property or keeping your job in your home country. On the other hand, starting a new life in a different country could mean leaving everything behind.
Regardless, you're going to have to remember some basic requirements whether you're moving abroad temporarily or permanently.
Essential Documents
Passport
Your passport is, far and away, the most important document you'll need — you won't be able to get on the plane without it.
You can get a new passport abroad, but it can be time-consuming and stressful. Ideally, you'll have at least two or three years' validity remaining on your current passport before setting off. Six months' validity is the recommended minimum to enter most countries.
Visas/Work Permits
Make sure to check your chosen country's entry requirements before you set out.
While many 'strong' passports (such as those of the US or EU countries) will allow you to enter a lot of countries as a tourist for free within a set duration of stay, most countries have much stricter rules for visitors who are entering the country to work or stay long-term for any other reason. We'll discuss this in greater detail later.
Health Insurance
If you choose to get an international health insurance coverage, you'll need to bring with you all relevant documents (e.g., your global healthcare card). We'll also cover this in greater detail later.
Personal Documents
These include academic records (e.g., original copies of your university degree and transcripts), medical records (e.g., a record of immunizations, which your doctor can provide), marriage certificate (if applicable), birth certificates for you and your children, and so on. Keep both digital and hard copies of documents like these in a safe, easy-to-find place because you never know when you might need them.
Personal Belongings
The general rule is that the lighter you pack, the better. Unless you're only moving to a neighboring country, it's likely that the cost of shipping over personal items will be prohibitive. Do you really need to pay to ship your toaster over when you can just buy a new one in your new country for potentially less than the cost of shipping your current model?
Before packing, it's a good idea to take stock of what you really need and what you can live without. A good rule of thumb is to abide by the six-month rule: if you haven't used something in the last six months, you can probably get rid of it.
Here's some advice on how to sort out certain types of properties and belongings.
House
If you own a property in your home country, you'll have to decide if you want to sell it before moving. On the one hand, this will give you a big cash injection which will be handy for getting set up in your new country, especially if there's a big gap between property values in the two countries.
On the other hand, having a permanent address in your home country is always useful, and you could make some passive income renting it out through a letting agent. There are no easy answers — you'll have to decide which is most appropriate for your current situation.
Car
In most cases, we recommend selling your car unless you're moving to a nearby country. Transporting vehicles and the legal requirements for it, such as taxes and insurance, can quickly become very, very expensive. Unless you've got a serious sentimental attachment to your current car, you're almost always better off buying a new car after you've moved.
Clothes
You'll only need a handful of day-to-day outfits, so don't waste space packing 500 shirts. You can simply buy new clothes later. Also, consider the climate in your new country; are you really going to need all those sweaters in the tropics? Obviously, expensive, specialized or sentimental items can be kept. Everything else can be taken to your local charity/goodwill shop.
Electronics
It's likely that you'll want to keep most of your electronic gadgets. After all, they're expensive and tend to be extremely useful. However, old electronic items you no longer use (do you still need that Nokia phone?) can be disposed of.
Furniture
Most furniture should be sold off or given away as they're just too impractical to ship. If you have any sentimental or precious items, consider either putting them in storage or rehousing them with a family member.
Entertainment (Books/Blu-rays, etc.)
Most of these can be sold or given away. It's easy enough to get your collection digitized if you really need to (e.g., on a Kindle). Obviously, if you've got a collection of rare, immaculate books or albums you hold dear, you can consider putting them into storage or biting the bullet and paying for shipping. But it's probably better to just donate your dog-eared copy of Titanic DVD to your local charity shop.
Sentimental Items
Whether it's priceless family heirlooms, your wedding dress, or the guitar you use to let off steam in the evenings, you're probably going to want to splash out on shipping these items. Being ruthless is fine, but don't feel like you have to dispose of everything that gives you pleasure — the few hundred dollars you'll pay will be worth it if it means you get to keep these items.
Pets
One of the toughest decisions you'll have to face when planning to move abroad is whether or not to take your pets. While you're unlikely to want to leave your four-legged friends behind, be aware that the process of moving your pet abroad can be very time-consuming and stressful.
If you do decide to take your pets with you, there are a number of things you'll need to do. First, you need to study regulations on how to move pets to that country. For example, in Thailand, you need to get an import permit yourself.
Then, you'll have to get your pet microchipped.
This can be done at just about any vet clinic for a small fee. The chip, which is painless to install, contains your pet's vaccination and health records, as well as your contact details. It's mandatory for your pet to have one in most countries.
Next, you'll need to check the current rabies status in your new country. In terms of rabies status, countries are divided into three categories: rabies-free, rabies-controlled, and high-risk.
Moving between two countries in the same category is generally straightforward. However, if you're moving to a country in a different category you may need to quarantine your animal upon arriving.
You should also need to know your pet's vaccination status. For example, if you're moving to China, your pet will need to have at least two rabies vaccines, and the latest injection should be at least 30 days before departure but no longer than a year.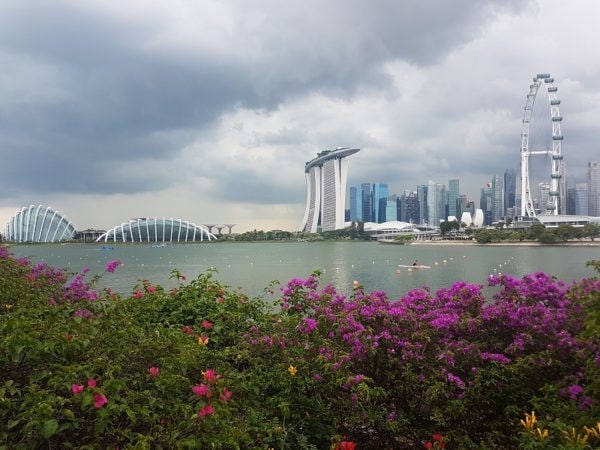 You'll also need to ensure your pet is vaccinated. They'll probably need a rabies and DHLLP shot, as well as any additional vaccines required by the country.
You'll probably also need to have your pet checked for both internal and external parasites. In terms of documents, you'll probably need a health certificate from a vet and/or a pet passport.
Finally, when it comes to moving, you'll need to find a suitable crate for your pet. It's a good idea to train your pet to adapt to the crate long before setting out to reduce stress.
Note that there are pet relocation services operating in many countries that can handle most of this stuff for you for a fee. As the process can be long and time-consuming, it's best to get started long before your scheduled moving date.
Also, don't forget to find a suitable place for your pets. In countries like Singapore, there's a strict requirement on which breeds are allowed on each type of apartment. 
Personal Matter
Depending on the amount of responsibilities and commitments you have back home, you'll have to take care of a lot of things before moving abroad.
Break the News to Friends, Family, and Work
When you're close to moving to Thailand, be sure to talk to friends and family about the idea. You most likely won't see them often if you move away, and that could be concerning on their behalf.
Reassure them that either you will visit them, or that they could visit you, each year.
Also, if you're currently employed, be sure to talk to your manager and give him or her a one-month's notice at the least. You don't want to burn any bridges, because you never know if you'll return home looking for employment one day.
Set Up Mail Forwarding
Sometimes people need to forward mail to their new country, such as loan and bank statements. If you need any mail sent here, you can set up a mail forwarding service at your local post office.
You can also sign up for paperless billing and statements. This way, everything goes to your email and not your old mailbox.
Make a Budget
Making a budget will let you know roughly how much you have to spend each month, which then tells you what kind of lifestyle you could afford to live abroad.
If you don't make a budget, you could spend more than you should each month, and you may run out of money before you find a job.
During your first few months you might spend money on tourist attractions and overpay for things. But after a while, you adjust and know where to go for the best bargains.
Depending on your visa type, you also need to show a certain amount of money in a bank account.
Finances
One of the trickiest things to sort out when moving to a new country are your finances. Depending on your age when you decide to make the move, you could be saddled with all kinds of financial responsibilities that need tending to before making the move, including mortgages, credit cards, car payments, investments, taxes, etc.
In this section, we'll look at how you can sensibly manage your finances both at home and in your new country.
Dealing With Your Home Bank
As a general rule, we recommend not closing your bank account(s) in your home country before leaving. Okay, so you might incur a few annual fees, but it'll make dealing with any lingering home-country financial obligations much easier when you don't have to rely on international bank transfers.
Plus, it's a good idea to keep your credit rating healthy in case you decide to move back home and need to take out a loan on short notice.
Some countries may even expect you to maintain an account back home. For example, in order to buy a condominium in Thailand, it's legally required that you transfer the money to be used for payment from your home country's bank account.
Before leaving, make sure that you inform your bank of your plans to move, as your account may be frozen if they detect any unusual activities.
If you plan on selling your property at home, ensure you register the address of a trusted loved one, such as your parents or siblings, where you can receive statements and other important paperwork.
Opening a New Account
While keeping your home country account is always a sensible idea, you'll almost certainly need to open an account in your new country, particularly if you're going to work there.
Generally speaking, if you've already got a salaried full-time job in your new country, they'll assist you with opening an account with a local bank of their choosing.
However, if you're freelancing, running your own business, or planning to retire, you'll likely have to open an account yourself.
There are a number of different options available to you in these cases:
Open an International Account
Some banks (e.g., HSBC) provide the option of opening an international account. Maintaining accounts within the same bank makes transferring money a doddle, and it's nice to have the option of dealing with customer service agents who speak your language in case something goes wrong.
You might even get to keep some of your home-country privileges. However, do note that these services are only available in a few select countries, and they may not offer the best rates of interest.
Open an Offshore Account
Offshore accounts have a somewhat murky reputation for their use as tax havens. However, if you plan on moving abroad, an offshore account can be a good option for banking. Do note that many offshore accounts have a number of strict requirements, like a minimum income, and higher security requirements which can hinder transfers.
Open a Local Account
Opening a local account is probably the easiest option. Not only is it quicker, cheaper, and easier to handle your money and pay bills, but you can also take advantage of local banking offers (such as credit cards) and build up a solid credit rating in your new country. It goes without saying that you'll need to do your research first.
Check any online aggregators or local blogs (such as this one) before making a decision. Also note that some local accounts may require foreigners to provide certain documents (e.g., a residence permit or work visa) before allowing you to open an account.
We have separate articles on how to open a bank account in different countries. Check them out:
Open a Virtual Account
One of the most convenient ways of handling your money as an expat — particularly if you're going to be transferring a lot of money — is to open a virtual account. Many virtual banks such as Wise Multi Currency Account offer multi-currency accounts which allow you to seamlessly transfer between currencies at the current rate of exchange for a low fixed-fee.
Do note, however, that you may need to be in your home country (or at least have a home country address) before opening an account.
Tax
As the saying goes, the only things inevitable in life are death and taxes — and being an expat abroad is unlikely to exempt you from either. In addition to taxes you'll have to pay in your adopted country (income taxes, council tax, etc.), you may still be required to pay taxes in your home country, too.
The good news, however, is that you probably won't have to. For many countries like the UK, citizens who work abroad full-time and spend the vast majority of the year outside of their home countries (that'll be you!) are exempt from paying taxes on anything they earn in their new country.
That said, any money you make in your home country, such as from investments or properties, will still be taxed as usual, and you'll need to keep up to date on that to avoid a nasty visit from the taxman next time you pop home to visit family.
Also note that some countries, particularly the United States, may still require you to a file an annual tax return even if you're earning all of your money abroad.
For more detailed information on filing tax as an American expat, check out our article, The Complete Guide to Filing US Taxes from Abroad.
We also have a list of similar articles about taxes that you can check out here:
Getting Started Abroad
Once you've sorted out everything in your home country, it's finally time to make the big move. This is where things start to get even more complicated. Not only will you have to deal with all the complexities of starting a new life in a new country, but you'll also likely have to do it all in an unfamiliar language (or via translators) and within an unfamiliar culture.
Thankfully, we're here to help. Here are a few basic things you'll need to know:
Visas
Unless you're moving to a country that shares freedom-of-movement with your own (e.g., within the EU), it's likely that you'll have to apply for a visa to stay long-term in your new country.
Most countries will have several categories of long-stay visa depending on the purpose of your stay -marriage, retirement, work, residency, and so on.
There will also likely be a number of criteria you have to meet to qualify for a visa. So, for a retirement visa, you may have to provide evidence of a certain amount in funds, or for a work visa, you may have to have skills and qualifications that the country needs.
Check the embassy website for your chosen country first to find out what category you fall under and what you'll need to qualify for a visa.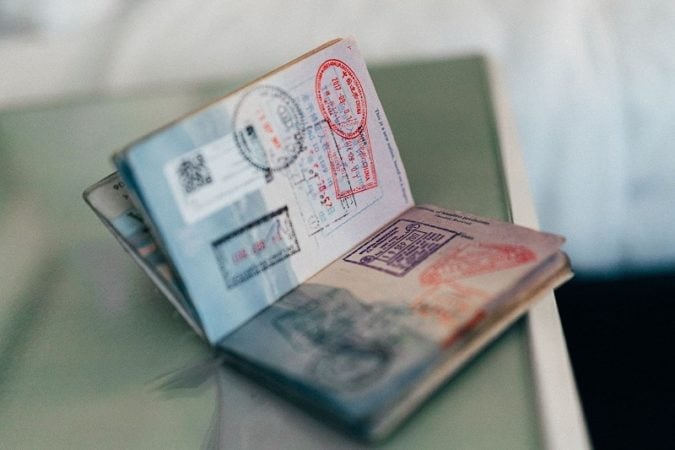 In some countries, it may be possible to stay long-term on a tourist visa, which are usually significantly easier to qualify for than a standard long-stay visa. But bear in mind that most countries take a dim view on this, particularly if you're earning money on a tourist visa.
If you're unsure of what you'll be doing in your new country (e.g., you plan on seeking work when you land), it may be possible to apply for a tourist visa beforehand and switch to a long-stay visa at an immigration office in-country.
This can be a practical way to get your foot in the door of your new country, although it may not be possible in every country. As usual, check carefully beforehand.
Language
If you're moving to a country where you don't speak the majority language, it's always a good idea to at least get the basics down before you go. It's possible to get by with just English as a tourist, but the demands of expat life will likely put you in a lot of situations where speaking only English won't cut it, particularly in emergencies.
Plus you're severely limiting your exposure to the local culture if you only hang around in your expat bubble.
Apps like Duolingo are great for getting the basics down. Most major cities in most countries also have language schools where you can get some all-important practice in with some native-speaking teachers, which you should sign up for as soon as possible.
Culture
Culture is an enormous and all-encompassing topic, and it's essential that you get to know the culture of the country you're moving to as quickly as possible.
Sure, if you're visiting as a tourist, you won't need to know much more than a few ground rules like 'don't wear shorts into the local temple/church/mosque'. But cultural faux pas can have serious repercussions when you live and work in a country, as they could mean losing your job, isolating yourself from your friends and colleagues, and even potentially prison (or worse!).
There are plenty of guides out there for just about every country. Sites like Comisceo Global are good for an overview. Once you've got the basics down, adapting to the local culture is just like adapting to a new school or new work environment; watch carefully how others behave and be polite, receptive, and keen to learn, and you should be fine.
Most people will be forgiving of foreigners who don't know all the tiny intricacies of a new and different culture, so don't stress about it too much!
Finding a Job
When it comes to finding work in your new country, you've got three main options:
Your Company's Local Branch
If you work for a multinational company with offices in your new country, it may be possible to simply transition to their local offices. The positives of doing this are that you'll likely get to keep your current salary plus other benefits, and you'll be working within a familiar environment in your new country. On the downside, this might limit where you can live in your new country and it isn't an option available to everyone.
Working Remotely
Post-COVID, many companies are becoming much more amenable to the idea of remote working for their employees. This will allow you to live anywhere you want (providing there's a solid internet connection) and still get paid your normal salary. However, some companies may take some convincing if you plan to work in a country too far from HQ. Going down the 'digital nomad' route and taking on freelance jobs is another option for remote working, although do note that it may be hard to do this legally in some countries.
Working for a Local Company
If neither of the above are possible, you might be able to find a job working for a local business. However, depending on the country, your options may be limited especially if you're not fluent in the local language.
You'll likely be required to possess some skills or experience that the country is currently lacking, and you may have to settle for less money than you'd make at home.
We also have specific articles to help you find a job on different countries:
Finding a New Home
One thing you'll have to decide before you move to your new country is whether or not you'll find accommodation beforehand or wait until you've landed.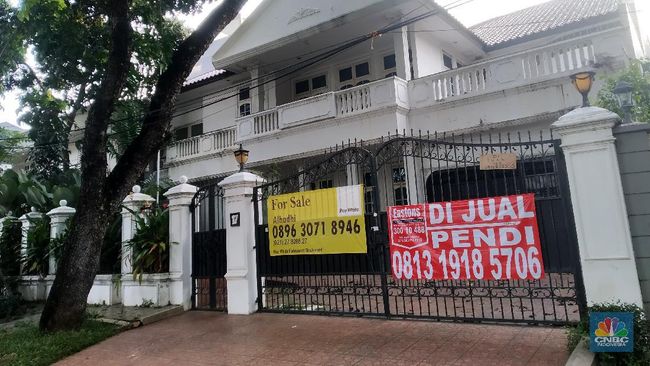 Which option is better will largely depend on the country you're moving. It will be easier to stay in a hotel for a few days while you house-hunt in most countries in Southeast Asia, which is not the case in Western Europe, for example, where accommodations are expensive and comparatively limited.
Here are w few things you'll need to consider:
Buying or Renting
This will partly depend on just how committed you are to your new country, but local laws may also play a big factor. For example, there are a number of laws in Thailand that make it difficult for foreigners to purchase property outright.
Location
Will you need to be near your place of work? How safe is your chosen area? How are the amenities such as schools and hospitals? Choosing the right location can make all the difference when it comes to finding a new home.
Financing
If you're looking to buy, are there any financing options available to expats in your new country? Banks are often reluctant to offer loans to short-stay foreigners, so you may need to offer more money upfront and pay higher premiums.
If you're renting, what are the standard local deposits? While many countries expect two or three moths upfront, in some places such as Japan you may have to pay as much as six months.
Furnishings
Are accommodations in your new country typically fully furnished or not? If they are, are there any home-comfort furnishings which are not typical in your new country? If they're not, how much more will you have to spend to furnish it?
Finding Schools
If you're moving to a country where you or your family do not have a solid grasp of the local language, you're probably going to want to enroll your children into an international school.
International schools are schools that operate independent of the host country's education system, often following either a foreign curriculum (most often US or UK) or a dedicated international curriculum such as the International Baccalaureate.
When it comes to choosing an international school, there are plenty of comparison and review sites online such as the International Schools Database.
You can also check local Facebook groups to get a general feel for which schools are good and which are not. At the very least, a good school should be accredited by a well-regarded body such as the Council of International Schools (CIS) or the Western Association of Schools and Colleges (WASC).
Be warned, however, that international schools rarely come cheap.
Medical Care
As an expat you will almost certainly need to have health insurance before you move to your new country. Most decent employers will provide you with a basic package. However, if you plan on retiring, freelancing, or feel your work's coverage is inadequate, you'll have to take out a policy yourself.
Many big insurance companies such as Cigna or William Russell offer international health insurance policies which will cover you in just about every country in the world (besides the US). Although if you prefer, you can also take out a policy with a local company, which might be a little cheaper.
Now, on to You
Moving abroad can be a nerve-wracking and stressful experience, yet it can also be one of the best things you'll ever do. The best way to make sure things go smoothly is to do the research beforehand — going in blind is the fastest way to guarantee things will go wrong.