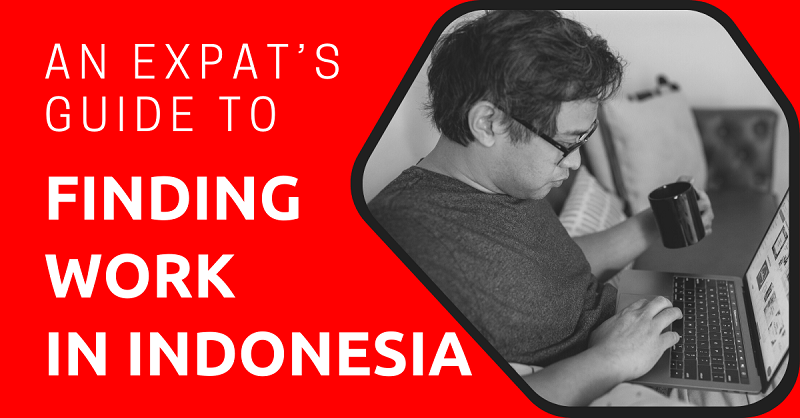 Are you planning to relocate to Indonesia and work there? Perhaps you're already in Indonesia and are looking for a job there.
This article will help you navigate what is typically a complex process. As someone who has searched for a job in Indonesia and went through the different processes in gaining employment in the country, I'd like to share what I've experienced and some things I've learned.
This article will take approximately 17 minutes to read. Don't have the time right now? No worries. You can email the ad-free version of the article to yourself and read it later!
Things to Consider
As the biggest country in South East Asia, Indonesia is rich in natural resources and has a large population. It attracts numerous investments from all over the world. Due to the substantial inflow of investment into the country, the need for overseas workers with specialized skills increases.
This forced the government to initiate protective policies to balance the influx of overseas workers against investments made in Indonesia.
Government Policies
Indonesia has a population of over 273 million, with an estimated 6.49% unemployment rate, a majority of which are for professionals. With so many people unemployed, the Indonesian government enforced strict controls over hiring expats in order to prioritize hiring locals.
Thus, finding expat work can be tough, so you'll need to look in the right places to successfully land a job.
According to government regulations, overseas hiring is limited to several institutions or agencies. Job openings for expats are allowed only for the following institutions:
Government agencies, representatives of foreign countries, and international agencies
Foreign trade representative offices, representative offices of foreign companies, and foreign news agencies conducting activities in Indonesia
Foreign private companies operating in Indonesia
A legal entity in the form of a limited liability company or foundation established under Indonesian Laws
A registered foreign entity with a competent authority
Social, religious, educational, and cultural institutions
Impresario service business
Businesses entities that are legally allowed to employ foreign workers
A company that's allowed to hire an expat for a certain position needs to apply to the Indonesian manpower and immigration office. The company has to secure all necessary permits to complete the employment process. The company also has to justify why this position needs to be filled by an expat.
Moreover, the hiring company must show that the expat has the proper educational background and relevant skills to fill the role. The company representative will then have to answer the questions during the interview with the department of manpower. Lastly, there must be an open slot in the company's submitted/approved manpower plan.
Requirements for Getting a Job in Indonesia
Getting hired for a job overseas requires submitting several documents. These documents are necessary to obtain a legal work and stay permit.
Credentials
The credentials required of job applicants depend on the company's industry. In any case, you'll have to submit a copy of your college diploma. If you're hired by a company in the restaurant and food service industry, you'll need to have a Food Technology or Food Science degree. Other supporting documents like training certificates or employment certificates within similar industries will help.
The hiring company or institution will guide the candidate on what documents should be submitted. These documents will be used to process all legal work permits and visas. Your credentials will have to meet the requirements, match the job description, and be credible enough to be approved by the relevant government body.
Work Experience
The company must establish that a candidate's work experience matches the requirements stated in the job description to ensure that they're eligible for the job.
In other words, you will have to establish expertise in the field where you plan to get a job. There may be policies for certain jobs that require candidates to have a minimum of five years' experience and a college degree. This is why fresh graduates who have little-to-no work experience may experience difficulty entering the Indonesian job market.
Language Skills
Learning Bahasa Indonesia is essential if you're planning to work in Indonesia. Some expat positions may require you to constantly communicate with locals, which is why it's necessary for you to learn how to speak their language.
There are certain jobs — including those that require specialized skills — for which expats will need to work closely with locals. Additionally, an expat may need to deal with locals outside work premises as part of their jobs. Note that most Indonesians do not speak other languages apart from their own.
Luckily, some employers offer tutorials on how to speak Bahasa Indonesia for their expat employees. In case your employer doesn't offer language lessons, you can enroll in any language learning schools yourself. And if it's your first time in Indonesia, you'd be well-served getting an English-to-Bahasa Indonesia dictionary.
Health Certificates
In many industries, expats will have to undergo a medical test before they get hired. The hiring company normally arranges and pays for the expenses as part of their recruitment process.
Due to the COVID-19 pandemic, expat candidates entering Indonesian territory will be required to follow health ministry policies. Even expats who have already obtained a work visa will still be required to show certificates of complete vaccination.
In addition, expats will be required to have both travel insurance and vaccination certificates in case they decide to enter Indonesia as a tourist while waiting for their permits to be issued. Expat candidates are not yet allowed to work during this period. They'll also be asked to download the local tracing application upon entering the country.
Note that the government health policy changes over time depending on the COVID-19 pandemic status at any given time.
Work Permits and Visa
A foreigner entering Indonesia must have a legal passport with at least 18 months validity before it expires. The hiring company will initiate the process for acquiring the visa and work permit before the expat enters the country. Companies that fail to obtain legal documents when hiring an overseas worker will face legal issues.
It's best to discuss matters regarding visa and work permit with the hiring company to avoid troubles. As an expat, you should be aware that violation of immigration and manpower laws can result in penalties of up to 500,000,000 rupiahs, deportation, or imprisonment of up to five years.
Other Requirements
Indonesia is one of the most culturally diverse countries in the world, with over 800 spoken languages. Traveling to the country as a tourist would be beneficial to anyone who plans to live there as an expat, although it's not required. Once you become an expat in Indonesia, you'll be working with many locals, and understanding their culture will help you adapt easily.
Note that Indonesia has a very large Muslim population, so it would be wise to learn and understand their traditions. That said, it is common to find non-Muslims in many workplaces in Indonesia. Needless to say, you should be respectful of others and have proper manners when dealing with coworkers.
There are, however, certain rules and traditions that you may not be familiar with, and it is best to learn these beforehand. One of these traditions is that you should not to use your left hand when receiving or handing over something to a local. For Muslims, using one's left hand is prohibited and is deemed disrespectful. So if you're a lefty, you'll just have to remember to use your right hand more often.
When you're an expat in Indonesia, you'll simply have to learn to adapt — whether it's trying local food or wearing traditional garments. Being adaptable to different cultures and traditions within your local community will make your stay smooth and enjoyable.
Ways to Find Work in Indonesia
There are several ways to find a job in Indonesia, similar to finding work in your own country. Here are the tried-and-tested and most common methods that normally yield positive results:
Through Job Portals
One of the easiest ways is to look for jobs is to visit job search websites. What's great about applying through job portals is that you can send applications to several companies in just a few clicks. I recommend carefully reading the job description, then customizing and editing your CV based on their requirements. Make sure your work experience and credentials are relevant to the job postings' requirements. This will help increase your chances of succeeding in being called for an interview.
A great example of an online job portal is Jobstreet.com. This job portal is quite famous in Southeast Asia, and is widely used in Indonesia, Singapore, Malaysia, and the Philippines. To start searching, you will need to create an account and fill out your profile. Then, upload your updated CV and start applying. The site has a dashboard to help you track the status of your application(s).
Note that most job postings on Jobstreet Indonesia do not indicate whether foreigners may apply. But there's no harm in applying for open positions, unless a posting specifically says that the job is for locals only.
Networking
I personally prefer networking as a method to get a job in Indonesia. For starters, you can join professional groups online and watch out for posts about jobs in Indonesia for expats.
One of the best places to connect with professionals online is LinkedIn, so you need to create a LinkedIn account. Make sure to highlight your professional background, relevant skills, achievements, and other pertinent information. Connect with professionals within your field of work and/or headhunters.
You can also attend seminars that are relevant to your profession, hand out business cards, and express an interest to keep in touch with potential employers and/or well-connected professionals. You need to courteously follow up for leads by sending emails or texts.
Contact an Executive Search Firm or Job Board with an Overseas Base
I've used the services of search firms (aka executive search firms) in Indonesia, although I don't know of any search firm that specifically caters to expats. However, I was fortunate while dealing with Michael Page, as they were able to find job openings for expats for me.
I suggest connecting with search firms not just within Indonesia but in other countries in Asia, and keep sending out your résumé. A search firm based in, say, Hong Kong or Singapore might have leads for expat jobs in Indonesia. Other options you should explore include JobsDB or Indeed.
Reach Out To Former Colleagues and Inquire About Leads
You could also simply reach out to an former colleague or anyone you know who could let you know of any opening positions in your targeted industry. It may be a long shot, but you could try asking if, by any chance, there are open positions for expats specifically in Indonesia. You never know — they may have some information about, for instance, an investor planning to set up operations in Indonesia. That's your chance to express your interest in moving to Indonesia and building a career there.
Ask for an International Transfer From Your Office
Another option is to ask your current employer for an international transfer, specifically to Indonesia. It helps to inform your employer your reasons for wanting to transfer, your ideal timelines, and how this could be beneficial for the company. You could also ask if there are new job opportunities for an overseas office transfer. This tends to be a lot more common in multinational companies.
I have a friend who asked their local office to be transferred to their Jakarta offices, and she was even given the same position. She has since fully adapted to life in Indonesia.
Look for Local Jobs
In some cases, a company can hire a foreign worker whose contract with another company has just ended. Companies will generally take into consideration your local working experience because for them, you're already familiar with Indonesian working culture, the business climate, and/or can work your way around around potential language barriers. They value a job candidate's ability to adapt to a multicultural working environment, but particularly one who's already had some experience working in an Indonesian office.
And if you've stayed in your previous company for a considerable amount of time (that is, not just a few months), you might stand out even more. All of these factors can boost your chances to get hired.
This is why it's important to highlight the breadth of your experience working in an Indonesian office and declare your Bahasa Indonesia language proficiency.
Teaching Jobs
Some schools in Indonesia are upscaling by hiring foreigners as teachers. In fact, there has been an increase in the number of foreigners being hired to teach subjects like English and Mandarin. This is one of the reasons many Indonesian families are enrolling their children in schools that they believe offer premium services.
There's a website that has international school listings that you can use to look for teaching jobs. Just click on a link to a school and inquire directly about job openings.
Work permits and visas are usually provided for citizens coming from countries like UK, USA, Canada, Australia, and New Zealand, which often have the most applicants seeking for a job as an English teacher. Eligible candidates need to have certifications like TESL, TEFL, TESOL, CELTA, or DELTA from an accredited institution. This is a major requirement for English language teachers.
For teachers of Mandarin and other Asian language subjects, applicants of Asian descent tend to get hired more often. It's important to have relevant teaching experience, so you can get considered; otherwise, it's easy for an institution to just hire locals.
It is common for most schools to set an age limit for applicants, as it is difficult for them to get a visa for people over the age of 50. Indonesian law UU no.14, Tahun 2005 mandates age limits for foreign teachers in the formal education sector. It states that a "Guru" can work until they're 60 years old, a "Dosen" until age 65, and a "Profesor" until age 70. A Guru has a bachelor's degree with a teaching certificate, a Dosen has a master's degree, and a Profesor has a PhD.
Compensation and Benefits
Let's take a quick look at the compensation and benefits you can get as an expat in Indonesia.
Salary
There is no minimum salary requirement for expat hires. The salary you'll be offered depends on the industry's standards and the job position. You can receive your salary in US dollars or other foreign currency. How much you will get paid may also depend on the duration of the work contract.
You will need to have a bank account if your job contract lasts at least one year. There are many jobs for which you will get paid in Indonesian rupiah, and an income tax will be deducted from your pay.
Health Insurance
Social health Insurance is included in your compensation as a foreign employee, similar to what's offered to local employees. Some companies may provide additional private health insurance programs, especially for those whose job position is at an executive or mid-management level.
Relocation Programs
If you've already been given an offer of employment, you may choose to discuss relocation benefits. Note that not all companies will offer these. Some companies may offer housing benefits/allowance such as if the hiring company is a manufacturing facility located far away from the main cities. Some may have housing complexes where you will be living with other company staff. This type of housing benefit is typically offered to make it easy to transport employees from their home to the workplace and vice versa.
Make sure to sort out any issues you may have regarding these benefits with your employer before signing any contract. You may need assistance if you're new to the country. From what I've experienced, companies are usually familiar with such issues and have contingency plans for new hires who are relocating. They know that productivity will be affected if there is no relocation plan or assistance in place.
Working Hours
Labor laws in Indonesia state that an employee must work a total of 40 hours per week. If you work beyond 40 hours, the company will have to pay you for overtime work.
Some companies offer a five-day workweek while some offer a six-day workweek with Saturday as half working day.
Work culture varies from one company to another. For instance, there are companies that require very long working hours. Such companies may include the compensation for extra hours in your basic salary.
Income Tax
If a foreigner has been working in Indonesia for 12 months, the salary you earn will be subjected to government tax. By Indonesian law, tax will be deducted from workers' salary. Consult with your HR or accounting department regarding how deductions are made. The amount of deductions will depend on your fixed salary.
The employer is responsible for providing a foreign worker with a tax identification number and entering it into government-approved accounts.
Transferring Expats' Knowledge to Their Indonesian Counterparts
Most foreign companies in Indonesia expect expat mentors to share knowledge relevant to their position with an Indonesian counterpart. The company must implement a knowledge-transfer plan to ensure that the Indonesian counterpart is prepared to take over in case the expat's employment ends or is terminated. This means that the expat with the specialized skills has to mentor their colleague who is a local citizen.
These steps are often stated in the Manpower Plan that the company agrees upon with the Indonesian Manpower Ministry. The Indonesian government's goal is to ensure there is transfer of knowledge to Indonesian citizens, taking into account the millions of Indonesians looking for work and the high costs of employing expatriates.
Now, on to You
As a foreigner working in Indonesia, you might face some challenges as you deal with people from different cultural backgrounds, encounter language barriers, and be required to meet complex legal processes. Other than your job skills, you are also expected to be mindful of your community and be adaptable.
It also pays to have Bahasa Indonesia language proficiency, which could be helpful to getting to know your team's working culture and ethics. Maintain a great professional relationship with colleagues as this will benefit you in the long run.
Lastly, always do some research and get relevant information before signing a job contract.
I myself had minimal Bahasa Indonesia language skills and was only slightly familiar with the culture when I arrived in the country in November 2000. But with perseverance and hard work, I was able to adapt. I now consider Indonesia my second home.
I hope this guide helps you in your search. Good luck!