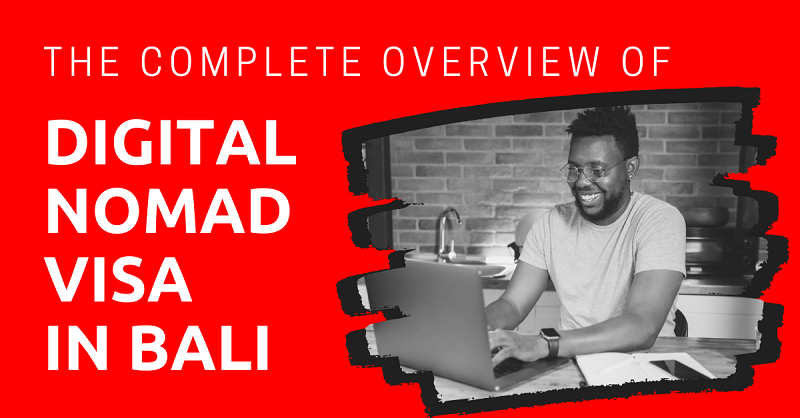 Are you thinking about being a digital nomad in Bali?
Although Bali is one of the world's most popular destinations for digital nomads, getting a visa has always been an issue.
There isn't a suitable visa option that allows a digital nomad to stay here easily for more than a year without having to do a visa run.  
Fortunately, the Indonesian government has a plan to release a new digital nomad visa in Bali that will allow nomads to easily stay in Bali for five years without even having to pay taxes.
This article will take approximately 6 minutes to read. Don't have the time right now? No worries. You can email the ad-free version of the article to yourself and read it later!
Why Bali?
There are so many reasons for digital nomads to live in Bali. One of them is because Bali wants more digital nomads to come and live there. Right now they are working on introducing a new digital nomad visa, especially for digital nomads who want to live here.
Fast Internet
In addition, Bali is working to improve the infrastructure and internet access, though some places still have spotty internet access. The city of Ubud is the best place in Bali for consistent, fast internet for digital nomads.
Favored Destination
Ubud boasts a growing digital nomad community as well as coworking spaces. It has overtaken Chiang Mai as a favorite destination for digital nomads.
Convenience
You don't need a car in Ubud because the city center is within walking distance. You can also rent a scooter to help you get around.
Low Costs
Even though the city center is beautiful, many people prefer to live in the rural areas for cheaper rent and better views. Bali has a relatively low cost of living for the beautiful locale. Like everywhere, prices can vary depending on the lifestyle you're interested in maintaining.
For example, you could rent a private guesthouse or a full villa. A single person living in Bali could spend anywhere from US$720 to US$2,590 on monthly expenses.
Recreation
There are stunning views and gorgeous beaches. There is local art, music, architecture, and culture. Even digital nomads take time off of work, so it just makes sense to do it in a place where there is a lot to do.
Current Visas for Digital Nomads in Bali
The current visa rules in Bali don't make staying on the island easy for a longer period for digital nomads.
Although Bali is a popular destination for digital nomads, this type of occupation doesn't fall into one specific visa category. There are some options, but none of them facilitate a long-term stay.
Visa Exemption
One option is to come to Bali under the visa exemption option, which will allow you to stay here for 30 days at maximum. Then, you need to leave Indonesia and fly back again.
Visa on Arrival
Another option is to get a visa on arrival (VoA), giving you a 30-day stay in Bali for US$40. You can apply it right at the airport. After that, you can extend it for another 30 days in an Immigration office in Bali.
Tourist Visa
The most popular option for digital nomads in Bali right now is a tourist visa. It gives you 60 days in Bali, which can be extended twice in the country, where each extension gives you 60 days. This means, that with a tourist visa, you can stay in Bali for up to 180 days.
Business Visa
Then, there's also the Business visa, for people who qualify, which can be extended for up to 180 days. To get a Business visa, you need a sponsored letter from a company or organization in Indonesia, which may not be feasible for digital nomads.
As you can see, all visa options at the moment only last 180 days at maximum. Once the visa is expired, you need to fly out, fly back in again, get another visa, rinse, and repeat.
This involves a lot of hassle and costs. In addition, it's not entirely legal since you are literately not allowed to work in Indonesia without a work permit, and none of these visas can get you one.
Then, if you fly in and out of Indonesia too many times, you might be banned from entering the country since it's considered abusing the visa system.
This is less than ideal for someone who wants to spend longer periods as a digital nomad in Bali.
Why Indonesia Announced a New Digital Nomad Visa?
This new visa comes as part of a push to try and get different types of tourists to come to Bali, and digital nomads are one of them.
Indonesia's tourism minister said that they're trying to move away from the typical tourists toward the sort of visitors who are seeking "serenity, spirituality, and sustainability". That way they're getting a better quality of tourists which results in a better impact on the local economy.
The minister said now that Bali opens itself up for tourism again, they hope to see 3.6 million people returning to visit or live in the country by 2023. The country is hoping that, with greater emphasis on eco-tourism and spiritual retreats, the digital nomad visa will bring higher spenders who stay longer on the island.
What Do We Know About the Digital Nomads Visa So Far?
In the end of 2022, the Indonesian government released a new type of visa called "Second home visa" that was suppose to be a visa for digital nomad. In fact, it's not suitable for digital nomads at all.
While the visa is valid for 5 years, the proof of income requirement is huge. You need to have 2 billions IDR (US$ 133,000) in your bank account all the time while holding this visa.
So, the visa is for an investor rather than a digital nomad.
We are not sure whether the Indonesian government will release another type of visa that's for digital nomads in the future or not. If they do, we will update this article accordingly.