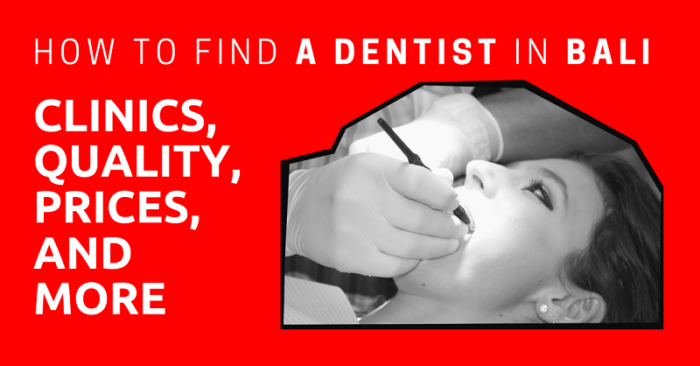 Healthcare facilities in Bali are considered one of the best in Indonesia. There are various hospitals and dental clinics that cater to locals and expats alike.
In fact, Bali attracts a lot of dental tourists, particularly Australians.
That's because Bali is a cost-effective alternative destination for many people whose home countries' medical and dental services are quite expensive. The prices of dental procedures in Bali can be as low as one-fifth of the total cost of the same treatments offered in, say, Australia or the US.
In addition to being inexpensive, dental treatments in Bali are safe and dental care providers are reliable; just make sure you do some research about selecting the right clinic. That's exactly what this article can help you with.
This guide discusses everything you need to know about getting a dental treatment in Bali, including the types of treatments and their prices, reliable clinics recommended by expats, insurance matters, do's and don'ts, and so on.
This article will take approximately 25 minutes to read. Don't have the time right now? No worries. You can email the ad-free version of the article to yourself and read it later!
Why Bali?
Medical tourism in Bali has picked up over many, but particularly its subset, dental tourism.
Cheaper costs are its main draw. To illustrate, it can cost you $US 4,200 to get a dental implant in Australia and US$ 4,500 in the United States.
But in Bali, you can get it for US$ 1,250/ only. And this includes the cost of a standard crown.
Note that some dental procedures require repeated visits to the dentist. Some may require you to wait for a week or two before you undertake the treatment. The cost-effective vacation options in Bali are perfect for this in-between waiting period.
Your rest and recovery expenses while waiting for your follow-up checkup need not be expensive, which is another perk for those who move here.
You can schedule getting your treatment around the same time as your vacation. It's quite common, in fact, for many Australians to schedule their vacations in Bali concurrently with their dental treatments. Aussie tourists are frequent visitors in Bali due to its proximity to their country, and smartly take a side trip to the dental clinic while they're there.
Types of Dentist
Dentists in Indonesia can be broadly categorized into the following:
General Dentists (Kedokteran Gigi Umum)
General dentists conduct procedures such as:
Filling in the cavities
Cleaning/removing tartar
Extracting teeth
Making dentures
Straightening teeth with braces
The treatments they provide are usually preventive, curative, rehabilitative, and promotive in nature. They typically use x-rays, and general practice dentists' title is 'Drg' (Doktor Gigi).
In Indonesia, undergraduate education in dentistry takes four years to complete. Thereafter, the trainee doctor takes a two-year apprenticeship before obtaining the title 'Dentist' (Doktor Gigi or Drg).
Cases more complicated than what's listed above are usually handled by specialist dentists.
Specialist Dentists (Dokter Gigi Specialis)
General practitioners may take additional two years of studying to pursue a postgraduate degree to specialize in particular branches of dentistry.
Pediatric dentist (Title: Specialis Kedokteran Gigi Anak or Sp KGA) – Pedodontists or pediatric dentists specialize in providing dental treatment and care for children.
Orthodontist (Title: Sp. Ort) – Specialize in correcting or aligning teeth (e.g., protruding/misaligned teeth)
Endodontist (Title: Konservasi Gigi or Sp. KG) – Their specialty involves the conservation and aesthetics of teeth, restoration, dental cosmetics, aesthetics-related surgery, and so on.
Periodontist (Title: Sp. Perio) – They deal with diseases and disorders of the gum and other supporting tissues, and offer preventive and restorative services for tooth-supporting tissues.
Oral and Maxillofacial Surgeon (Sp. BM) – They handle all types of reconstructive oral surgeries, including facial deformation and misaligned jaws due to trauma, cleft lip and palate surgeries, and so on.
Prosthodontist (Sp. Pros) – They are experts in creating dentures and dental joints.
Oral Medicine dentist (Title: Sp. PM) – They deal with oral diseases such as infections, allergies, autoimmune diseases, growths and ulcers, and so on.
Dental radiologist (Title: Sp. RKG) – They are experts in dental radiology, primarily the assessment of the severity of a particular dental ailment and other similar ailments.
Dentists can pursue these specializations after obtaining their 'Drg' title, and it may take them an additional 2–6 years to complete, depending on the nature of specialization.
Indonesian Medical Council
Indonesian Medical Council or Konsil Kedokteran Indonesia (KKI) is the apex body of the medical community in Indonesia. Dentists' practices are within the purview of the KKI's guidelines and directives.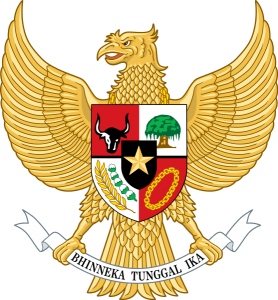 All medical practitioners, including dentists, have to be registered with the KKI which is responsible for ratifying professional education standards for doctors and dentists and laying down industry practices.
You can check whether a doctor in Indonesia is registered with the KKI here. Since you will be consulting a doctor you previously didn't know because you're as a foreigner, check their registration number to verify their credentials and see whether they're credible.
Types of Dental Treatment
The following dental treatments are available in most Bali dental clinics:
Hygiene, Maintenance, and General Treatments
These include treatments like scaling, cleaning and plaque removal, filling/composite restoration, tooth extraction, gingivectomy, etc. These procedures are usually done as a single sitting procedure unless the condition of the teeth has deteriorated severely.
Dental Restorations
Dental restorations are the procedures undertaken to fix dental function after teeth have been impaired due to damage, deterioration, or any other issues.
Most mainstream clinics frequented by expats offer materials and techniques/procedures similar to those offered in developed countries. Here are some common restoration treatments:
Root Canals
A root canal procedure may be performed to prevent further dental decay and spread of infection to other teeth. Those who would like to save a tooth prefer this option. Alternatively, one can get a dental extraction and thereafter choose to get a dental implant.
A root canal procedure involves opening the natural crown by making an incision in the natural dental enamel, removing the pulp/decayed nerve tissue and the decayed matte, sealing the incision with a basic filling, then affixing a permanent dental crown after a few days.
A root canal requires at least three visits or more based on the further course of action.
Crowns
A crown or a dental cap is also a multiple-sitting procedure in which the dentist will initially assess the crown requirements in the first sitting, take an impression, place a temporary crown, and wait until the crown is ready. During the second visit, the crown will be fitted and cemented.
Different types of crowns offered In Bali dental clinics include porcelain, ceramic, metal, porcelain fused to metal (PFM), Zirconia, Emax, and resin.
In some cases, special structures may be recommended instead of a crown:
When a dental extraction leads to the absence of a bite, the dentist may use adjoining teeth to create a bridge-like structure and place a false tooth in between. For example, if a single molar was extracted, the false tooth in its place will be anchored by placing the dental caps on both the adjoining good teeth. This is called a dental bridge.
This procedure does not require dental surgery and some may prefer it over getting dental implants, which require extracting multiple teeth.
Upong dental examination, a dentist may recommend dental inlays/overlays (partial crowns) to repair teeth damaged partially by decay or due to defective filling, or other reasons.
These are treatments similar to veneers, which are typically used for cosmetic dental procedures. The difference is that inlays are usually performed within the chewing area, the overlays or onlays usually go beyond the chewing area and are used when a tooth may be partially damaged but may not require a full crown, while veneers are used only on the visible area to enhance aesthetics.
These treatments are non-intrusive and may be recommended for minor tooth damages.
Dental Implants
These are permanently attached crowns or locked-in loose dentures. They can be a part of dental restoration or used during a cosmetic dentistry procedure. They can also be used as an alternative to removable dentures.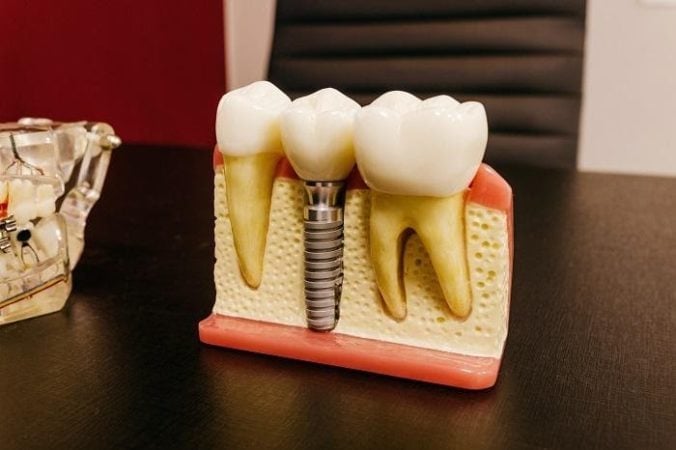 The procedure involves extracting a tooth, implanting a screw/support in the place. This screw is usually made of durable titanium and it is where a crown is placed. At times, it may require creating an abutment or supporting structure such as a dental bridge. One can select the type of crown (refer to the crowns section) that suits one's budget.
Depending on your dental physiology, the clinic will suggest mini dental implants, bone grafting, sinus lift, All-on-4 technique, and so on. The technologies for implants include Implant Direct (USA), Nobel Biocare (Sweden(, 'Hi – Tec' (USA), and Straumann (Switzerland).
A dental implant procedure typically requires multiple visits.The first one involves an initial assessment whereby the oral surgeon suggests implant technology options. If you can decide immediately, the implant can be placed on the same visit where a temporary crown is placed, with the permanent crown placed on the next visit. Thereafter, you will need to schedule follow–up visits after 2-3 months based on your dentist's advice.
Dentures
Dentures are removable replacements for missing teeth. They can be full or partial and will require several sittings, as well as a few follow-up visits.
Treatments like crown, inlays and overlays, dental implants or dentures can be part of both dental restoration and cosmetic dentistry.
Cosmetic Dentistry
Cosmetic dentistry, also referred to as discretionary dental work, improves the appearance of teeth, smile, and other dental features. Treatments typically classified as cosmetic dentistry include:
Veneers
Veneers or partial crowns cover only the visible portion of a tooth. They are thin layers of material used to aesthetically improve issues like discoloration, cracks, and minor fillings.
In Bali, there are various types of veneers, from the more expensive porcelain veneers, Emax veneers, and ceramic veneers to the cheaper composite resins.
Placing veneers may be done in two to three sittings. The first sitting usually involves the dentist assessing the patient's dental health, providing specific treatment requirements, and offering treatment options. The dentist may take a dental impression because veneers are manufactured at the dental laboratory and the process may take up to two weeks.
Once the veneers are ready, the dentist will call you for fitting and may request an additional visit if there are any changes needed.
Bleaching
Bleaching can be done either at the clinic or at home using a home kit given a dentist. It only requires one visit if done at a clinic.
Braces
Braces are mainly aimed at straightening or correcting misaligned teeth. The types of braces available in Bali include metal, Invisalign, and self-ligating, among others.
Smile Makeover /Correction
Smile correction is offered as a package with a variety of dental procedures that improve a patient's smile. It may involve bleaching, veneers, implants, composite bonding, and more. It requires multiple visits to the dental clinic.
Finding the Best Dentists
Dental clinics in Bali typically fall under these two categories:
Branded/well-known dental clinics and chains
Privately owned smaller clinics
Branded/well-known Dental Clinics and Chains
Well-known branded dental clinics are usually large and use materials and technologies similar to those used in western countries. They have better facilities compared to smaller clinics, are expat-friendly, and have English-speaking staff.
If you want to visit local clinics, you should be able to converse in Bahasa Indonesia.
They have high hygiene standards and, therefore, tend to be more popular among expats.
Several hospital/clinic chains also set up an in-house dental clinic separate from the main hospital. For example, SOS Medika, a reliable and popular chain of clinics in Indonesia, has set up an in-house dental clinic at its Denpasar branch.
The BIMC-Siloam chain of hospitals in Indonesia also has an in-house dental clinic, BIMC Siloam Dental Care, located within their Nusa Dua facility, which offers an array of dental procedures.
Here are other popular dental clinics in Bali:
Bali 911
Bali 911 has two branches: Denpasar and Kuta. Outside of Bali, they have one branch in Jakarta.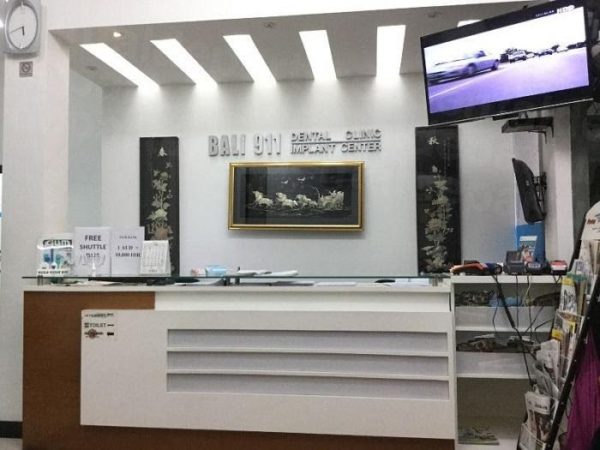 Bali 911 is one of the most popular options among expats. They have been operating for around three decades and have built a reputation for being the preferred choice of the expat community. They have an in-house dental laboratory where they manufacture veneers and other dental materials for immediate use.
They offer a range of treatments, including simple fillings, complicated surgeries, and cosmetic dentistry.
Rejuvie
Rejuvie has two branches: Kuta and Sanur. They provide a wide range of treatments and have positioned themselves as an affordable clinic.
BIMC Siloam Dental Centre
The BIMC chain hospitals, which has three branches within Bali, has set up its dental center at its Nusa Dua facility.

The BIMC hospital is associated with the Siloam group of hospitals, a big chain of hospitals in Indonesia with around 28 hospitals and 26 clinics.
BIMC is known for its infrastructure and offers a comprehensive range of services, including general dentistry, complicated surgical procedures, and cosmetic dentistry.
Their dentists and clinical staff can communicate fluently in English.
ARC Dental
ARC is also known in Bali for its high-quality facilities, including an in-house dental laboratory with German-trained laboratory technicians.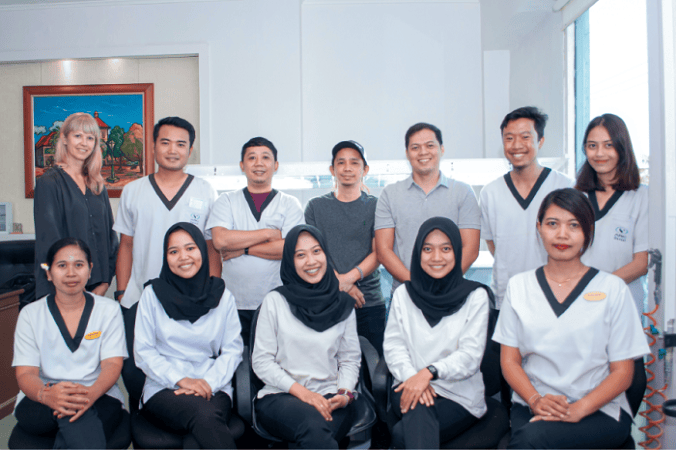 They specialize in using porcelain as a treatment material and they have imported high–tech apparatus for use in various treatments, including for digital dentistry.
Sunset Dental
Sunset Dental has two facilities: one in Seminyak and another one in Ubud. They offer a large variety of treatments and use modern technology. They also have an in-house digital lab and offer all types of dental procedures.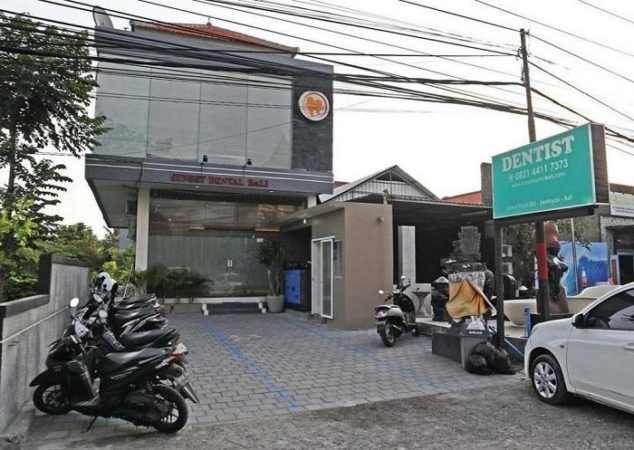 Privately Owned Small Clinics
While small privately owned clinics may not have the most advanced dental facilities and may offer limited treatment options, they do offer good-quality services at affordable prices. Some of the popular clinics of this type among expats include:
Bali Green Dental owned run by Dr. I Wayan Sulastra
Dr. Kadek Sugianitri
You will find that these and other private clinics' prices vastly differ from that of big dental chains mainly due to differences in the type of technologies and materials used.
Price
In this section, we'll compare the price ranges of some of the common treatments offered by dental clinics in Bali. All prices are presented in thousands of Indonesian rupiah (IDR '000) and pertain to the treatment of a single tooth.
| | | | | | |
| --- | --- | --- | --- | --- | --- |
| Clinic | Root Canals | Various Implant Procedures | Dentures | Crown | Composite Fillings |
| Bali 911 | 500-800 | 3,000-190,000 | 2,500-8,000 | 1,500-5,000 | 600-1,000 |
| Rejuvie | 2,000-3,500 | 12,000-14,500 | 1,000-5,000 | 1,500-5,000 | 500 |
| BIMC Hospital Dental Centre | 3,500-4,000 | 700-18,000 | 3,700-6,000 | 1,000-6,000 | 500 |
| Bali Dental and Implants Centre | 2,000-9,500 | 5,000-180,000 | 7,500-12,000 | 2,000-15,000 | 585-900 |
| Bright Smiles Bali | 1,500-4,500 | 4,000-27,000 | 11,500 | 9,000-17,000 | 1,000 |
| ARC Dentals | 2,500 up | 1,000-13,000 | 1,500 up | 650-120,000 | Starting at 700,000 |
| Bali International Dental Center | 2,500-8,000 | 19,000-207,000 | 1,500-10,000 | 3,500-10,000 | 600-1,000 |
| Sunset Dental | 1,000-5,000 | 2,000-53,000 | 5,000 | 1,000-5,000 | 300-600 |
The substantial differences in various clinics' pricing of some treatment categories are mainly due to the difference in the technologies and materials used and other factors.
Getting Dental Insurance Coverage
You have two options to getting your dental treatments covered by insurance: via the government of Indonesia's social security coverage or by getting a private insurance policy.
Assured Coverage by BPJS
If you have been staying in Indonesia for six months or more, you will be eligible for the national insurance scheme provided by Badan Penyelenggara Jaminan Sosial Kesehatan (BPJS), Indonesia's social security administration.
Eligibility entails a mandatory small monthly premium deducted from your salary if you are working in Indonesia. Alternatively, you may enroll voluntarily and make payments.

BPJS cover will be available for emergency and necessary procedures, and not for any discretionary procedures. BPJS coverage gets you entitles you to the following procedures:
Administration/registration fee for the procedure included in BPJS cover
Examination, consultation, and treatment fees charged by the dental professional/clinic
Any oral-dental emergencies
Extraction of primary teeth (including topical/infiltration anesthesia)
Extraction of permanent teeth without anesthesia
Composite or GIC fill
Tooth scaling treatment with a a once-a-year maximum
Post extraction medications
BPJS also covers the cost of dentures for maximum of IDR 1,000,000.
To avail of the above coverage, you need to register with BPJS's social security program. You will be required to visit the local Puskesmas office (Pusat Kesehatan Masyarakat) or community health clinics managed by the health ministry of Indonesia. Your first level diagnosis will be made at Puskesmas, after which you may choose to get treated at any of the BPJS-recognized clinics or clinics that have made an arrangement with BPJS to administer the covered treatments.
You will need the following documents:
A photocopy of BPJS card along with the original card for verification
A photocopy and original copy of stay permit (KTP) and passport for verification
A photocopy and original copy of family card (applies to Indonesian citizens only)
Savings bank account book
A photocopy and original copy of a declaration letter confirming the employer of the patient (the company paying the salary out of which the BPJS premium is being deducted)
Many expats may opt out of BPJS due to limited coverage, the fact that the designated clinics offer substandard services, and due to multiple bureaucratic procedures. However, they can always consider getting insurance from an insurance company of their choice.
Private Dental Insurance
A majority of insurance companies offer coverage for dental procedures excluding discretionary or cosmetic dentistry procedures. Compared to BPJS, their coverage and procedures are wider. If you have a long-term plan to stay in Bali or intend to receive dental treatment regularly, you might want to consider this option.
Covered treatments include treatments for pain relief and other emergency procedures, regular visits to treat dental diseases, and treatments such as scaling, with the cost of dental radiology covered as well. These procedures are usually fully covered.
Some procedures such as tooth extraction, root canals, and conservation measures including cavity fillings may be partially covered — 50%–80% depending on the plans and riders.
Lastly, some premium plans also partly cover the cost of dentures, braces, etc.
These treatments are usually capped at a maximum number per year and have a defined maximum benefit depending on the plan. Usually, the plan with the maximum premium will have the largest coverage proportion.
Some popular insurance companies include, Axa Mandiri, Prudential, Allianz, Chubb, Manulife, and AIA.
You can read our health insurance in Indonesia article to find out more information.
How to Find the Best Dentist in Bali
There is a wide range of dental treatments available in Bali dental clinics. But before you choose a clinic and schedule a visit, here are a few things you need to consider:
Your Objective
If you only need a simple filling or scaling procedure, you won't need to see a dental specialist that uses any advanced dental technology. Simple procedures like these can be done at a small clinic, and is, in fact, more economical.
On the other hand, if your dental treatment is likely to involve complex procedures, you might want to visit a clinic that uses advanced equipment and facilities, has dental specialists, and observes western safety standards.

Advertisement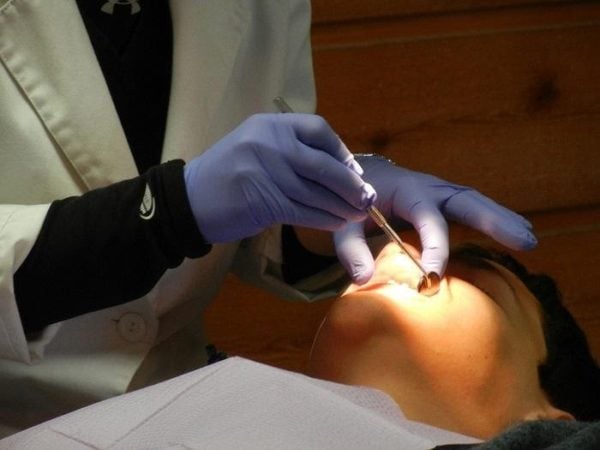 It is very important to do some research on the technology and material to be used, so you'll know how long the treatment will last or if you will require further treatments later on. Don't make price your only consideration for selecting a dental clinic.
Most popular clinics that cater to medical tourists indicate treatment duration, whether it will last and require further treatments, requirements, and other pertinent information on their websites. You may also send an inquiry to the clinic prior to visiting.
Ease of Communication
While most dentists, especially those whose clinics are in central locations, are able to communicate in English, you may still want to check reviews online if they can communicate with ease since a dentist may have to explain a lot of things pertaining to the treatment itself or the procedures involved.
Verified Credentials
You can check practitioners' credentials at the KKI website to know whether the dentist is a good fit for your desired treatment.
Location
If you are going on a vacation in Bali and thinking of undergoing a dental treatment at the same time, it's recommended to choose a clinic that's close to where you'll be staying, especially if the treatment requires multiple visits to the clinic.
The same applies to those who are planning to stay long-term in Bali.
Costs
Many large dental clinics indicate the price ranges for the treatments they offer on their website. However, note that these are not the final prices. Prices may vary based on a patient's case.
Even a root canal procedure may entail additional charges. For example, a molar with four roots instead of, say, just two or three may be too complicated to treat and, therefore, incur a higher than normal price.
That said, as previously mentioned, the cost of most treatments are still 30–50% lower than the costs in your home country.
Reviews
One of the most important considerations when finding the right dentist is reviews of which there are plenty.
You can get recommendations on various forums such as TripAdvisor or expat message boards. There are a few very active Bali expats Facebook groups such as Expats Bali where you can read reviews from fellow expats to help you select the best option.
We also mentioned some very active communities in Bali in our article about moving to Bali.
Visiting a Dentist
The steps involved in visiting a dental clinic in Bali are pretty similar to the steps to visiting a dental clinic anywhere in the world.
Setting an Appointment
You don't need to set an appointment on your first visit unless you want to see a specific dentist. That means you may have to settle with whichever dentist is on duty.
Most dentists who cater to expats are able to speak English. You likely won't encounter communication problems on your initial inquiry. You can also check their website to know how you can set an appointment at their clinic.
Time of Arrival
On your first visit, make sure you arrive 15-20 minutes before the scheduled appointment to give clinical staff ample time to register your name and other personal information, and for you to provide IDs such as a valid passport.
If you are living in Bali, a copy of your residential permit will be taken, too. If you're making an insurance claim, then you will need to fill out the relevant paperwork and provide the necessary documents as well.
Seeing the Dentist
On your first visit, you might have to undergo an initial examination/assessment.
After the initial assessment, you will receive a diagnosis and be informed of various treatment options for your condition. In case the clinic you visited doesn't offer the service you need, they could refer you to a relevant clinic/specialist.
In Bali, a large number of dental clinics offer the initial consultation/assessment for free. The actual treatment, however, are charged. Note that this may not apply to all dental clinics.
Thereafter, you will be directed to the cashier to pay for the consultation fee and the prescribed medications, if any.
Paying the Bill
Most of the large clinics accept international credit cards, while the smaller clinics may prefer cash.
If you have an insurance card that the clinic in Bali can directly use to bill your fees, you may have to fill in some forms and provide a copy of your passport, and resident permit copy.
Otherwise, keep all documents pertaining to the treatment and submit them to your medical insurance provider to get the amount reimbursed at a later date.
Now, on to You
Most dental treatments and procedures in Bali are safe and dental clinics use industry-approved dental technologies.
Lastly, getting a dental treatment in Bali, Indonesia can save you a lot of money. It is an ideal destination to do two things at once: get your teeth fixed and have a vacation.
Please note: The information provided by ExpatDen is not intended to replace or serve as a substitute for medical or healthcare advice. It is strongly recommended that you seek guidance and consultation from a licensed medical practitioner or qualified healthcare professional pertaining to your specific circumstances and healthcare needs.