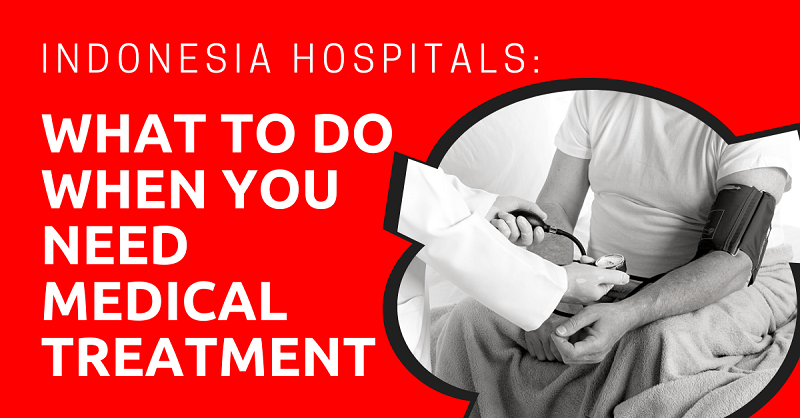 The quality of care in Indonesian hospitals have improved within the last 20 years. Both government and private hospitals have been making great strides in acquiring topnotch facilities to meet Indonesian citizens' needs.
In this article, we will discuss the differences between government and private hospitals in Indonesia. We've also included recommendations and other vital information you should know before choosing a hospital in Indonesia. Read on to learn which kind of hospital is best for your specific needs and budget.
This article will take approximately 12 minutes to read. Don't have the time right now? No worries. You can email the ad-free version of the article to yourself and read it later!
Treatment Quality
Although the quality of treatment in Indonesian hospitals have been improving over the last few years, they arguably still cannot compare to hospitals in countries like Thailand and Singapore.
In fact, many Indonesians prefer to go to any of these countries to get treatment.
However, this doesn't mean that you shouldn't consider hospitals in Indonesia at all. It's perfectly fine to visit a local hospital for a common illness. But when it comes to serious diseases, you might be better off getting treatment from hospitals in other countries with better facilities and services.
This is why it's a good idea for expats in Indonesia to get international insurance since it offers international coverage — the insurance provider will cover your costs even if you get treatment outside of Indonesia.
Hospital Types
There are two general types of hospitals in Indonesia: public and private.
Public Hospital
Public hospitals can be divided into four classes:
Class A: Hospitals in this class are usually big, equipped with good facilities, and have specialist doctors. However, they are also more expensive than hospitals in other classes. An example of a hospital in this class is RSUPN Dr. Cipto Mangunkusumo.
Class B: The hospitals in this class are quite similar to those in Class A, but with relatively limited medical facilities. Class B hospitals have many in-patient rooms, pleasant interiors, and parking spaces. An example of a hospital in this class is RS Persahabatan.
Class C: The hospitals in this class can only provide treatments for common illnesses. They also tend to have a limited number of doctors. However, the medical fees they charge are low. An example of a hospital in this class is RSK Dharmawangsa.
Class D: Hospitals in this class are known to be inexpensive. Note, however, that these hospitals have a limited number of rooms and fewer doctors available. Class D hospitals tend to have only around 3-4 doctors at any given time.
While there are many government hospitals in Class A with excellent facilities, wait times can be very long. You may have to wait a whole day for a simple doctor's visit even if you booked an appointment in advance.
Moreover, many public hospitals often don't accept appointments, only walk-ins. This results in patients rushing to these hospitals very early in the morning (as early as 7am-9am) to queue up. It usually takes an entire day to get a diagnosis, check out, and purchase medicines.
In addition, medical staff in these hospitals might not be able to speak English. This is why a majority of expats in Indonesia prefer to go to private hospitals, so they can avoid crowds and see a doctor who can speak English.
Indonesia has a public insurance system called BPJS, a program that subsidizes medical treatment obtained in a public hospital, helping low-income people pay less for medical care.
Private Hospitals
Private hospitals are popular among expats in Indonesia because even though they are more expensive compared to public hospitals, they have better facilities, services, and shorter waiting times.
Doctors in private hospitals also tend to have better-trained doctors. That said, there are many doctors who work in both private and public hospitals.
Medical staff in private hospitals can communicate in English, but it's still a good idea to bring along a translator if you're getting treated for a serious disease to avoid miscommunication.
Private Clinics
There are many private clinics in Indonesia that specialize in certain treatments, including for common illnesses, pregnancy care, and dermatology, to name a few. Because many of these clinics are individually owned, they are usually quite busy.
If you'd rather not go to a private hospital, you should visit a private clinic for common sicknesses. Most doctors in private clinics and their staff can communicate in English.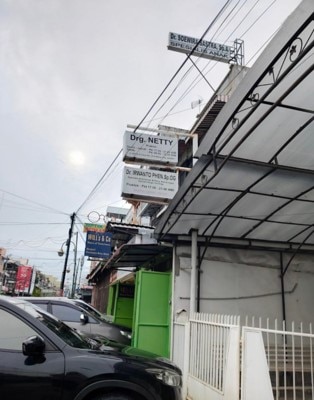 However, you shouldn't expect to get a surgical operation from these small clinics as they have limited facilities unlike big hospitals. For major operations, they will recommend a specific hospital for patients to get treatment.
Additionally, a majority of private clinics don't accept any form of insurance, so be prepared to pay out of pocket.
List of Hospital in Indonesia
Below is a list of some government and private hospitals in Indonesia:
1. RSUD Dr. M. Yunus Bengkulu
Jl. Bhayangkara, Sidomulyo, Kec. Gading Cemp., Kota Bengkulu, Bengkulu 38211, Indonesia
This is one of many hospitals that has a reputation for its inability to prioritize patients. Most of the patients who seek treatment here use the BPJS program, which means this hospital doesn't receive enough funding that will allow it to provide excellent patient care.
This is a Class B hospital, so it has a wide variety of specialists and a few subspecialists. Overall, however, the services could be further improved.
2. RSU Deli Medan
Jl. Merbabu No.18, Pusat Ps., Kec. Medan Kota, Kota Medan, Sumatera Utara 20212, Indonesia
This Class C hospital is a small public hospital in Medan City. It has a limited number of specialists and just adequate facilities, with not a lot of parking space. It is, however, known for its cleanliness. Patients should use their BPJS program to pay for their bill here.
3. RSU Fatmawati Jakarta
Jl. RS. Fatmawati Raya No.4, RT.4/RW.9, Cilandak Bar., Kec. Cilandak, Kota Jakarta Selatan, Daerah Khusus Ibukota Jakarta 12430, Indonesia
This is a Class A public hospital with good facilities and highly qualified specialists. Expect long wait times if you're getting specialist treatment, but Class A hospitals like this typically offer above-average services, especially if you're getting treatment for common illnesses.
4. MRCCC Siloam Semangi
Jl. Garnisun Dalam No. 2-3 Semanggi, 12930
This private hospital specializes in oncology. In the past, there weren't many hospitals in Indonesia that offered cancer treatment. That has changed in recent years, as more and more hospitals have incorporated an oncology department into their operations. Indonesian hospitals have stepped up, many of which now have advanced facilities especially for cancer treatment and offer services like PET scan and biopsy. Additionally, these hospitals have reputable oncologists.
5. RS St. Carolus
Jalan Salemba Raya No. 41 Jakarta 10440
This private hospital has 154 doctors in its roster, including obstetricians, general practitioners, surgeons, and mental health professionals, to name a few. This hospital has gained a reputation for having well-maintained facilities, being responsive and reliable in emergency cases, and providing excellent patient care. It has won awards for its outstanding services.
This hospital is especially known for its obstetrics, gynecology, and surgery departments.
Many of the above-mentioned hospitals are located in the center of Jakarta, but there are many other decent private hospitals in other cities. However, people who want to get cancer treatment should certainly consider MRCCC Siloam Semangi as they are known for their topnotch oncology services.
Doctors
The quality of doctors in Indonesia is said to be average. This may be attributed to the fact that a majority of doctors in Indonesia graduated from public schools. This is well and good, but there is a certain perception that the quality of medical education in Indonesia is not on par with those of medical schools in developed countries.
Another perception is that doctors who only attended local schools may not be as skilled as those who studied and practiced locally and abroad. In Indonesia, doctors who obtained a medical degree and practiced abroad tend to be the ones who can communicate well with expat patients as they're the ones with the well-developed English language skills.
Rooms
In Indonesia, hospital rooms are grouped into three categories:
Shared room – A room that's shared with other patients
VIP room – A private room
VVIP room – Similar to a VIP room but with better facilities and services
Shared rooms cost the least, while VVIP rooms are the most expensive.
Treatment Cost
Treatment costs in Indonesian hospitals are quite affordable, which isn't surprising as the cost of living in Indonesia is generally low.
For instance, in public hospitals, the cost of an in-patient room starts at Rp 250,000 per day. Fees for X-ray, blood test, doctor's consultation, optical coherence tomography (OCT) scan, ultrasound sonography test (USG), and general sickness check can cost around Rp 300,000 to Rp 6,000,000 depending on the severity of your condition.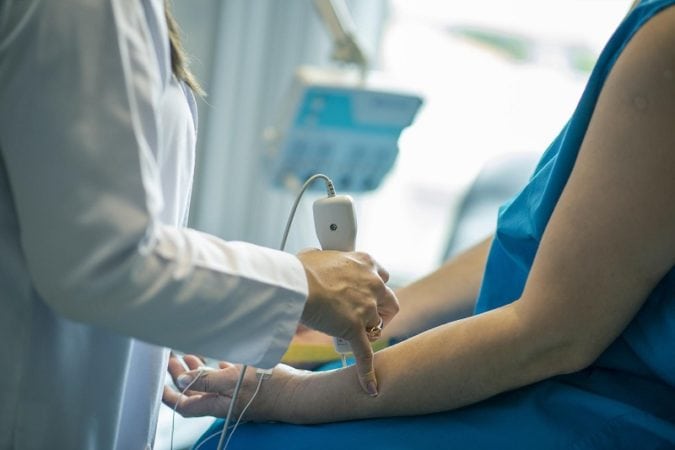 Expect to pay the most when you get any type of surgery. Surgery can cost anywhere from Rp 11,000,000 to Rp 55,000,000.
The costs in private hospitals can be double the price of what they charge at public hospitals. For example, surgery and additional treatments could cost between Rp 165,000,000 and Rp 365,000,000. Expect charges for rooms and other services to be higher in private hospitals, as well.
Registering
You should bring an identification card, such as a passport, with you every time you visit a hospital in Indonesia. Even if you booked an appointment online, you will still need to queue up and go through all the processes, which for many visits typically include a consultation, blood test (when necessary), and/or X-ray.
The whole process can take a whole day depending on your illness. As for medicines, you can purchase them from the hospital, but these cost 50% more than in pharmacies outside. You could simply ask your doctor to write down a prescription for you so you can buy them from a local pharmacy where medicines are much cheaper.
However, some medicines may not be available at local pharmacies, so you'll just have to keep looking at other pharmacies.
Insurance
Both public and private hospitals accept international insurance, so when choosing a hospital, make sure it is included in your insurance provider's network of hospitals.
You should choose carefully especially when you're getting treatment for a serious disease as the medical bill tends to be expensive for such conditions.
Language
Expats may face communication challenges due to language barriers when visiting public hospitals in Indonesia as not many of the local staff at any given hospital can speak English.
Not even the doctors, many of whom may not have studied or practiced abroad, may be able to speak to English fluently. This is one of the reasons why it's highly recommended to ask a local or anyone able to speak Bahasa Indonesia to accompany you when visiting a hospital or seeing a doctor at a clinic. That way, your companion can translate for you particularly if you choose to visit a public hospital.
On the other hand, most private hospitals will have staff who can speak English well.
Transportation Options
If you don't own a vehicle, you can hail a ride using Grab or Gojek to take you to the hospital. These platforms offer a wide range of transportation services, and they can drive you anywhere, near or far. Fare costs Rp 20,000 to Rp 50,000 on average.
Although taking public transportation is cheap, routes are very limited and may be far off from your destination.
You can also find taxis everywhere, while in many cities, there are pedicabs with bicycle or motorcycle taxis which charge much more affordable fares.
Additional Tips
It's important to do some research if you're a foreigner looking for a hospital to visit. Be sure to make an appointment in advance, wear a mask, and stay away from scammers who may pretend to help you but ask you for a fee for something you could easily do yourself.
Advise the doctor immediately if there are issues with the medicine you were prescribed. It's crucial to inform your doctor of any allergies you may have or any other medicines you may be taking. If you feel the need to, get a second opinion from other medical providers.
Now, on to You
We hope that this article gave you a better understanding of how hospitals in Indonesia work, which is important for you to learn as an expat in Indonesia.
Although you might have some reservations about the quality of hospitals in Indonesia, you shouldn't hesitate to visit one if you ever get sick. If you follow the right processes, you'll be just fine and the local doctors and medical staff will take good care of you.