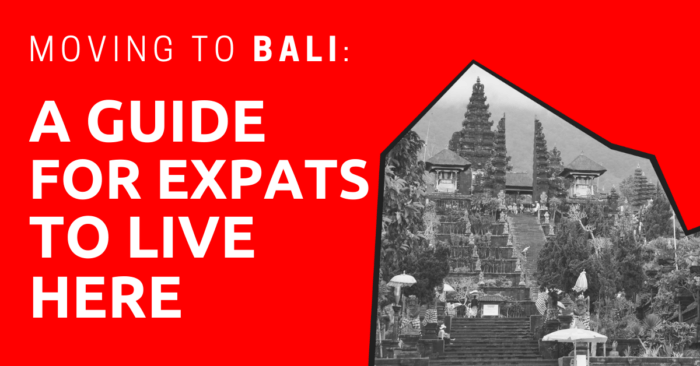 Bali evokes images of stunning beaches, dense jungles, and a relaxing tropical vacation. All vacations must come to an end, and a journey back home is inevitable.
But what if you can make Bali your home?
Most visitors to Bali say they'd like to stay here forever. But is it possible to live here and make a living? The idea is, in fact, not too outlandish, and it doesn't have to be heavy on the pocket.
Bali is blessed with perpetual warm weather, mild and bracing ocean breeze, and turquoise waters. Along with the natural beauty, Bali offers rich cultural experiences.
It has magnificent temples, exotic religious rituals and celebrations, and a vibrant art scene. It's truly a tropical paradise — who wouldn't like to live in paradise?
You may be a student on a break looking to immerse yourself in exotic cultural experiences or a retired professional looking to spend a long-term vacation spot.
Or you could be someone who simply wants a change of scenery.
Whether your plan is to live here for a few years or to stay for just a few months, this article has all the information you need to move to Bali and transition smoothly into your new life.
First, you must take into account certain factors before making a decision to move to Bali. I'll discuss the pros and cons of living in Bali, its available infrastructure and facilities, cost of living, safety and security, and more.
I'll also provide information on visa options for expatriates, what you can and can't bring with you in Bali, how to ship them to the country, and some do's and "don'ts"
This article will take approximately 44 minutes to read. Don't have the time right now? No worries. You can email the ad-free version of the article to yourself and read it later!
Part 1: Checklist
Relocating to another country is life-changing.
Perhaps you're tired of the busy city life or your hectic corporate job. But if you move to a place like Bali, are you sure you won't miss city life? Are you willing to take a lower paying job?
Once you know your reasons for wanting to move to Bali, you can look into other practical concerns and read up on important facts about the place.
The Advantages and Disadvantages of Living in Bali
Consider the pros and cons of moving to Bali before moving so that you avoid unnecessary surprises.
Advantages
The Weather
If you appreciate bright sunny days, breezy beaches, and greenery all year round, you will love the weather in Bali.
It's a tropical island, so the weather is warm throughout the year and There are no weather-related surprises. The dry season is from April to September. It does rain every once in a while during the dry season, but not often.
The wet season is from October to March, when it's normally still hot and humid even though it rains almost every day. Overall, Bali enjoys a consistent tropical weather.
Natural Surroundings
Bali has long sandy beaches and coral reefs everywhere, and there are ample opportunities for surfing and watersports. Enjoy wild waves at Canggu, playful waves at Kuta, rolling waves at Seminyak contrasted by calm Nusa Dua waters, and gentle waves at Jimbaran.
North Bali, also well-loved by tourists, has stunning vistas of the hills, greenery, waterfalls, and quiet beaches.
Art and Architecture
If you enjoy creative pursuits, Balinese craftsmanship will delight you. Balinese paintings have a distinct style and are world-famous. Explore Balinese artists' wooden carvings, and gold and silver handicrafts and tour its various temples and palaces, built with nature as a backdrop.
Friendly and Helpful People
The Balinese are friendly and hospitable and are willing to help a confused visitor. The people are generally warm, polite, and welcoming.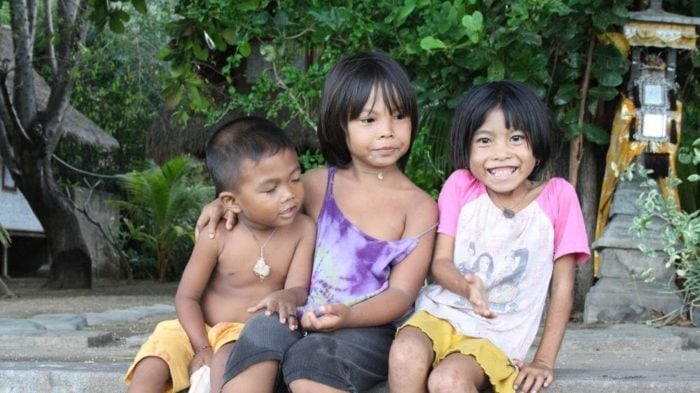 Easy-to-Find Help
You can employ a full-time domestic help/housekeeper, driver, and cook for a fraction of the price you might pay in your home country. Professionals such as gardeners and masseuses do not only provide really good service, but their fees are cheap too.
Cheap, Fresh and Delicious Local Food
If you're moving to Bali for the long haul, you'll sample a wide variety of local food sooner or later. Balinese cuisine is diverse, flavorful, and always served fresh.
Local food is also quite cheap, which is great if you are on a budget.
A Wide Range of Accommodation
You can opt to stay in an exquisite villa overlooking paddy fields with modern amenities and pay only $500 USD a month. Or you can live in a "kost", many locals' humble accommodation and pay USD 50 a month.
Depending on your needs, you can find even cheaper or more expensive accommodation. Remember that there are always cheaper options available which can substantially reduce your rental costs.
Challenges
Bali is part of a developing nation and faces challenges like any other developing economy including in the following aspects:
Healthcare
The quality of healthcare and dental clinics available is not comparable to that of any western country. Do not expect the same standards of hygiene and sanitation either. While you will likely stay in areas populated with expats, finding the right healthcare provider and being able to communicate with them too is going to be challenging.
If you have a pre-existing condition or are on regular medication, it is necessary to check whether relevant medicines or medical practitioners are available in Bali hospitals. In some cases, some treatments you may need may not be offered in local hospitals and special medicines may not be available.
You also need to check the generic names of drugs you are taking, to make sure you can find local alternatives. Locally manufactured medicines are cheap, but imported ones will be very expensive and might not be always available.
Bali is also an island of traditional healers and many people come to Bali to learn traditional healing. However, this might not be your thing.
I know of many instances of people needing to return home for some time to take care of health concerns. Some did try local treatments and did get better. You make these types of decisions based on how willing you are to take risks.
I myself decided to take my toddler back to my country for a month to get his skin-related condition treated rather than get treatment from a local doctor. A lot of the lotions prescribed for his condition were unavailable in Bali, so I decided to take a trip home to get the necessary meds in our home country, where my son can get western-standard treatment.
Limited Transportation Options
Mass transportation options are very limited in Bali. For one, there are no passenger trains. Road transport is most common and minibuses called "bemo" are the most common and cheapest form of road transport among locals. However, an expat may not enjoy riding them.
While the bus rides offer a glimpse into Balinese culture and lifestyle, they sometimes involve travelling with livestock in close quarters. They also don't have air conditioning, fill in passengers to the brim, and take long-winding routes.
Expats prefer taxis, rented cars, and rented scooters or mopeds (called bebek). These are available at quite reasonable prices. Most of the hired drivers can communicate in English, which is quite helpful.
While the number of foreigners coming to Bali has kept increasing year on year, the roads have undergone major changes, and this has led to frequent traffic congestions. You might have to deal with them daily especially if you live near urban centers or popular tourist places.
Sometimes even multiple times a day. Unfortunately, traffic rules are not always followed.
Expensive International Dishes
While local dishes are inexpensive, you might want to eat international cuisine or any of your comfort food from time to time. Families with children need to bear in mind that the kids may not like local food and may need to stock up on ingredients for making western dishes.
Most western food ingredients are imported and, hence, cost almost twice as much as their local counterparts. In most cases, these ingredients may not be available in the supermarket. Some homes for rent may not have an oven, so you'll have to settle for a gas stove.
Realities of Living Away From Urban Areas
While there are large grocery shops and supermarkets such as the Transmart (formerly Carrefour) in Denpasar and similarly populous areas, they are not all well-stocked with items you may need. Moreover, there aren't as many convenience stores as in big cities.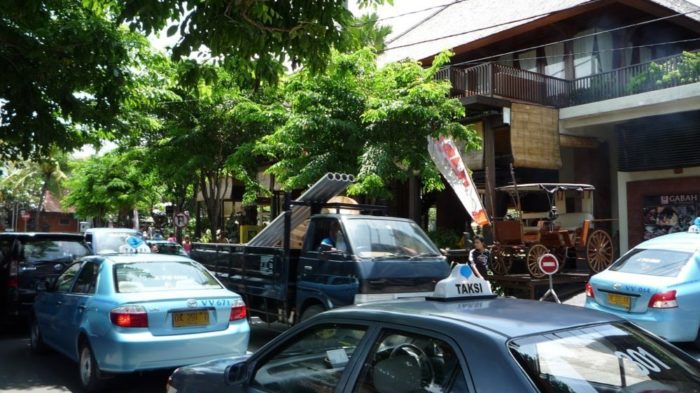 With limited options to buy groceries and other supplies, you'll have to get used to buying in bulk. Otherwise, you'll have to make frequent trips to the city center, which is not something you'd want to do given the bad traffic situation.
Internet
While Bali now has a lot of good co-working options such as this one, some places may not have a consistently reliable internet connection. You will need a decent data plan if you expect to work online with a stable internet connection.
Mosquitoes
Tropical areas tend to suffer from mosquito infestation especially during the wet season. You need to get used to this because damp surroundings and foliage attract mosquitoes. You can easily buy mosquito repellants and creams from local stores.
Bali Scams
Like any tourist place, there are scammers in Bali, too. As an expat, you will encounter them quite frequently over the entire duration of your stay. To learn what type of scams expats are likely to encounter, check out this page on TripAdvisor. You can read up on other scams in Bali involving fake alcohol, risky tattoos, and shady public transport drivers here and here.
Safety and Security
In my experience, Bali is generally one of the safest tourist places in the world even for single women or families with children. Indonesians are quite friendly. And while there are stories of mugging and other travel horror stories, there is no hostility toward tourists.
Bali is not a very politically sensitive place. As long as you respect the local culture and laws, you won't have a problem.
You're also unlikely to have unpleasant encounters with the police as long as you don't do anything illegal. Drugs are absolutely prohibited and the police are always on guard to crack down on any illegal drug dealing. The same goes for staying without a valid permit, owning a property such as a vehicle without proper documentation, and working illegally.
The offenses could result in huge fines and imprisonment. Bali attracts all sorts of travellers and some do commit such crimes, so the authorities are constantly on their toes when it comes to offenses typically committed by tourists.
Corruption is rampant in Indonesia like in other developing countries. Some foreigners may be tempted to bribe police officers for minor offenses like breaking traffic rules. But I would advise against attempting it.
Cost of Living
In Bali, you do not have to spend a lot. Some of the most important things you'll be spending on are food and accommodation.
Expats cannot purchase property in Indonesia, so you will need to rent. If you are on a tight budget, you could live in a ost, a small apartment where most Balinese live and pay around $50 USD a month. On the other hand, you could rent out a villa for $250-9,00 USD a month.
For clothing and accessories, you'll have access to local stores that sell cheap clothes and the lack of seasonal variations means you do not need winter gear.
Local food is freshly made and quite cheap. A full meal can cost only around $3-4 USD. Meals bought from roadside "warungs" (eateries) cost less than $1 USD.
Let's calculate the cost of living using this cost of living calculator, A family of four can survive on 1,900 USD per month, excluding rent. For a person living alone, the cost is around $500 USD.
Based on my experience, it is possible to live on $1,500-2,000 USD per month, including rent.
If you're moving with family and children, factor in education expenses into your budget. There are plenty of international schools in Bali, but some may be extremely expensive. Tuition prices range from $3,000 USD to $20,000 USD per year.
Do some research on different schools before you move.
Check out Nomad List to see the "scores" for living in different locations in Bali. This aggregator considers numerous factors from internet speed to racial tolerance to liveability.
Where to Live
Do you prefer the beaches or would you rather live in the hills or in areas overlooking paddy fields? Is availability of remote working locations a priority for you? Bali has a wide variety of options for all, but for expats here are the most popular areas:
Ubud
American author Elizabeth Gilbert may have boosted Ubud's popularity by writing about it in her memoir Eat, Pray, Love. But the truth is that Ubud had always been popular with expats who prefer a traditional Balinese setting, greenery, and alternative lifestyle.
Ubud is known as Bali's cultural heart. It's famous for its vibrant art scene and there are many art markets in the area. It's also surrounded by smaller artisan villages.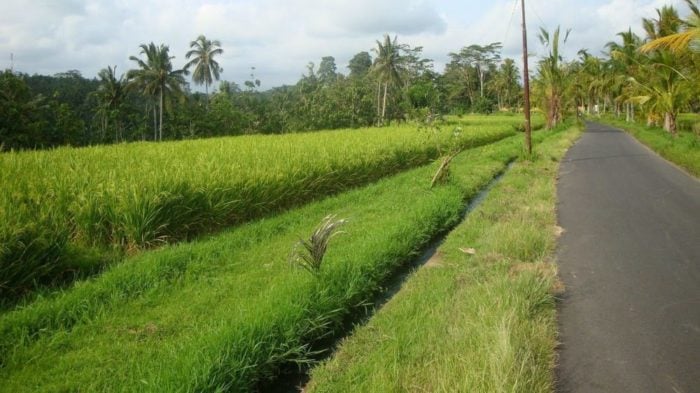 It's a great place to practice yoga and vegans and vegetarians will find themselves well catered to, with many restaurants offering plant-based fare. In recent years, it has become popular with digital nomads because there are many coworking spaces that are conducive to their working style.
Lastly, Ubud's cafes and restaurants offer a wide variety of local and international cuisine, so there's something for everyone.
Uluwatu
Uluwatu has a thriving expat community, too. It is one of the more affluent areas in Bali with accommodations and attractions offering cliff-top views, beaches, and surf breaks. It is also where the famous Uluwatu temple is located.
Here, you get a mixture of luxury living, surf culture, and dramatic cliff-top views. It's peaceful and remote, but because of its exclusivity the rentals can be expensive.
Sanur
Sanur has largely maintained its classic charm and is still preferred by families with kids and retired travellers for the gentle waves in its beaches and the area's overall relaxed ambiance. Expats prefer Sanur for its classy and relaxed vibe and because it's close to urban areas and schools.
Seminyak
Seminyak is an urban area with classy boutiques, restaurants, cocktail bars, and surfing shacks. The upside to living in this stylish neighborhood is having access to urban amenities like retail stores, parks, and schools, while the downsides are the frequent horrible traffic and the large crowds of tourists. It's where many upscale travellers prefer to stay, which brings rental prices up, both for tourists and long-term dwellers.
Kerobokan
Kerobokan is located north of Kuta, close to Seminyak. It is relaxed and peaceful, but is conveniently close to busier urban areas. Verdant paddy fields abound. One of the reasons why it's popular with the expat community is because of the presence of French and Australian international schools in the area.
Canggu
If you are in your early 20s, Changgu is the coolest area to be in. Canggu, located north of Kuta/Seminyak, has recently gained popularity as the trendiest location in Bali. It offers great co-working spaces, lots of international eateries, cafes, and bars. Canggu's hipster vibe, varied food options, and co-working spaces attract young creatives and digital nomads.
Other Places
Other notable areas include Kuta, which is arguably still the most visited area in Bali. But over the years, it has gained a hectic pace, large tourist numbers, traffic jams, and so on.
Gianyar is also an attractive option; it's less frequented by tourists seeking to visit popular spots. It's also where you can find Bali's interesting off-the-beaten paths. Because it's not as popular as other areas, rent prices are lower.
Renon is Denpasar's business district and is a non-beach town. It has several administrative buildings, lots of boutique shops, and cafes.
Amed, Singaraja, and Lovinia are relatively less developed as tourist destinations, but there are expat communities here as well. Expats who wish to stay away from the tourist crowds and live locally usually prefer to stay in these locations.
Types of Visa
The type of visa you'll get will determine the length of your stay.
When applying for a visa, consider factors such as the length of your stay — that is, whether you intend to run a business, seek employment, or for long-term stay after retirement.
Staying for 60 Days or Less
The easiest option for stays of 60 days or less is Visa on Arrival (VoA). Indonesian Immigration offers VoA to citizens of around 196 countries. Citizens of these countries do not need to pay any fees if staying for 30 days or less.
If you plan to stay for more than 30 days but less than 60 days, you need to pay a visa fee of $35 USD at the airport before approaching immigration. Make sure to keep the receipt because you'll need to present it to the immigration office later if you're extending your visa beyond 30 days.
Before the end of your first 30 days, you need to visit the nearest immigration office to extend the stay for a further 30 days and show proof that you've paid the VoA fee. You cannot apply earlier than 14 days and more than a couple of working days before your 30 days expire.
You will need to visit the immigration office whose jurisdiction governs the area of your residence in Bali.
Many foreigners regularly exit the country after their visa and extension's allotted 60 days, re-enter on another VoA, pay $35 again, and apply for another extension of stay. This is not advisable for a long-term stay. Immigration authorities may fine you for not getting the right type of visa and may reject your application to extend your stay.
You can check Indonesia's Directorate General of Immigration website for more information.
Longer Duration Visas Without Work Permit
If you do not intend to work in Indonesia but plan to live here for a longer duration, you may apply for one of the following.
Social Visa (B211A and D212)
You may stay for a period of up to six months on a Social Visa. A single entry social visa is called B211A and multiple entry is D212. You need a sponsor who is either an Indonesian citizen or a holder of a valid limited stay permit. You can also contact an agent who may charge you for sponsoring and processing your visa.
You will be required to exit Indonesia and receive telex approval at the Indonesian embassy in a country of your choice (neighboring Singapore is a popular choice). Every month, you can ring this telex with you at the local immigration office in Bali to get your visa stamped without having to exit the country.
After the completion of six months, you need to exit and re-enter Indonesia and re-apply for a visa. You will not be allowed to work with this visa and you will pay a huge fine or get deported if you get caught working.
Spouse Visa
If you are a foreigner married to an Indonesian, you are eligible to receive a limited stay permit called KITAS (Kartu Izin Tinggal Terbatas) valid for a year. It is renewable, and at the end of the second year can be converted to KITAP (Kartu Izin Tinggal Tetap) which is valid for five years.

Advertisement
Please refer to this page for official information.
Retirement Visa
Here are are the requirements to be eligible for a retirement visa:
Age: 55 or older
Passport validity: more than 18 months remaining validity
Proof that you have pension funds/bank deposits of a minimum of $1,500 USD per month (or a total of $18,000 USD per year)
Documents: Application letter, warranty from a travel agent, sponsor/agent's paperwork containing details of their business activity (official documents)
You might be asked to submit some of the following additional documents:
4 passport-sized photos
Copy of all passport pages
Health insurance certificate obtained from a provider in your country/Indonesia that will cover your medical expenses in Bali
Rental agreement for a property in Bali
Documents on employed assistants/household workers, if hired in Bali
Curriculum vitae
KITAS for retired individuals is usually valid for one year and can be extended up to five times without having to leave the country.
Single/Multiple Entry Business Visa
This visa can be issued for a duration of up to one year, but you will be required to exit the country after 60 days. The purpose of this visa is to enable business travellers to visit Indonesia to conduct business meetings.
You need an Indonesian company to sponsor you. However, note that you will not be allowed to work in Indonesia or enjoy benefits granted to KITAS holders such as opening a bank account, getting a driver's license, or getting a discount on entry fees at certain public places.
The official information for single and multiple entry business visas can be found here.
Work Permit or Kartu Izin Tinggal Terbatas (KITAS)/Kartu Izin Tinggal Tetap (KITAP)
This is relevant for those who intend to work in Bali.
Even if you already have a source of income before moving toIndonesia, you will still need to obtain a Indonesian work permit or Kartu Izin Tinggal Terbatas (KITAS) if you're seeking employment in the country.
In addition to the work visa, your sponsor/employer will have to obtain special documentation that permits them to employ an expat. This document is called Izin Menggunakan Tenaga Kerja Asing (IMTA).
You can then get your family dependent visas called KITAS-Keluarga or Family KITAS .
You may need to engage an agent to obtain these documents for you. The official link to work visas can be found here.
There are also visas for journalists, researchers, and other types of foreign visitors. For more detailed information, visit the Directorate General of Immigration of Indonesia's website.
Part 2: Moving to Bali
In this section, we will discuss planning and preparing your move to Bali.
Booking Flights
There is only one airport in Bali: Ngurah Rai International Airport. Also known as Denpasar Airport, Ngurah Rai International Airport is an international airport and is the third busiest airport in Indonesia. It is only 1.5 miles away from the Kuta beach area.
Most airlines in the Asia Pacific region such as Singapore Airlines, Malaysia Airlines, Thai Airways, Lion Air, Jetstar, and Air Asia have flights to Bali. Indonesian airlines Garuda Indonesia, Batik Air, and Citilink also have direct flights to Bali.
Melbourne, Darwin, Sydney, Brisbane, Dubai, Doha, Osaka, Tokyo, Seoul, Bangkok, Hanoi and several locations in China such as Beijing, Shanghai, and Hong Kong also have direct flights to Bali.
Please note that these airlines and flights may be changed because of COVID-19.
As you may have noticed, there are no direct flights to Bali from any other international destination beyond those in the Asia Pacific region. So, it's recommended to book a flight to one of these locations and book a connecting flight to Bali.
Major airlines that fly to airports in Singapore, Bangkok, Kuala Lumpur, and Hong Kong offer the best deals for flying to Bali.
Onward Journey
There are private car rental drivers outside Denpasar Airport who will offer their services to drive you to your destination. But beware: they usually charge astronomical prices to unsuspecting travellers. More often than not, you'll need to bargain.
If you dislike bargaining, book a car in advance. Arrange to get picked up by a driver who will be waiting for you at the airport's arrival area, holding a placard with your name on it to make it easy for you to spot them.
Search for Bali private car rental services online such as travel forums to get firsthand information and trustworthy references from travellers. And to go around Bali, you can rent bikes, scooters, minivans, and cars.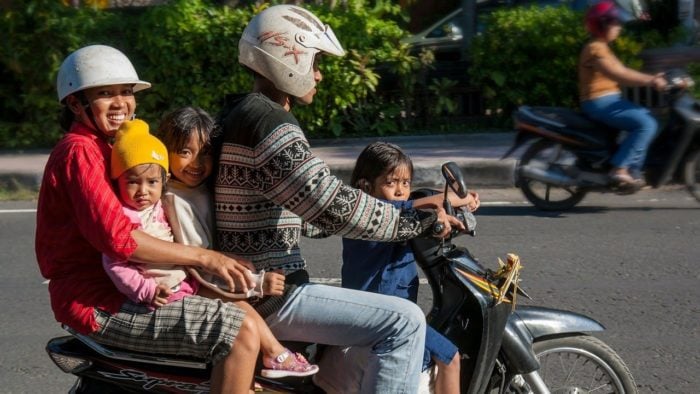 Personally, I prefer to book with Traveloka, which offers decent prices for car rentals with or without a driver. Private vehicle rentals can be a hit or a miss, but there are a lot of online sites that offer information on decent car rental services.
Bluebird is a prominent taxi service in Indonesia that is also available in Bali. They charge by the meter, hence, no scams involved. The drivers are friendly and can communicate in English. Their fares can be more expensive than private cars, however. I myself usually book Bluebird cabs because they're very reliable.
Additionally, there are car-hailing apps such as Grab (Uber Indonesia was acquired by Grab). Gojek operates within Bali too, but they're allowed to operate only within specific areas and are not allowed to operate within the airport.
What to bring
It's important to know what you're not allowed to bring in Indonesia. Here's a detailed list of restricted and prohibited items that may not be brought or are allowed in limited quantities.
I recommend bringing items such as books, specific medicines, branded perfumes and clothes, and special food ingredients because these items may not be available in Bali or may be expensive. This topic is discussed in detail in our in-depth guide on shipping to Indonesia.
Bringing Pets
In Bali, pets are allowed to be brought only if they are coming from a rabies-free country. However, Bali's local government changes these rules from time to time; they may even ban bringing pets altogether like they've done in the past. So check the rules on bringing pets as you plan your move.
Considering that only a few countries are presently rabies-free, you will most likely have to find an animal shelter or make an alternative arrangement for your pet.
If you are coming from a rabies-free country, bringing pets is allowed if you comply with rules, which you can learn by reading our article on shipping to Indonesia.
Important Documents
As an expat, you will need to carry several documents and bring them with you at all times. I suggest carrying multiple copies of any of the following documents because you might be asked to provide them for different reasons:
Passport with a stamp of a valid visa
KITAS or KITAP or limited-stay visas – Nowadays, the immigration office issues e-KITAS. However, you still need to keep at least one physical copy with you at all times. You may choose not to carry your passport with you provided that you are travelling within Bali and can show a copy of your KITAS.
Driving licence issued in your home country
International driver's permit
Birth certificate
Educational/academic certificates and transcripts
Marriage certificate
Medical certificates especially for those with underlying health conditions
Proof of income – This may include copies of bank account certificates or other types of proof of financial capacity such as those required when applying for a retirement visa and renting a house for long-term stays
Insurance documents
Tax and social security numbers
Curriculum vitae – These may be required when requesting for certain permits
Please remember to sign and date the copies of these documents and state the purpose before giving anyone a copy to prevent them from being misused .
When moving large suitcases, you might need to arrange for shipment. You can use this form to help you find international shippers. Find additional info on our complete guide to shipping to Indonesia.
Part 3: Settling in
Let's take a look at some aspects of everyday life that need to be sorted out before settling in.
Looking for a Home
It is more prudent to first arrive in Bali, soak in a bit of expat life, and then begin looking for your abode. That gives you an idea of the pros and cons of living in particular locations and makes sure you avoid any surprises. You may choose to stay in a hotel or any temporary accommodation.
Expat communities will be of help. They can share their firsthand experiences in dealing with agents and owners. Rental contracts and terms are usually pretty standard, but it is always advisable to enter into these arrangements with caution.
Here are some of the most common types of accommodation:
Hotels, service apartments, and villas – They are fully furnished, available on a nightly or monthly basis, and are on the expensive side. Some hotel chains have villa-type accommodation.
Houses – Furnished and unfurnished houses are typically offered on a contract, with periods ranging from 1-3 years. Contracts with shorter terms are available, as well.
If you prefer to stay in private villas, check Airbnb and Agoda or websites such as Bali Villas, which list luxury accommodations. They are usually furnished and offer spectacular views.
Kost/os – These are small furnished or unfurnished rooms or standalone houses where many locals live. Kost rental prices are inexpensive and contracts are typically on a monthly, biannual, or annual basis. Payment must be made in advance.
While terms of agreement are often standard, the preferred duration of letting a property is 1-2 years which may not accord with your plans. 6-month contracts may be offered, but in most cases you might have to sublet. Naturally, this is only allowed with the lessor's/owner's permission.
Payments need to be made upfront irrespective of duration.
If you are staying for one year, you might need to pay a whole year's rent in advance. You'll also be required a deposit, usually 1 month's rent.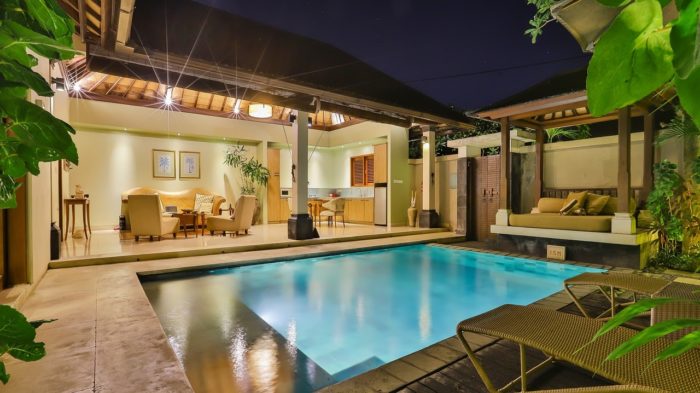 [You have a lot of options when it comes to accommodation in Bali, from a simple apartment to a luxury villa.]
Working in Bali
It is not very easy to find a job in Bali, but it is not impossible either.
Employment in Bali
Indonesia is a populous country, and there is a high unemployment and underemployment rates. Because of its high unemployment rate (5-6%), Indonesia's labor laws are quite stringent. Jobs are not easily available for expats unless a shortage of local talent for a given skill-set is established.
The employer also has to obtain a permit to recruit a foreigner and pay monthly fees of up to $200 USD.
For this and other reasons, it is not easy to find employment in Bali unless you have a highly specialized skill-set. The most popular means to earn a living, therefore, is to become a digital nomad and work for websites such as Toptal, Weworkremotely, and the like. There are opportunities for freelance writers, too.
From my observation, I see a lot of expats working here as:
Digital nomads
Teachers in international schools
Lessors of Villas – While foreigners cannot own land in Bali, there are legal provisions that let them invest/co-own.
Professionals in the hospitality industry – They work in hotels, restaurants, and bars
Translators
Fashion/art/creatives
Professionals providing specialized services for expats such as a wedding planning
Cost of living in Bali is much lower than in developed countries and the salaries reflect this reality. In addition, since many employers need to pay for the cost of your work visa, they could factor this into the salary that they will offer.
If you get hired by a local employer or a sponsor, you must comply with the following:
In addition to the work visa for the expat (KITAS), the employer must obtain special documentation to employ an expat called Izin Menggunakan Tenaga Kerja Asing (IMTA) and pay a fee of up to $200 USD per month per expat.
A foreigner cannot begin to work until the entire process of obtaining a work permit is completed.
If you are planning to bring your family along, you must get dependent visas (KITAS Keluarga) for them. Your own KITAS needs to be available before you can even begin the process of getting your family's KITAS. Any person entering Indonesia on KITAS-Keluarga is not allowed to work.
In other words, hiring an expat can be time-consuming. My own KITAS and my employer's IMTA took around six months to process because I was the first-ever expat employee in my organization, and it took some time for my employers to figure out all the necessary procedures.
Hiring an agent takes care of most of these hassles. Typically established agents promise a time period of two months to obtain a KITAS for you. That's much preferable to the six months spent by my employer in figuring out and undertaking this process. Agents can do it all more efficiently.
Starting Your Own Business
If you intend to engage in an independent commercial activity, you will need to establish an entity first and obtain permits to work and later on obtain the appropriate type of visa.
You will need to incorporate a legal company (Perseroan Terbatas or a limited liability company, commonly referred to as PT). You will be required to open a bank account with a deposit of $10,000 USD (locally written as USD 10.000).
Your paid-up capital is expected to be a minimum of IDR 2.5 Bn (Locally written as IDR 2,5 Bn) and the net worth needs to be around IDR 10 Bn. After the incorporation of a PT company, you may apply for your own stay and work permit.
On the other hand, there are arrangements that can be made for small business owners who want to send their representative to Bali but do not have the capacity to incorporate a PT company. In such cases, there are companies/agencies that can process your KITAS on their payroll whereby you will be required to pay all the charges usually borne by the sponsor in addition to the payment of commissions.
Visa4Bali is an example of such an agent. You can always do some Google search to find such agents, but it is always advisable to opt for a tried-and-tested one by reading reviews on expat forums.
Opening a Bank Account
If you wish to live for a long term and enjoy privileges such as being allowed to work or obtain a driving license, you need to open a bank account. All banks will ask for a copy of your passport, KITAS, and tax number or NPWP (Nomor Pokok Wajib Pajak). Opening a bank account is relatively simple.
Since the Indonesian rupiah is devalued, you may need to keep a wad of cash with you to make purchases. This inconvenience can be avoided by opening a bank account. Most online businesses and large stores accept debit cards.
Applying for a credit card may be difficult for you as a foreigner unless you have a substantial bank balance.
Taxation
If you are a KITAS holder or are employed, your employer would have to deduct the tax at source. The tax deduction depends on varying salary slabs. By the end of every year, your employer will give you your annual tax return document which needs to be submitted to the tax authorities before March 31 of the following year.
You will need to pay taxes in accordance with your residency status. You can find more details on all aspects of individual as well as business taxation in the Deloitte taxation guide.
Briefly, here are the income tax slabs:
| | |
| --- | --- |
| Taxable Income | Rate |
| The first Rp. 50,000,000 | 5% |
| The next Rp. 200,000,000 | 15% |
| The next Rp. 250,000,000 | 25% |
| The next amount over Rp. 500,000,000 | 30% |
As previously mentioned, a working individual or a business owner will need to obtain an Indonesian tax number or NPWP. This tax number is necessary to obtain local permits such as a driver's license and to open a bank account.
Other than the income tax, you will be paying a 10% VAT (or PPN as it is called locally) on expenses items such as restaurant bills, a water tax of 20% calculated on a formula linked to water usage, street-lighting tax of up to 10% included in the prepaid electricity recharges.
Schooling Options
Several international schools operate in Bali. Here's a list of some of the popular ones, while additional details on some of the schools can be found here. The international schools offer classes up to the secondary years/levels and English is the primary medium of instruction.
Most expat families send their children back to their home country while others send them to schools outside Indonesia where they can obtain higher education. This is because the Indonesian university level education is generally considered below international standards.
Do some research and read reviews about schools from expat forums online or request a video meeting with the school representatives to understand their goals and methodologies.
Healthcare
As I mentioned earlier, healthcare options in Indonesia leave much to be desired. However, if you take good care of yourself and your family, your medical needs will be minimal.
For example, you should remember to drink only bottled water. A lot of people catch "Bali Belly" or diarrhea from drinking unfiltered tap water and eating foods of questionable quality.
Bali does have some hospitals with good infrastructure and multilingual staff. Some of them also accept international insurance policies.
Most of them are located in and around Denpasar. The ones typically favoured by expats are:
International SOS – This is operational 24 hours a day, has multilingual staff, and even has air ambulance facilities.
Sanglah Hospital – Sanglah is a government hospital that is well-equipped and has an international wing that caters to foreigners. 
BaliMed Hospital – BaliMed is a medium-sized hospital that offers 18 medical specialties. 
Prima Medika Hospital – This hospital has 30 medical specialties  and has multilingual staff.
Ubud Clinic  This hospital is open 24/7, and has bilingual staff and a pharmacy.
Toya Medika Clinic – This clinic is based in Ubud, operates 24/7,  and has bilingual staff.
BIMC Hospital – BIMC has two hospitals and a medical center in Bali.  
Surya Husadha Hospital – The Surya Husada Group operates three facilities across Bali and provides on-call 24-hour services.
Kasih Ibu Hospital – his was originally a maternity hospital. It has expanded its operations and now has an international division. 
If you stay in Indonesia for more than six months, you will be eligible to register for the national insurance program run by Badan Penyelenggara Jaminan Social (BPJS), a government organization.
A nominal amount is deducted from your monthly salary for the premium, which is compulsory even for expats. You can avail of this insurance only at participating facilities such as the government-operated Sanglah Hospital.
We also recommend topping up BPJS with a private insurance policy, whether international or local. For information on buying health insurance in Indonesia, please refer to our comprehensive guide on the subject.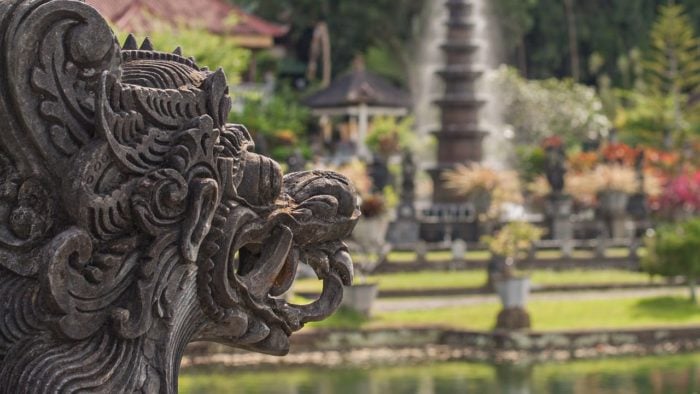 [In addition to several cultural attractions and beautiful beaches, Bali has many international hospitals, as well.]
Language
Bahasa Bali is the native language of the island. It is somewhat complicated to learn. However, Bahasa Indonesia, which is the official language of Indonesia, is spoken widely here and is easier to learn.
Though the majority of people in the tourist-frequented areas in Bali do have working knowledge of English, life gets much easier if you learn basic Bahasa Indonesia. You can start learning it online before moving here.
You may also choose to stay in the interiors where knowing Bahasa Indonesia will be an absolute must.
Please refer to our article on learning Bahasa Indonesia.
Currency
The country's legal tender is Indonesian rupiah, which is quite devalued. This is why you end up having to carry wads of cash. The current exchange rate is IDR 14,000-16,000 per $1 USD. Money changers can be found all over Bali. Remember to exchange currencies with official money changers only.
These are money changers who have received permits from Bank Indonesia and usually have a green sign stating "Pedagang Valuta Asing Berizin/PVA Berizin or authorized money changer.
Beware of foregn exchange scams.
Utilities
You will need to pay monthly utility bills, including water and electricity. Note that you will be required to purchase electricity in advance.
Price of electricity per kilowatt-hour (kWh) fluctuates from time to time. There is also a street lighting charge. Meter prepaid recharge is available at various bank branches and can also be purchased via online banking, ATMs, and SMS.
Internet connectivity has improved immensely over the years; you may not even need to have landlines installed.
Choose a provider from this list of internet service providers in Bali based on your location and requirements.
For those who live alone, expect to spend about Rp 2.0 Mn++ or about $150 USD per month on utilities, including internet costs.
Expat Social Scene
Bali is home to around 30,000 expats, so expect to run into a lot of fellow foreigners. There are numerous societies and clubs that you can join. Internations is a very active group that arranges regular meet-ups.
Expat.or.id provides comprehensive resources for expats in Bali. They also have expat forums where you can share or get information. Online forums and communities like Balipod expat forum are a great way to meet individuals with common interest.
There are Bali expat groups on Facebook where you can connect with like-minded people.
You'll also likely to gather useful tips and expat community updates if you live near an expat watering hole where many expats hang out. The people in this crowd are usually approachable and friendly.
You can also easily make friends with locals if you show interest in them and respect their culture. Many are genuinely nice and helpful, but some of those who work in the tourism sector might treat you as more of a potential client. At times, it can get tricky to form boundaries.
There have been instances of locals convincing expats to lend them money. That said, scammers are very common at tourist destinations other than Bali.
Balinese Culture
Bali is largely a Hindu island in the predominantly Muslim Indonesia. As such, Balinese traditions, festivals, and cultural rituals are celebrated nowhere else in Indonesia.
But with growing western influence, Bali is getting more and more westernized. However, at heart, it has been able to retain its character that's grounded in spirituality and rich cultural history.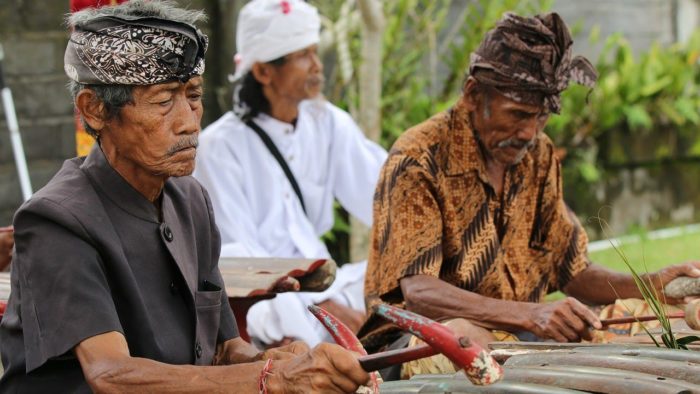 Social Dos and Don'ts
Dress and behave modestly – Skimpy clothes or public displays of affection are frowned upon in highly local communities and in areas near the temples. Many people are encouraged to wear sarongs and cover up when visiting temples. Keep this in mind and respect the sensibilities of people based on the locality you are in.
Do not enter temple premises or join religious processions if you are menstruating.
Do not use your index finger to point at or call on someone. Call them by their name or use polite hand gestures.
Do not use your left hand to give or take objects. This rule was originally due to hygiene reasons. The Balinese didn't use toilet paper traditionally and used their left hand to wash off after going to the toilet. As a result, the left hand is usually perceived as unhygienic. However, it is okay to use the left hand when used together with the right hand in giving or taking objects.
Do not touch people on their heads per their religious traditions that prohibit it.
Do not step on "Canang Sari" or a small palm leaf pocket which contains flowers and some offerings. These are offered by Balinese at various locations and multiple times in a day. Some of these can also be found on sidewalks.
Do respect local customs and traditions. For example, "Nyepi" or the day of silence is when everyone stays inside the house and observes silence. The Balinese expect everyone on the island to follow this rule.
Do respect the elders. Bali is still a very traditional society. This means that the elders command respect and are granted due respect by everyone in their families.
Interacting with the Balinese
In Bali, it is generally considered offensive to be direct or demanding. Direct confrontations are often avoided.
If a local doesn't agree with whatever you say, they may not say so to your face. They may appear indifferent or they might pretend to agree with you. And when they do say out loud that they disagree with what you say, they have a tendency to be apologetic about it.
Their tone of voice usually tends to remain polite regardless of the nature of conversation. You are expected to understand and pick up on non-verbal clues. You'll figure it out eventually, but it can get frustrating initially.
This is especially quite tricky in a work setting, particularly on emails; they tend to have some difficulty denying a request or saying 'no' outright.
The concepts of family and work-life balance are very important for the Balinese and they may push back against an aggressive work environment. It is important for any business owner who comes here to understand this aspect of the culture. On the other hand, those who work in the service industry are trained to go the extra mile.
Part 4: Timeline to Move
The timeline of your move to Bali depends on the kind of visa you are applying for. Take note of the following:
If your employer is sponsoring your KITAS, the overall process, including obtaining IMTA for the employer and the KITAS for yourself, will take between 2-4 months.
Applying for a social will take less time, say, a maximum of three weeks. It takes even les time if you work with an efficient agent. Meanwhile, processing a retirement visa may be completed between 3-4 weeks.
The least time-consuming process is getting a VoA and subsequent runs for a shorter duration visa.
Hiring an agent is recommended because it's efficient and it saves time. For a limited-stay permit KITAS, you should allot a period of 2-3 months. If you're shipping heavy cargo, you might want to allot about 6-8 weeks for their processing and arrival. That means,you need to sort out the proper documentation and plan ahead.
Within two months ahead of your planned move, you may begin to do the following:
Buy tickets, travel insurance, and international driving permit, and inquire about logistics services to shift big cargo.
Tender your resignation so you can have sufficient time to fulfill the required resignation notice period of your current employer.
Do some research on areas in Bali where you wish to stay, particularly important for families with kids. Get in touch with Bali's expat community as you search for information.
Check different schools' admissions policies and other requirements.
What you can do weeks before the move"
Sell car or hold garage sales for items that you won't be using anymore
Get international health insurance if you do not plan on buying local insurance
Organize all the necessary documents
Pack items to be shipped
Obtain a health certificate if required for a specific permit type.
Rent out your current house or begin the sales process if you're selling it
Take flu-shots and other vaccinations for you and your family members
Make arrangements for your initial accommodation and transportation in Bali
Now, on to you
We hope that the information in this article should answer you everything you need to know about moving to Bali.
In case you have any questions, please feel free to leave your comments below.