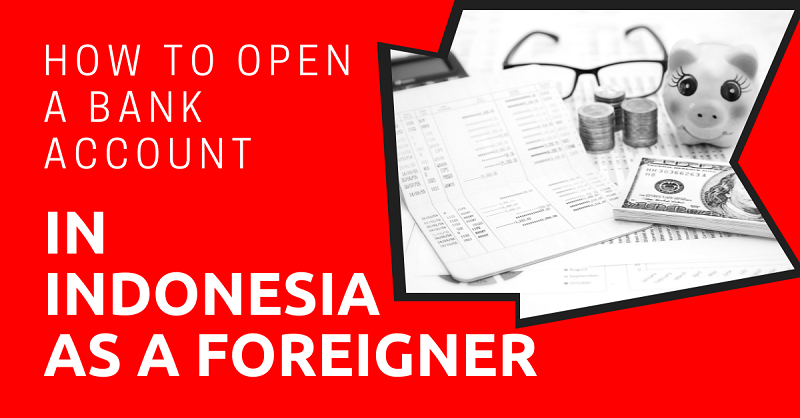 Are you in the process of moving to Indonesia as an Expatriate and thinking of opening a bank account? No need to worry.
Opening a Bank account in Indonesia is relatively easy despite having strict supervision by the Indonesian Central Bank (BI) for all banking services.
There is local and international banking institution in Indonesia with several available for expats or foreigners. Those banking accounts are in rupiah and foreign currency accounts which are usually USD available for expats living in Indonesia. Expats are entitled to use several banking services with a mostly straightforward procedure.
In this article, I would like to guide you in the process of opening a bank account, available banks to choose too, and other services that you can avail yourself of while storing your money in the bank.
This article will take approximately 15 minutes to read. Don't have the time right now? No worries. You can email the ad-free version of the article to yourself and read it later!
Procedures for Opening a Bank Account in Indonesia
Let's take a quick look at what you need to have to open a bank account in Indonesia.
Which Bank to Choose
There isn't much different between each bank in Indonesia, in which you can find out more below.
Ideally, you would like to open a bank account near your residence or place of work. In Indonesia, you still need to visit a physical bank regularly for submitting paperwork and other future transaction that may arise.
Another thing to look at is the numbers of ATM in your area, in which you should first scout the area first to see which banks has the most ATM there. It would be convenient for you especially if you would require emergency withdrawals. Just take note that most banking institutions in Indonesia have a joint agreement allowing you to use other ATM bank branches for a transaction. But you will incur additional charges if you use a different ATM provider
In case you would like to deposit a large amount of money into your bank account, such as over $50,000 USD or equivalent, it's better to go with major banks to ensure your financial security.
Types of Banking Accounts Available for Expats
Depending on the purpose of your bank account, a foreigner is allowed to open or choose these types of bank accounts.
They can open a checking account for the ability to make payments by cheque (giro). Apart from that, you will have the ability to defer payment by retroactive check.
They can also open a saving account that enables them to use the account as a tool for transfers and debits. Part of this service is accessing ATMs.
An expat can open a deposit account that provides higher interest than a savings account. The only catch is deposits are withdrawn following the agreement with bank customers with expected higher returns.
Lastly, an expat can open a credit account. If approved, you will receive a credit card that you can use to purchase from different vendors across Indonesia. You will have to undergo stricter evaluation before getting approval. Be mindful of the fees as well.
Requirements
Generally, when you need to open a personal bank account in Indonesia, here's what you need to have:
A reference letter from a sponsor who's either your employer or an Indonesian spouse
A temporary residence permit (KITAS) or permanent resident permit (KITAP)
For expats or foreigners already married to an Indonesian and plans to open a bank account and deposit an amount of over 50K USD or other equivalent major currencies. You will have additional requirements such as Husband/Wife ID, proof of residence, and banking financial products from other banking institutions for verification.
For bank accounts use for payroll purposes, several other documents may need to be submitted. An expat will need to submit a Tax Identification Number and an employment letter issued by the hiring company.
Normally it's prepared by the hiring company representative and the expat will go to the bank for completion of banking documents and signatures.
Initial Deposit
A payroll bank account doesn't require minimal deposit amounts while non-payroll bank accounts will require a minimum deposit amount. On average, you will require 1,000,000 rupiah for starting deposit amount for a rupiah-based bank account. If you open a foreign currency-dominated bank account, you can make an initial deposit of 100 USD. For foreign tourists, you are allowed to open a bank account starting at 2,000 USD with a maximum of 50,000,000 USD or equivalent for a different major currency.
Application
After all requirements are prepared, the expat is required to proceed to the bank of choice and complete the steps. Assisted by banking personnel, you will need to complete the banking forms and have all the documents properly signed.
Some banking institutions may require an expat to provide fingerprints to complete the forms and part of the verification process.
Once completed, you will be provided an ATM card and asked to create a PIN for access. Banking personnel will assist in activating the ATM. In the digital era, your ATM can be used as a debit card and access the ATMs for cash withdrawals or transfer of funds. An ATM card in Indonesia is also a debit card. This means you can use it for direct purchases. You can also perform other transactions like internet payments, electrical and water utility purchases and payments, and so much more.
Once the ATM card is activated, you will have option to use the online banking system for online transactions such as checking the remaining balance, transfers, and payments.
To improve your digital banking security, you have a choice of either using your phone or a security device (token) that generates codes while performing online banking services.
You can also use a VPN to improve security when doing any online transaction.
Banks in Indonesia
With about 107 banks in Indonesia, here are some that have a large customer base for their wide range of products and services.
Local Banks
You have two options for local banks: government banks and private banks.
There are the most popular options for expats in Indonesia. Both banks have similar features and customers can perform a transaction in either of the banks. Both banks are regulated with ownership as the sole difference. Both government and privately owned provide good customer service and have the most number of supporting branches all over Indonesia.
Apart from the local services, the overseas presence is also an important banking feature. Several countries, such as Singapore, Hong Kong, and Malaysia, are the countries with the largest number of Indonesian bank branches.
BNI
Bank Negara Indonesia or BNI is the oldest government-owned commercial bank. It has also the most number of overseas branches. BNI has 8 overseas offices, 6 of which are branch offices, 1 general representative office, and 1 functional office. Countries with BNI branch offices include the United States, United Kingdom, Japan, Hong Kong, Singapore, and Japan. In addition, BNI also has 6 ATMs spread across Hong Kong.
BNI is quite famous for its mobile banking service and call center among the government-owned banks in Indonesia
Bank Mandiri
Bank Mandiri is the largest Indonesian bank in terms of assets and commercial users. It has the most number of ATMs all over Indonesia.
Also, a government-owned bank with the second most overseas branch office. There are at least 6 offices consisting of 5 branch offices and an overseas cash office. Bank Mandiri has branches in England, Singapore, Hong Kong, Malaysia, Cayman Islands and Shanghai.
BRI
Bank Rakyat Indonesia or BRI started its banking operation in Purwokerto city on Java Island. Since then it has transformed it one of the biggest banks in Indonesia. Another government-owned bank has 6 overseas offices. Of the six offices, three are branch offices, and three are sub-branches. BRI overseas branches are in New York, Singapore, Hong Kong, Taiwan, Cayman Islands, and Timor Leste.
BRI has the most number of branches located all over Indonesia.
BCA
The most popular widely used bank, Bank Central Asia or BCA is the biggest privately owned commercial bank in Indonesia. BCA is famous for its excellent banking services. They have a lot of financial services with relative ease in doing bank transactions.
It has only two representative offices of commercial banks. The offices are located in Hong Kong and Singapore.
Maybank
Maybank is a private commercial bank and is part of Malayan Banking Berhad of Malaysia. It is considered one of the largest financial service providers in ASEAN.
Maybank has one overseas branch office, to be precise in India under the name Maybank Indonesia Mumbai
Bank PAN Indonesia
Bank PAN Indonesia, better known as Panin Bank, is the result of a merger between Bank Kemakmuran, Bank Industri Jaya, and Bank Industri Dagang Indonesia. The banking loans program for house purchases is quite famous for Indonesian customers.
Currently, Bank PAN Indonesia has one representative office for commercial banks in Singapore.
Foreign Banks in Indonesia
There are many foreign banks in Indonesia, but only a few are the most popular and are considered to have a fairly good performance by the financial authorities in the country. 
DBS Bank Indonesia
Being a part of the DBS Group in Singapore, DBS Bank Indonesia has provided many satisfying services to its customers. The bank, whose name stands for The Development Bank of Singapore Limited, has been declared one of the best foreign banks in the country by trusted sources such as Forbes.
Expats can consider this international bank for its wide overseas presence. It has almost 40 worldwide offices.
HSBC Holdings Bank
Another foreign bank popular domestically is HSBC (The Hongkong and Shanghai Banking Corporation), which was founded in 1865 in British Hong Kong. The interesting fact is that this bank based in London, England has opened branches in Indonesia since 1884. Only about two decades from the year it was first founded.
Initially, this bank contributed to financing and facilitating the sugar trade in Indonesia. However, now HSBC Bank has offered a variety of services to customers covering the fields of corporate, retail, and wealth management.
OCBC NISP
The Oversea-Chinese Banking Corporation or abbreviated as Bank OCBC is Singapore's base international bank. After acquiring the local bank NISP and having its head office in Jakarta, this foreign bank in Indonesia changed its name to OCBC NISP. In 2020, this bank won the title of one of the best banks thanks to its brilliant performance. 
Providing key financial support to low-middle-class entrepreneurs is one of its best financial services.
CIMB Niaga
As described above, CIMB, which hails from neighboring Malaysia, has acquired Bank Niaga an Indonesian local bank. The bank with the long name Commerce International Merchant Bankers began working with Bank Niaga and operating as a CIMB business in 2008. In addition, CIMB has also merged with Bank Lippo which has been in existence since 1948. 
You can open an account with as low as a 100,000 starting deposit amount. It also provides free life and health service for some of its banking services.
Expat-Friendly Banks in Indonesia.
The idea of having a resident bank account makes it more convenient and accessible for you to exchange money and conduct financial transactions locally.
A great example is the local bank BCA. It has a considerable overseas presence and is easily one of the top banks in terms of capital, services, and customer base in Indonesia. They can assist you to open an Indonesia account if you have an existing BCA Singapore account
This way an expatriate can maintain their normal account in their home country while opening an account on a similar bank that has multiple country bank branches.
Can a Tourist Open a Bank Account in Indonesia?
According to the Indonesian Financial Regulatory Body (OJK), foreign tourists are allowed to open a bank account using a passport for identity verification.
However, the main condition is that you need to put an initial deposit of $2,000 USD. And not all the banks are willing to open an account for a tourist.
I have been successfully open a bank account as a tourist with BCA in Bali.
Please note that bank may require additional paperwork. It's still a good idea to recheck with the bank again.
International Money Transfers
This service is quite famous for expats sending funds overseas to their family or friends. A great example of this financial service is the use of western union. Western Union has close collaboration with Indonesian local banks such as BRI, Bank Mandiri (sharia), and CIMB Niaga. Simply go to their branches and the banking staff will assist in performing the transactions. This financial service can help you transfer either directly to an individual receiver or your overseas bank account. The transaction is almost instantaneous. Transaction cost ranges from 30,000 – 100,000 rupiah.
Another financial service with a similar function is Moneygram. This service has a joint work agreement with the local BCA. Collaborating with BCA means great customer service with widely available branches for support. Transaction cost starts at 100,000 rupiah.
With improving technology a new player providing similar financial service is Wise. Having the advantage of just using a smartphone with stable internet and you can already avail the service. You will need to download the app on your (App store Apple/Android). The procedure is quite straightforward with transfer almost instantaneous too.
Tips for Maximizing Your Banking Products
Here are some tips to help you maximize your banking products
All ATMs operate 24 hours a day. In case of emergency withdrawals at night time, it would be wise to use ATM branches with the presence of security personnel
The maximum amount of cash withdrawal will also depend on the ATM card type. An example is the BCA ATM card Xpresi which allows you to withdraw 7,000,000 rupiah. ATM cards blue, gold and platinum allow withdrawal of up to 10,000,000 rupiah.
Transfer of funds has limits too depending on the card type. ATM card platinum (BCA) can transfer up to 100,000,000 rupiah for a similar bank account and 20,000,000 rupiah for other banks. An administration fee is about 19,000 rupiah per month for this card type.
Make sure ATM has a MasterCard or Visa logo if you have plans to use the debit function in your overseas travel.
If your ATM card has the ATM Bersama logo, which is a local banking network in Indonesia, you should use the ATM machine that has the ATM Bersama logo only. Otherwise, it might cause fail transaction or risk of losing your funds. Double-check your balance if you accidentally use a non-ATM Bersama logo machine. In case an issue is encountered, immediately report to your 24-hour banking call center. They can speak English.
Make sure to understand properly the features of any banking products that you will acquire before finalizing a deal.
Now, on to You
The Indonesian banking industry is recognized as having a stable value because until now it is considered the most dominant in raising public funds over assets as well as channeling the money to individual customers or entrepreneurs. With the increasing number of acquisitions or mergers of foreign banks in Indonesia against domestic banks, you can expect better products available in the future.
What's more, an improvement in technology greatly facilitates customers saving activities and applying for capital loans, and adding benefits for users of national banks. Financial authority is expected to be able to monitor the progress of all banks in Indonesia ensuring the safety of customers.
The majority of Indonesian banks are accessible to foreigners or expats. Provided requirements are given to banking personnel, you will be able to access various banking products to help you manage your financial needs.