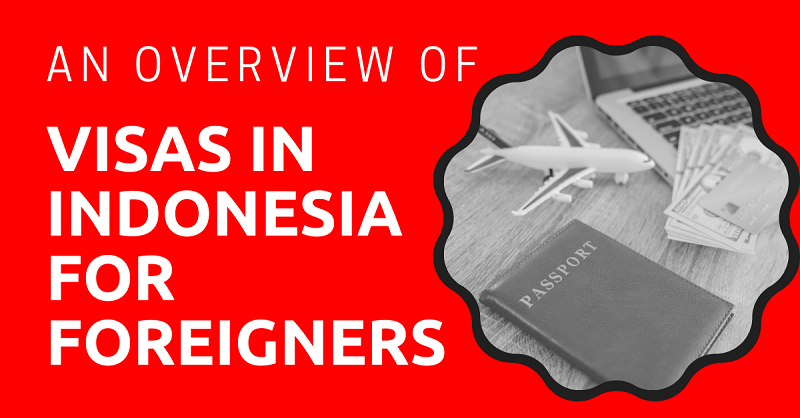 There are many types of visas available in Indonesia. The purpose and the length of your stay determines the type of visa you get.
When applying for a visa, consider the length of your stay. That is, consider whether you intend to run a business, look for work, or retire here.
This article will take approximately 7 minutes to read. Don't have the time right now? No worries. You can email the ad-free version of the article to yourself and read it later!
Visa Exemption
Indonesia has a visa exemption program only with Southeast Asian countries such as Thailand, Philippines, Singapore, and Vietnam.
With the visa exemption, you can stay in Indonesia for up to 30 days without having to apply for a visa. Basically, you can fly to Indonesia with just your passport and enter the country.
While the Indonesian immigration website says you need to show proof of onward travel, it isn't always necessary.
Visa exemptions do come with restrictions. They can't be extended or changed to other visa types, and you're not allowed to work in Indonesia with one.
Visa on Arrival (VOA)
The easiest way to stay for 60 days or less is with the Visa on Arrival (VoA). Indonesian Immigration offers VoA to citizens of around 96 countries. Citizens of these countries don't need to pay any fees if staying for 30 days or less.
However, if you plan to stay for more than 30 days but less than 60 days, you have to pay a visa fee of US$35 (IDR500,000) at the airport before approaching immigration. Make sure to keep the receipt. You'll need to present it to the immigration office later if you extend your visa beyond 30 days.
Before the end of your first 30 days, you have to visit the nearest immigration office to extend the stay for a further 30 days and show proof that you've paid the VoA fee. You cannot apply earlier than 14 days or more than a couple of working days before your 30 days expire.
You also need to visit the immigration office whose jurisdiction governs the area you're staying in Indonesia.
Some expats exit the country after getting their 60-day extension, then re-enter on another VoA, pay US$35 again, and apply for another extension of stay.
We don't recommend doing this for long-term stays. Immigration authorities may fine you for not getting the right type of visa and could reject your application to extend your stay.
That said, you can apply for the electronic VoA before visiting Indonesia right from the Indonesia Immigration website.
Work Visa (C312) and KITAS
This is relevant for those who intend to work in Indonesia.
A work visa allows you to stay in Indonesia for a year, and you can extend it within Indonesia. With a work visa, you also get an Indonesian work permit, or Kartu Izin Tinggal Terbatas (KITAS).
Even if you already have a source of income before moving to Indonesia, you still need to get a KITAS if you're looking for work in the country.
In addition to the work visa, your sponsor/employer has to obtain special documentation that permits them to employ you as an expat. This document is called Izin Menggunakan Tenaga Kerja Asing (IMTA).
You can then apply for family dependent visas called KITAS-Keluarga, or Family KITAS.
You can find the official link to work visas here.
There are also visas for journalists, researchers, and other types of foreign visitors. For more information, visit the Directorate General of Immigration of Indonesia website.
Longer Duration Visas Without Work Permits
If you don't intend to work in Indonesia but plan to live here for a long time, you must apply for one of the following.
Social Visa (B211A and D212)
You may stay for a period of up to six months on a social visa.
A single entry social visa is called B211A and the multiple entry is called D212. To apply for this, you need a sponsor who is either an Indonesian citizen or a holder of a valid limited stay permit. You can also contact an agent who may charge you for sponsoring and processing your visa.
You'll have to exit Indonesia and receive telex approval at the Indonesian Embassy in a country of your choice (Singapore is a popular choice). Every month, you can then bring this telex with you to the local immigration office in Indonesia to get your visa stamped without having to exit the country.
After six months, you have to exit and re-enter Indonesia and re-apply for a visa. You aren't allowed to work with this visa and will pay a massive fine or get deported if you get caught doing so.
You can find out more information from the Indonesia Immigration website.
Business Visa (B211B)
This business visa is issued for trips to Indonesia of up to one year, but you have to exit the country after 60 days.
The purpose of this visa is to enable business travelers to visit Indonesia to conduct business meetings.
You need an Indonesian company to sponsor you in order to apply for a business visa. However, note that you aren't allowed to work in Indonesia or enjoy benefits granted to KITAS holders, such as opening a bank account, getting a driver's license, or getting discounts on entry fees at certain public places.
The official information for single and multiple entry business visas can be found here.
Spouse Visa (C317)
If you're an expat married to an Indonesian citizen, you can receive a limited stay permit called KITAS (Kartu Izin Tinggal Terbatas), valid for a year. It's renewable and, at the end of the second year, you can convert it to KITAP (Kartu Izin Tinggal Tetap), which is valid for five years.
Refer to this page for official information.
Retirement Visa
If you're older than 55 and earn more than US$1,500 a month, you can get a retirement visa. It's usually valid for one year and can be extended up to five times without having to leave the country.
Here are the main requirements.
age: 55 or older
passport validity: more than 18 months validity remaining
financial: proof that you have pension funds/bank deposits of a minimum of US$1,500 per month (or a total of US$18,000 per year)
documents: Application, warranty from a travel agent, and sponsor/agent's paperwork containing details of their business activity (official documents)
You might be asked to submit some of the following additional documents:
four, passport-sized photos
copy of every page of your passport
health insurance certificate obtained from a provider in your country/Indonesia stating that it covers your medical expenses
Rental lease
documents on employed assistants/household workers, if you hire any
resume or CV
Visit the Indonesia immigration website to find out more.
Digital Nomad Visa
A few years ago, Indonesia had some news on a potential digital nomad visa. However, when the news actually broke in September 2022, the visa was still not suitable for digital nomads.
This is because you need to have IDR2 billion (US$133,000) in your bank account all the time as a proof of financial requirements. Read our digital nomad visa guide to find out more.