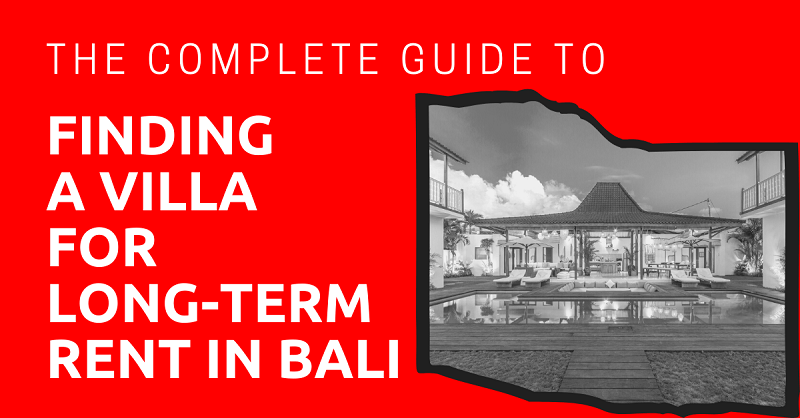 Villas are hands down the most popular choice of accommodation when it comes to living in Bali. In truth, these days, other than Bali's natural and cultural attractions, the possibility of realizing the dream of living in a villa attracts many expats, digital nomads, or retirees planning to move here!
Villas not only serve as your personal sanctuary, but they also offer a personal slice of paradise within this beautiful island. And over the years, villas have become the first choice of accommodation for expats.
Renting a villa in Bali is not as daunting as it seems. It's much simpler than you might have ever experienced elsewhere.
And if you want to try living in one, Bali gives you a chance to experience the comfort and luxury of living in a villa hassle-free without burning your wallet.
In this article, we will discuss the whys and hows of a villa rental in Bali and what you can do to start realizing your own villa-living dreams.
This article will take approximately 18 minutes to read. Don't have the time right now? No worries. You can email the ad-free version of the article to yourself and read it later!
Why You Should Consider Living in a Villa in Bali?
Here are some reasons why the villa is an ideal choice of accommodation for everyone in Bali:
They are Easily Available, Almost Everywhere
Bali is a very popular destination amongst expats. As per one estimate, presently there are about 30,000 expats living in Bali who are holding long-term visas. This excludes expats who arrive on a tourist visa instead and live here as a digital nomad.
Naturally, to cater to such a large expat community, a lot of accommodation options need to be made available. Since the foreigners can leasehold property and run a business here, the villa real estate segment has also witnessed a large foreign investment lately. As a result, there is a fair bit of supply of villas to match the growing demand.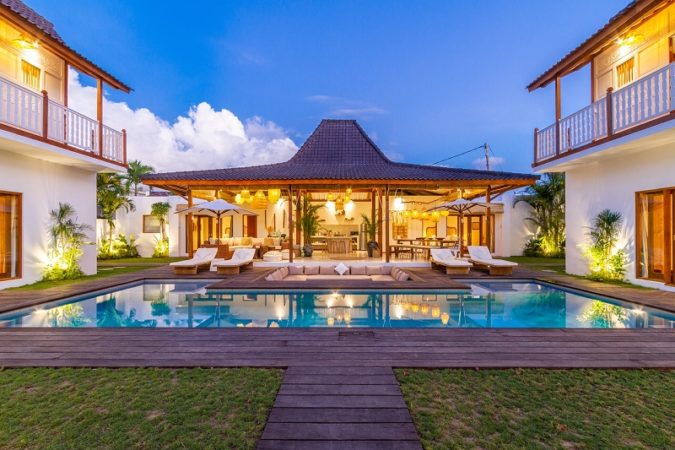 A simple search on Airbnb resulted in 2,000+ options of various styles of accommodation, starting from simple 1-bedroom villas to 7-room luxury villas. This is just from one site and there are practically hundreds of such sites online.
Secondly, they are available at most places preferred by expats. Areas such as Canggu, Umalas, Seminyak, or Ubud abound with villas. Not just in these places, but villas are available at all the well-known locations in Bali, so you are not going to be limited by location to realize your dream of living in a villa.
They are Assuredly Affordable
If there is one thing that might hold you back from renting a villa, it's going to be the cost. Looking at the amenities and photos, you might think that villas might not come cheap. But you'd be surprised at the range of prices available in reality.
For instance, the longer the duration of the rental, the cheaper it will be per month. If you look in the right places and know the art of negotiation, you can easily find a good villa at pocket-friendly rent!
On average, you can find a good villa with a kitchenette, a couple of bedrooms, a sitting area, swimming pool, and en-suite bathrooms for USD 600 and upwards per month, depending on the premium features. However, I have come across scenarios where people have been able to lower the rent to as low as USD 400+ per month with some networking and negotiation.
So whether you have plans to splurge on your accommodation or are on a tight budget, you are sure to find something that matches your requirements.
The Flexibility of Duration
Whether you plan to stay the entire year or just a couple of months, you will find a villa option for any duration of stay. A lot of villas offer monthly, quarterly, semi-annual, or annual rates depending on what you prefer.
If you do not have definite long-term plans, or your plans are extendable further, such flexibility can come in handy which may not be available in a lot of other accommodation options.
They Ensure Privacy
With their niche and exclusive locations, villas offer tremendous freedom and complete privacy.
Since villas are built away from the public, you will be able to entertain your guests for as long as you want in your living space, cook as much as you want, or even order from outside if you feel like it! Some of you might want to enjoy a quiet sanctuary of your own while others might want to host frequent parties. Villas are a perfect setting for any of these situations.
Ultimate Comfort
With multiple living spaces, you will not be confined to a single room. The fact that you get your private sitting area, your private pool, kitchenette, and so on means that you can use them at your fancy whenever you like.
Service and Convenience are not Compromised
Renting a villa doesn't mean having to deal with the maintenance and chores associated with managing a large living space if you are in Bali.
The villa rentals in Bali usually include periodic cleaning services (which can be daily or frequently in a week depending on the agreement) and maintenance of the pool, garden, etc.
Even if you end up renting for as long as a year or more, the owners/management continue to provide these services as a part of the contract to ensure a hassle-free experience.
Additionally, some villa owners offer drivers on call, helpers, personal chefs, etc. at very reasonable rates compared to most of the other tropical vacation spots. Even if you opt for any or all of these add-ons, the total cost will be much cheaper still, compared to other tourist destinations.
Family-Friendly Options
Larger families with kids need more moving space. Growing kids need the freedom to explore within their living space. A lot of villas come with family-friendly options. Kiddie pools, dedicated play areas/sandpits, or outdoor play areas are some of the features of such villas.
At expat waterholes such as Seminyak and Canggu, you may even find villas with a dedicated infant room attached to the master bedroom. Others may have bunk beds, tree houses, and more.
The fact that villas are available in close proximity to various international schools also makes them a very attractive option.
Customizability
Some villas offer a lot of customization options to the renters. For medium to long-term rental, many tenants have been able to decorate the premises as per their taste and even make some structural additions (with the permission of the owner). This speaks of real flexibility similar to living in your own house.
Versatility
Best of all, Bali offers you a great variety of villas.
Whether you want a beachfront villa with a private beach of your own, a quaint Bohemian structure facing the rice terraces, a traditional household, or a modern layout, Bali villas always have something to offer. You may want a minimalistic vibe, absolute opulence, boutique-style, or an off-beat villa, you will find it here for sure.
In short, the villas in Bali can take you away from the commercialized world and provide you with your personalized paradise.
(Notice that I didn't call them "Balinese Villas" just yet. The reason will be clear once we discuss the types of villas available in Bali.)
Types of Villas in Bali According to Style
In Bali, three styles of villas are commonly found. They are Balinese, Joglo, and Modern. All of them are equally popular.
Modern
The modern style came to Bali with the Westerners. There can be contemporary, minimalist, themed, or even a blend of traditional and modern elements. Since Bali is an island very popular with tourists, all the trends within Western modern villas are bound to be available in Bali.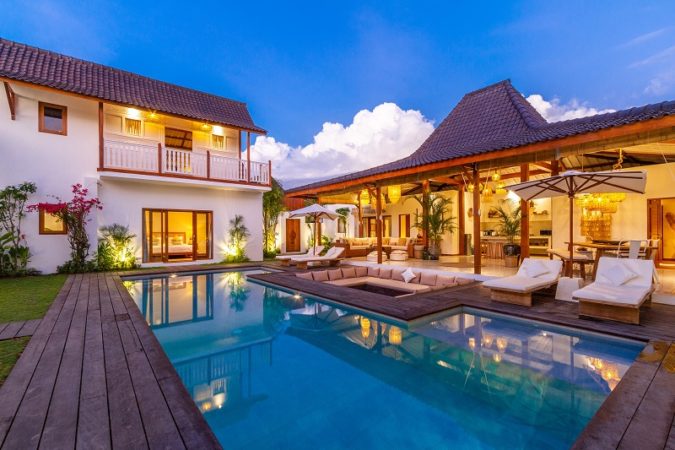 One of these trends is the blended villa, where outer structures are traditional, (such as the traditional compound, traditional style of gardens, and others) but the rooms are in modern style to offer the best of both worlds.
Balinese Villas
Balinese villas are designed similar to traditional Balinese houses. They are designed keeping in mind the aesthetics and beliefs of the Hindu religion that is practiced by the majority of locals in Bali.
These will typically have a highly ornate gated outer compound (Pakarangan) that houses multiple structures built separately (such as a standalone kitchen or various rooms and bathrooms). Balinese villas are usually constructed out of wood and stone.
A traditional Balinese villa will have a lot of open spaces, a breezy layout, inhouse Lotus ponds, gardens, and so on. Wherever possible, even natural streams are let through the premises or a water fountain can be a staple.
It can be said that within such a villa, there's a personal natural sanctuary. There is also a small temple (Pelinggih) within the compound. Roofs are thatched and there are resting places (Bales) which are small lounging huts built in the gardens.
The villas have displays of traditional sculptures and carvings at the entrance and various other places throughout the villa.
Joglo Style
Joglo is a type of traditional house of Javanese people. Its roof has a specific shape/structure that used to be associated with the Javanese aristocrats in the olden days.
Although not originally from Bali, it's from the island of Java and offers exotic experiences comparable with Balinese-style villas. It has a significantly high roof, which is highest at the center, supported by four inner main columns. The villa can be extended subsequently to accommodate as many rooms/spaces as required. The outermost columns will be the shortest.
Traditionally, Joglos have been constructed out of teakwood entirely. The roofs are thatched and all the rooms are part of the structure and not separated from each other like Balinese-style villa.
Cost
Contrary to what you may know, villas in Bali are not too pricey. They can be absolutely reasonable if you know where to look.
A villa in Bali may cost anything between USD 600 up to USD 2,000 per month depending on the location and amenities. Since negotiation is the standard way of doing business in Bali, you may even surprise yourself if you negotiate a cheaper rent with the landlord.
Having said that, my personal experience in the current market is that modern villas form a larger chunk of the villa inventory presently in Bali. These also offer a wider price range as well as higher chances of successful negotiations.
Traditional designs need larger space and their prices usually reflect this fact. However, a steal deal cannot be ruled out even in the traditional categories. As I said, you need to be on the lookout for the right deals and opportunities.
How to Find a Villa in Bali
So how to land the steal deals I have kept mentioning throughout this article?
Online Listings
There are countless listing websites similar to Airbnb. Popular listing sites that offer all kinds of accommodations, also have villa listings, such as Traveloka, Agoda, and so on. 
However, given the immense popularity of villas, there are tons of dedicated sites that offer long-term rental arrangements with the listed villas. Some of the sites include Bali home immo, Bali treasure properties, Bali villa finder, Bali Coconut Living , Bali long term rentals, and so on. A lot of agencies and private villas such as Kutus kutus,  Raja Villas, Bukit Vista, or Harcourts Purba Bali also have their sites. 
Social Media
What I prefer though is looking through Facebook groups or offline networking. Both of these are currently the most preferred ways of looking for the right accommodation in Bali. There are hundreds of fairly active Facebook groups where you not only get the information on the listings, but also the reviews by fellow renters. Some of these fairly active groups include Bali housing and accommodation, Bali long term villa rentals, Bali long term yearly / monthly rentals, and so on.
Online Communities
There are even area-specific communities such as Canggu community housing, Ubud housing and rental, Canggu and Seminyak Community, and so on. If you have already decided on the area to live in, do check if there is a Facebook community for the area. Given the large expat population in Bali, there are high chances that you will find a relevant community.
The active online communities are great support, especially for the first-timers who need several other survival tips apart from a suitable accommodation. All you need to do is to mention your specific requirements, duration, and budget. Those who have offers matching your requirement are likely to contact you fairly fast.
Posting on online communities gives you easy information and wider choice without spending a lot of time initially on your search. In addition, you will be protected from any scams by asking for reviews on the same community groups.
Asking Around
Offline networking is another great way of finding yourself a good deal if you are one of those who prefers to first check the villa before booking it. The simplest way would be to keep your eyes and ears open and check out any interesting flyers and handouts.
If you walk into the nearest cafe, the chances are, you will meet someone who has a lead for a good deal. Some of you might be uncomfortable with such outreach, but I assure you locals and expats are fairly helpful and in most cases, you will get a genuine lead.
Other than this, there are a large number of real estate agents operating in Bali for those of you who prefer offline agents handling negotiations end to end for you.
This article is a fairly comprehensive resource on how to go about finding perfect accommodation in Bali that includes villas too! It also offers practical advice for the first-timers, including a suggestion that you may want to check out the living space before booking for a long-duration online. You may spend the initial few days at a temporary accommodation and visit various villas first before zeroing in on your dream villa!
Procedure
The procedure to close the rental deal differs based on how you found the villa.
In the case of online listing or booking websites, the most important benefit is bypassing direct legal negotiations. For example, Airbnb would take care of legalities with the villa owners and all you need to do is interact with Airbnb's interface and book your rental.
You will need to abide by the standard terms of the listing websites. If there are any terms specific to the villa (example – no pets allowed), those will be mentioned upfront in the information about the villa.
If you looked for a villa through Facebook groups or offline networking, you will have to deal with owners or their representatives offline. You might have to negotiate the terms personally as well.
In many cases, especially for shorter durations of 3-4 months, some owners may prefer to deal in good faith, bypassing the documentation altogether.
This is a common business practice especially for smaller standalone villas, although things are changing for the better gradually.
Another good thing about renting a villa is that the whole process can be done in English. You won't need to know Bahasa Indonesian.
As a renter though, you can insist on documentation irrespective of the period of the rental.
For long-term rentals, the documentation will be carried out more often than not. In general, the following will be covered under the standard terms of the contract:
Utilities
The utility charges including periodic maintenance of the garden, pool, cost of WiFi, water, or electricity are usually included in the rental quote.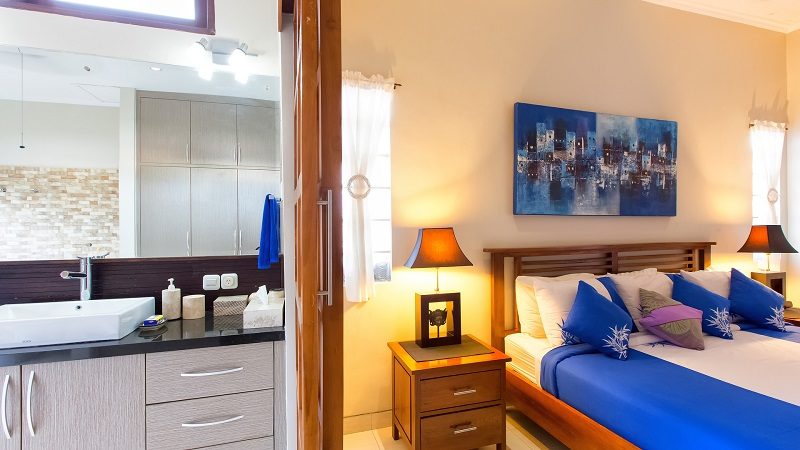 This means the tenant just has to pay an all-inclusive monthly rent. For the longer-term rentals, expenses such as servicing of air conditioner, minor repairs such as plumbing related, and other maintenance works are not covered and are expected to be paid for by the tenant.
Security Deposit
Short-duration rentals don't usually need a security deposit. However, if it is asked for, it is usually one month. It is returned to you at the end of the rental period. If there will be any damages to the property or accessories (other than normal wear and tear), the amount is recovered from the security deposit and the rest will be returned to you.
Inventory
All the items that come with the villa (such as furniture and fittings, accessories, kitchen items, bedding, etc) will be mentioned in the inventory list. As a tenant, your responsibility is to make sure that these items stay intact. When your lease ends, the owners will go through this list with you and this exercise will take place at the time of returning the property too, where they will check if the items are in proper condition and have not been damaged (other than normal wear and tear).
The Contract Document
This document will mention monthly/annual rent, terms of payment, currency, mode of payment, rights, and liabilities of the tenant and the owner, damages, inventory list, and others.
As tenants, you need to make sure that all the items discussed above have been mentioned in the contract. The owners usually take responsibility for legalizing this document and sharing a copy with you.
A lot of these transactions happen in good faith and the best safeguard in most situations like these is to opt for a property that has been widely reviewed or has been referred through a reliable source.
Even so, popular experience shows that the locals and expat communities in Bali are fairly helpful and genuine and the leads you may receive are usually genuine. This is why villas continue to be the most popular choice of accommodation.
Now, on to You
Villas are the perfect accommodation for any kind of stay in Bali, be it short or long term. They are beautiful and affordable and they enhance the quality of your stay without a doubt. Thankfully, finding the right villa in Bali is very simple. If you follow the tips discussed in this article, as well as here, you will be enjoying the comforts of a lovely villa in no time!
I hope you do take up such a splendid opportunity to enjoy the riches and the delights of the villa – stay on your upcoming Bali trip. All the best!