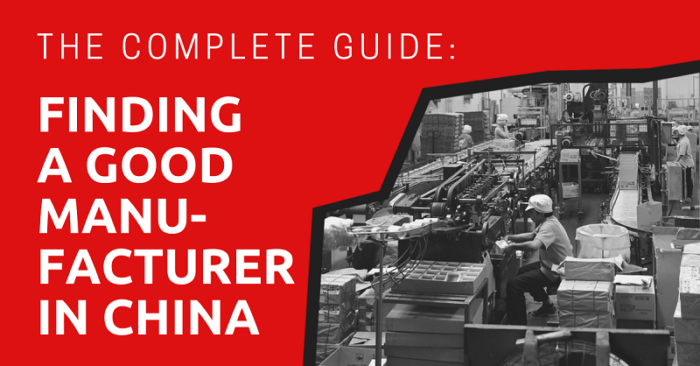 When I first started selling online, like many, the dream was to buy product from a factory directly to get the best price, and maximize my profits.
To cut out the middleman, as they say, but skipping over the importer, distributor, and/or wholesaler and being able to get your products from the place they buy it.
While it is true that buying from a factory directly ensures you get the lowest pricing in the supply chain, it doesn't come for free. You will need to adjust your mindset and expectations to factor in new tasks and workflows.
Let's take a look at what you need to do in order to buy from factories in China successfully.
This article will take approximately 11 minutes to read. Don't have the time right now? No worries. You can email the ad-free version of the article to yourself and read it later!
Adjusting Your Mindset and Expectations
Here are the mindset and expectations you need to adjust.
Longer lead time
If you are used to simply making a quick call or email to your local wholesaler or distributor and getting some cartons sent to your warehouse in a few days – prepare to add at least a couple months to that when buying from a factory in China, or even up to a half year!
Buying from a factory direct will make your company need to prepare to order larger quantities and will also come with longer lead times.
This means the need to have more cash in the bank to buy and wait, or access to financing to bridge the gap of the time needed to wait for the goods to be made, shipped, and then sold.
Multiple Service Providers and Steps
While the mindset is to buy from the factory directly, a smart buyer (importer) will have a rolodex of trusted service providers they are using. This helps protect you from having "factory direct" issues and is an indirect type of insurance to make sure what you buy is good quality and delivered in good condition.
Examples of service providers are:
sourcing agents to find the factory and negotiate on your behalf
quality control companies to make a QC checklist and check the goods
logistics companies to get your goods shipped by air and sea
customs brokers in your home country who will help classify the product you are importing and help file the import duties
Having a good network of service providers on your side will protect you and your goods, and they are not "middlemen" taking away from your profits.
Know Your Product Inside Out
It is important to know your product, inside and out. When you are buying from your home country from wholesalers, they have the product already. They have the clear listing of the product specifications and have done the due diligence.
When you are now buying factory direct, it is your responsibility to know what the exact product is that you are buying – not simply "iPhone cases", but what material, measurements, packaging, and a slew of other details you need to ensure the factory knows upfront.
Once you are in the right frame of mind, and take responsibility for knowing your product and following this process from start to finish, then you can move to the next step on your sourcing journey.
Preparing For Your Sourcing Project
It's about information and materials you need to prepare first before contacting factories.
A photo is worth a thousand words. That sentence goes even further when dealing with international trade. Those that are familiar with working with freelancers online, and developers know – having an SOP or system requirements sheet will be essential in the success of working together smoothly.
The same goes for working with a manufacturer overseas.
We usually recommend just starting with a Google Doc, Google Images, and screen capture software of your choice. Find images on Google, grab a screen shot of one that is similar to what you are looking for – and draw arrows and text all over.
Do not worry about being too overly obvious!
This will be a long document of various angles of the product, size requirements, packaging concept requests, and also – what you DO NOT want. Showing what you don't want is almost as effective as showing what you do want. They will know flags in their manufacturing process that they can skip over.
This document becomes your biggest asset. Remember earlier we said you need to know your product, inside and out? This document is the proof to your future factory you are the right match for them.
Being an educated buyer will prove to them that you know what you are doing and are not just a window shopper opportunist.
Starting Your Search
Time to get some of the "sourcing" work done. But please make sure you spend time on the previous sections – too many people simply hop onto a B2B search directory we are discussing here and start sending out incomplete RFQ (request for quotes) to factory and don't get a reply.
Let's assume you completed a good specification document, great work. Start searching on the typical Alibaba or Global Sources websites and have a clear, and short email or request to get their attention.
These factories are busy, and unfortunately – may not take you too seriously. So get to the point, and talk numbers. What is your target quantity, and do you have a target price.
Also, let them know the timeframe you have in mind of when you need it, and what market are you importing into. This will get them the information needed to give you a good reply.
Chinese people do not use email. For years I wondered why Chinese people didn't reply to my emails and I was so frustrated. Only after moving to China and seeing how they work did I understand – they basically skipped over it with the QQ and now Wechat social media chat tools.
You will need to embrace Wechat, QQ, and other tools that Chinese people use to communicate. If you're not willing to use the tools the factory uses, you will be at a disadvantage and have significant delays in communication. So embrace this new world of Chinese internet and tools for your manufacturing success.
Keep in mind, while you spent a lot of time doing your research and made a specification sheet – do NOT send it to every single factory on these trade directories.
Start a short conversation with them first, see how they reply to you, and then when you are comfortable with them – then send a pdf version of your document. Sometimes I send both .docx and .pdf files so that they can also edit it and put questions and answers directly in the doc (for those who don't know – Google is blocked in China, so don't expect them to have a Google Docs account).
Searching for factories on these directories is easy, the hard part is sorting through the volume. By having a short script of "numbers" and then the specification sheet to attach for "warm leads" – you have a winning combination.
Negotiating with the Manufacturer
Books have been read about negotiation, and then there are books written specifically about Chinese negotiation – so it will be hard to cover that extensively today, but here are some highlights.
What is your position in your company? Are you the "big boss" or are you a purchasing agent? This is something you need to decide earlier, as you can use a "good cop, bad cop" bargaining technique.
If the price is higher than you were expecting, you can use your "big boss" as the bad cop who cannot accept this price and while you as the purchasing agent want to buy from this factory, you need to listen to your boss.
Building a personal relationship – while it may be hard to visit China, especially during COVID-19 – is important, so whenever you get a chance to visit the factory, take that up.
Wondering when is the best time to take a trip? Trade show season is your answer, happening in the Spring and Fall. We have a whole Canton Fair section for the biggest trade show in the world, and coming to trade shows was the reason I personally ventured out to Asia in the first place.
Attending a trade show is a hyperactive (and exhausting) way to visit tons of suppliers in a few days, make face to face relationships, and get new product ideas. Wear comfortable shoes, and be prepared in advance. By talking to the factories before the trade show, you can map out which booths in the trade show you'd like to visit.
By having a personal relationship, you can negotiate better – not just for price, but for terms such as turnaround time and payment. Consider gifting them a small token from your hometown with a story.
Once a business associate of mine brought a case of BBQ sauce from Kansas City to pass out to factories he met on his China trip. The factories loved it, and he had a whole story of where he got the sauce and why it's special from his hometown.
You want to stand out, to be a person more than an email address.
Optimizing the Transaction Flow
Alright, now that you have found a factory, they have your specifications and you have negotiated, it's time to make it happen. We suggest making a contract and having it in both Chinese and English.
Depending on your order size, you need to realize that you are most likely not going to be able to really sue, but it is more to make sure both sides are in agreement about the terms.
We also suggest to have a list of QC items for quality control checks.
Working with a QC company is like having insurance for your business – they will inspect the factory and ensure the product is made the way you need it to be – before it leaves to your home country.
For payment, most of these transactions are 50% wire transfer to start the production, and then the remaining 50% to release the goods from the Chinese port with the BL (bill of lading).
How long after payment will it take?
It really depends on the complexity of the product, how many other orders the factory has, and your order size. Factories want bigger orders and prioritize them. It should also be stated on your quotation and in the contract. A rough estimate is normally 30 to 60 days from your initial payment.
Dealing with "Hiccups" and Common Problems
Many buyers from factories stay on top of the orders. One cannot simply pay the 50% deposit and work on other things. You should check in with your factory representative to ensure the production is still on schedule.
You should also book a QC company to visit the factory once the production is close to being completed. Educate your quality control company on what you are looking for in your product, and make sure they have your specifications and checklists.
Be Careful with the Re-Orders
The last point I want to make – do not get too comfortable on the re-orders. The first order the factory knows you are watching everything closely, and often times they will not make much money on the first order – in an effort to get you as a long-term customer.
Once you are in the system, they will look for ways to increase their margins, by either increasing the price or lowering their production costs.
Therefore, stay on top of the factory, always have QC checks on re-orders, and visit them often at their factory or at trade shows.
Think of your factory as your business partner. You rely on their timely production and top quality performance for the long term health of your business, so take good care of this.
Conclusion
We hope this crash course on preparing to buy from a factory, finding the manufacturer, making the deal, and pitfalls to avoid has helped you on your journey to buying from a factory direct.
If you'd like to have a full-service sourcing agency help you in finding a factory following the steps above, as well as on negotiation and contract preparation, please fill out the form here.