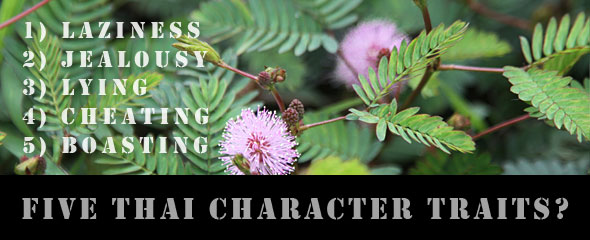 Five things to change about the Thai character…
In Thailand, if you don't read or speak Thai, or know someone who does, you miss out on all sorts of goodies. For instance, several weeks ago a Thai friend arrived all excited about a radio talk show. During the show a Thai politician expressed an interest in curing Thai people of their (supposedly) five bad character flaws: Laziness, jealousy, lying, cheating, and boasting.
Laziness: ขี้เกียจ /kêe-gìat/
Jealousy: ขี้อิจฉา /kêe-ìt-chăa/
Lying: ขี้โกหก /kêe-goh-hòk/
Cheating: ขี้โกง /kêe-gohng/
Boasting: ขี้อวด /kêe-ùat/
Pssst: Did you notice all those ขี้อ/kêe/ words? Hugh covers them here: A Sticky Problem.
Apparently a Frenchman spent some time researching the Thai character and pared it down to those five flaws. And btw: If you have information on his research, do tell!
The politician went on to promise that if the Frenchman's research proved to be true, then he (the politician), would tackle the problem.
If this is a campaign promise, then what a platform for any politician to run on.
Anyway, thanks to Thai politics you now have five new words to add to your Thai language vocabulary: ขี้เกียจ, ขี้อิจฉา, ขี้โกหก, ขี้โกง, ขี้อวด.
Other Thai political campaign posts:
Thai Politician Chuwit Kamolvisit: A Man. His Dog. Their Park.
Chuvit's Angry Man Campaign Posters Translated
Vote NO! Animal Campaign: Political Posters Translated