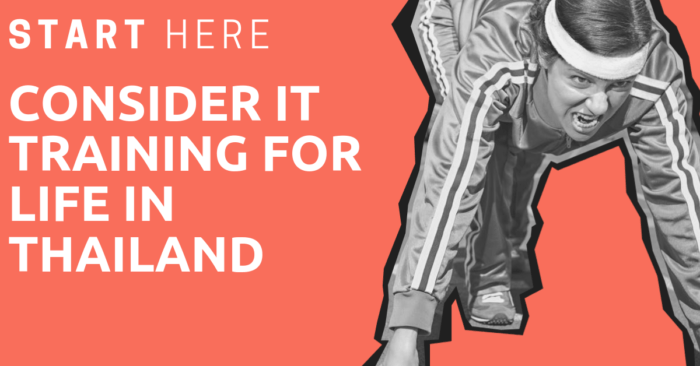 Thanks for subscribing to ExpatDen: Thailand!
On this page you'll find a bunch of resources that'll help you live, work, retire, or start a business in Thailand.
You don't have to read every post at once. You'll probably get more value out of this resource if you bookmark this page and come back to it when you're faced with a challenge in Thailand.
Moving to Thailand
Read our cost of living guide for a single entrepreneur in Bangkok or our cost of living guide for a family of four in Thailand. In case you're wondering, he's the guy who created this website. It includes a breakdown of how he spends his money each month in Thailand. As well as how to go about buying and renting things in Thailand.
But the biggest questions when moving here are usually about renting a condo or a house. If you have the chance, do so in one of Bangkok's underrated neighborhoods. If your place doesn't come fully furnished (most do), you can learn about buying furniture.
While you're planning your move and shipping your belongings here, you might also want to get started on preparing the relocation of your pets to Thailand–that is, if you have a pet.
One important thing to figure out whether you're still in your home country or in Thailand is which health insurance offers the best package (some of them are only available if you still live in your home country).
Living in Thailand
Once you arrive in Thailand and sort out where to stay and how to get your things here, one of the first on-the-ground challenges is figuring out how to open a bank account. We've put together some pointers on opening a bank account, sending money to Thailand, and handling all other kinds of money exchange matters.
Also, don't underestimate health and fitness–both being major factors when it comes to staying healthy in Thailand. Our guide to gyms and other fitness options in Bangkok sorts you out and connects you with parks, sports clubs, and shows you where the gyms are.
In case you plan on driving in Thailand you might want to know what to watch out for when driving in Thailand or how to get a Thai driver's license.
A big help in setting up your new life in Bangkok will be ordering your groceries online, which will save you one weekly commute but add a whole lot of convenience.
On the intellectual side of shopping, you might want to check out these Bangkok bookstores to find out where you can get your on- and offline reading fixes.
If your income permits, you might also want to save some money. Thailand offers a few opportunities in this regard. Look into buying stocks or making other tax-optimized personal investments.
What if things go less than smooth? I've put together some pointers and law firms (in Bangkok and Phuket) for family and criminal law matters and created a general guide to law firms in Thailand.
Settling Down in Thailand
After you've been in Thailand for a while, you might consider settling down here more permanently. Many expats consider buying a condo. It's an option that becomes a lot more attractive if you expect to have a baby in Thailand.
When moving your center of life here, things like getting a local credit card (saves fees, earns loyalty points) or buying a car (useful if you commute or live outside of Bangkok) can make a lot sense.
Working in Thailand
Whether you already hold a job or are trying to figure out what career opportunities are available to you in Thailand, this guide to finding a job as an expat is probably going to come in handy. The short version: there are plenty of jobs in IT and if your qualifications aren't in demand (yet), you can often get your foot in the door by teaching English.
Doing Business in Thailand
Karsten shares how much he pays his employees, how he recruits employees in Bangkok, how he handles cross-cultural communication and management issues, and why he recommends doing business in Thailand.
If you commit substantial resources to Thailand–be it through contracts with local partners or by launching your own startup–it can also play to read up on dealing with lawyers in Thailand.
Finding Entertainment in Thailand
No, it's not what you think. You won't find any content here about what brews under the red lights of Nana. But you will find some very entertaining Brewed in Bangkok Podcast episodes that will make you laugh, make you dream, and maybe even make you angry.