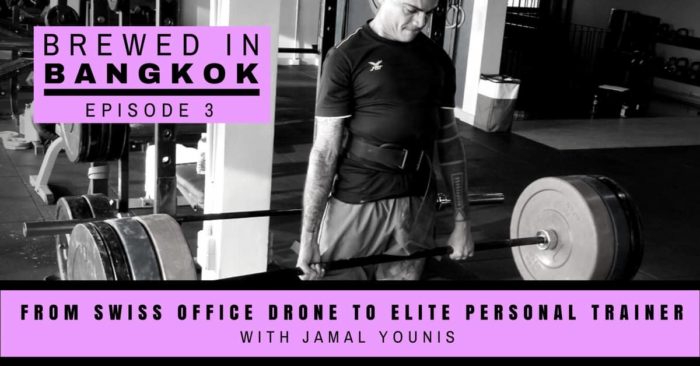 Jamal is one of a select number of foreigners who are legally permitted to work as personal trainers in Thailand. In this episode, he describes how he went from being the odd kid out in Switzerland to training the (potentially) rich and (possibly) famous in Bangkok.
If you thought about a career change or wondered what it takes to become a fitness trainer in Bangkok, this episode sheds some light on a slightly more unusual career path and occupation in Thailand.
Joining Karsten for this episode is his co-host Greg Jorgensen. Together they talk to Jamal about getting out of the office chair and into a Thai boxing ring, tough fights that left him with broken limbs, and the motivational strategies he uses for his top clients as an elite personal trainer.
'I hit him so hard, I broke my hand'" – Jamal Younis, personal trainer and ex-Muay Thai boxer
Show Notes
Growing up as Iraqi/Swiss in rural Switzerland (04:35)
Jean Claude Van Damme (06:50)
Martial arts (10:30)
Office apprenticeship (11:25)
Work and travel in Europe (15:00)
Muay Thai (19:20)
Broken hand (25:30)
Fighting style and psychology (30:00)
Camp experience and recommendations (35:45)
Broken Ribs: The end of Muay Thai (37:45)
Personal trainer career (39:45)
Websites Mentioned
Want More?
Check out the next episode of Brewed in Bangkok: BiB004: Street Fighting, Selling Vacuums Door-to-Door and Meeting Your Wife by Amputation. You can also find out a bit more about Jamal and the gym he works at in my article about fitness in Bangkok and personal trainers in Bangkok.