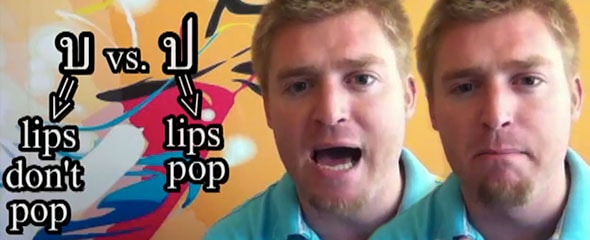 Adam Bradshaw is teaching Thai too
Adam Bradshaw is well-known amongst Thais and intermediate Thai language students for his insightful English language videos on YouTube. And now Adam is now teaching Thai. Excellent.
Most Thai learners know me as an English teacher because most of my material on the Internet is made for Thais learning English. However, many intermediate/advanced Thai learners have been learning more Thai in a backwards fashion by listening to me teach English in Thai.

Beginners obviously won't benefit as much from doing this because they won't understand much of what is being said.

Therefore, as I continue to receive more and more requests to post more Thai learning material, I have decided to start making some clips about learning Thai.

So far the material is rather basic, yet numerous intermediate/advanced speakers have commented that these clips actually are quite useful for them as well because it helps them touch up on their basics and solidify their Thai language knowledge.
How to Read Thai: Middle Class Consonants…
As a westerner fluent in Thai, Adam has a natural insight into how westerners learn a tonal language. His first video, where he carefully enunciates each letter, is a taste of more to come.
Where to find Adam…
Twitter: @AjarnAdam
Facebook: ajarnadam
YouTube: jadambrad and winkwinkenglish
In 2011 Adam was interviewed for the Successful Thai Language Learner series. Thanks Adam!