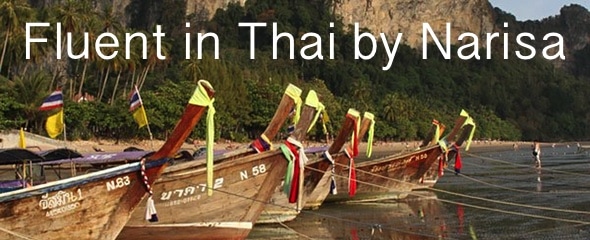 Years ago, after getting fed up with the timesink of studying Thai courses only to be told that the phrases I worked so very hard to learn were incorrect (often laughable), I went searching for a Thai teacher who taught real Thai.
Not the Faranged Thai or old-fashioned overly formal Thai found in some courses, but real, honest to goodness Thai that wouldn't receive a smirk in response.
One name kept coming back from fluent Thai speakers such as Rikker Dockum – Narisa Naropakorn (Thai Skype Teacher).
Studying Thai with Khun Narisa was an eyeopener. Some of the materials were so different from what I'd studied previously that I asked other Thais and fluent students of Thai for verification. Time after time she was proven right.
Now, being a hermit I'm not much of a Thai speaker. And as I can only talk to myself for so long my main Thai focus is translating subjects that I find interesting. Some have made their way to WLT.
You might have noticed that Khun Narisa has collaborated with me on useful posts such as the excellent HouseTalk Series (ongoing), Thai Culture: Understanding Greng Jai (เกรงใจ) (even Thais reference this post), TPR: Total Physical Response 500+ Thai Word List Translated, Tim Ferris: Thai Sentence Deconstruction and much more.
Throughout our class time I kept nudging Khun Narisa to get her book out there. Lucky you, she now has a YouTube channel: Fluent in Thai by Narisa.
Each week Khun Narisa will add a new video to the playlist Speak Thai Fluently with 100 Easy Tips. Right now there's four videos – be sure to subscribe for more.
Here's a brief explanation of the YouTube channel Fluent in Thai by Narisa:
Khun Narisa: How many times have you felt misunderstood by Thais even though you've spent hours studying?

The results I get from testing learners in their trial lesson shows there's something missing in the Thai teaching market.

Before coming to study with me many of my students started learning Thai from other resources. Some mention usages of Thai words and expressions that are not familiar to Thai ears and it's my job to correct the inaccuracies.

As a result, my students often ask me, 'Hey! The Thai you taught me I'd never heard before. Why don't you make videos for Youtube or write a book?"

So I collected tips to make a series. After testing the tips with my students I'm confident the videos will help you sound Thai (vocab, grammar and tones).
If you want to know more about studying Thai with Khun Narisa, check this out: Interview with Thai Skype Teacher Khun Narisa Naropakorn
Here are a few reviews from language-school-teachers.com: Narisa Naropakorn.
And if you are interested in a free trial lesson with Khun Narisa, just contact her via her site: Thai Skype Teacher.