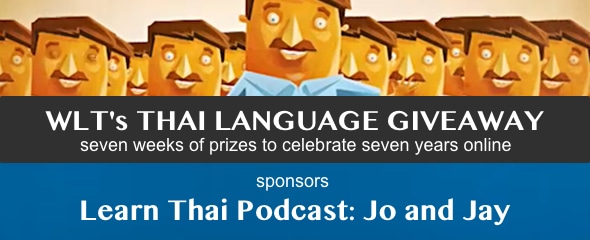 WLT's Thai Language Giveaway…
Welcome to week FOUR of WLT's seven weeks of Thai language giveaways by top movers and shakers in the learning Thai industry.
To find out about the $4,500+ in prizes being given away do read the intro post, Please Vote THAI and WIN! 2015: Top 100 Language Lovers Competition.
The previous three giveaway posts by sponsor are: 1) Paiboon Publishing and Word in the Hand, and 2) DCO Books and Orchid Press, and 3) PickupThai Podcast. Congrats to the lucky winners!
Learn Thai Podcast: 800 lessons and counting!…

For the week four giveaway, Jo and Jay are gifting FOUR full subscriptions to Learn Thai Podcast. That's almost US$800 in fabulous prizes right there.
LTP's site now holds a massive 800+ video, audio and text lessons where you can learn how to speak, read, and write Thai. There's also a vocabulary trainer, a forum, and the ability to track lessons learned.
I already wrote extensively about what LTP offers in my post, Review: Learn Thai Podcast Relaunches!, so here's just a taster of my review.
Checklist for LTP:
Visuals: Online lessons, downloadable YouTube videos in many formats.
Sound: Individual sound bites in online lessons, YouTube videos and mp3 files to download.
Thai script: Script included with all lessons, complete Alphabet course, transliteration.
Thai only: Lessons without English translations.
Conversations: Movies and sound files of actual Thais talking.
Testing: Reviews after each lesson, vocabulary trainer for individual words.
Extras: Printable notes to download.
Since then they've added 100+ lessons (reading, writing and advanced). And to better serve you, revamped their site from top to bottom. Another addition is their handy Top 300 Thai Words course. The first couple of lessons are free, so give it a go?
Awhile back I ran into one of the best LTP reviews ever, on Mezzie Learns. The review is in two parts: Learn Thai Podcast Features and Why I Chose Learn Thai Podcast over ThaiPod101.
I won't spoil it for you but I do want to share this one quote:
Mezzie Learns: Learn Thai Podcast … has conversations and monologues that are husband-approved in their authenticity. In fact, Learn Thai Podcast is the only learning resource I have that hasn't made my husband double over in laughter. When I showed him some of the intermediate and advanced dialogues and grammar lessons, he was pretty impressed.
"Husband-approved in their authenticity" – don't you just love that? If you've been around the learning Thai block awhile you are sure to have run across phrases that no one uses (except in class). With LTP you get real Thai everytime.
Jo and Jay have big plans for the future but mums the word for now. All I can say is that I just know you're going to love it to bits! But their course, as it stands, is already heaving with Thai learning goodness (some free even), so please don't wait to try it out.
And here's a bit about the sponsors…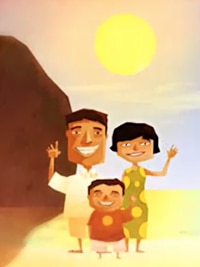 I ran into Jo and Jay years back when they first dipped their toes into creating learning Thai products. It was thrilling really, because their fun mp3's appeared for a short bit, tantalizing us all, and then came back in full force, bypassing all expectations.
And now thinking about it, in a way theirs is a modern day love story. Computer geek (Jay) moves to Thailand for work. Geek meets gorgeous and talented local gal (Jo) who has a love of languages. Using her command of the Thai language, she teaches him Thai in such a way that his geek instincts go into high gear. After briefly testing the waters, his geekiness and her Thai skills were fused to give us Learn Thai Podcast, which has now surpassed 800+ lessons. Now is that sweet, or what?
For more of the story, read Jo and Jay's post from 2010: Overview: Learn Thai Podcast
Rules for WLTs Thai Language Giveaway…
The rules are dead simple:
To be included in the draw, leave comments below.
Comment(s) need to add to the conversation (it really does matter).
Each relevant comment gets counted, so please do leave as many as you like!
If you don't collect your prize within a week of the announcement, it will be given away to the next person in line.
The draw will run from this moment until the 24th of June, 6am Thai time. As soon as Jo and Jay pick their favs, I'll announce the winners in the comments below, as well as create a dedicated post.
And before I forget, my thanks goes to Jo and Jay for being a part of WLT's seven year celebration!
WLTs 2015 Thai Language Giveaway…
Here are the posts so far in WLT's Thai Language Giveaway.
And remember, after this there's still THREE more weeks of prizes to be given out to celebrate WLT turning seven. Good luck everyone!