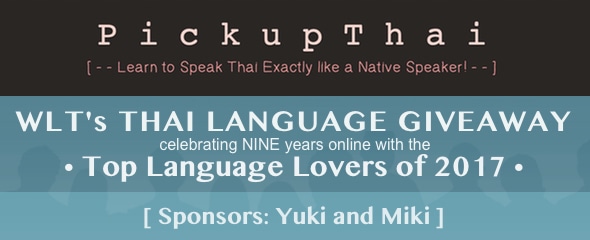 WLT's 2017 Thai Language Lovers Giveaway…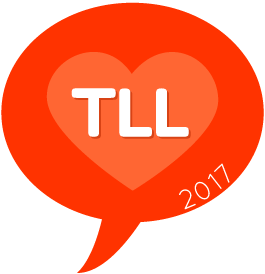 Welcome to the FIRST prize in WLT's 2017 Thai Language Lovers giveaway! Please read Vote THAI | 2017: Top 100 Language Lovers Competition to find out what to expect.
And if you haven't voted yet [wink][wink] clicking the red TLL logo to the right will take you there.
PickupThai Podcast & Anki…
To celebrate WLT's 2017 giveaway, this year Yuki and Miki from PickupThai Podcast created Anki files (complete with audio) to go with their free courses. And I can tell you, it was soooo tempting to release all files early but I'm glad they waited! Even if I had to wait too 🙂
Creamy Coconut 1: Thai script
Creamy Coconut 1: Transliteration
Creamy Coconut 2: Thai Script
Creamy Coconut 2: Transliteration
Creamy Coconut 3: Thai Script
Creamy Coconut 3: Transliteration
Sweet Green 1: Thai Script
Sweet Green 1: Transliteration
Sweet Green 11: Thai Script
Sweet Green 11: Transliteration
Spicy Red 1: Thai Script
Spicy Red 1: Transliteration
Spicy Red 11: Thai Script
Spicy Red 11: Transliteration
For the free courses (shown below) you are given a choice of Anki files using Thai script or transliteration. The flashcards run you through the vocabulary introduced in each lesson.
Creamy Coconut (beginner):
Creamy Coconut 1: John & Yoko's First Encounter
Creamy Coconut 2: The Price to Pay
Creamy Coconut 3: A Language in Common
Sweet Green (intermediate):
Sweet Green 1: Man & Mandy
Sweet Green 11: I'm Busy
Spicy Red (advanced):
Spicy Red 1: Massage & Fish Spa
Spicy Red 11: The Soulmate
Sucking files into Anki's desktop software is easy (just double-click and follow the instructions). But as getting the files into your smartphone (Android or iOS) is more complicated, here's their online help: Importing Anki Files.
If you are unfamiliar with PickupThai's courses, read my Review: PickupThai Podcast by Yuki and Miki. And while you are here, why not find out about Yuki's latest project, Tamago: PickUpThai's E-Picture Book for Learning Thai.
An interesting tidbit not mentioned in my review: When preparing the course files for a swot session (more on that later), I collated the vocabulary and came up with a count.
CreamyCoconut: 1669
SweetGreen: 1063
SpicyRed: 1966
TOTAL: 3687
Impressive (and represents quite a decent chunk of vocab to study).
Yuki and Miki, PickupThai Podcast
Website: PickUpThai Podcast | Youtube: PickupThai | twitter: @PickupThai
Please vote Thai…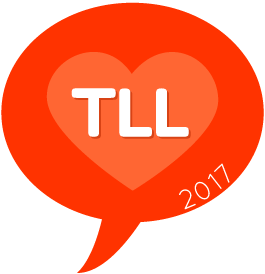 And here we are again. If you missed it … clicking on the TLL (Top 100 Language Lovers) logo takes you to the competition. Ta in advance!