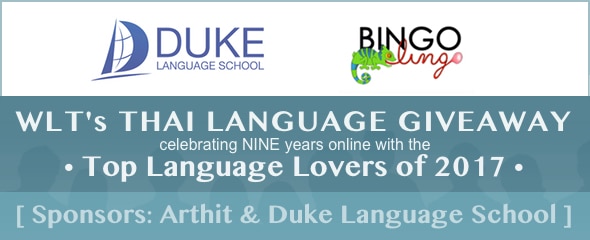 WLT's 2017 Thai Language Lovers Giveaway…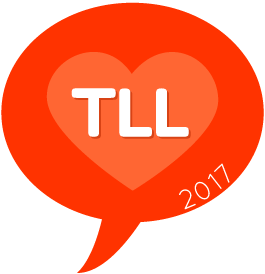 Welcome to the FOURTH and FIFTH prizes in WLT's 2017 Thai Language Lovers giveaway! Please read Vote THAI | 2017: Top 100 Language Lovers Competition to find out what to expect.
If you haven't voted yet (one vote per section) clicking the red Top Language Lovers logo to the right will take you there 🙂
Arthit and Duke Language School…
To celebrate WLT's ninth year Duke Language School gifted one chapter from each of their Journey books (1-3) created by Arthit Juyaso, and Arthit kindly sent a chapter from his popular Read Thai In 10 Days ebook.
Audio downloads have been included. And as we all know how import audio is for learning Thai, they are welcome indeed.
Arthit/Bingo Lingo: Read Thai In 10 Days…
The free chapter is aptly named 'A Matter of Life and Death: Live and dead syllables and why they matter'.
Arthit: You'll learn about final consonant sounds, also the concept of live and dead syllables and how they affect tones.
In language courses especially, voices can be a deal breaker. To his credit Arthit has a pleasant sounding accent and his recordings are crisp and clear. From first hearing him talk I knew I could listen for hours on end.
In this sample Arthit first runs you through a group of low class consonants, then compares how Thais pronounce English loanwords to how English speakers pronounce the same words. Next up there's a handwriting sheet to practice the consonants you've been studying (a lot can be said for physically writing out the Thai alphabet).
In the next section he visits long vowel endings, followed by their handwriting sheet. Then you practice what you learned by reading short words (have no fear, you are given audio help).
There's even a bit of insight into live and dead syllables to assist in understanding. And to make sure you've understood the lesson, the chapter includes yet more practice.
But he's not done yet – a recap itemises what's been covered in the lesson (tips and tricks included). So Arthit has you coming and going. Perfect.
Downloads:
Read Thai in Ten Days: Download PDF (1.7 MB)
Read Thai in Ten Days: Download audio (2.8 MB)
Website: Read Thai in 10 Days
YouTube: Read Thai in 10 Days
Twitter: @readthai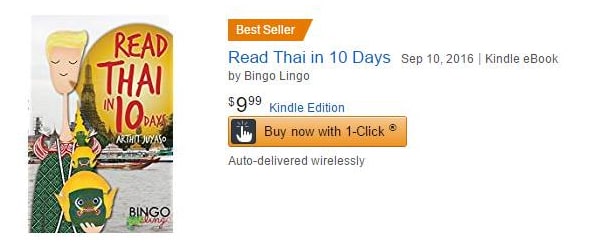 Duke Language School…
Duke Language School sent a whopping 42+ MBs for you to sample. Impressive.
Journey Foundation 1: Chapter 7: Eating at a Restaurant
Journey Foundation 2: Chapter 8: Abilities & Limitations
Journey Foundation 3: Chapter 2: A guide to understanding Thai Social Status
Arthit Juyaso: One of the main points of the course is to recycle previously seen vocabulary as much as possible (it's my love for spaced repetition).
The Journey Foundation materials, carefully crafted by Arthit Juyaso with the full support of Duke Language School, are absolute jewels. Throughout the courses, Arthit peppers useful grammar and cultural tips (without, some you might not learn right away unless a caring Thai takes you under their wing).
On the pdf you are given English, Thai, transliteration, and Japanese. The courses start out with Core Vocabulary, followed by Key Sentences, Dialogue Vocabulary, two sets of Dialogue, Language Points and Explanations (love this part) and Word Builders.
The Noteworthy sections are placed wherever they are most useful. I find the tips valuable in an "ah ha!" way. For instance, how many times have you been frustrated by waitstaff handing you a menu, expecting you to order right away? There's a fix for this (download the files to find out just what).
For the audio files, the vocabulary is first spoken slow, followed by a more normal speed. The phrases are spoken at a comfortable speed for intermediate students (if it's too fast you can always drag it into Audacity to slow it down). Included is a sweet mix of male and female voices.
Downloads:
Journey Sample: Download PDF (19.5 MB)
Journey Sample: Download audio (23.4 MB)
Duke Language School:
10/63, Trendy Building, 3rd floor
Sukhumvit Soi 13, Wattana
Bangkok 10110, Thailand
Tel: +66 8-2444-1595
Website: Duke Language School
Facebook: Duke Language BKK
Twitter: @DukeLanguageBKK
Tod's Review: Duke Thai Language School
Please vote Thai…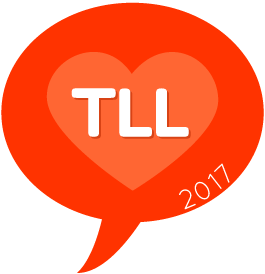 Clicking on the TLL (Top 100 Language Lovers) logo to the right takes you to the blogging section of the competition. Thank you thank you thank you in advance!