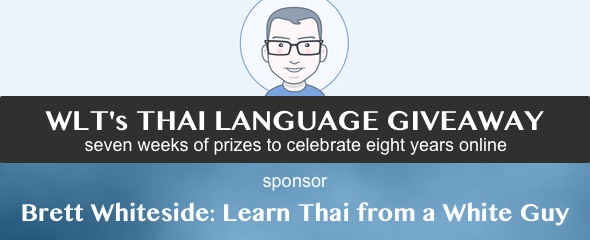 WLT's 2016 Thai Language Giveaway…
Here we are already, at week FIVE of WLT's seven weeks of Thai language giveaways! If you don't already know, to find out what's going on please read Vote THAI and WIN! | SEVEN Weeks of FREE Thai Giveaways.
Brett Whiteside: Learn Thai from a White Guy…
On this giveaway Brett from Learn Thai from a White Guy is giving away SIX prizes (not four as previously announced). TWO winners will receive Read Thai in 2 Weeks along with The Need to Know Sentence Pack. And TWO will get Read Thai in 2 Weeks on its own.
I wrote an overview of Read Thai in 2 Weeks awhile ago in my post Read the Thai Alphabet in 2 Weeks, 10 Days, 60 Minutes? Here's a tidbit:
When struggling to learn tones and pronunciation, Brett created his own materials to teach himself Thai. After many adjustments to get it just right, and having great personal success himself, he designed a course to teach Thai to hundreds of expat students: Read Thai in Two Weeks.

The strength of this course is that being online it offers clickable audio files as well as quizzes, drills and exercises to test what you've learned (or not). Another plus – the mnemonics (memory hooks) help get the materials down solid. Anki files with audio, as well as the free (to the public) iOS and Android apps are tailored to the course.
The Need to Know Sentence Pack is a new course created as an addon to Read Thai in 2 Weeks. There is no transliteration in the course so you must know how to read Thai (hence the bundled prizes).
Brett: After getting a grasp on the sounds in any language, I believe that one should move immediately into learning a pile of short phrases and sentences that you might actually use if you get the opportunity to speak the language with a native speaker.

What I've done is pulled many of the sentences from my "100 Sentence Project" from 2008 and created examples for each of them, added in explanations where helpful or needed and had a professional voice artist record everything.
Rules for WLTs Thai Language Giveaway…
The rules are simple:
To be included in the draw, leave comments below.
Comment(s) need to add to the conversation (it really does matter).
Each relevant comment gets counted, so please leave as many as you like!
If you don't collect your prize within a week of the announcement, it will be given away to the next person in line.
Brett will choose the winners for this giveaway. And even if you've won previously, you can enter this competition as well, no probs.
The draw will run from now until 26 June (Sunday), 6pm Thai time. After the winners have been selected a comment will be put below and I'll create a dedicated post.
Thank you Brett for sponsoring WLT's eight year celebration – and good luck to you all!