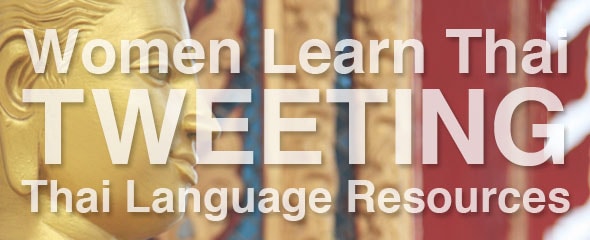 WLT Tweeting Thai Language Resources…
Some reading this might be wondering what I'm on about. I mean, I already tweet Thai language learning resources via my personal twitter account. But here's the thing. When a Thai crisis hits (which reminds me, we are overdue) I switch to whatever's happening. And often times, instead of sharing Thai learning resources, I join in the banter about all things Thai living.
So here's the deal. I've created a new twitter account dedicated to sharing Thai language learning resources only: @ThaiLanguageRes. There will be no chat, so no wading through twitter conversations to find Thai resources.
Tweets from @ThaiLanguageRes are automatically sucked over to Women Learning Thai's Facebook page so if you want to discuss the shared resources, or just say "hey", then please do stop by.
Oh. And after I've twittered, relevant resources will be added to the mother of all free Thai resources: Learn Thai for FREE.
Btw: If you have Thai learning resources to share, let me know via my contact page.