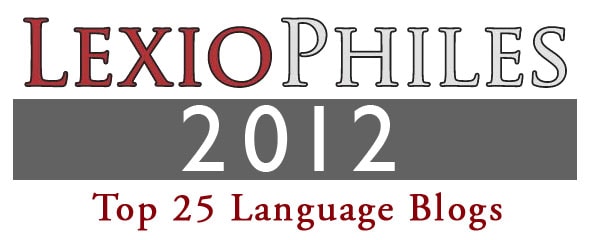 Top 25 Language Learning Blogs 2012…
Coming in 4th for the Top 25 Language Learning Blogs of 2012 was sweet! A huge THANKS from me goes to the amazing team at bab.la and Lexiophiles for managing this wonderful competition, to all my friends who showed their support with tweets and FB likes and comments, and to everyone who voted. Wow.
Thanking WLT's top guest authors…
While WLT does have a list of guest authors, two authors keep posts flowing in. Yes. I owe. I owe!
Hugh Leong writes the informative series, Thai Language Thai Culture. Just this week Hugh came up with a fantastic addition to the site – a handy way to get answers to your Thai language questions. The question form is in the creation stage so please watch out for it.
Hugh can also be found at Retire 2 Thailand and Retire 2 Thailand: Blog.
Tod Daniels reviews Thai Language Schools in Bangkok. As Tod gets around town a fair bit he'll also be hosting a new series with a twist. The title hasn't been fleshed out but the first post is just waiting to leap out at you.
Tod can sometimes be found at Glenn Slayden's growing thai-language.com forums.
Luke Cassady-Dorion (guest author of Farang Pok Pok) hasn't been around for awhile and for good reason. He's taken time off to work on a documentary, The Cheer Ambassadors. There will be more about the documentary later this week but I just wanted to say "Congrats!" to Luke for the awards the film has garnered. As quick as he can, Luke will come hurrying back. Hopefully soon.
Even more thanks…
I started out wanting to thank everyone individually but the list got too long (and I was afraid of missing someone) so I've pared it down those who double-dipped and more. The more being WLTs community.
I'd like to thank everyone who has commented over the years but especially the top three commenters: Martyn (Beyond The Mango Juice), Snap (Chiang Mai Thai) and Talen (Thailand Land of Smiles – no longer online). Most blogs have communities and they're a big part of mine.
As mentioned, during the contest wonderful people supported WLT with tweeting and retweeting, and Facebook likes.
To give you a brief tweet taste there's Richard Barrow at @RichardBarrow and @thailandvoice (professional travel blogger for Thailand), @bangkok (timely updates about Bangkok), @intoPhuket (Phuket news and reviews), and @Bangkok007 (crime writer Christopher G Moore).
The Top 100 Language Competition is held during my birthday. What a treat! This year long-time friend Jack Yan from Lucire surprised me with an early birthday present by announcing his support to his gang at Facebook. Jack was busy getting ready to wine and dine the Miss Universe Contestents in New Zealand (what a tough job he has) so his gesture was doubly appreciated.
The talented Christy Gibson, another insanely busy friend, also took time out from her back-to-back schedule to show support for WLT on both twitter and FB.
คริสตี้ กิ๊บสัน ฝรั่งรักไทยใจลูกทุ่ง
ฝากช่วยกันโหวตด้วยนะค่ะ เพื่อนๆทุกคน…
เพื่อนของฉันมีเว็บไซต์สำหรับให้ชาวต่างชาติเรียนภาษาไทย !! ตอนนี้เขาได้รับเลือกให้เข้าการประกวด เว็บไซต์เรียนรู้ภาษาจากทั่วโลก !!
อยากให้ภาษาไทยชนะ !!!!!!!!
ใครอยากจะช่วย..ช่วยกันเข้าไปที่ลิงค์นี้ และไปกดที่ "Women Learning Thai… and some men too"
และกด "Vote" ข้างล่างค่ะ
ขอบคุณทุกคนล่วงหน้านะค่ะ
Every year, without fail, my buddy and Twitter Marketing Phenomenon Calvin Lee helps me out by tweeting about the contest to his followers. This year he went further by favouriting the contest (I'm not sure what that means but it sounds great!)
Just on time for the contest, Berthe from Chicky Net arranged for a Women Learning Thai Interview. Berthe posted, tweeted, and tweeted some more.
Fellow Thai blogger Josh Sagar at Let's Talk Thai even included me in his call for votes. Nice!
Another way of showing support during the contest is to leave comments (nice ones, obviously) at the bottom of the contest post: Vote for your favorite Language Learning Blog 2012. I know you can read for yourself but I wanted to extract Talen's comment partly because it's the longest and mostly because he was being so darn nice.
Tim Bull (Thailand Land of Smiles) · Freelance Writer
Women Learning Thai is absolutely one of the best Thai language resources you could have at your disposal. Thanks Catherine for spending the amazing amount of hours you do bringing us the best content around!
Buddy Scott Earle also left a comment. Scott has a talent for timely assistance, as does Talen. When I'm freaking out, they are at the other end of my frantic emails, doing what they both do best (pleading with me to please get off email and go back to sleep! – kidding).
Ah. Talking about freaking out. Did you know that there's also a Jay? Every so often I tweak code on WLT. Mostly I'm ok but when I'm not there's a right mess. And what happens then? Jay gets an email with #&@$#@!!! in the subject line. And for those who don't speak freaking out, it roughly translates to HELP!!! Or if you are Thai, ช่วยด้วย!!
Bad timing, right before the contest started (and shortly before I was headed to bed), I decided to fiddle and broke the entire site. AWK!!! It took megga programmer Jay all of five minutes to point out the problem (I would have been staring blurry-eyed at a broken site all night).
Jay, I hope you enjoy the chocolate covered care package winging your way.
I sincerely apologize but there won't be enough chocolate to go around for the rest of you. Would my heartfelt THANKS suffice instead? Your support means a lot to me. Seriously. And to prove it, just you wait until you see what's coming next 🙂